by
posted on March 2, 2018
Support NRA American Rifleman
DONATE
American riflemen have been gravitating toward night-vision (NV) optics since Soviet Gen 1 and Gen 2 units entered the global commercial pipeline around 1990. When working, those bulky, military-surplus riflescopes and binoculars delivered passable close-range images rendered in ghostly green hues amid varying degrees of "noise" and distortion.
With demand growing, a number of U.S.-based firms are now involved in producing NV equipment with performance light-years better than the Red Army leftovers. Foremost among these sources is Trijicon, whose new line of thermal imagers appears every bit as capable and rugged as its highly regarded reflex sights and scopes.
Rather than tool-up for a new product category or rebrand import gear, Trijicon acquired prominent military contractor IR Defense—including its products, R&D and manufacturing plant—as the basis for a new Electro-Optics Division. As is the case with most Trijicon products, this gear is all U.S.-manufactured, including three rifle-mounted models—namely the IR-Hunter, Reap-IR and Snipe-IR—plus the handheld IR-Patrol monocular spotter.
Competition in this emerging market space means buyers have options in terms of pricing and, especially, quality. Newcomers have a lot to learn. Essentially, a thermal scope is a highly specialized digital camera whose front lens transmits emitted infrared (IR) waves (heat) to a sensor and then translates the incoming heat data into a coherent sight picture. Utilizing sensors made from germanium oxide, as well as other complex components and micro circuitry, the Trijicon line boasts three key aspects that affect imaging quality and product reliability.
First, the sensor core is studded with detectors, and more is better. Standard detectors each measure 17 microns, while Trijicon IRs use smaller 12-micron detectors, thus allowing a greater number to be packed tighter together. The result is 640x480-pixel imagery, twice the 320x240 resolution yielded by 17-micron units.


Secondly, digital images "refresh" constantly, though at different rates depending on the processor. Trijicon IRs operate at 60 Hz (meaning they repaint 60 times per second), as opposed to the 25-Hz refresh rates of many competing products. This is especially critical when panning the rifle/scope, since with slower units the sight picture you see when pulling the trigger may lag behind what's actually happening.
And thirdly, Trijicon thermal scopes are built to MIL-STD-810G standards. To qualify for military sales, they must be proven to be capable of withstanding temperature extremes, rain, humidity, sand, dust, vibrations and shock in measurable testing.
After participating in an introductory feral hog hunt in Texas, we obtained a sample of the Reap-IR for test and evaluation. This compact 8.13"-long, 21-oz. sight delivered surprising imaging performance out to 300 yds. and beyond. While hunting, we noted numerous small animals such as jackrabbits and raccoons, and could identify bucks among the many deer moving through the area. In fact, we found it may be easier in some scenarios to spot game by their heat signatures than it would be using standard optics in daylight. And, at 250 yds., with the sight mounted on a tripod, we were able, from most angles, to distinguish between a rifle and an axe carried by a human subject.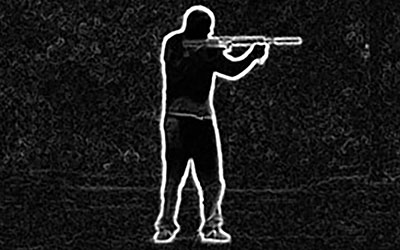 Trijicon thermal imagers transmit fields in black and white as opposed to the more common neon-colored palettes. The hottest objects, including animals, are rendered as solids—White Hot or Black Hot—depending on the polarity mode chosen by the user. All other objects, including trees, foliage and man-made structures, come through as varying shades of gray. The surprising visual clarity makes it easy to comprehend one's surroundings. Every object is detailed and self-evident, as if seen in fine black-and-white photography.
A third viewing mode is Edge Detect, which traces hot subjects in a white outline, thus limiting users' night blindness. For hunting, we alternated between solid modes in both black and white, whereupon the unit's reticle would automatically change for contrast. Five different reticles are offered in the basic software, plus a Stadiametric Rangefinder that provides distance readouts to bracketed objects of known size.
The Reap-IR provides 2.5X optical magnification, but can be digitally zoomed to 8X. Zooming causes a loss of detail, but not to the extent that the sight can no longer be used for accurate shot placement on hog-sized game. Reticles are located in the first focal plane to scale along with increases in magnification. The Reap-IR's sturdy aluminum housing is fitted with an easy-to-deploy Picatinny rail mount.
Mastering the unit's joystick-style controller requires effort, and typical of modern consumer electronics, only the exact combination of clicks and scrolling will activate a desired function or setting. Given the Reap-IR's versatility there's plenty to learn, and capabilities also include video and still-image capture, along with adjustments for brightness, contrast, reticle position, ranging and more. After a couple hours afield, we were able to keep pace with the hog-culling action, and no doubt owners will learn the codes needed for their preferred tasks, beginning with the digitally manipulated reticle adjustment, which proved functional, if not as methodical as mechanical click adjustments. However, once zeroed, we experienced no point-of-impact shifts.
Thermal imagers are now attracting interest from folks who aren't special operators, in particular, from security-minded property owners, farmers and hunters targeting feral hogs and predators. As noted, the fast-emerging thermal field now spans a wide range of cost and performance options, with Trijicon IRs at the top of the heap in both regards. Given the company's history of bridging the military-commercial gap with sights whose battle-tested ruggedness is prized no matter the mission, it makes perfect sense that Trijicon is taking the lead in outfitting civilian users with night vision on par with what professionals use.