Support NRA American Rifleman
DONATE
I haven't been shy about sharing my fondness for more compact revolvers chambered for big-bore cartridges. Not only do they fill useful defensive roles, but they are also a hoot to shoot! One of the more unusual configurations that I've worked with was a highly customized Magnum Research BFR revolver, assembled in-house, chambered in the .45-70 Gov't. rifle cartridge and sporting a 3" barrel. It quickly earned the nickname 'Thunder Snub' due to its energetic levels of felt recoil. It also proved to be a top-notch performer at close range.
However, there's more than one way to enjoy time spent at the shooting range. As appealing as thunderous handguns can be, there's a place for more modest levels of recoil as well. There are two ways to go about this. One is to switch to firing smaller cartridges, which I have no objection to doing. Some of the best fun to be had can be found inside a brick of budget-friendly .22 LR cartridges, especially when paired with a reliable pistol or revolver. But what I recently had in mind was a BFR that generated significantly less recoil without having to sacrifice too much in the way of performance.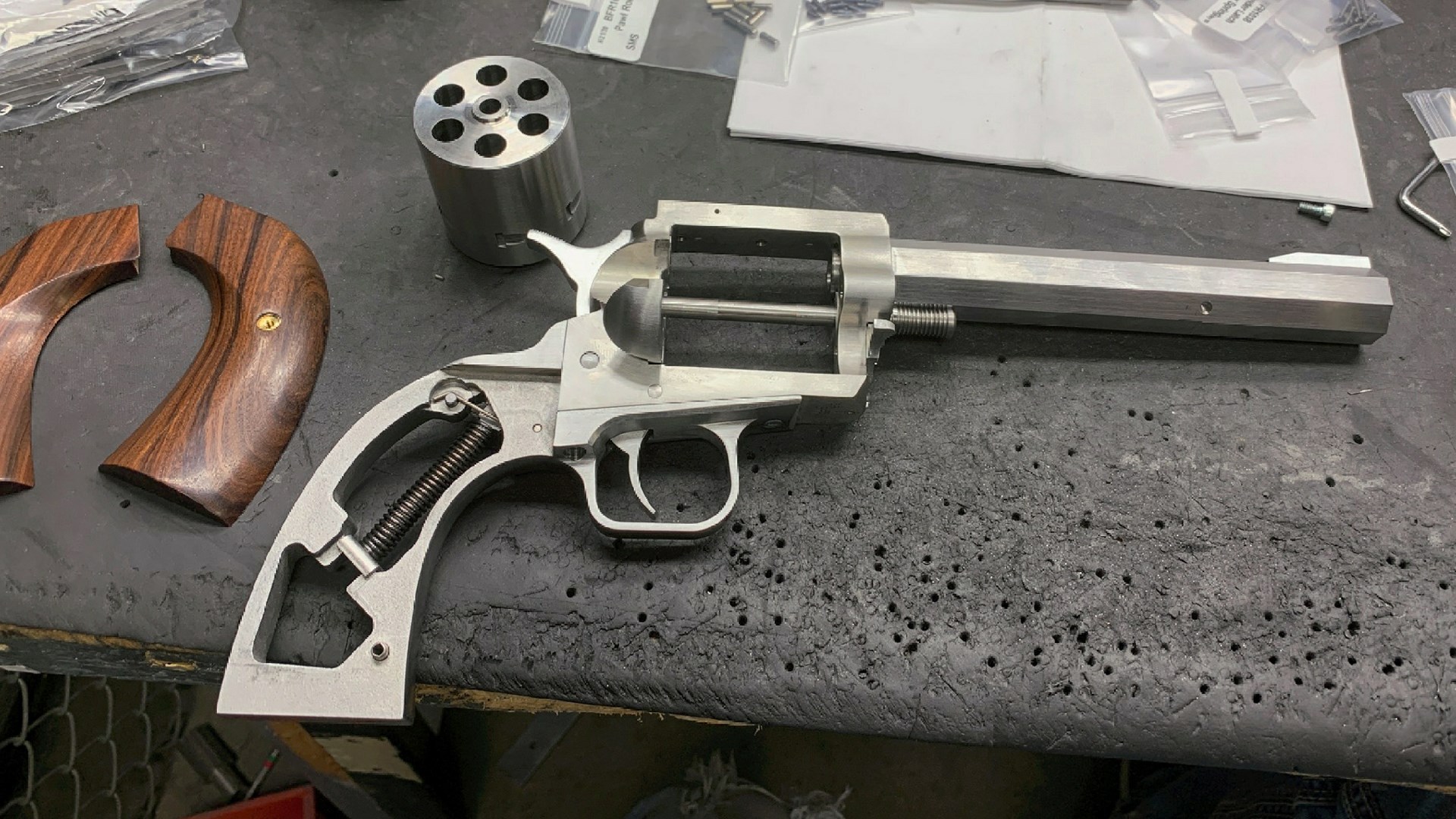 This BFR revolver was built to order in-house by Magnum Research gunsmiths.
That brings us to the other common method of reducing a handgun's levels of felt recoil: increase the gun's mass. More metal means less recoil, especially with a mild cartridge. With this in mind, I went back to the BFR revolver build website to find the ideal blend of features for a great looking, easy shooting revolver with a classic 'cowboy gun' profile. Here's how it turned out.
Many of the big-bore cartridges fired from the BFR, including the .500 S&W and 500 Linebaugh, require the use of five-shot cylinders. This ensures that there's enough steel in the chamber walls to handle the levels of pressure these beefy cartridges can generate. But in 2020, Magnum Research started shipping a few new six-shot BFRs. Long-cylinder models came available chambered for .30-30 Win. and .350 Legend along with short-cylinder models chambered for .454 Casull, .45 Colt, .44 Mag and .357 Mag.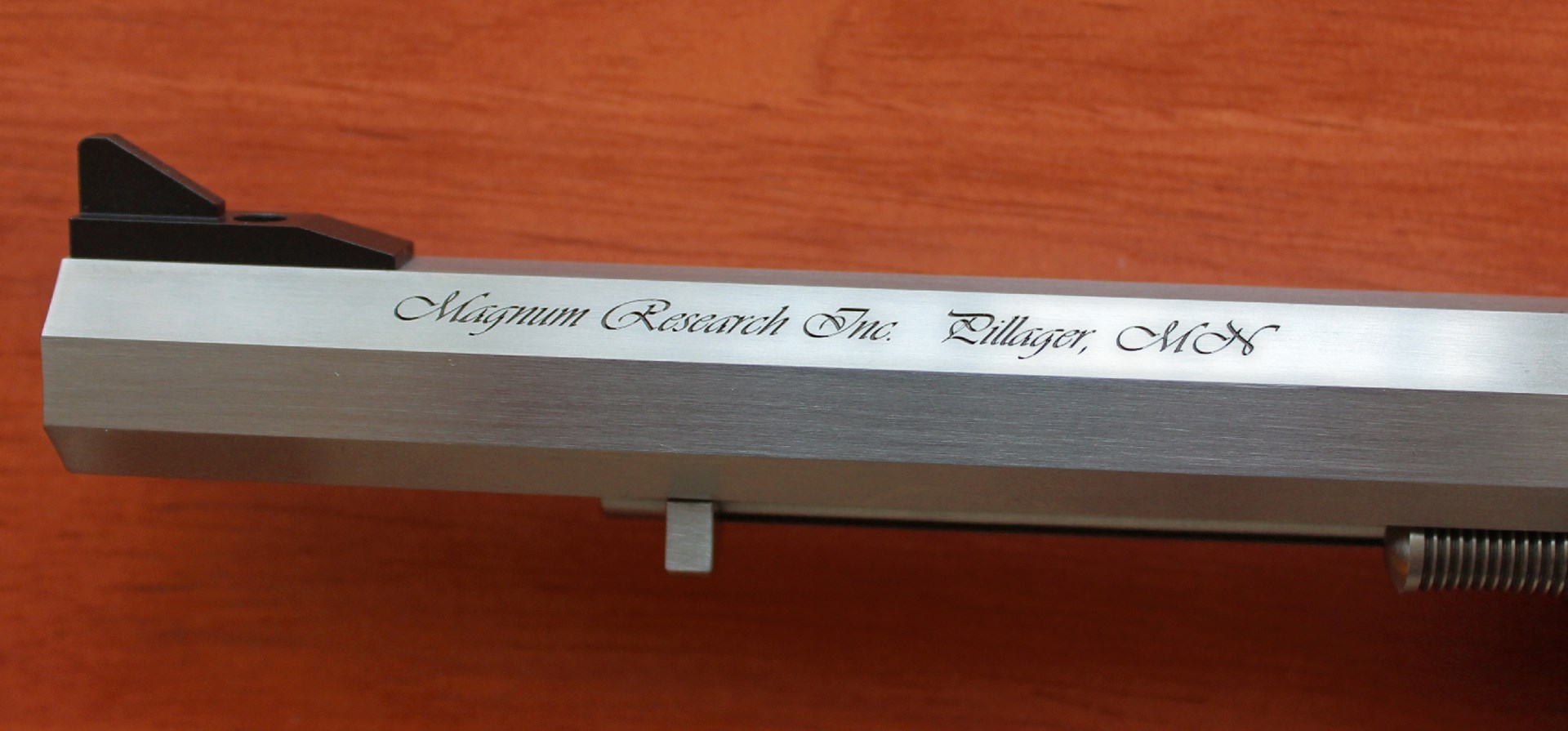 Script-style engraving adds a touch of elegance to the barrel's markings.
That last cartridge for the BFR six-shooter caught my eye. I'm a dyed-in-the-wool fan of the .357 Mag. It was the first magnum-power handgun cartridge that I shot, and it got me hooked on that whole category. While not as hard-hitting as larger calibers, it's by no means a slouch in the performance department. This is especially true when firing modern loads through longer barrels. 
But isn't the BFR essentially over-built for the .357 Mag.? Yes, it's more gun than is strictly necessary for this round. And reducing the bore size and cylinder chambers, from .45 or .50 caliber down to .357 caliber, leaves even more high-quality steel in the gun. This 6.5" barrel BFR weighs in at 59.9 ozs., unloaded, which makes it 11.9 ozs. heavier than a .357 Mag. Ruger Super Blackhawk with the same length barrel. The BFR contributes enough added mass to soften the gun's shooting characteristics without making it so heavy as to be un-packable for use in the field.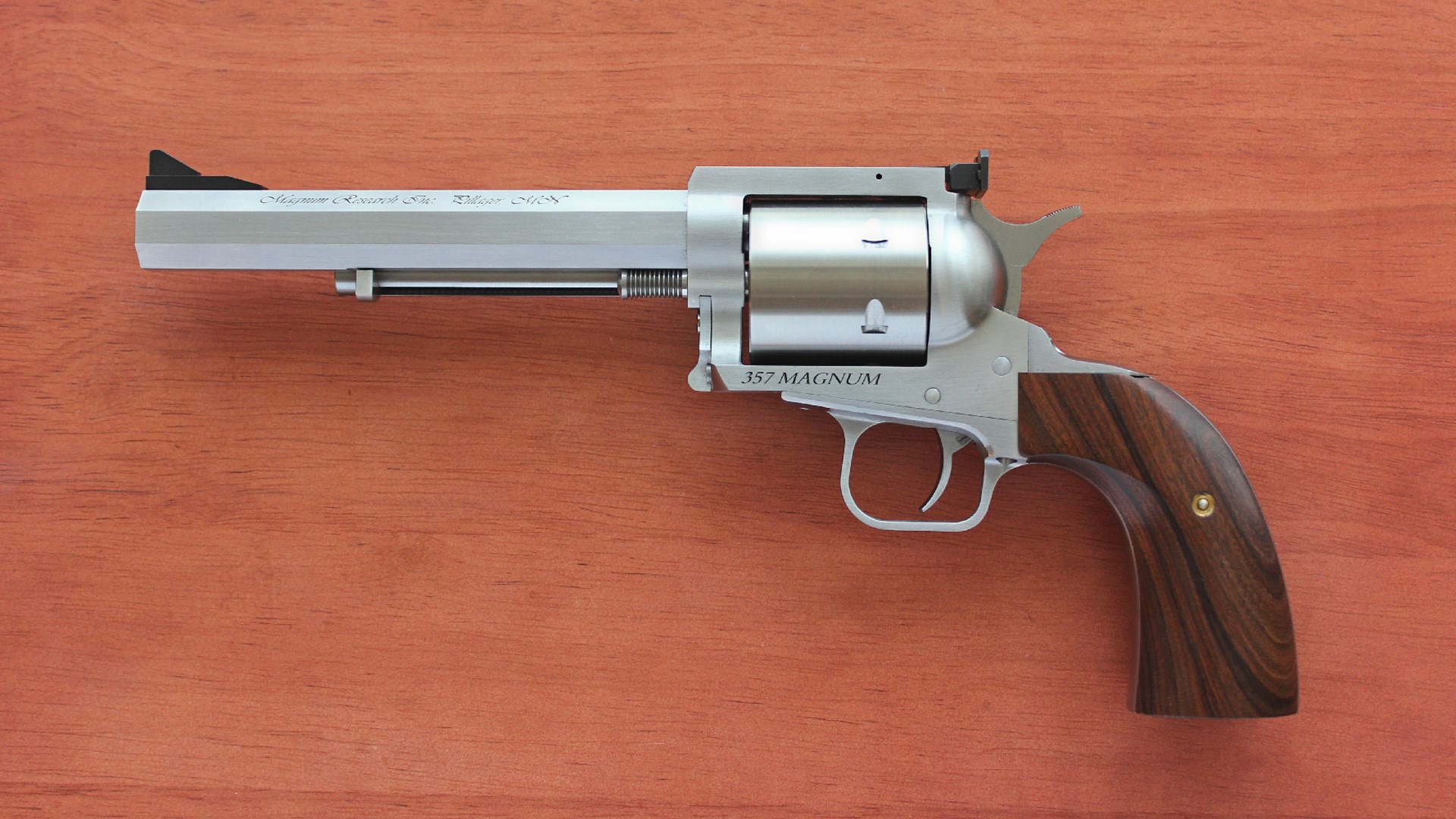 This version of the BFR tames .357 Mag. recoil with an unloaded weight of 59.9 ozs.
Like other members of the BFR family, this finely tuned short-frame .357 Mag. is a single-action revolver featuring an all-stainless-steel construction. In this case, the steel has a brushed finished. Cartridges are loaded through a right-side loading gate with spent cases ejected using a manually operated, barrel-mounted ejector rod. The exposed two-position hammer is paired with a frame-mounted firing pin along with a transfer bar safety. This allows the gun to be safely carried with all chambers loaded.
The sight system consists of a fixed blade sight up front with a fully adjustable square-notch target sight at the rear. BFRs ship with an aluminum optics rail, which can be installed in place of the rear sight. In this case, I opted to run the gun with the iron sights so as to preserve its classic cowboy gun appearance.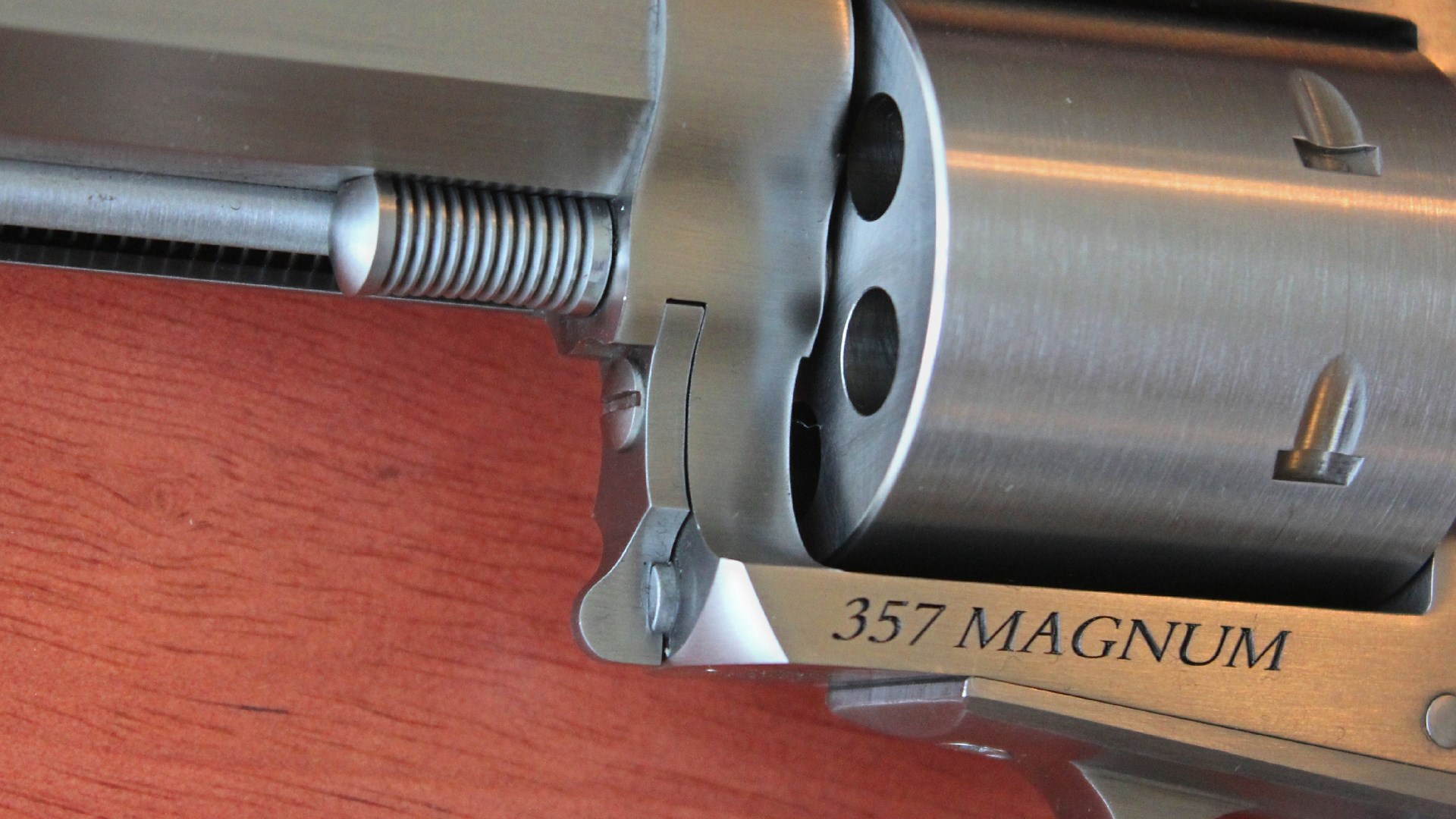 The base-pin latch is inspired by a mechanism installed in the famous EK #5 single-action revolver. 
In place of the typical round -profile barrel, a 6.5" full-octagonal version was installed featuring a recessed completion crown. The gunsmiths working in the Magnum Research Custom Shop engraved the barrel with flowing blackened script. The words "Biggest Finest Revolver" are found on the left side's upper flat with "Magnum Research Inc. Pillager, MN" along the right side.
They also added a special enhancement not currently listed on the Custom Gun Builder website. It's a locking base-pin latch inspired by the mechanism, designed by R.F. Sedgley, found on Elmer Keith's famous No. 5 revolver. The pivoting lever is secured in the closed position by a spring-loaded detent mounted into the frame. This, in turn, positively locks the base pin in place to prevent it from shaking loose. This latch, along with an oversize and textured base pin head, makes it easy to remove the cylinder for routine cleaning. It's a rugged, elegant solution that I wish had become a standard feature of more single-action revolvers.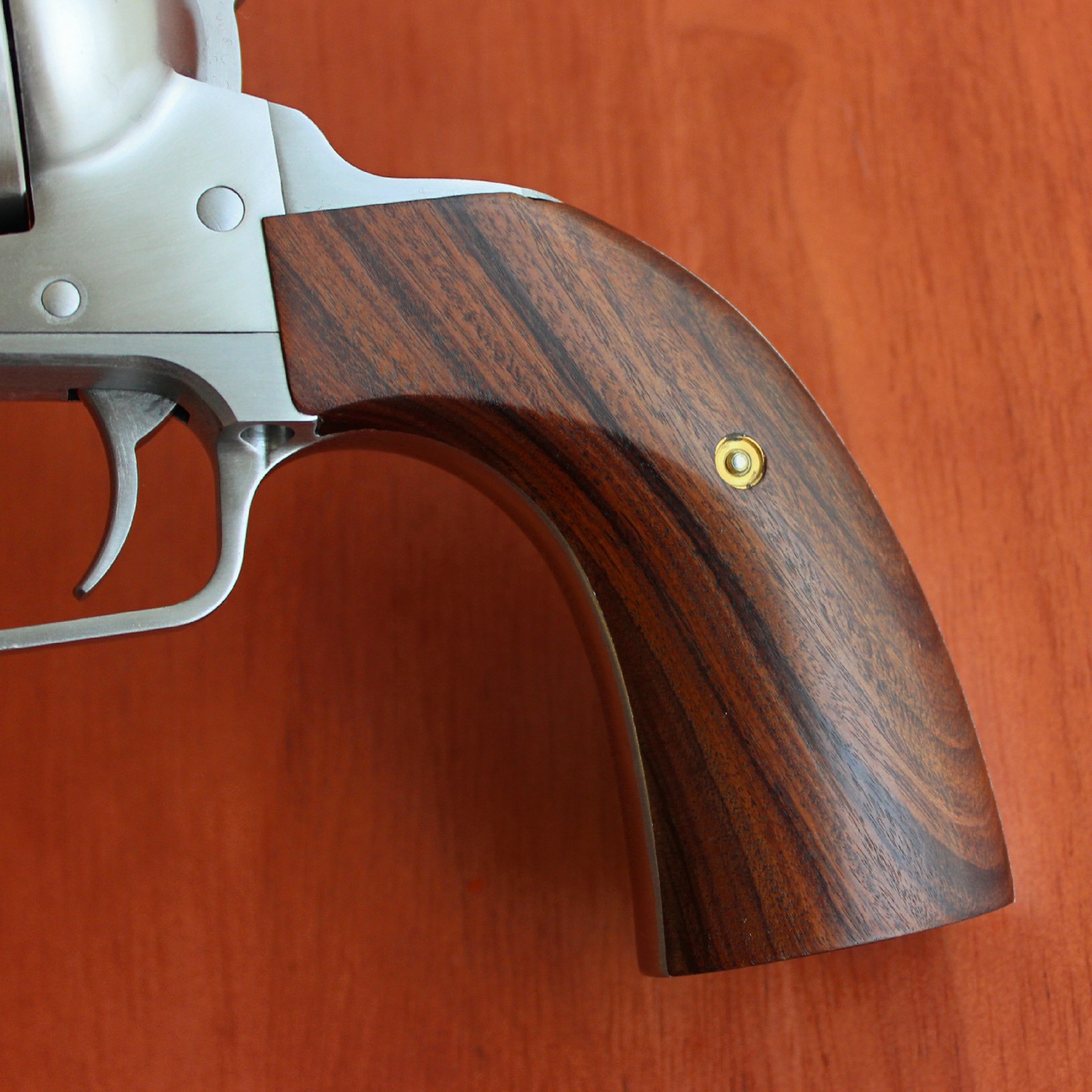 The Bisley-style grip rolls back in the shooting hand to help mitigate felt recoil.
Magnum Research offers a variety of free-wheeling 1.78" diameter cylinder configurations for this model. But in this case, I opted for the sleek simplicity of an unadorned and unfluted cylinder. When removed from the frame, the six chambers almost look small compared to the capacious chambers of the big-bore, five-shot models.
The curved, narrow, single-action trigger is housed inside of a square-profile trigger guard. The triggers leave the workshop properly tuned to a clean, crisp trigger pull of around 3 lbs. In this case, the trigger broke with 2 lbs., 15 ozs. of pressure. The light weight and the exceptionally short trigger stroke contribute noticeably to downrange accuracy.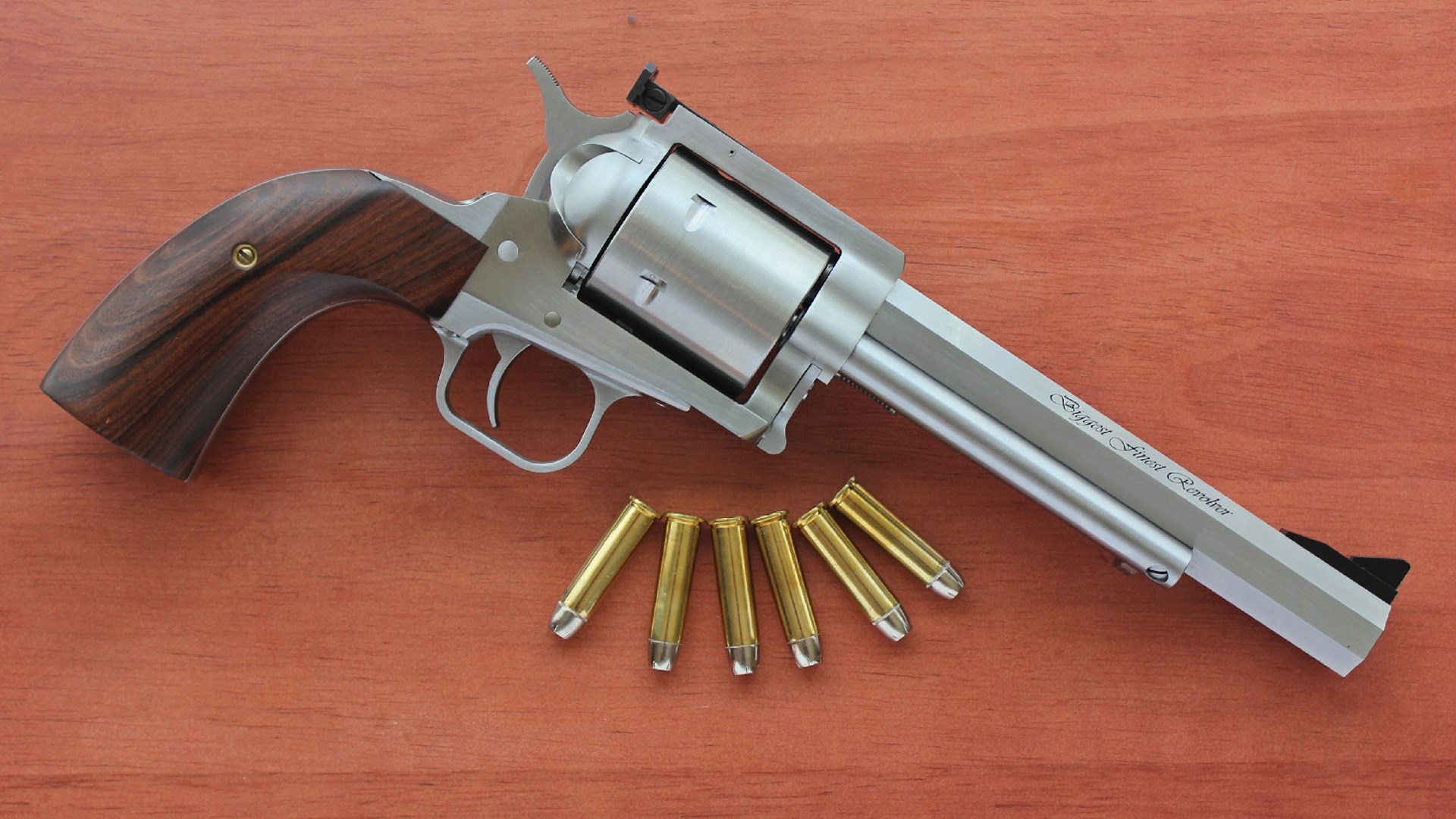 This BFR successfully blends 21st-century gun manufacturing and with a classic 'cowboy gun' profile.
I became a fan of this company's Bisley-style grip frame fitted with hard, smooth grip panels while working with the Thunder Snub. This grip shape fits my hands so nicely, and the panels allow the gun to roll back so as to help mitigate felt recoil. Although I'm partial to the black Micarta panels, I followed the suggestion to try the Rosewood grips this time around. I'm glad I did, since they look just as good as they feel.
Single-action revolvers like the BFR are not ammunition-sensitive in the same way as semi-automatic pistols. Short of the cartridge itself having some sort of catastrophic failure, including squib loads, blown primers and cracked cartridge cases, these wheel guns will chamber, fire and eject flawlessly. As expected from previous BFR evaluations, this six-shot model in .357 Mag. proved to be utterly reliable throughout the course of testing.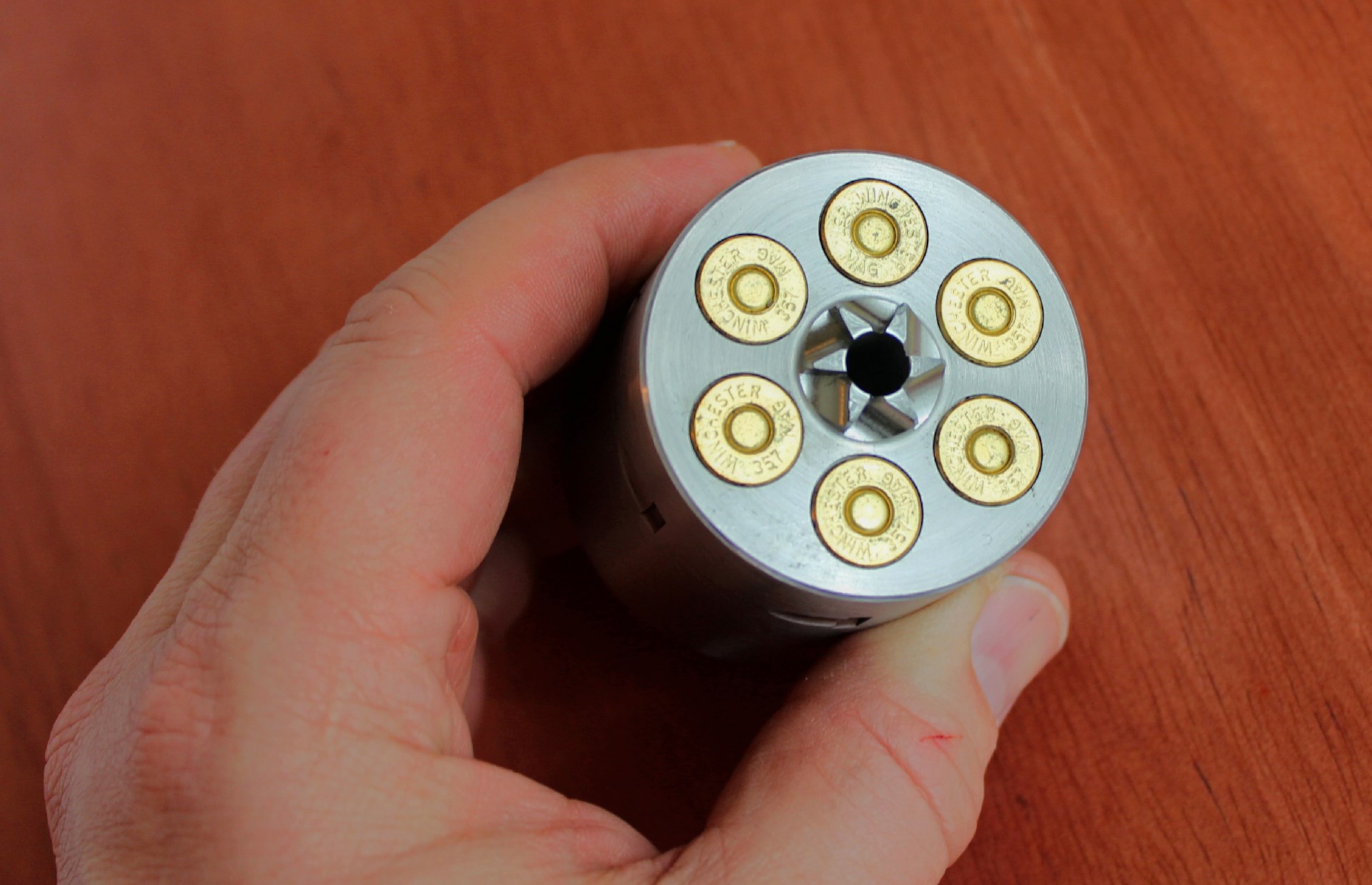 The .357 Mag. cartridges almost look small in this somewhat over-built cylinder.
When I started shooting .357 Mag. back in the mid-1990s, commercial cartridge bullet weights tended to fall into three basic categories: defensive 125-grain hollow points, the 158-grain multi-purpose soft points and the deeply penetrating 180-grain hard cast solids for handgun hunting and defense against dangerous game. More recently we've seen the development of factory loads topped off with 130- to 145-grain bullets for hunting and defense, which offer a useful balance between performance and recoil.
I opted to focus on these middle-weight rounds with this custom BFR configuration. For those who are new to magnum revolvers, gun and ammunition combinations may still seem to be on the stouter side of the recoil scale. After shooting a variety of lightweight, short-barrel big-bores, it proved to be the much tamer handgun I hoped it would be. The light, smooth trigger, along with the easy to see sight system made it a real pleasure to shoot from a bench rest or from a standing position using a two-handed grip.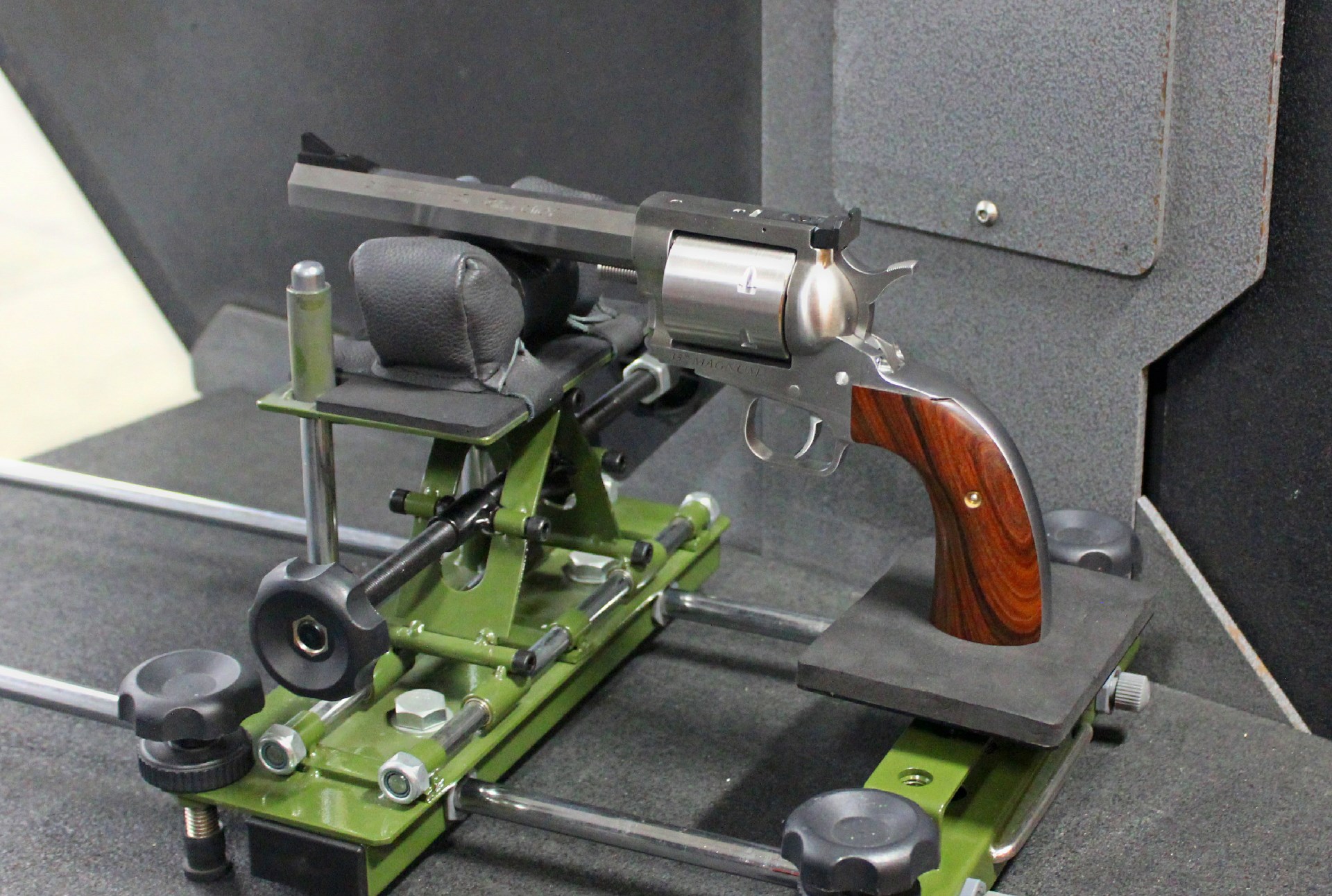 The six-shot BFR proved to be the accurate and softer shooting revolver the author was looking for.
Formal accuracy testing included handgun hunting loads from Hornady and Underwood, along with a defensive Silvertip hollow point from Winchester. The 6.5" barrel and tight cylinder gap tolerances contributed to increases in bullet velocity between 54 f.p.s. to 207 f.p.s. when compared to the manufacturers' listed velocities. Group sizes were almost all under 3" as well.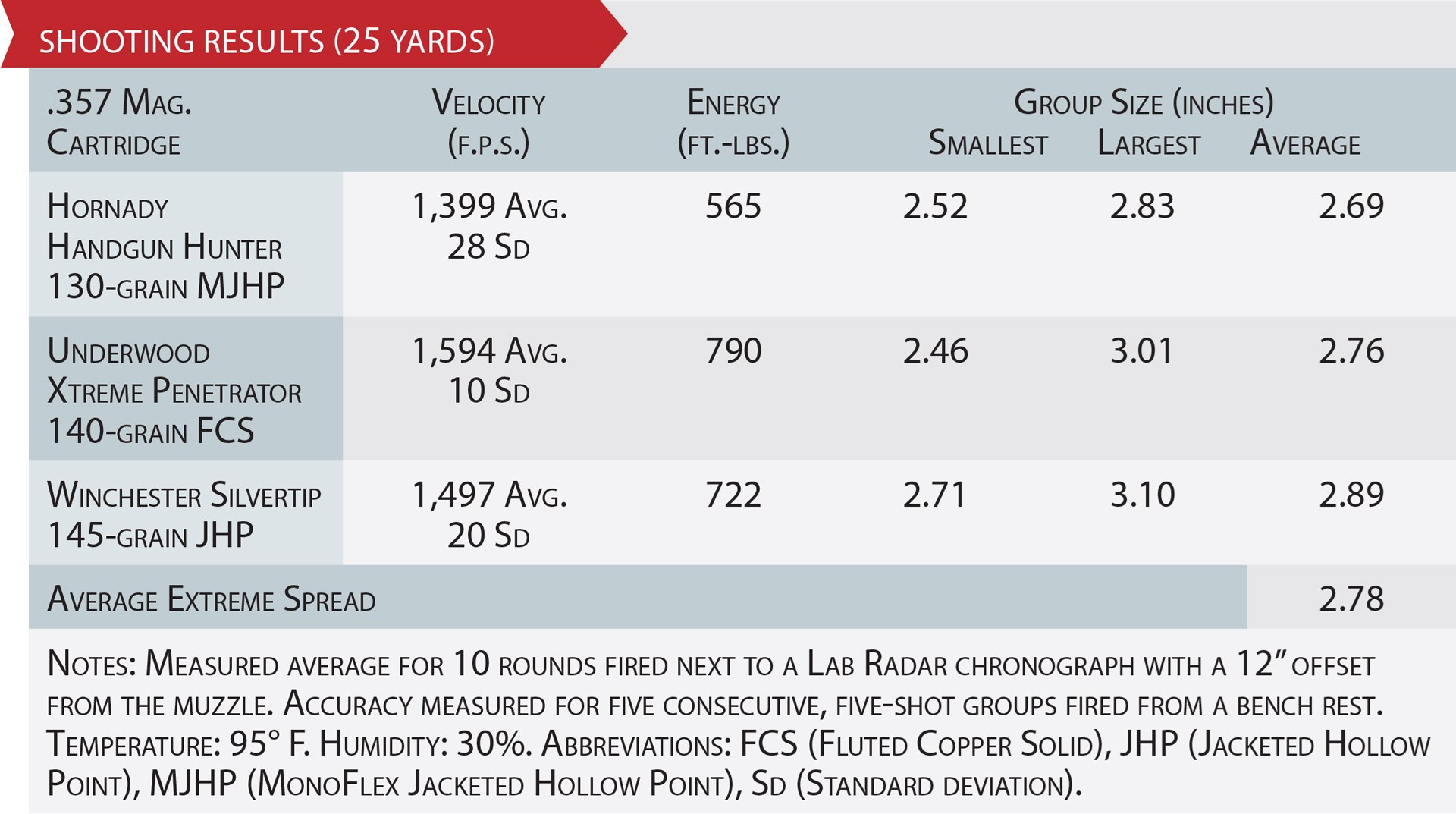 During the informal portion of the shooting session, I somehow managed to knock out a 1.68" group with the BFR using Hornady ammunition. No other group, formal or informal, was this tight. I'd like to believe I'm this good of a shot with an iron-sighted revolver but it's actually an indicator of the performance capabilities of this particular gun. I may just go ahead and mount an optic to it after all.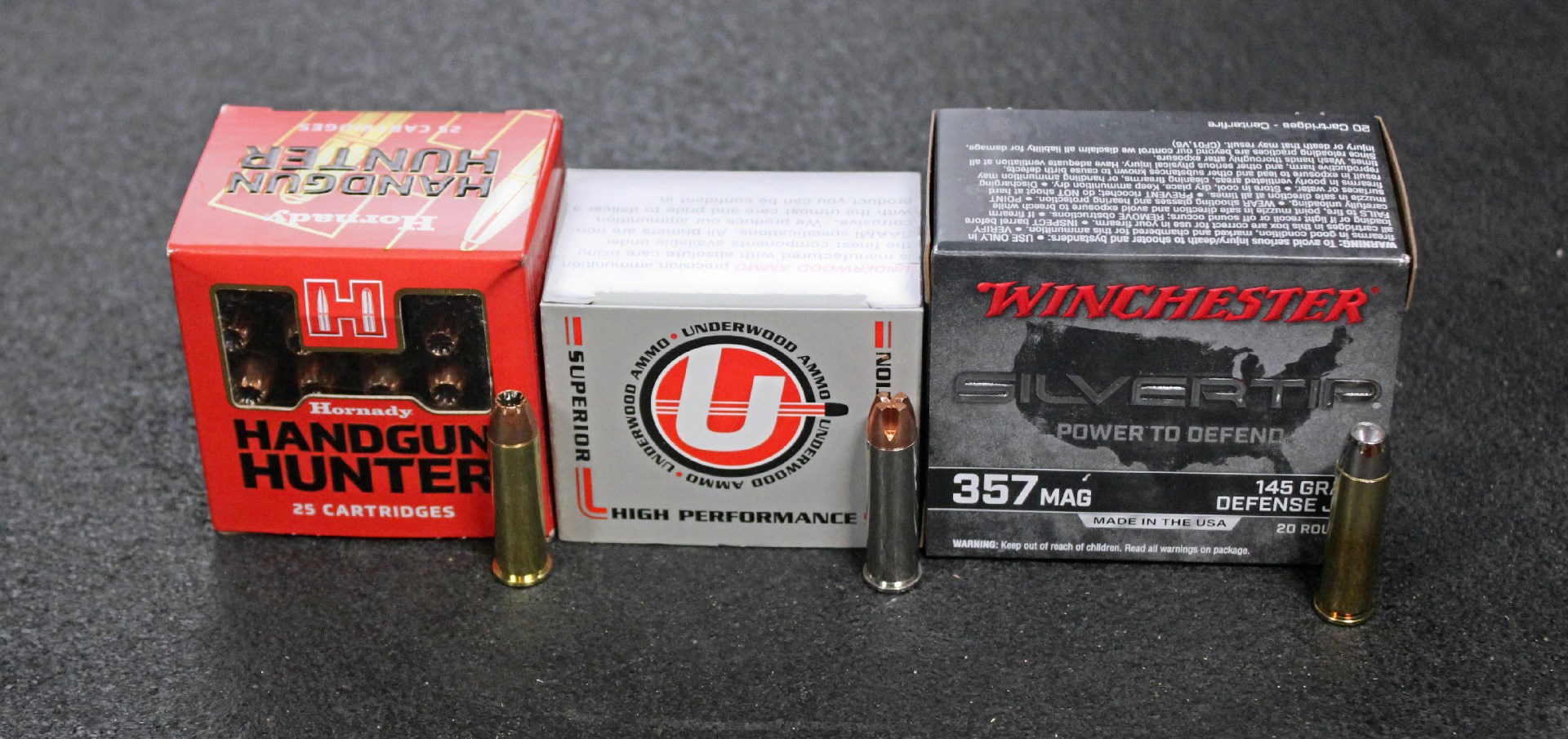 Modern middle-weight .357 Mag. loads provide a useful balance of performance and downrange accuracy.
In the past, I've built and reviewed handguns of which were somewhat exotic, or experimental in nature, to see the kind of performance results they would produce. In truth, there's nothing experimental about this six-shot BFR. It's simply a re-arrangement of in-house features that have been available for some time now.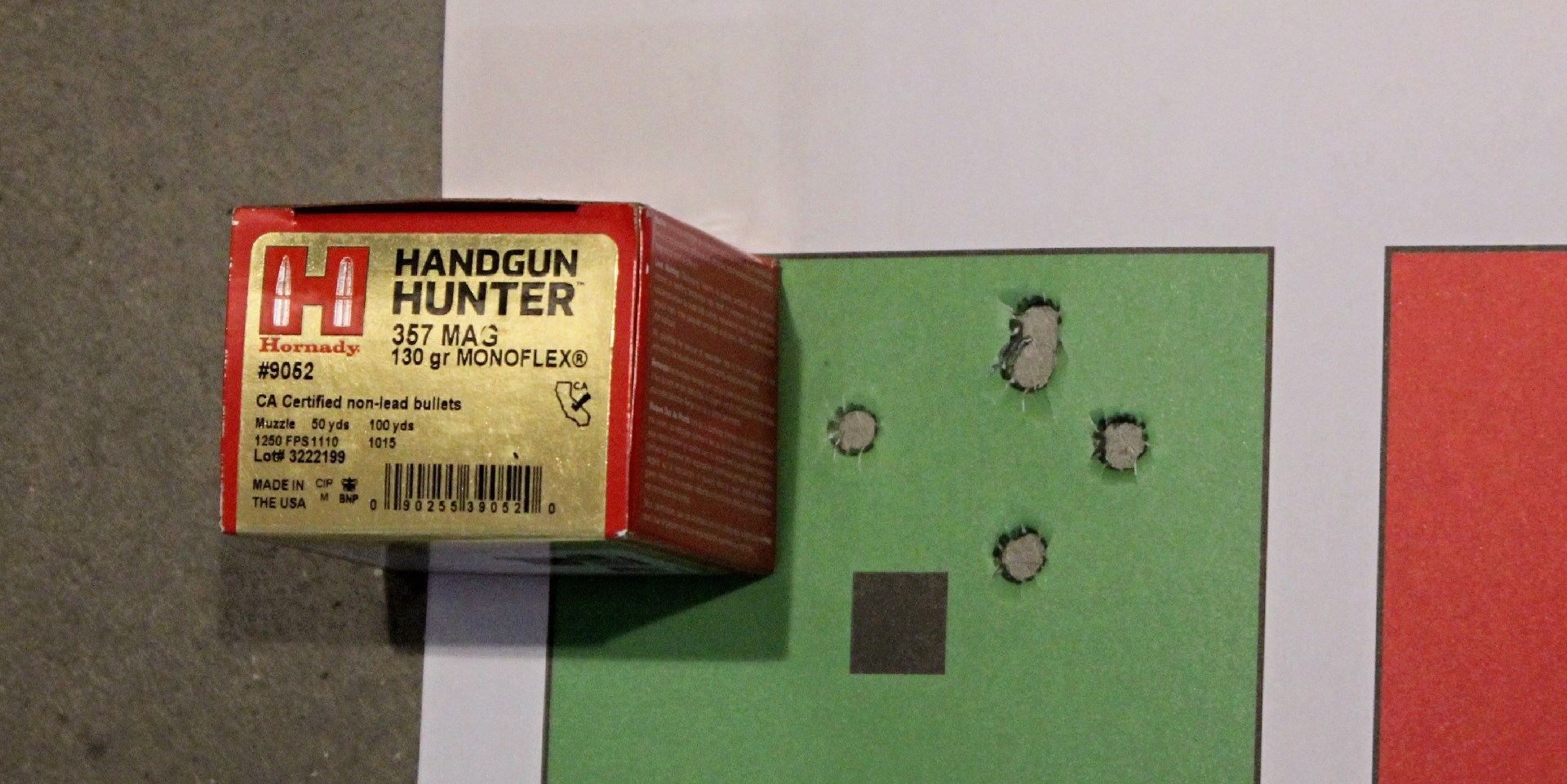 This 1.68" five-shot group at 25 yards showed that this gun is capable of out shooting the shooter.
However, I do believe that this revolver, caliber and feature combination is an unusual choice, if not at least uncommon. Most folks who choose to invest in a custom BFR are looking for harder-hitting rounds than the .357 Mag., and they are certainly available. But in this case, reduced recoil with the resulting increase in control was the top priority. I got just want I wanted, and I couldn't be happier about it. Be aware that customized BFRs are in demand, so plan on an 8-12 month wait after placing the order. It can seem like a long wait to get what you want, but some things are definitely worth waiting for.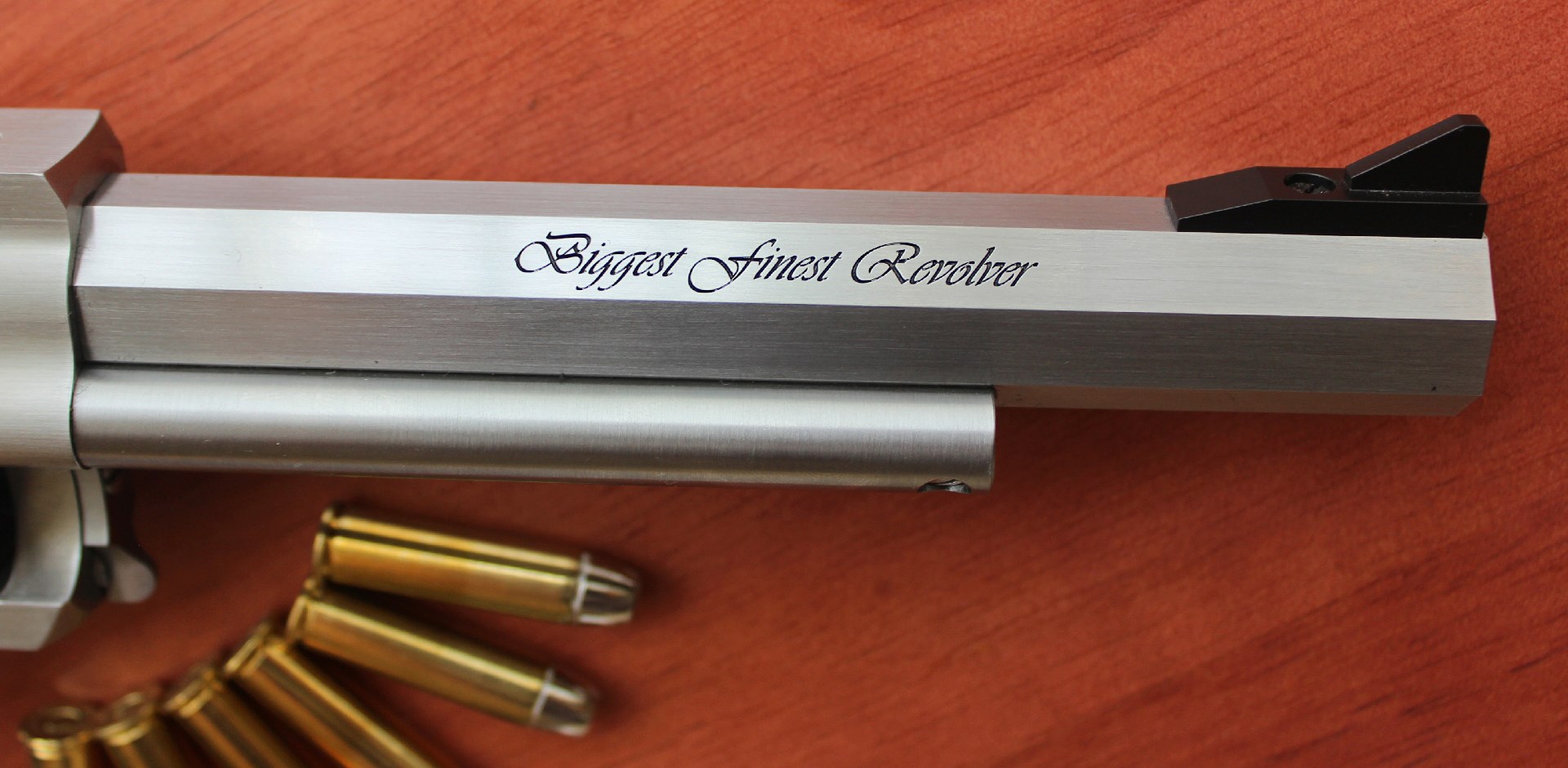 Custom Cowboy BFR Revolver Specification
Manufacturer: Magnum Research
Action Type: single-action, centerfire revolver
Chambering: .357 Mag.
Barrel: 6.5" stainless steel, brushed finish
Rifling: six-groove, 1:16" RH twist
Frame: stainless steel, brushed finish
Stocks: rosewood
Cylinder Capacity: six
Sights: fully adjustable square-notch rear, fixed front blade
Length: 12.5"
Height: 5.75"
Width: 1.78" (cylinder)
Weight: 59.9 ozs. (unloaded)
MSRP: $2,874 (as configured)