Support NRA American Rifleman
DONATE
In 1996, I was about two years into my informal but avid study of defensive handguns. This was the same year that Smith & Wesson decided to spice up the company's double-action revolver line-up with the release of the Model 686 Plus chambered for .357 Mag. The "Plus" in the name indicates a cylinder of the same size as its predecessor but one that sports seven chambers instead of six. I remember handling a short-barrel version at a local gun shop and wondering just how long it might be before another company like Ruger would increase a gun like its GP100 with a cylinder capacity to match.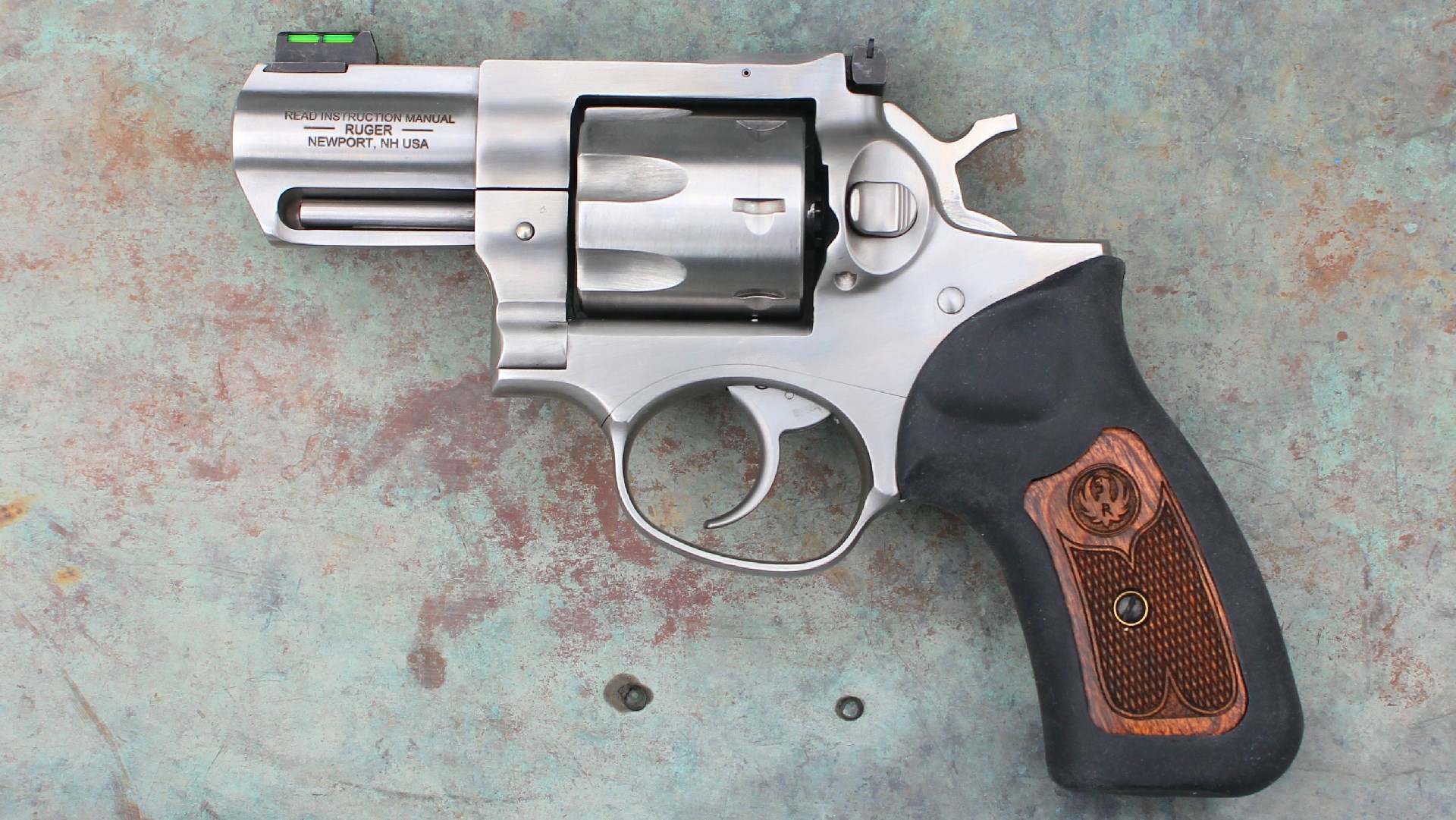 This GP100 sports a snub-nose, 2.5" barrel, a compact grip and a fiber-optic front sight.
As it turned out, it was a much longer wait than anticipated; 22 years to be exact. In fact, the seven-shot .357 Mag. models arrived right alongside of the Match Champion and the Lipsey's exclusive compact version of the GP100, both of which were chambered in 10 mm Auto. I'll admit that I felt a pang of regret as I stepped over these long awaited seven-shot .357s to get to the hot new 10 mm models at that time. But I finally found the opportunity to circle back around and take a 6+1 version for a test drive. It should come as no surprise to readers who've followed the 'thunder snub' gun reviews.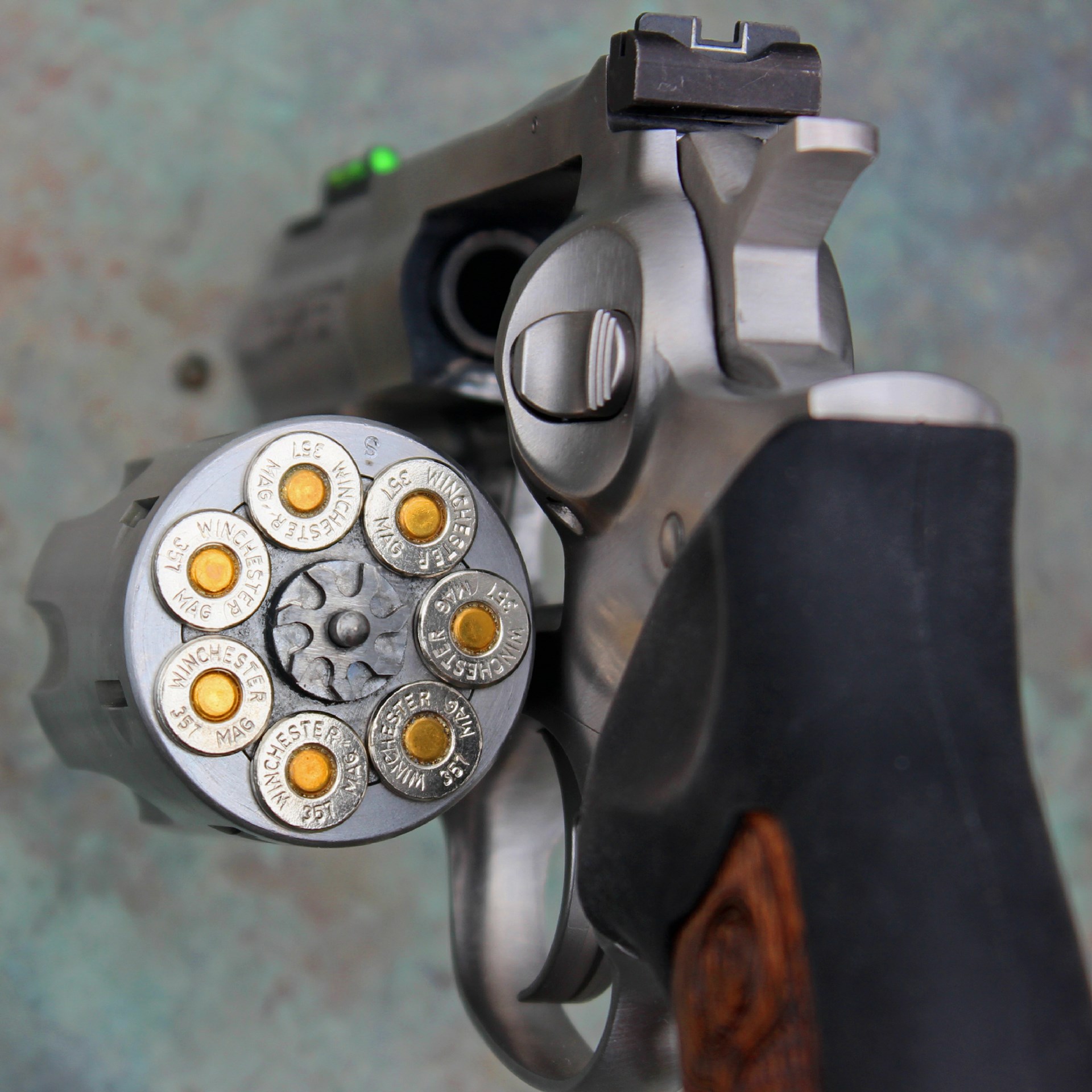 There's just enough room in the cylinder for a seventh round.
I keep finding my way back to the GP100s because of how they are made. They're not too much gun for the cartridge; these double-actions are built with a tank-like toughness out of satin-finished stainless steel. This model is topped off with a removable, bright-green fiber-optic front sight paired with a fully adjustable square-notch rear. The cylinder yoke features a spring-loaded lug for added support and has positive lockup. The seven-shot cylinder is opened using a push-button release located on the left side of the frame.
The exposed hammer has a short, checkered spur, which allows the gun to be manually cocked for single-action fire. The traditional round trigger guard houses a smooth-faced trigger bow. It is a double-action gun with a single-action mode. Double-action trigger pulls of the gun I tested were long and consistently smooth, with a pull-weight of 8 lbs., 5ozs. Cocking the hammer significantly shortens the trigger's arch of travel and allows it to break cleanly with a 2-lb., 9-oz. pull-weight.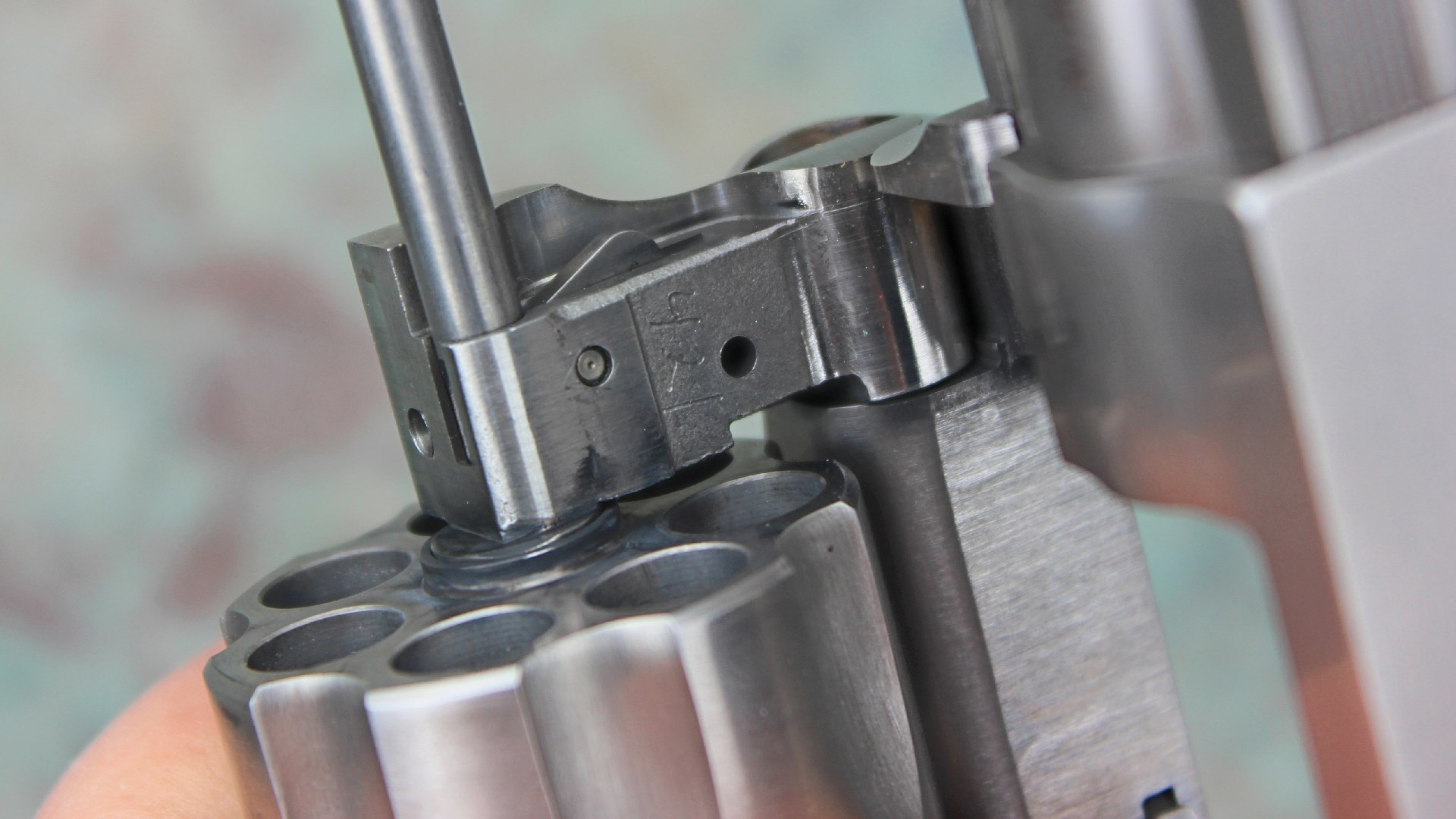 A spring-loaded lug locks the cylinder yoke into the frame.
Ruger's GP100 and SP101 revolvers use a central, post-like extension in place of the hollow grip framework favored by other manufacturers like Smith & Wesson and Taurus. This post is then centered inside of the rubber grip so that the shooting hand is wholly protected from coming into contact with the steel of the frame when shooting. This, in turn, works to effectively mitigate the slap-to-the-palm recoil affect typically experienced when shooting magnum revolvers with more powerful ammunition options. The checkered wood panel inserts are good-looking and provide a just-right amount of purchase that's effective but not abrasive.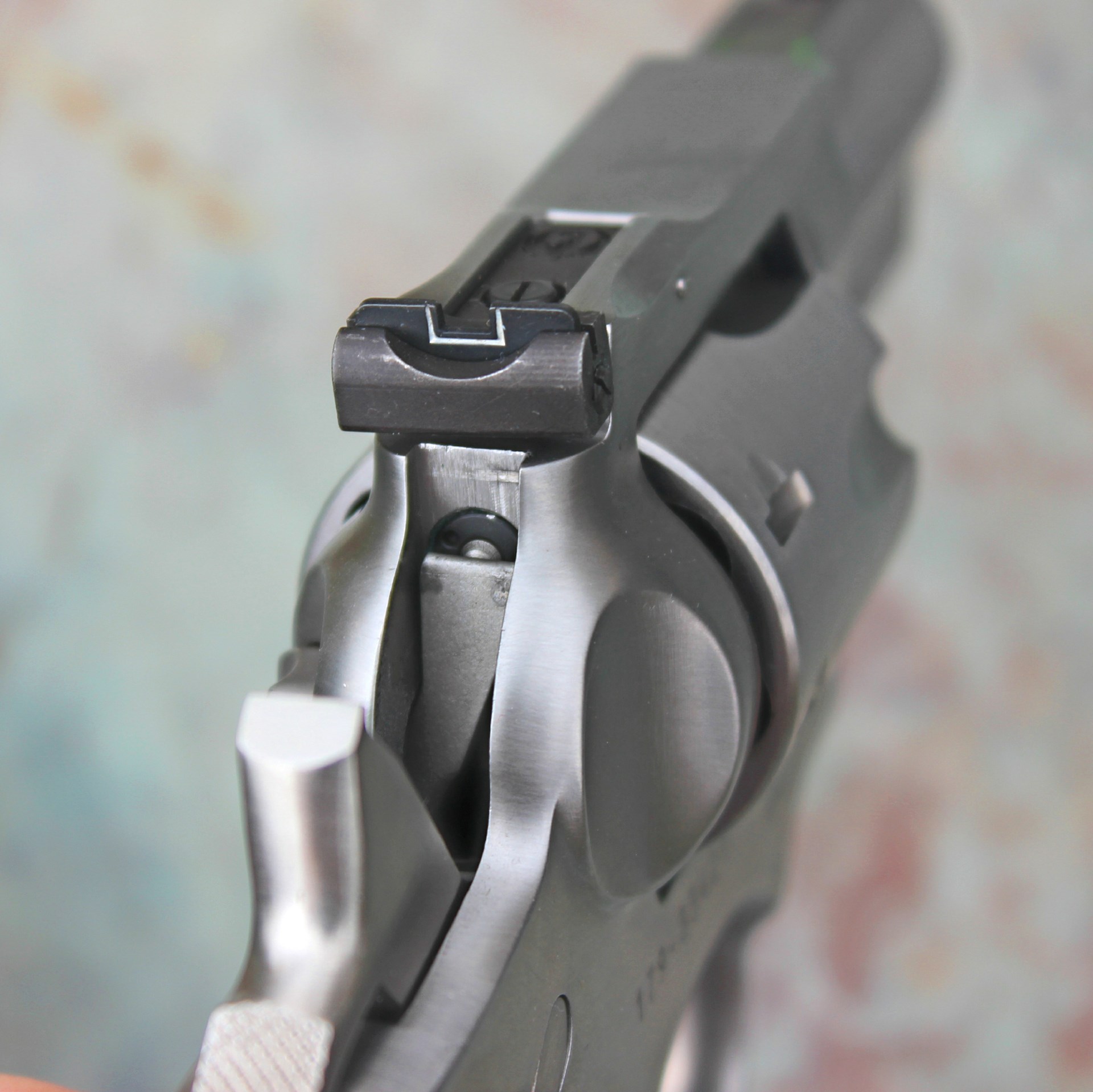 With the hammer cocked, the transfer bar safety is visible just below the adjustable rear sight. 
While handling this version of the GP100, it exhibited a noticeably lighter and handier feel than I expected. After the range test, I compared its weight to an older six-shot GP100 in the same caliber with a 3" barrel and the same compact grip. The newer 2.5" seven-shot tips the scales at 33.7 ozs., which is only an ounce lighter than the six-shot version. Nevertheless, the change in balance and handling is noticeable. 
Support gear for medium-frame revolvers is not as prevalent as it was a few years ago. But several top-notch manufacturers still keep their catalogs stocked with useful options for civilian self-defenders and folks headed into the great outdoors. The 2.5" barrel of this particular GP100 is an unusual length for this model. This makes finding exact-fit holsters next to impossible without having them custom made. However, a 3" barrel for the GP100 is common enough that off-the-rack holsters are fairly easy to find. That extra 0.5" of leather at the bottom does not impede comfortable wear, and it ensures full coverage of the muzzle.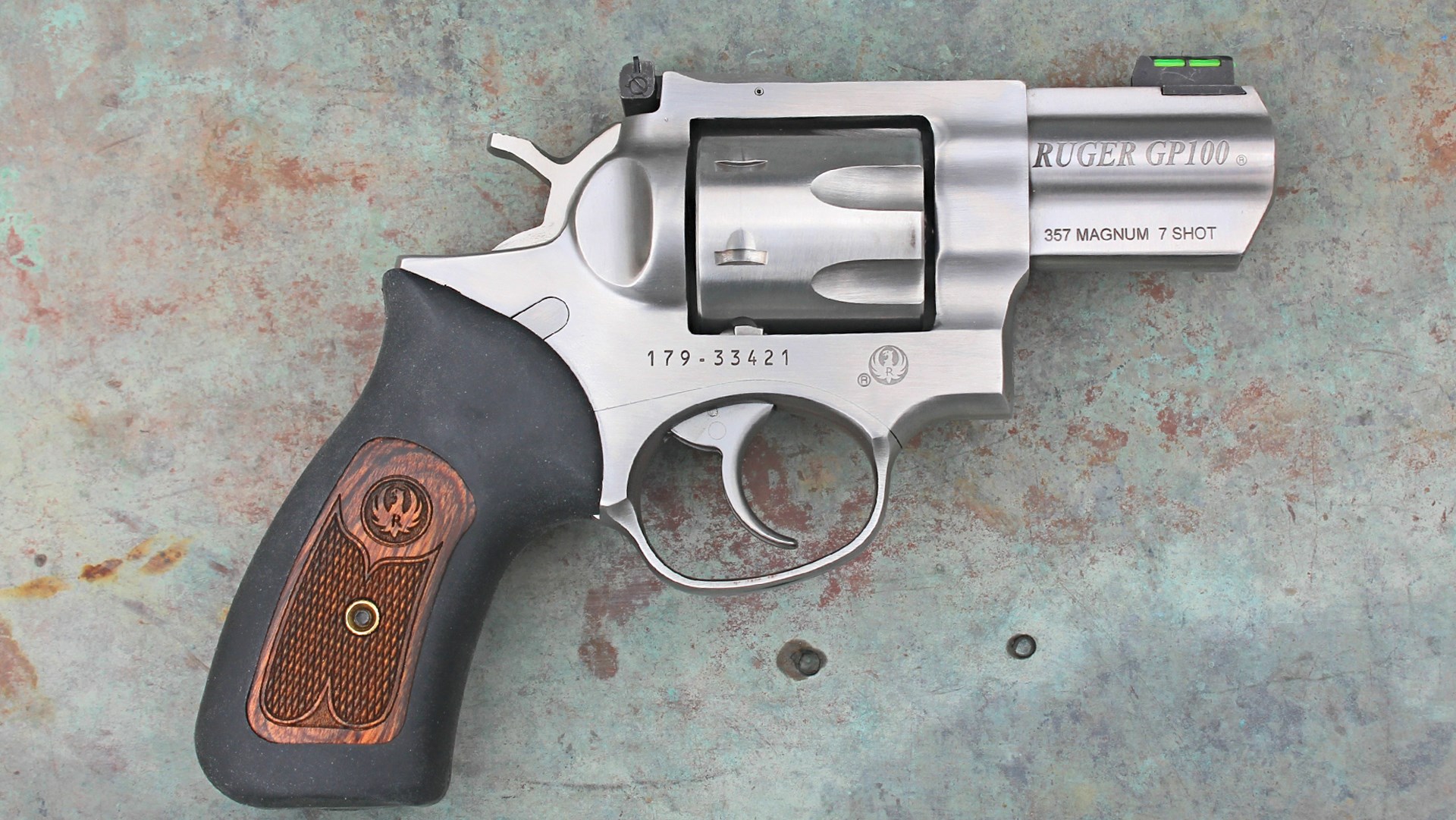 A shorter barrel and seventh chamber decreases this GP100's weight to 33.7 ozs
Galco Holsters have been carrying double-action wheelguns since 1969. The hand-molded holsters shown here are constructed of premium steer hide with a model-specific fit in the customer's choice of black or brown finishes. The Summer Comfort (below, left) in-the-waistband model has a metal-reinforced mouth for positive re-holstering, a butt-forward cant and dual retention loops that fit belts up to 1 3/4" in width. The Speed Master 2.0 paddle holster (below, right) features adjustable tension, a neutral cant for revolvers, and it ships with interchangeable belt slot and paddle attachments.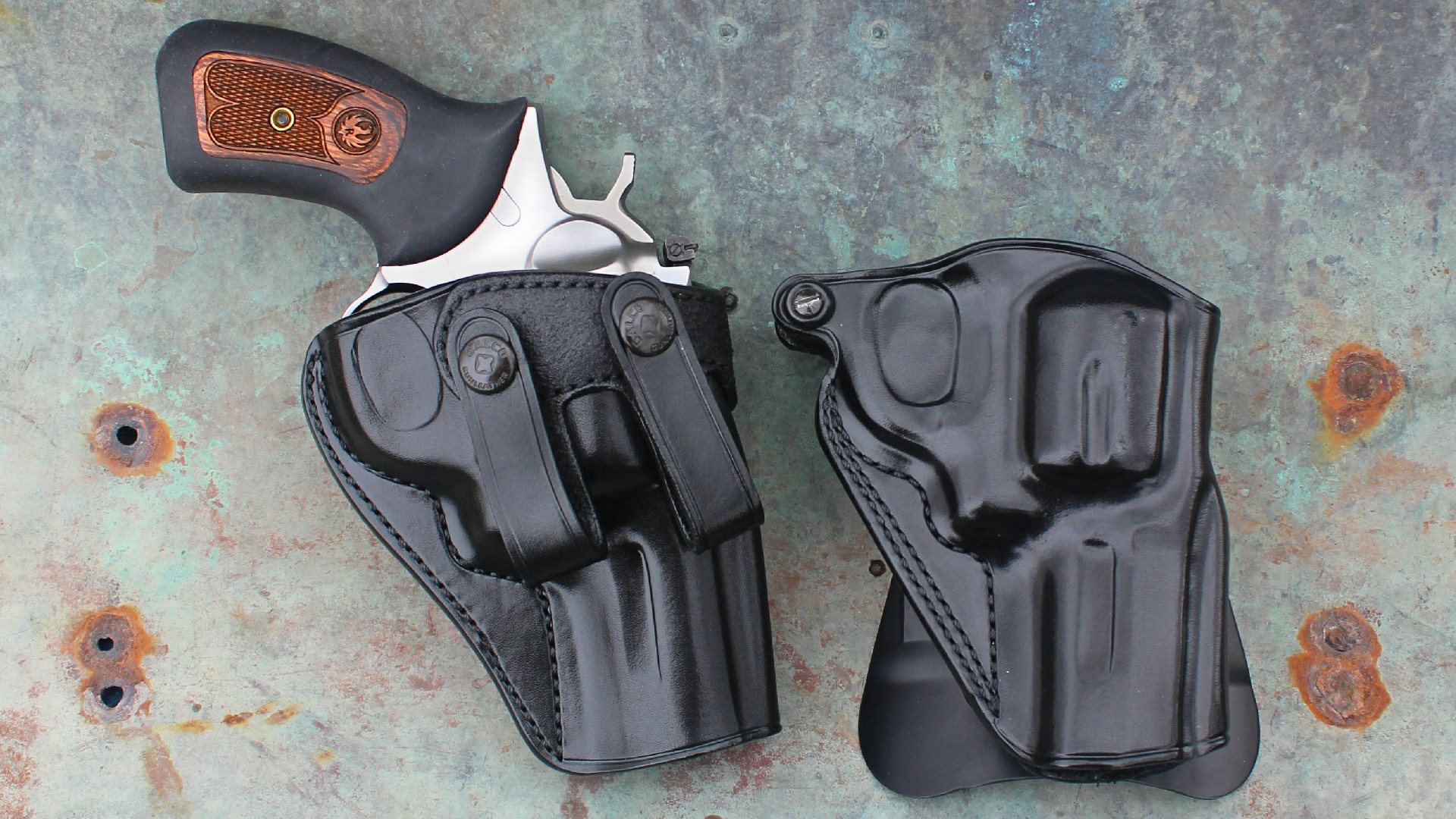 Galco's leather holsters are durable and comfortable to wear all day.
To further accessorize the Ruger, I went to 5 Star Firearms for the company's diverse selection of milled-aluminum, twist-knob speedloaders. In addition to covering products for standard revolvers, 5 Star Firearms also services those with less-common ammunition capacities and chamber options. The L7 .357/.38 loaders fit the GP100 as well as other seven-shots from Smith & Wesson and Taurus. They are also available in a variety of colors, which can be useful when managing different types of loads.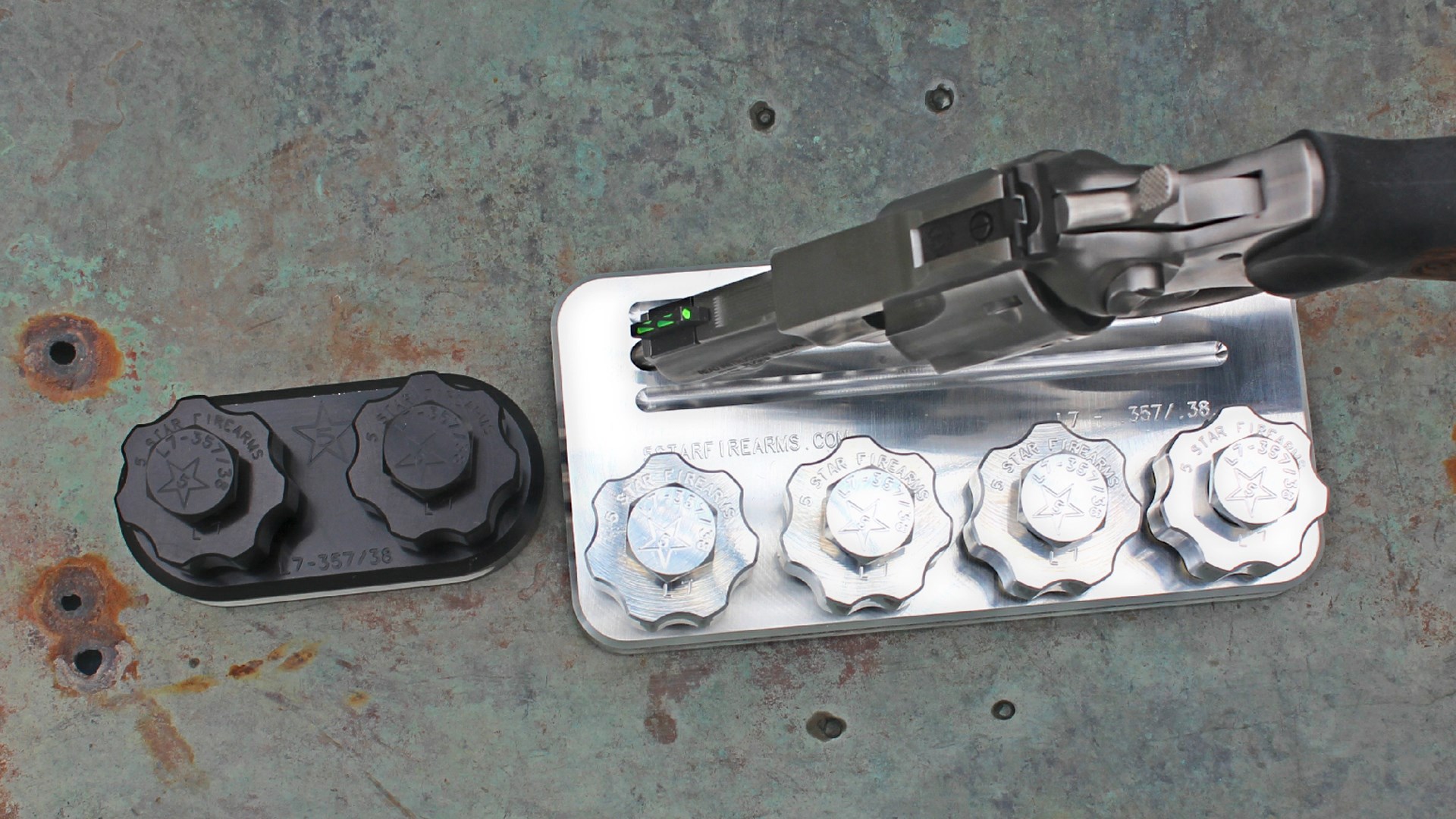 Twist knob speedloaders allow all of the revolver's chambers to be to be reloaded at the same time.
This company also offers aluminum loading blocks that come in handy at the shooting range or when staging revolvers for home defense. Shown below are the two-loader block, in black, along with a four-loader block that also serves as a gun stand. Blocks that support five or eight speedloaders are also available.
Another product to add to the GP100 kit comes from Tuff Products. QuickStrips provide a useful alternative for carrying spare ammunition in situations where a speedloader is not a good fit. The strips hold cartridges in a straight line, presenting a flat profile that allows the ammunition to slip comfortably into a jeans, purse or backpack pocket. This company's .357/.38 strips are sold in pairs and sized to hold five, six, seven or eight rounds of ammunition.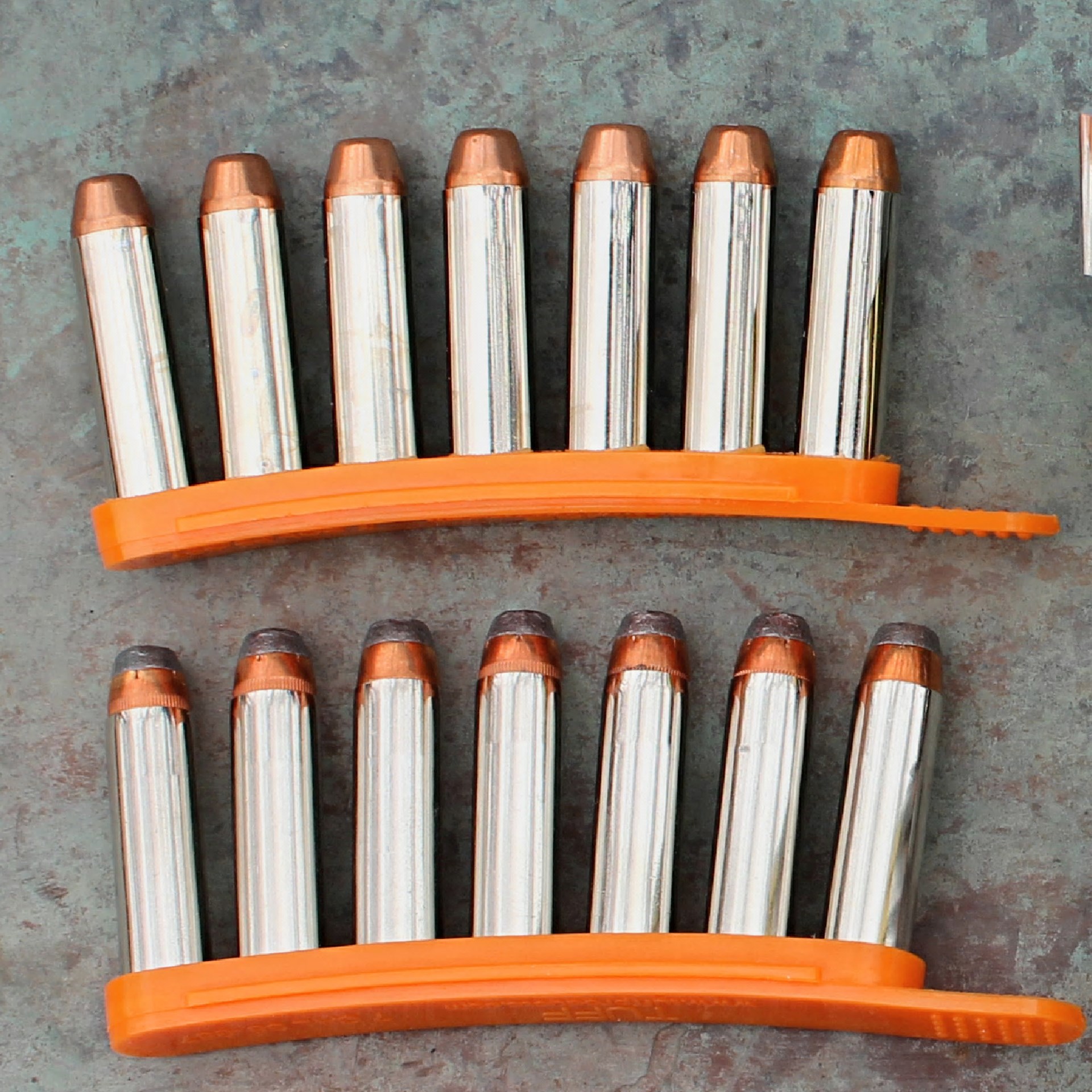 QuickStrips are not as fast for reloading as speedloaders are, but they ride comfortably in pants or purse pockets.
As expected, the GP100 proved to be a handful when using full-power .357 Mag. loads at the shooting range. Nevertheless, the bright and useful sight picture, the smooth controls and comfortable wood-paneled rubber grip made the bumpy ride an enjoyable one. In regards to ammunition, the range test was conducted with a mix of .357 Mag. loads suitable for use in the field or for self-defense. The revolver ran great without exhibiting any mechanical issues.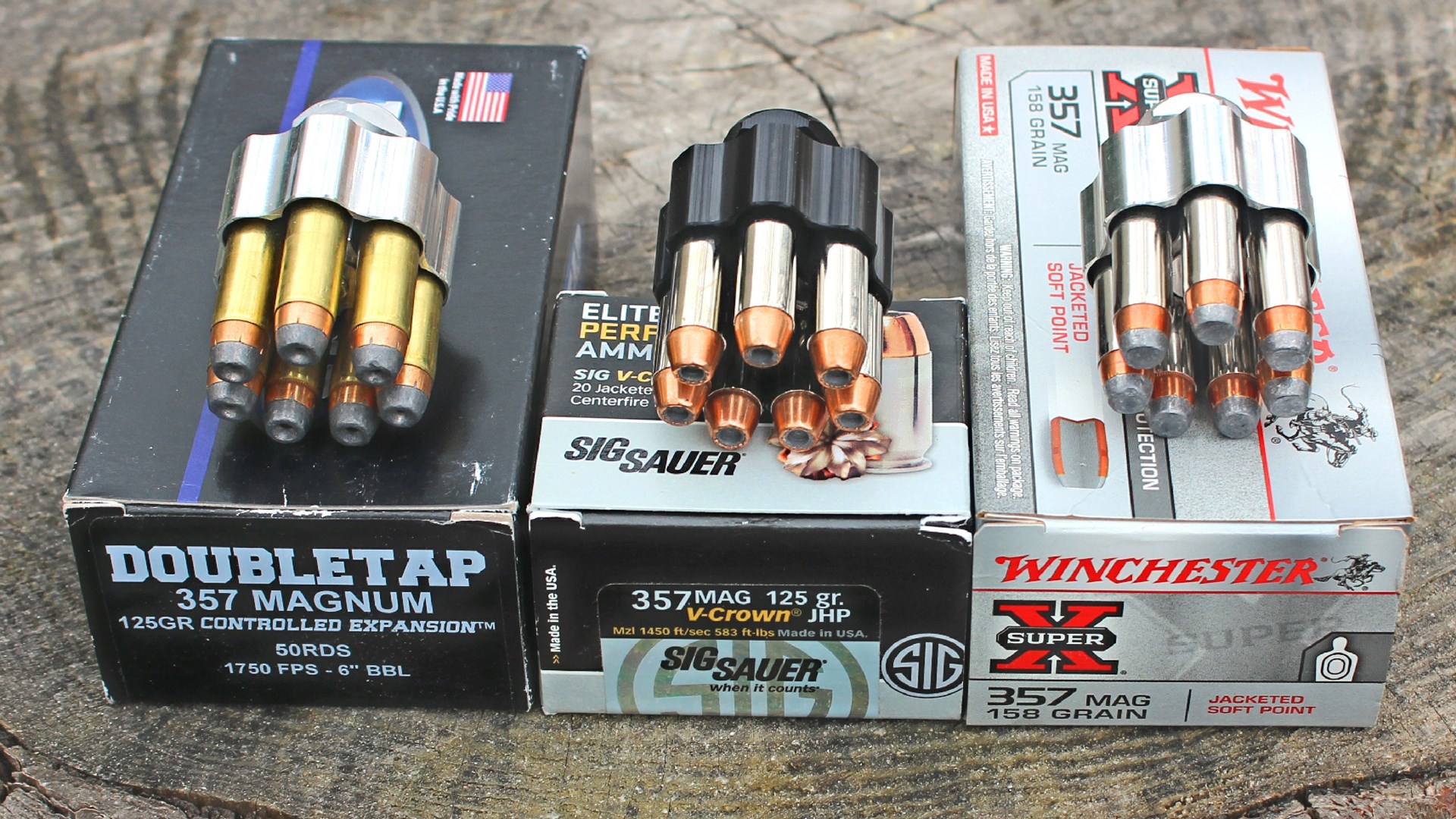 When shooting a revolver with a shorter barrel, .357 Mag. still develops more a good deal more energy than .38 Spec. or .38 Spec +P loads.
Because the barrel of this revolver is under 3", formal bench-rest accuracy testing was conducted at 7 yards. But I know from experience that short-barrel GP100 revolvers can easily print useful groups out to 25 yards and beyond when the trigger operator is doing their part. Refer to the table nearby to view the accuracy and ballistic results from typical .357 Mag. loads manufactured by DoubleTap , Sig Sauer and Winchester: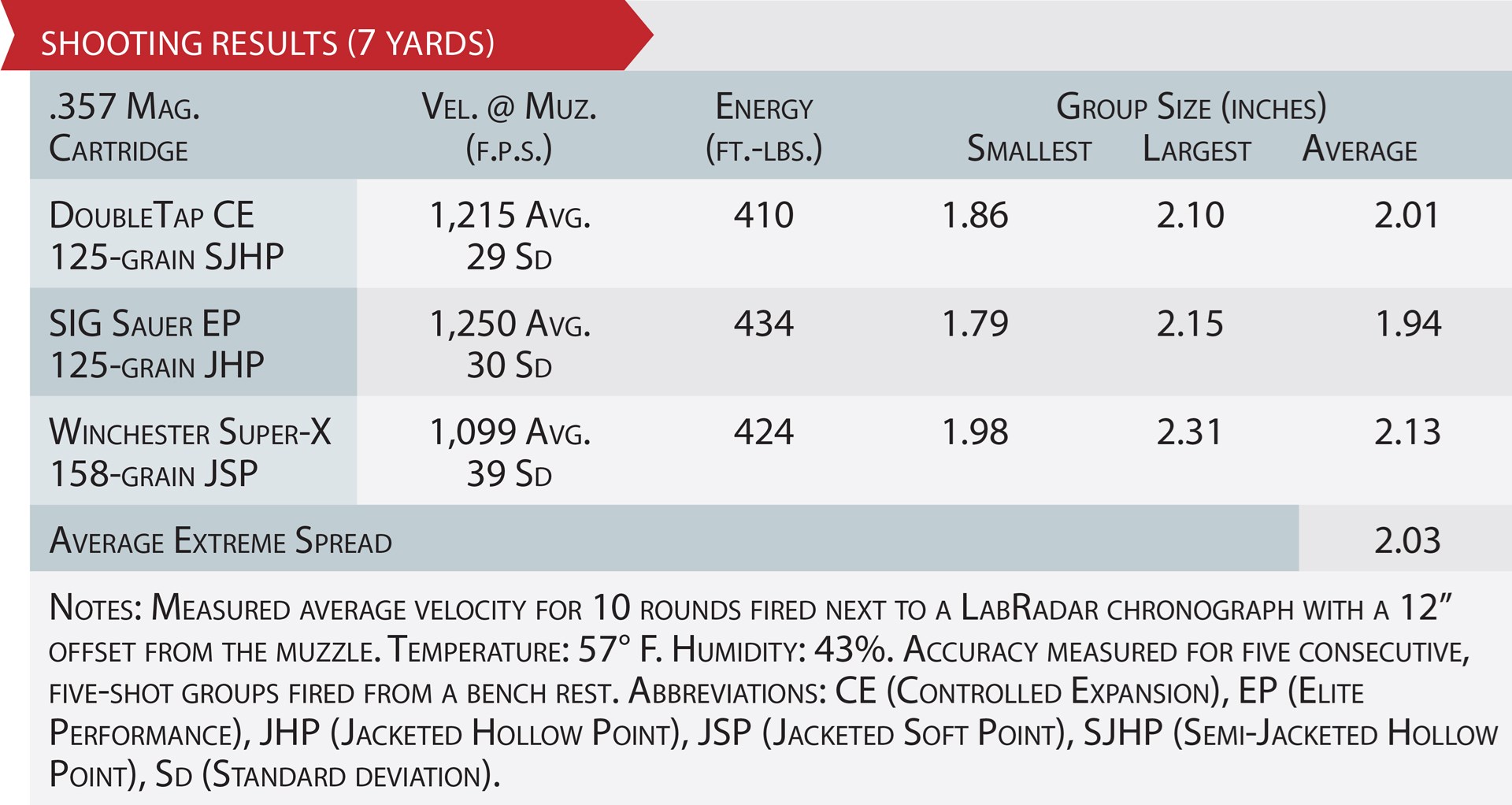 A question that continues to crop up is the 'just one gun' scenario. If you could only own one gun, what would it be? It may be a bit old-fashioned, but I keep coming back to that question with the same answer: a medium-size .357 Mag. double-action revolver. Although these wheelguns do not hold as many rounds as semi-automatic pistols, the diversity of ammunition options and power range is impressive. These guns can be stoked with soft-shooting .38 Spl. wadcutters for target shooting; moderately powered .38 Spec. +P hollow points for home defense; or full-power .357 Mag. hunting loads topped with up to 200-grain hard-cast bullets. And in those areas where poisonous snakes are a concern, one or two chambers can be filled with CCI pest control cartridges that fire fine lead shot.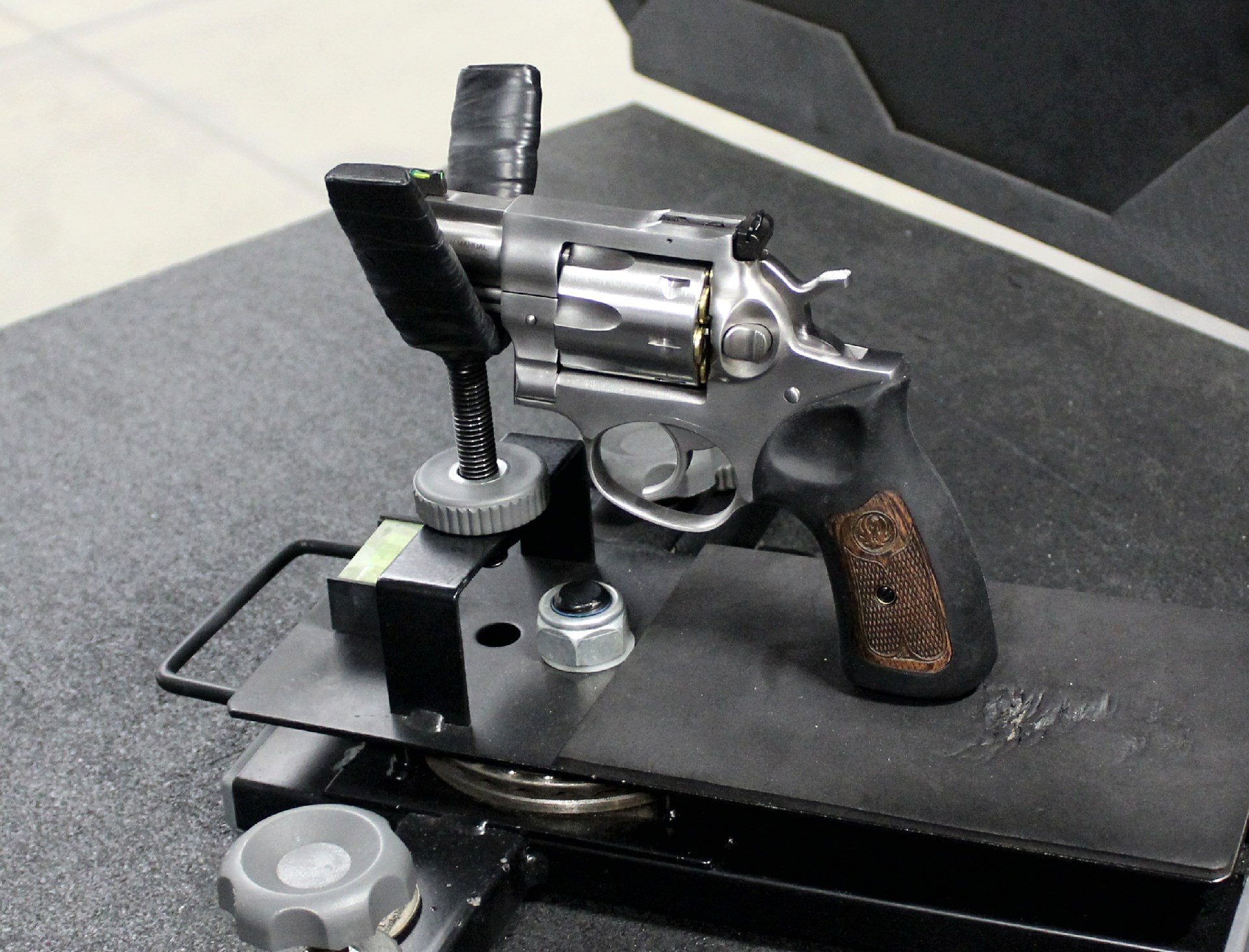 Full-power ammunition makes for exciting shooting range sessions.
A tough and reliable .357 Mag. Ruger GP100 outfitted with a 6" barrel will do most of what the cartridge is capable of, while a 4" barrel is a well-established, do-all barrel length. But a 2.5"-barrel model fits quite nicely into the trail-to-town handgun category. Loaded properly, it's powerful enough for protection against a variety of dangerous animals you may come across in the woods while being compact enough to comfortably carry and conceal with the right support gear. And even though it may require a new set of speedloaders and strips to accommodate that seventh round, one more shot in the cylinder is definitely a bonus.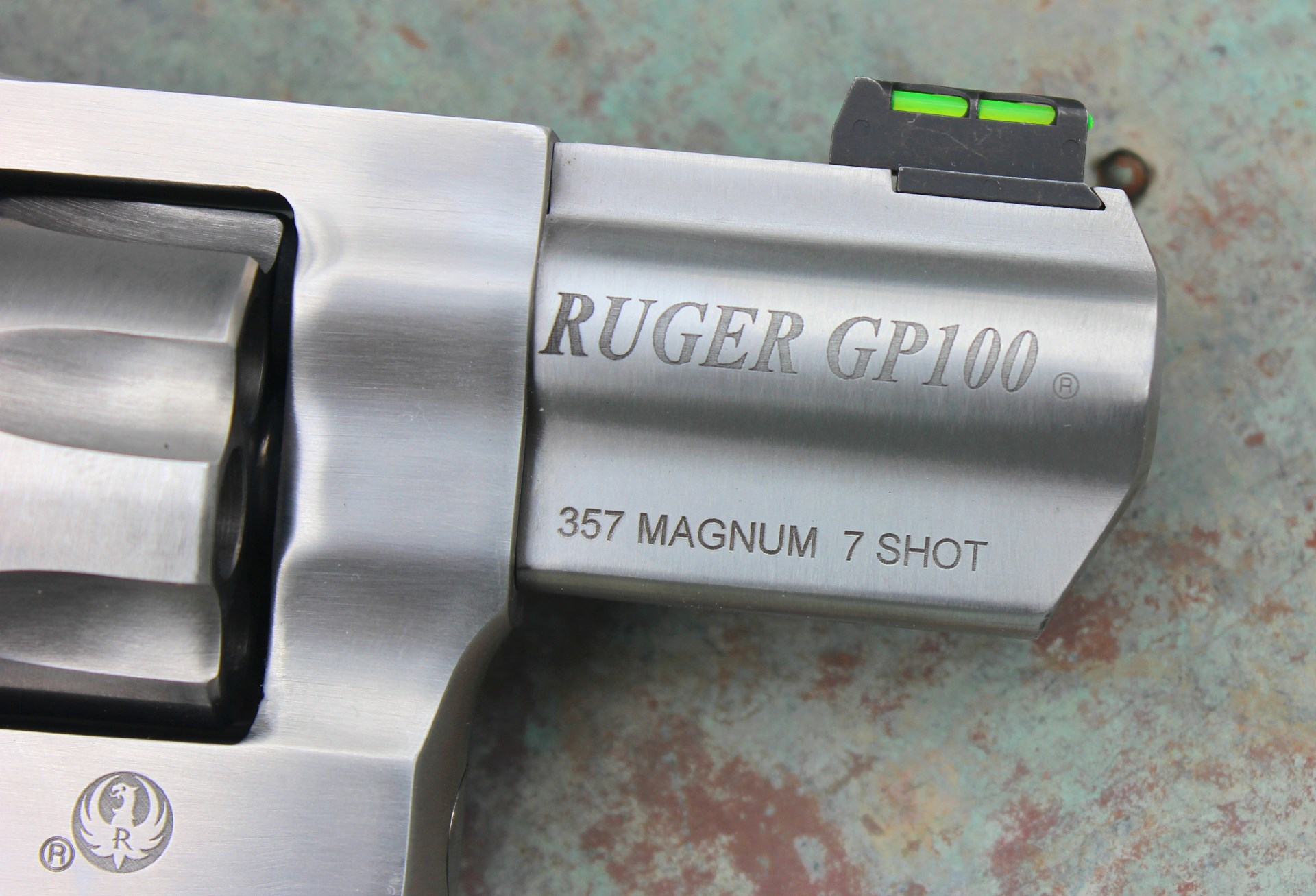 Ruger GP100 7-Shot Specifications
Manufacturer: Sturm, Ruger & Co., Inc.
Action Type: double-action, centerfire revolver
Chambering: .357 Mag.
Barrel: 2.5" stainless steel, satin finish
Rifling: six-groove, 1:18.75" RH-twist
Frame: stainless steel, satin finish
Cylinder Capacity: seven
Sights: fully adjustable square-notch rear; green, fiber-optic post front
Trigger: double-action, 8-lb., 5-oz. pull; single-action, 2-lb., 9-oz. pull
Overall Length: 8"
Height: 6.25"
Width: 1.73" (cylinder)
Weight: 33.7 ozs. (unloaded)
MSRP: $1,099