Support NRA American Rifleman
DONATE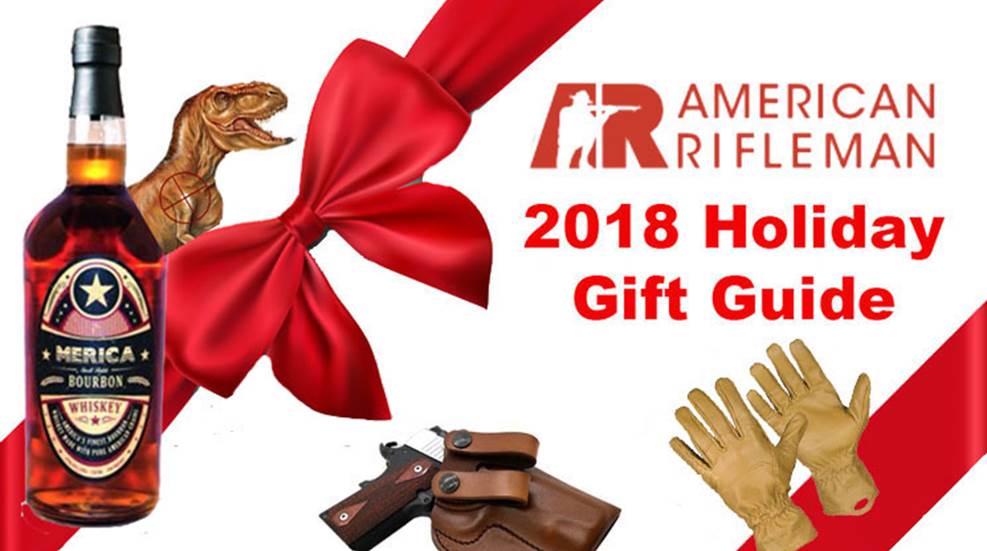 It's officially holiday shopping season, a time when many are confronted with the age-old dilemma of choosing the perfect gifts. Fear not, the AmericanRifleman.org editors are here to help—especially if those on your list are avid hunting and shooting sports enthusiasts. Check out a few of our favorite picks at price points to please every shopper.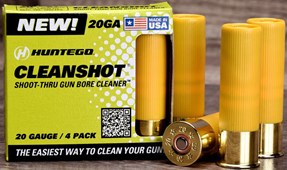 1. Huntego CleanShot
Have you ever thought it would be a neat idea to shoot your gun, and have it be cleaned by way of specialized ammunition? Well, Huntego has developed Cleanshot, a shoot-through gun bore cleaner for shotguns. Marketed as "The Easiest Way To Clean Your Gun," Cleanshot uses a patented high-velocity bore cleaner that is designed to scrub, trap and wipe the bore clean. Highly oxidized propellant allows for the cleanest burn possible, leaving your bore ready for the next outing at the clays course. Four-count boxes for 12- and 20-ga. applications are available for order at huntegoltd.com, with prices listed at $10 and $9, respectively.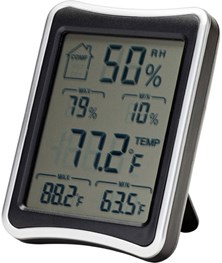 2. SnapSafe Digital Hygrometer
Owning a gun safe and installing hardware to control temperature and humidity is one thing, but having all of the precautions in place without a way to monitor your investments is another. SnapSafe offers its Digital Hygrometer, with a large LCD display that provides current temperature and relative humidity readings. Curators at NRA Museums recommend storage conditions to be set to 70° F with a relative humidity hovering 50 percent. The Digital Hygrometer ($15) can be found at snapsafe.com.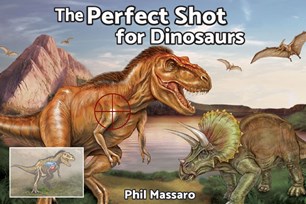 3. The Perfect Shot for Dinosaurs
Everyone's been there. You want to go dinosaur hunting, but you're just not sure how to properly place your shot. Fear not! Phil Massaro has written a tome to answer all the questions you never had. Covering an enviable array of 20 prehistoric behemoths, The Perfect Shot for Dinosaurs ($25), published by Safari Press, takes one through the intricacies of how to hunt aquatic beasts, herbivorous giants, and even killer carnivores. Don't tackle the bush unprepared, pick up a copy of this biggest-game hunter's essential today.-



4. Merica Bourbon
Few things are more American than bourbon whiskey (Don't believe me? Ask the '64 Congress), so it stands to reason there is nothing more American than a bourbon called Merica. Merica Bourbon is a veteran owned distillery making bourbon from a blend of 70 percent corn, 26 percent rye and 4 percent wheat. With a process utilizing their own patented ultrasonic energy and oxygenation technology, Merica Bourbon ($30/750 ml.) delivers a smooth, flavorful product any bourbon lover will enjoy. For more on this unique spirit, go to mericabourbon.com.



5. Magpul Core Range Gloves
Nothing beats a good set of leather gloves, and most don't know that Magpul Industries has just that. These Magpul Core Range Gloves ($40) provide serious protection by way of 100-percent goatskin leather. Aside from the athletic-fit design, the tan-colored Ranch Gloves integrate technology that enables this product to interface with sensitive touch-screen devices. An elasticized wrist and extended gauntlet make way for an easy on and off. Five sizes are available, from small 6.5"- 7.5" hands, all the way up to XX-Large 10.5" mitts. For ease of ordering and to ensure the proper size is delivered, Magul provides measuring guidance at magpul.com.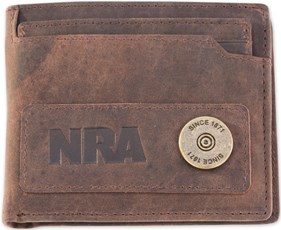 1. NRA 5-in-1 RFID-Blocking Wallet
Does his old, dilapidated wallet need an upgrade? With the NRA 5-in-1 RFID-blocking Wallet ($50), the person on your list can show support for the NRA and the 2nd Amendment in style, all while keeping their money safe and secure. As its name implies, the NRA 5-in-1 RFID-blocking wallet gives one multiple ways to carry, be it bi-fold, tri-fold, pocket-billfold or card wallet. Meanwhile, RFID protective lining keeps one's information safe from thieves. The wallet comes with the NRA logo emblazoned on the front, and the final words of the 2nd Amendment on the back. For more on the wallet, and the rest the NRA Store has to offer, check out nrastore.com.

2. Patriot Mobile Cellular Provider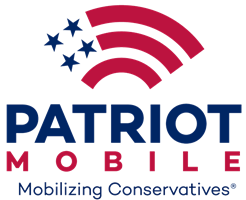 If your mobile device is in need of an upgrade, why not also look at switching providers to one that supports the NRA and other patriotic causes? Patriot Mobile offers NRA members exclusive savings, with every dollar helping fund an American organization focused on principles such as family values, honoring veterans, or helping out first responders. Basic plans start as low as $20/month for the "Freedom of Speech" plan, while the "Constitution" plan offers unlimited talk, text, data and 5GB of high-speed data for $60/month. Check out all the options at patriotmobile.com/nra.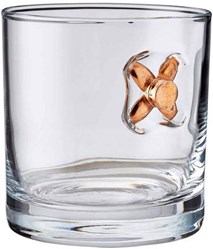 3. BenShot Rocks Glasses
Enjoy that Merica bourbon in style with a set of original, BenShot Rocks Glasses. A set of 4 goes for $60, and each 11 oz. Rocks Glass is available with either a .308, a .45, or an expanded .45 set into the side. Every bullet choice is solid copper, so there is no need to worry over lead contamination. Don't forget, despite their appearance, these glasses are not actually bulletproof. Besides, firearms and alcohol don't make the best mixers.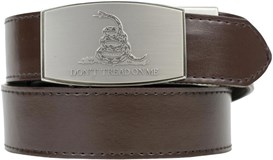 4. Nexbelt
Year after year, millions of Americans take the plunge to resolve added holiday weight. Nexbelt offers ratchet-style buckles along with customizable leather—meaning as the workouts begin to stack up and the weight falls off, simply trim off the excess material as necessary. By design, Nexbelt allows for quick and easy adjustments to accommodate that extra meal, or for changing holster styles and firearm sizes. Shown here, from the Leather Ratchet EDC belt series, is the Gadsden Flag Espresso ($65) belt that proudly displays anti-tyranny in America. Nexbelt offers a wide variety of styles and colors, from business dress, to patriotic 2nd Amendment themes. Head over to nexbelt.com to get a jump start on that resolution.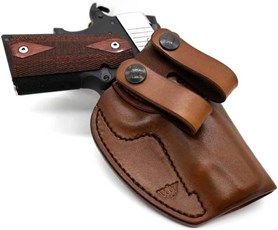 1. Wright Leather Works Holster
Wright Leather Works, maker of fine, handcrafted gun leather, is offering some deals in the run-up to the holidays. Using the code CLOSER1118, 10% off can be had on any Closer IWB holster, whether in the Classic Collection ($108), the Master Collection ($168) or the Signature Collection ($208). While there, also check out their annual sale on handcrafted Sleigh Bell door hangers, which can be had in either brass or chrome, and their discounted prices on Barfly wallets. For more on these and other Wright Leather Works products, please visit wrightleatherworks.com.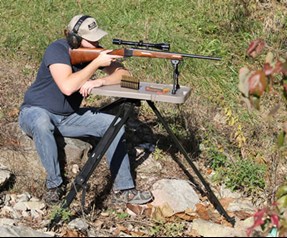 2. MTM Case-Gard High-Low Shooting Table
The High-Low Shooting Table from MTM Case-Gard provides shooters with a lightweight and packable shooting table option at a price hard to ignore. For a hundred bucks you get a molded table with ample 17" x 33" surface and surveyor-style tripod. The shooting table is accommodating of unstable terrain and the varying sizes of people—it adjusts from 18" to a maximum height of 55". Designed for both left-and right-handed shooters, the table also includes molded space to lean a rifle against. The High-Low Shooting Table from MTM Case-gard assembles quickly, is lightweight and provides a transport strap and molded carry handle to assist on those hikes to the "Back 40." Price is only $100 and can be purchased with free shipping from amazon.com.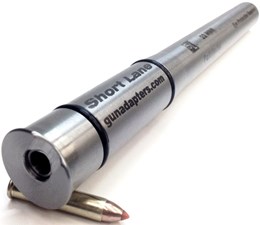 3. Short Lane Adaptors 
CNC machined from 4140 alloy steel, the 12 Gauge to 22 WMR Pathfinder Series adapter is a must have for the prepped and ready. This cartridge conversion from Short Lane Adapters is designed for 2 3/4" and 3" break-action shotgun chambers and provides for 8" of barrel that is rifled 1:16" to accurately fire the .22 WMR and .22 Long Rifle cartridge—it is like having three guns in one for just $115. Dual retaining o-rings maintain barrel concentricity for consistent operation, and Short Lane Adapters include finger cut-outs for simplified shell extraction. The company offers a full suit of cartridge conversions, so check them out at gunadapters.com.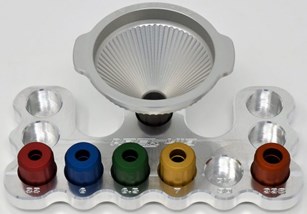 4. Master Funnel Kit
Area 419 out of Ohio is providing handloaders and guncrafters with precision products to suit a variety of needs. One such product is the Master Funnel Kit for rifle shooters, sure to dress up the bench and improve the handloading experience. The machined-from-billet aluminum powder funnel uses a system of six, interchangeable caliber-specific heads to service the most common (.22-cal. to .338 cal.) cartridge-neck sizes. Even .50 BMG is available, but sold separately. Due to the design and material construction, the Master Funnel Kit ($125) is self-contained and when in use, provides for free-flowing powder with anti-static properties. Area 419 machines this product in the USA from USA-made aluminum, on USA-made machines and cutting tools.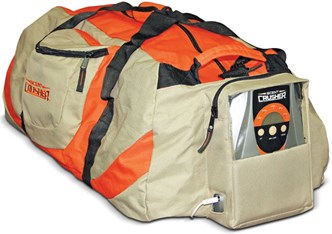 1. Scent Crusher Ozone Gear Bag
Quite literally the essential no hunter knew he needed, the Ozone Gear Bag, from Scent Crusher, does as its name suggests: it internally produces ozone in sequences of 5 to 20 minutes, destroying all odor causing bacteria and removing the musk from sweaty clothing. With car and wall adapter plugs included, the Ozone Gear Bag retails for $199. Check out this, as well as the other products Scent Crusher has to offer at scentcrusher.com.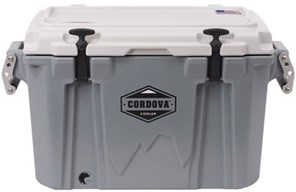 2. Cordova 35 Small Cooler
Need a cooler to keep stuff cold through your next tailgate (and then some)? Check out the $220 Cordova 35 Small Cooler. With a 28-quart capacity, which equates to 28 cans using a 2:1 ice-to-contents ratio, the Cordova 35 is a great choice for any get together. As an added bonus, Cordova Outdoors has been declared the official cooler company of the NRA, making it a great avenue for the gun-friendly shopper.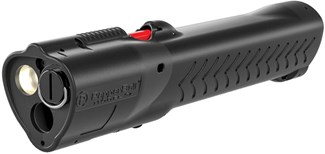 3. PepperBall LifeLite
One of the neatest entries to the non-lethal self-defense marketplace in recent years, the PepperBall LifeLite is, as the name implies, a combination flashlight and pepper ball launcher. Equipped with a 350-lumen flashlight and a CO2-powered pepper ball launcher, the launcher fires LifeLite's proprietary-formula pepper balls up to 60 feet, which burst into 12-foot clouds of irritant upon impact with their target. The LifeLite holds five shots that can be fired sequentially, no cocking required. Better yet, aiming is made easy with the aid of an adjustable laser sight, which powers on automatically after the safety is released. To help sight it in, the $300 LifeLite Kit ships with ten inert practice projectiles, alongside five live SD PepperBall projectiles, 3 CO2 cartridges, 2 CR123 batteries, a lanyard and of course, the launcher itself.  For more on this product, and the various accessories for it, please visit pblifelite.com.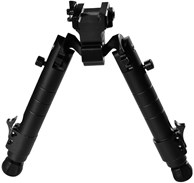 4. Warne Skyline Precision Bipod
While the price may be a little steep for a bipod, the Warne Skyline Precision Bipod packs quite a bit of functionality. Attachable to any Picatinny-type rail, and adjustable with only one hand, the Skyline Precision bipod boasts five-position leg rotation, leg extension between 6.9" and 9.1", 22 degrees of total cant and 44 degrees of overall pan. Weighing in at a mere 19 ozs, the Skyline Precision Bipod is priced at $380. For more information, please visit warnescopemounts.com.  

5. Metal of Art Wisconsin American Flag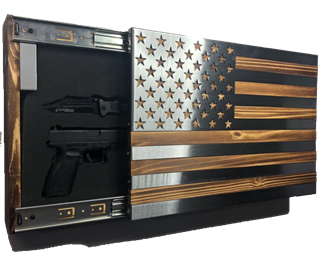 Designed to demonstrate patriotism while safeguarding valuables, the Freedom Cabinet Slider is handmade from wood and 16-gauge, cold-rolled mild steel. An RFID lock is set into the frame, which is stuffed with high-density foam, to allow for easy storage of any sort of appropriately-sized firearm or valuable. The model shown is $335 (apply the supplied code on the website for a 15 percent discount); prices vary on other models found at Metal Art of Wisconsin.