by
posted on March 28, 2017
Support NRA American Rifleman
DONATE
On March 28, 2012, Sturm, Ruger & Co. announced an innovative new version of the already popular 10/22 semi-auto rimfire carbine: The Takedown. This 10/22 breaks in half for easy storage thanks to a split stock and a release lever located in the fore-end. Five years later, the Takedown is still going strong and inspiring component makers to provide the same types of high-quality aftermarket barrels, stocks and upgrades as the fixed-barrel 10/22.
To celebrate this half-decade milestone, I teamed up with Ruger, Adaptive Tactical and TANDEMKROSS, to demonstrate how easy it is to assemble a tricked-out, target-shooting Takedown at home with the accessories available on the market today.
The Ruger Charger Pistol and BX Trigger
Ruger offers several models of the Takedown these days including the threaded standard barrel and Lite barrel configurations. For this rifle build a factory fresh polymer stocked Ruger Charger Takedown pistol (Model 4924) was used as the base gun.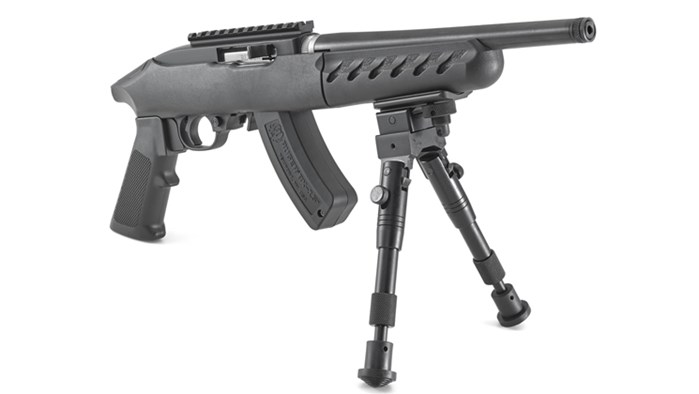 Using this pistol as a starting point has notable advantages. The included accessory set (the optics rail, 15-round magazine and bi-pod assembly) is ideal for benchrest shooting. Starting with a complete gun means it's not necessary to hunt down all of the little individual bits and pieces. Despite a suggested retail price of $419, this model of the Charger can be found for around $300 which makes it one of the least expensive Takedowns available.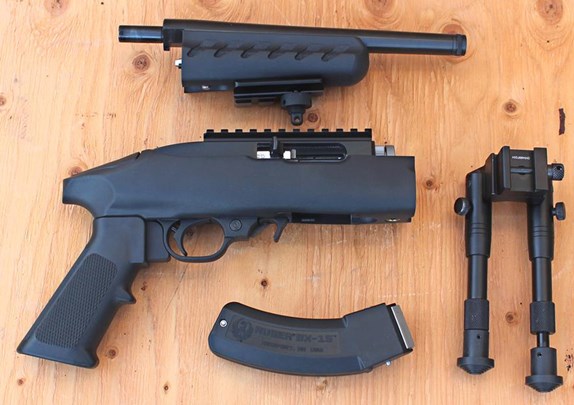 As of this writing, Federal law says it's legal to convert a pistol into a rifle. However, converting a rifle into a pistol, or converting a pistol into a short-barrel rifle (SBR) by adding a shoulder stock without the proper BAFTE paperwork and tax stamps, is illegal. If the Charger's receiver is attached to a shoulder stock, then the only barrel that should be attached is a carbine or rifle-length barrel that's 16" long or longer. If the receiver is attached to the pistol stock, then a pistol length or longer barrel can be used. Don't get too creative and you'll be just fine.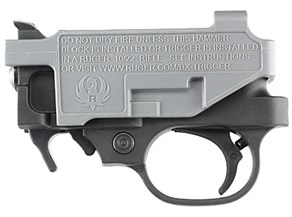 A couple of years ago Ruger decided it was time to provide its customers with an in-house 10/22 trigger upgrade that won't break the bank. With a suggested retail price of $89.95, the BX Trigger group is one of the most affordable options available. Factory installed 10/22 triggers tend to have a 6-lb. trigger pull. The single-stage BX Trigger is listed as providing a trigger pull somewhere between 2 lbs. 8oz. to 3 lbs. The unit installed in this rifle had a 2-lb. 12-oz. pull during the initial bench checks that dropped to 2 lbs. 9 oz. by the time the range testing was complete.
Adaptive Tactical Barrel and Stock System
Adaptive Tactical provides a variety of top-notch upgrades for shotguns and 10/22s, including target-grade barrels and flexible shoulder stock configurations.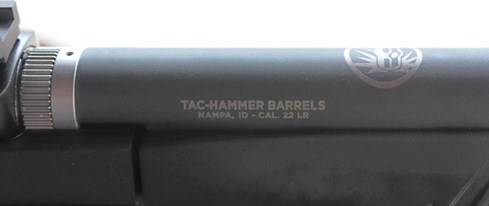 The American-made rigid core, post-tension Tac-Hammer barrel features a stepped P4140 Chromoly steel core with a Bentz chamber and rust resistant coating. The 6061 aluminum shroud is available with a black or silver (shown) Cerakote finish. This combination of features provides the stiffness of a solid bull barrel while reducing the weight. The 1/2x28 TPI threaded muzzle is fitted with a jam nut (to secure the shroud) and a removable compensator. Tac-Hammer barrels are available with or without a cantilevered optics rail. For this build I opted for the no-rail version because it would be more compact when separated from the receiver and a rail was already provided with the base gun.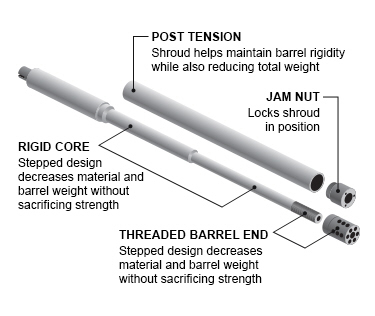 Adaptive Tactical recently added the Tac-Hammer TK22 10/22 Takedown to the company's diverse selection of rimfire polymer shoulder-stock options. The stock's reinforced polymer construction makes it lightweight and weather-resistant. The contoured, textured fore-end's metallic sling swivel stud can be used to support a bipod. A removable fore-end insert allows for the use of factory standard and .920" profile bull barrels.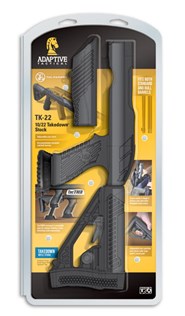 The comfortably curved and textured pistol grip is hollow and arrives with a rubber plug that allows it to be used as a storage space. The grip will also accept the ADTAC TacTRED monopod (sold separately), which is designed to fit seamlessly with the base of the grip. With the press of a button, the spring-loaded monopod fully extends out of the grip. The monopod can then be adjusted by ½" increments to the desired height. The TacTRED can be used as a stand-alone stabilizer out in the field but in this case it was paired with the Charger Takedown's UTG folding bi-pod to eliminate the need for a rifle rest.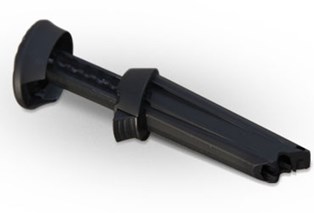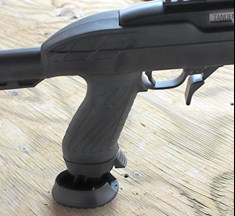 The 4-position adjustable M4-type shoulder stock is fitted with a ventilated, removable soft-rubber recoil pad for added comfort. With the pad installed, the TK22 has a length of pull (LOP) that ranges from 11 to 14". The shoulder stock's integrated sling attachment points include a metallic QD swivel port and a molded in, standard size sling swivel attachment point.
TANDEMKROSS Competition Upgrades
In 2012, the same year the 10/22 Takedown was announced, software developers Bryan Haaker and Jake Wyman turned firearm parts designers and launched TANDEMKROSS [TK]. This company specializes in top-quality firearm upgrades and tools. The founders and their team strive to understand shooters' needs and develop genuine solutions for them. Today TK provides options for a variety of gun brands including Browning, Smith & Wesson, Remington, Glock and, of course, a host of items for the Ruger 10/22.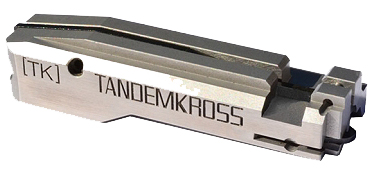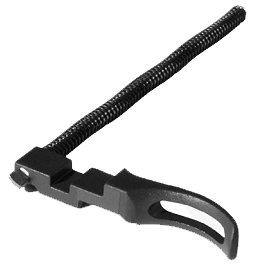 The new TK RimEdge KrossFire 10/22 bolt assembly is CNC-Machined from hardened tool steel and polished so that it rides more smoothly across the hammer for improved cycling and reliability. The laser-cut steel firing pin and extractor work to reduce failures to fire and eject. The firing pin is cross-pinned to restrict vertical movement for more consistent ignition. The Spartan skeletonized charging handle is light weight while providing a longer, deeper curved handle for folks with larger hands or competitors who need to clear a jam quickly. 
The innovative machined aluminum Fireswitch extended magazine release is dual-action. The operator can either push or pull the enlarged lever to drop out the magazine. The knurled lightweight titanium Twister takedown knob eliminated the need for a screwdriver when separating the receiver from the shoulder stock. The black polymer Shock Block bolt buffer eliminates the metal-to-metal contact between the bolt assembly and receiver pin. Not only does this greatly reduce impact stress on the receiver, it also lessens the transmission of vibration through the shoulder stock.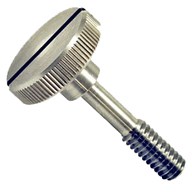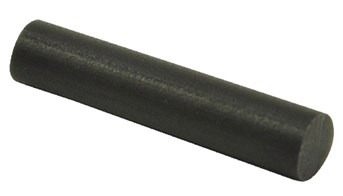 Assembling the Custom Takedown
Building a custom Ruger 10/22 at home is a simple, table-top process that requires just few different screw drivers and a set of straight handled Standard hex wrenches (Allen keys) that can also serve as pin punches. The majority of aftermarket parts are designed to be dropped into place without the need for any modifications. Those bolts and screws that need to be tightened only need to be hand tight, so there's no call for any power tools.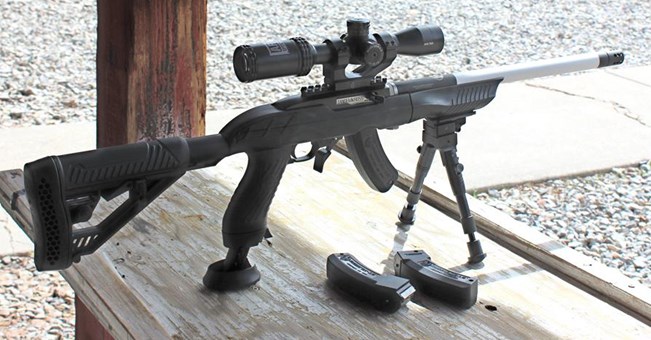 In most instances, just following the steps for disassembling and reassembling a 10/22 is all that's required. Remove the old part, drop-in the new part in its place. With the work space prepared, parts and tools laid out and manufacturer instructions on hand, the total build time for this rifle custom Takedown took about 45-minutes. However, I've done this before. If you're about to work on a first at-home build, set aside around two hours so that there's no need to hurry through the process.
At the Range
I enjoy a variety of shooting sports but I'll happily admit that hunkering down with a benchrested target .22 Long Rifle is among my favorites. No rushing around, no earth quaking recoil or thunderous noise. It's all about slowing down and printing tight little groups with a soft shooting rifle. Thanks to the adjustable bi-pod and monopod I left the bench rest at home. With the exception of a single failure to eject within the first 15 rounds fired, there were no ammunition or magazine-related malfunctions in the course of testing.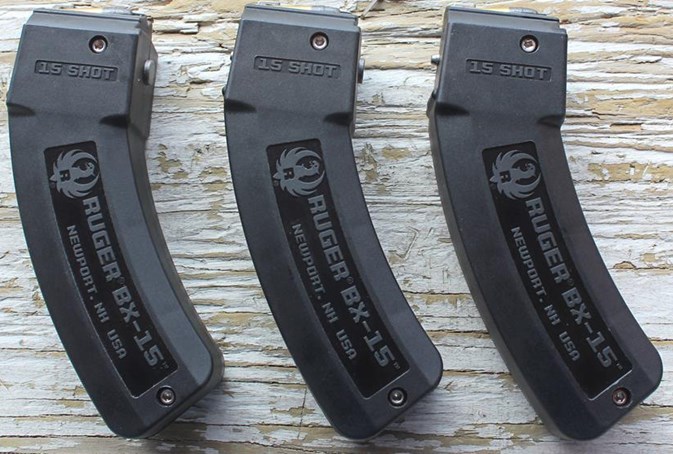 The three magazines used were all Ruger factory BX-15 models which snapped into place when inserted and dropped free when the magazine release was actuated.  All of the factory and aftermarket components fit together seamlessly to provide a unified custom appearance. The silver/black finish of the barrel does a nice job of providing a two-tone look without being too flashy. The controls were smooth, reliable and easy to operate.

The Bushnell optic and single-piece Weaver mount used in this test turned out to be a terrific fit despite the labeling. Short of hanging a flashing neon sign on it, the marketing team at Bushnell did everything they could think of to let us all know that the AR Optics 2-7x32 mm (AR92732) is intended for use on ARs. I first shot with it attached to a CMMG AR-15 rimfire upper and it worked nicely. Thanks to the Takedown's Picatinny compatible optics rail, the AR optic just snapped into place. Any concerns that the Weaver Tactical base would be too tall were wholly unfounded. The AR optic sighted in quickly and provided a clear, bright sight picture and a just-right range of magnification levels.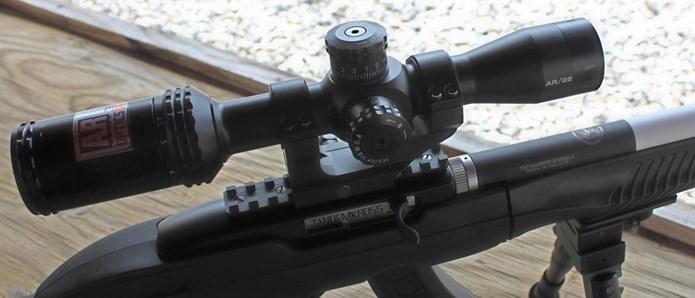 Double checking to ensure the barrel's adjustable lock-up ring was properly tightened, the custom Takedown was loaded up with match-grade ammunition for formal bench rested accuracy testing at 50 yards.  Federal Premium's Auto Match AM22 40-gr. lead round nose load (listed velocity of 1200 fps.) is sold in 325-round boxes. It produced a best single 5-shot group of 1.01" with a five-group average of 1.06". CCI Green Tag 40-gr. lead round (1070 fps.) nose turned in a best single group of 0.78" with an average of 0.85". This rifle test was my first opportunity to work with Norma USA Match-22 40-gr. lead round nose (1100 fps.) ammunition. It performed nicely, printing the best single group of the day at 0.75" with the best average of 0.79".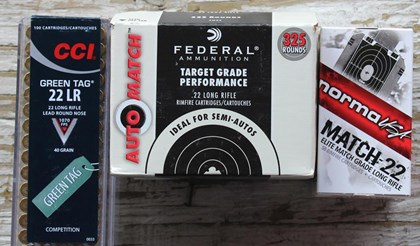 Wrapping Up
Aftermarket components for the 5-year-old Ruger 10/22 Takedown may not be quite as plentiful as those available for the 50-year-old fixed barrel models but the market is quickly catching up. The results of converting a Ruger Charger Takedown pistol into a rifle using Adaptive Tactical and TANDEMKROSS components is a handy, reliable custom rimfire that can do it all. 
The Bentz chamber bull barrel, competition components and light trigger are ready for serious target shooting with match grade ammunition. The ruggedly reliable 10/22 action allows the rifle to digest bulk-box loads for casual plinking. Deploy the bipod and monopod for comfortable bench shooting without the need for sandbags or a rifle rest. Remove the bipod, attach a 2-point sling and this rifle is ready for a long walk in the woods and small-game hunting.
The reduced weight barrel and adjustable stock makes this a rifle that can be enjoyed by everyone in your family no matter their physical size or level of shooting experience. When the shooting day is through, this takedown rifle quickly breaks apart for easier storage. What more can reasonably be asked for in a custom rimfire rifle?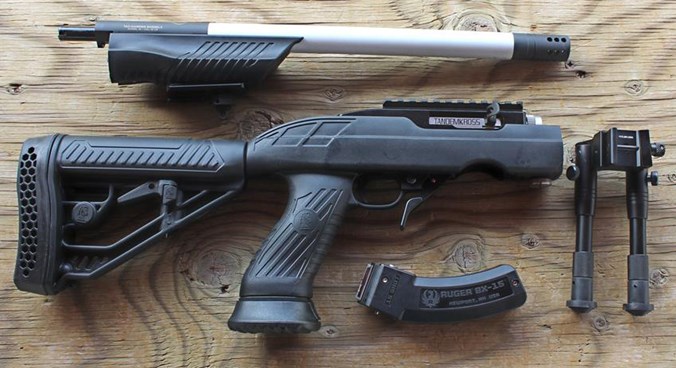 Specifications:
Base Gun: Ruger Charger Takedown (#4924)  $419
Action: Blowback-Operated Semi-Automatic
Caliber: .22 Long Rifle
Pistol Factory Accessories: Optics Rail, Bi-Pod, One BX-15 Magazine
Trigger Upgrade: Ruger 10/22 BX-Trigger (#90462) $89.95
Trigger Pull: 2 lbs. 9 oz. (As Tested)
Barrel Assembly: Adaptive Tactical Tac-Hammer Rigid-core Post-tension Barrel $299.99
Internal Barrel: P4140 Chromoly steel, Bentz Chamber
Shroud: 6061 Aluminum, Cerakote Coating, .920"
Muzzle: ½ x 28 TPI Threading With Muzzle Brake
Barrel Length: 16", With Compensator 17.25"
Twist: 1:16" RH
Grooves: 6
Stock: Adaptive Tactical TK22 10/22 Takedown $129.99
Stock Finish: Black Polymer With Adjustable 4-Postion Shoulder Stock, Recoil Pad
Monopod: Adaptive Tactical TacTRED $39.95
Bolt Upgrade: TANDEMKROSS [TK] KrossFire CNC-Machined $149.99
Charging Handle: [TK] Spartan Skeletonized $24.99
Magazine Release: [TK] Fireswitch Extended $44.99
Takedown Screw: [TK] Twister Titanium Takedown Knob $24.99
Recoil Buffer: [TK] Shock Block Bolt Buffer $6.99
Overall Length: 35.75" (Stock Extended)
Length of Pull (LOP): With Pad 11" - 14", Without Pad 10" - 13"
Weight: 6 lbs. 10 oz. With Empty 15-Round Magazine and Bipod
Magazines: Accepts 10/22 Type Magazines
Capacity: 15+1 Rounds With Charger Magazine
Finished Rifle Suggested Retail: $1230.83 (Excluding Shipping, Taxes and Labor)
Optic: Bushnell AR Optics 2-7x32 mm (AR92732) $173
Scope Mount: Weaver SPR Optics Tactical Rail Mount for 1" and 30 mm Tubes (48377) $90.45