Support NRA American Rifleman
DONATE
Late in 2001, I was perusing the glass-topped handgun display case at one of my favorite local gun shops when a beautiful revolver caught my eye. It was a Ruger Vaquero unlike any model I had seen before. Chambered in .45 Colt with a 6-shot cylinder, the whole of its stainless steel construction was polished to a mirror shine with a barrel that was shortened to just 3.75". But it was the rounded grip with its smooth black Micarta grip panels that really caught my attention.
As my friend behind the counter passed the gun to me, we got to talking about how this Birdshead grip was reminiscent of some of the Colt derringer and revolver models from the late 1800s. The goal of the Birdshead was to make the revolvers more compact and easier to conceal. Although I was not involved in cowboy re-enactment or Single Action Shooting Society (SASS) events at the time, I was very interested in the Birdshead Vaquero. All of the revolver's elements came together in that oh-so-special way that makes gun geeks want to quick-draw their credit cards.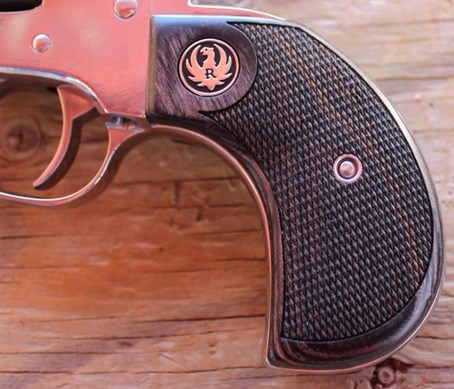 However, a lack of funds and a hope that the revolver would be there the next time I stopped by caused me to walk away that day. What I didn't know at the time was that the Birdshead Vaquero was a limited run that would quickly disappear off of gun dealers' shelves. By the time I figured out what was going on, the few Vaqueros left on the market were being sold at collectors' prices that I simply could not afford. Over the years, I have been quietly projecting telepathic requests at Ruger's management, "Bring back the Birdshead, bring back the Birdshead.…"
Fast forward to the NASGW Expo & Annual Meeting held in New Orleans last October. There I had the opportunity to meet with Product Manager Mark Gurney at the Ruger booth. He kindly offered to give me a tour of a few of the super-secret new models that wouldn't be announced until the 2016 SHOT Show in Las Vegas.
And there it was: a brand new Birdshead Vaquero.  The revolver was just like the one I remembered with two notable exceptions. First, the smooth black Micarta grips had been replaced with dark, diamond-checkered laminated hardwood. Secondly, the frame was not stamped .45 Colt like I would have expected. Instead, it read .44 Magnum. This was a real surprise because I thought the current line of Vaqueros were built on a lighter frame that could not handle .44 Mag. levels of pressure.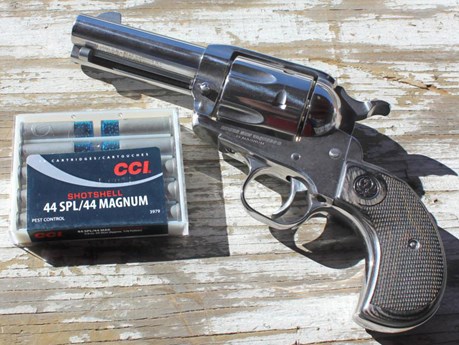 Mark explained that yes, it was true that since 2005 the New Model Vaqueros and Blackhawks were produced using smaller, lighter frames designed to mimic the dimensions of the Colt Single Action Army pattern revolvers that modern cowboy action shooters prefer. However, this particular Birdshead Vaquero represented a throwback to the original Vaquero line up as it was originally launched back in 1993. Those revolvers were built using the same size frame, materials and manufacturing processes that go into making the nigh-unto-indestructible Super Blackhawk revolvers.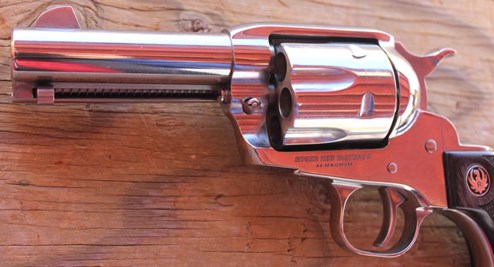 This revelation made good news even better. Not only was the big-bore Birdshead Vaquero going to return to the market as a Talo Distributors Inc. special edition (model KBNVBH-443), it would be a .44 Mag. that could serve as a perfect packin' pistol for hunters, hikers, and campers in need of a handy revolver for protection against dangerous animals. Needless to say, I was eager to give this new revolver a spin.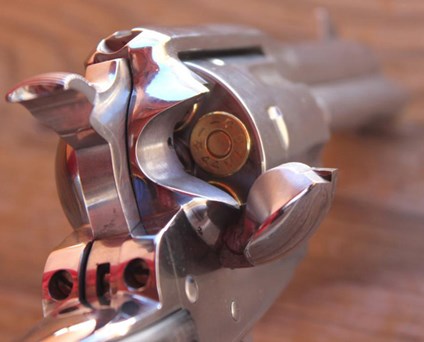 If you're going to carry a Vaquero or Blackhawk in the great outdoors for personal protection, give the folks at El Paso Saddlery a call. They'll be happy to assemble a handsome and practical leather field rig for Vaqueros in all their shapes and sizes. Shown here is a fully lined 1920 Tom Threeperson's field holster with a #3 Black Powder belt and six-round revolver cartridge slide. With an unloaded weight of 39-oz. (only 6-oz less than the over built Ruger Alaskan), this is not a featherweight gun. But the El Paso leather rig provides plenty of support for all-day adventures.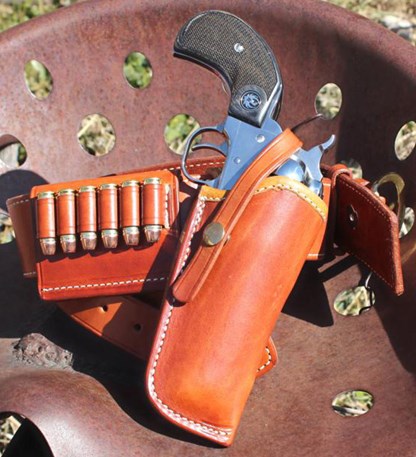 The Birdshead Vaquero shipped out for testing was perfection itself. The action was smooth right out of the box and the entire exterior was neatly polished to a mirror shine (I could see myself taking the photos).  Ruger installed a stubby cylinder pin which allows for a full-length stroke of the ejector rod to kick out spent cartridges. A transfer bar safety allows Ruger's New Model single-actions to be safely carried with all six chambers loaded. The trigger exhibited a short, clean break with 4 lbs. 7 oz. of trigger pull.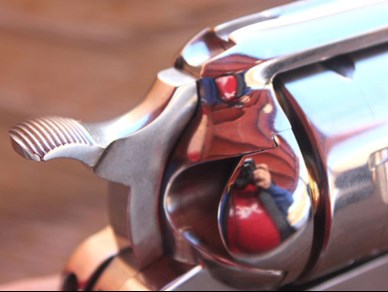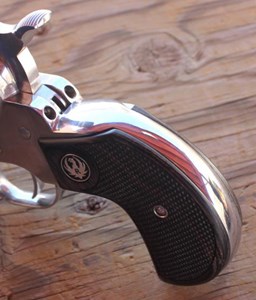 The Vaquero functioned flawlessly without any malfunctions in the course of testing. But the gun did take some getting used to. The abbreviated Birdshead grip frame provides just enough room for a two-fingered shooting hand hold. The little finger has to be curled up under the grip.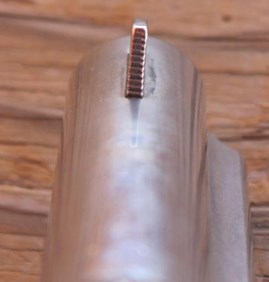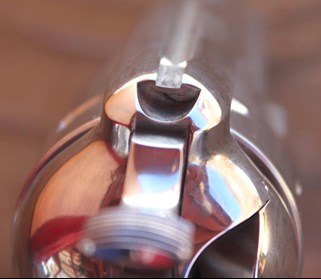 The sights were also a bit challenging—but not for the reasons you'd think. Vaquero's have an utterly reliable rudimentary sight system consisting of a fixed front sight blade and fixed rear notch. The front sight is serrated to aid in visually adjusting for height and the rear sight has a precise square notch. Mechanically speaking, the system is as good as or better than many of the fixed sights I've worked with. But in sunny conditions, the polished shine of the rear sight notch produces a glare that is hard to see through. Although this is by no means a game changer, I think a bit of matte-black paint applied to the rear sight will solve the problem nicely.
And now for the burning question of the day: How was the recoil? I knew from the get go it was going to be a bumpy ride with full-power .44 Mag. cartridges. HPR's HyperClean managed recoil .44 Mag. 240-gr. jacketed hollow points were fired for formal accuracy testing which calls for five, five-shot groups fired at 25 yards from a bench rest. Although the HPR load is pleasant to work with (by .44 Mag. standards) when fired from full-size revolvers, it was a wrist bender in the little Vaquero. I was able to produce a best single group of 3.51" with a five group average of 3.85" using this load.
If you're planning on shooting souped-up .44 Mag. most of the time, then this is particular Vaquero may not be the gun for you. That being said, experienced shooters will be able to manage full power loads from this gun for use in the field.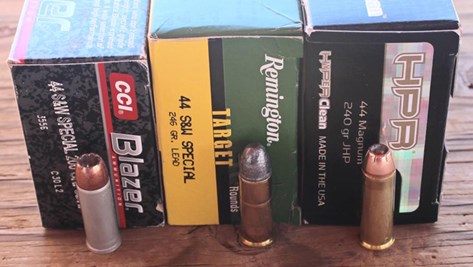 The variety of ammunition that put a smile on my face was the much less snappy .44 Spl. Operating at lower pressures than magnum rounds, .44 Spl. usually produces felt recoil on par with standard velocity .45 Colt cartridges. The weight of the Vaquero and the Birdshead grip rolling back in the hand helps to mitigate some of the recoil. The result is a good solid shove to the shooting hand that is perfectly manageable. CCI Blazer .44 Spl. 200-gr. Gold Dot hollow points turned in a best single group of 3.13" with an average of 3.45". Remington Target .44 Spl. 246-gr. lead round-nose yielded the best overall accuracy of the day with the smallest single group of 2.90" and an average of 3.26".
The new Talo Distributors exclusive Ruger Vaquero Birdshead .44 Mag. is a fine revolver I didn't know I wanted. Yes, I did want the short-barreled Birdsheads with a polished stainless steel frame to return to the market. But I never would have guessed that Ruger and Talo would team up to resurrect the old .44 Mag. Vaquero frames in this configuration. It's one tough revolver that's good looking and fun to shoot. I have no intentions of letting this one get away.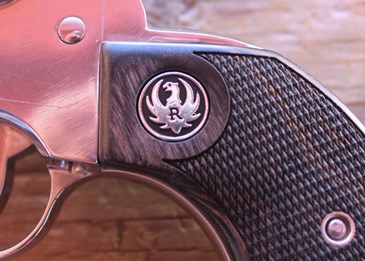 NRA Specifications
Distributor: Talo Distributors Inc.
Manufacturer: Sturm, Ruger & Co.
Model: KBNVBH-443
Action: Single-Action Revolver
Caliber: .44 Mag./.44 Spl.
Finish: High-Polish Stainless Steel
Grips: Diamond Checkered Laminated Hardwood
Sights: Fixed
Barrel Length: 3.75"
Overall Length: 9.40"
Cylinder Width: 1.73"
Weight: 39-oz. Unloaded
Capacity: Six Rounds
Twist: 1:20" RH
Rifle Grooves: 6
Accessories: Hard Case, Lock, Owner's Manual
MSRP: $829