by
Mark A. Keefe, IV, Editorial Director
posted on March 18, 2015
Support NRA American Rifleman
DONATE
By now most of the free world is aware of the existence of the Glock G43. Another media entity violated Glock's trust, so now the beans are spilled ahead of schedule. This gun is the follow-on to the G42 in .380 ACP released last year. 
There's been much speculation on what took Glock so long to recognize the small, single-stack, sufficient-stopping-power semi-automatic carry gun as a category to go after. You have to look at Glock and the big picture.
This category has been around since the mid-1990s. It was pioneered by Kahr Arms in 9 mm and by Kel-Tec 
 in .380 ACP, and then 9 mm. American Rifleman had a story by Robert W. Hunicutt just as the category was emerging. It was not a particularly good cover, really it was quite ugly in retrospect, but it did feature that original Kahr and Kel-Tec. And the kind of handguns that Americans wanted, identified in these pages, changed on Glock. The most important factor in concealing a firearm on one's person is width. Although there are many who are very happy with their short, fat blocky pistols, the guns have large magazines that make them wide. In my view, you trade magazine capacity for concealability with such guns.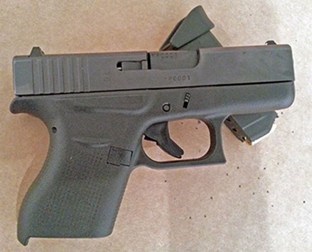 Of course, pocket .380s eventually gave way to 9 mm pistols that were not appreciably larger but offered better ballistic performance (and kicked considerably more, too, as the laws of physics cannot be altered). Guns within this category included the Taurus Millennium and, later, matured with the Ruger LC-9.
Glock, as a principally foreign manufacture, has had more trouble developing small pocket pistols for the U.S. market than domestic makers. Most Glocks come from Austria. But guns in the G42 and, now, G43 size category come under the import restrictions set forth in the Gun Control Act of 1968. Under its provisions, small personal protection guns are difficult, if not impossible, to import. That means they need to be made here.
In short, Glock had to not only engineer the G42 (small guns have no margin for error, engineering-wise) and now the G43, but they had to create a factory in which they could build the guns. And allocate the tool and assembly time to actually make them.
You have to remember, the idea of a small, single-stack pistol was anathema to Glock's culture. The Glock was built on wide guns regardless of barrel length that fed from Glock's superlative double-column, single-feed magazine. Short and fat, rather than thin and sleek.
And engineering a small short-barreled pocket pistol is more difficult than many think. It is not simply a matter of removing half the magazine and shortening the slide. When you have "Perfection" as your company slogan, the gun better be right, and it better work, the first time with no hiccups whatsoever.
And that appears to be the case with the new G43. My friend and colleague Daniel McElrath, managing editor of NRA's Shooting Illustrated, had the opportunity to go behind the wizard's curtain in Smyrna, Georgia. Yes, Glock is an American as well as Austrian manufacturer. The company makes guns on both sides of the Atlantic. You can read his initial report here.
The masses of Glock fans no doubt will enthusiastically embrace the G43. It does everything a Glock is supposed to do. It offers more than .380 ACP firepower in a gun that is in a remarkably similarly sized package. It was smart of Glock to introduce the .380 first. Its success paved the way for the G43, and changed and internal culture within Glock.
And that culture change is monumental. The G42 and G43 indicate Glock is willing and able to compete in the commercial marketplace; to make the kind of guns Americans want to buy, not the guns Glock wants to make. And the G43, based on initial reports, seems to be a serious contender.