by
Mark A. Keefe, IV, Editorial Director
posted on November 20, 2015
Support NRA American Rifleman
DONATE
Over the past 24 years on American Rifleman, I have seen a lot of gun companies come and go. Some have become established brands. Some were crackpot ideas destined for the oddities case downstairs at NRA' National Firearms Museum. The company I met with today is not headed for the oddities case.
What Georgia–based Honor Defense has is a good pistol design and a plan. Run by Gary Ramey, a guy I have knowns since the 1990s when he was at Tasco, Honor Defense decided to make an affordable (MSRP $499) all-American pistol loaded with as many features as the company could incorporate. Ramey teamed up with former Remington engineer Adam Walker to develop Honor Guard subcompact pistol series. The result is a 9 mm Luger recoil-operated, striker-fired design built on a chassis—much like the SIG Sauer P250, P320 or Beretta Nano—that is starting out with four models. The guns are offered with either 3.2" or 3.8" barrels and there are either seven or eight round capacity magazines. At 6.2" long 4.6" tall, it is in the same size class as the S&W Shield and Springfield XD-S. The smooth-bladed trigger is a crisp 7 ½ lbs. The pre-production guns, shot on the NRA range today, are very manageable. Too, Crimson Trace already has a LaserGuard for the gun, and holster are coming from DeSantis and Galco, among others.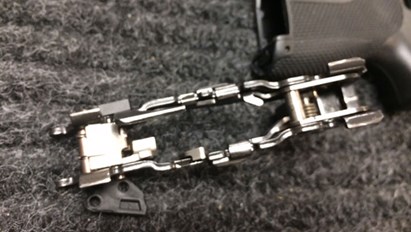 The ergonomics of the gun are excellent. Less than an inch wide, the frame is aggressively—yet not too aggressively—textured in virtually all the areas that the strong hand engage the pistol. There are indentations for the finger and thumb that allow the hand to really engage the gun. There are two backstraps offered, and all the controls—meaning magazine release, slide lock and frame-mounted manual safety (an option)—are completely bilateral. And when taking the gun down, there is no need to pull the trigger to release the slide.
The slide is topped with three-dot sights (Glock aftermarkets sights will fit), and it has grasping grooves at front and back, but does not have a lot of mass. Thus, the gun has an interesting dual recoil spring system.


Interesting, there is a FIST frame model that deliberately extends the dust cover and incorporates teeth at its front. This was intended for those with engage in CQB at contact distances—meaning literally being up against an assailant. What that extension does is allow the slide cycle at contact distances. There was a variant of the CZ-75 that incorporated that feature some years ago.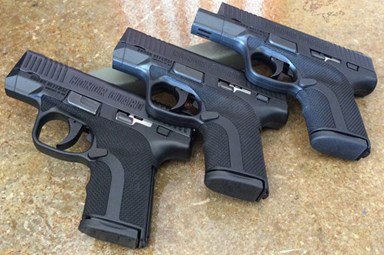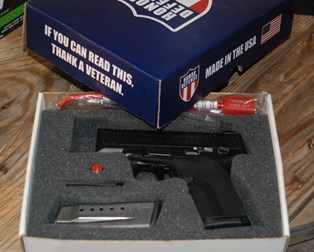 Gun companies source parts from other manufactures—for example very few gun companies have their own frame molding machines—and Honor Defense has gone to vendors who are good at making specific parts for other gun companies. What this new company has done is gone to each of the vendors that producer for other makers to make its parts, then devoted its attention to quality control and assembly under its own roof. Clever. The end is result is an extremely promising new concealment handgun. One that should be shipping to dealers by the end of December. The only thing in the box that is not American made is the cable lock. It seems there is no affordable maker of cable locks in the U.S. anymore. For that, Ramey and Honor defense apologize up front.