by
Mark A. Keefe, IV, Editorial Director
posted on October 25, 2017
Support NRA American Rifleman
DONATE
This is a gun that I have coveted since I first became aware of its existence. It is the first polymer-frame handgun of all time. Conveniently, it also happens to be a selective-fire machine gun. The gun is the Heckler & Koch VP70M. By today's standards, this gun big and heavy for a semi-automatic pistol, but back in its day it was the ultimate in dignitary protection. There was also a semi-automatic-only version named the VP70Z.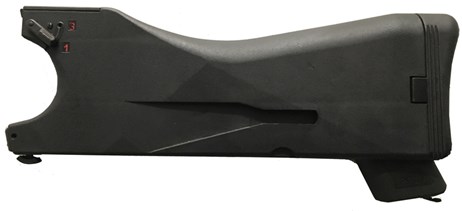 For the next season of American Rifleman TV, we asked our friends at HK to pop open the Gray Room. That is the room that contains not only all of HK's current products, but also just about everything they have brought into the United States. In there you will find guns like the MP5, the MP5SD (as used by Navy SEALs), and the failed XM8. There's even a G11. 
When attached to the shoulder stock this gun can be semi-automatic as depicted by the "1" on the stock, or you can throw the lever to "3" and it becomes selective fire. That "3" is a three-round burst, which exits the muzzle at about 2,000 rounds per minute. This week we were filming with the guys from Heckler & Koch, and they believe this is the first time this particular VP70M has been fired in 20 years.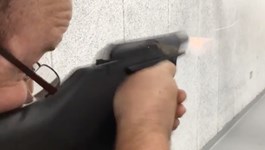 You can see the full episode next season on American Rifleman Television. In the meantime, here's an advance look at some of the fun we had yesterday on the range.