by
posted on September 18, 2014
Support NRA American Rifleman
DONATE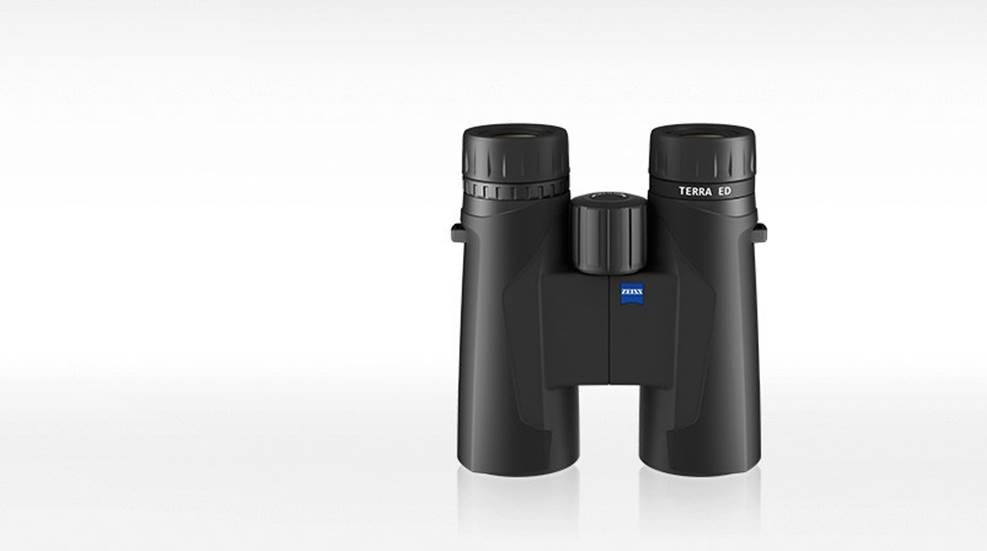 Sportsmen covet Zeiss optics, but the majority balk at the $1,200 to $3,000 caveat attached to them. Understanding this, the 165-year-old optical juggernaut parlayed its golden name again in 2014 to avoid conceding the lower-price-point market when rising labor costs, tariffs and materials elevated the prices of its Victory and Conquest lines. The result is the Zeiss Terra 10X 42 mm binocular, a quality optic with a down-to-earth price of $500. So how did Zeiss pull it off?
Terra doesn't have all the enhancements of the top-end Victory line or the now-mid-level Conquest, but it has the important features you'd expect from Zeiss—such as fully multi-coated optics, Schott extra-low dispersion (ED) glass, German engineering, ergonomic armor and that intangible European feel—yet it's within the reach of most American sportsmen.
Certainly another key factor is inexpensive labor. Terra is designed in Germany and assembled in China. That nation has made great strides in optical manufacturing in the past decade—lengthy enough that Zeiss has no qualms about that country's manufacturing capabilities.
The reality is that the glass for all sport optics on the market today is made by one of several companies. (Schott is a German firm that has plants in 35 countries, including America, and is a member of the Carl Zeiss Foundation.) Design, assembly, and lens coatings determine an optic's overall quality, and it's obvious that Zeiss was heavily involved in those aspects of production. In fact, it specified materials and processes "down to the glue chosen," according to a Zeiss representative.
Externally, the Terra is difficult to differentiate from other Zeiss optics. Its glass/fiber-reinforced polyamide frame is coated in firm rubber armor. At 24 ozs., it's notably trim for a 42 mm optic and comfortable to hold for extended periods. Internally, the differences are even less apparent.
Like many top-end Zeiss binoculars, the Terra utilizes a Schmidt-Pechan prism design that is dielectrically coated and phase-corrected to ensure light is transmitted then melded back together precisely for sharp imaging. MC lens coatings maximize light transmission. This coating is not Zeiss' proprietary best, but it's the same used by many quality brands.
Concerning brightness and clarity, there are brighter optics within Zeiss' stable, but not for $500. Although it displayed slight aberration on the edges of its lenses, focus and clarity were spot-on.
More noticeable to hunters, Terra's focus wheel tension is not too tight or too loose; it's fast and oversize for quick manipulation. The simple diopter adjustment is located on the right ocular lens.
The unit was frozen overnight, and then placed in a pool with no lasting ill effects; its sealing and nitrogen purging are sound. It was repeatedly dropped from 4 ft. onto grass and exhibited no damage. Its twist-out eye cups are superb; they resisted accidental jostling throughout.
The Zeiss Terra ED does yeoman service to the storied German maker's name. Perhaps the only thing more surprising than its image quality is the solidly terrestrial price sticker under its coveted blue logo.
Importer: Carl Zeiss Sports Optics, 711 Moorefield Park Drive, Building E,North Chesterfield, VA 23236; (800) 441-3005; zeiss.com
Magnification and Objective: 8X 42 mm; 10X 42 mm (tested)
Finish: black rubber armor
Field of View (Ft. @ 1,000 yds.): 330 ft.
Eye Relief: 16 mm
Exit Pupil: 4.2 mm
Dimensions: 5.5"x 4.7"x 2.6"
Weight: 24.3 ozs.
Features: Schmidt-Pechan prisms, nitrogen filled, fully multi-coated lenses, fast focus wheel
Accessories: lens caps, case, carry strap
Suggested Retail Price: $500