Support NRA American Rifleman
DONATE
When it comes to holsters, there's just something about leather. In an increasingly kydex world, a large number of pistol carriers still choose leather for reasons that go far beyond nostalgia. Extremely tear-resistant, comfortable and, let's be honest, generally better-looking, leather holsters are not going anywhere. To the contrary, they are now being modernized to better adapt to the needs of multiple styles of concealed carriers. As such, anyone interested in a low-riding, position-adjustable, tuckable leather IWB holster, should give serious consideration to the Wright Leather Works Cruiser.
Available in Saddle Tan, Walnut, Coffee, Mahogany and Black finishes, the Wright Leather Works Cruiser features an adjustable ride height with three different levels, and the choice of cantable clip to fit a 1½"or a 1¾ "belt. Unsurprising given its high degree of adjustment, the Cruiser rides comfortably, and even in its highest position resides mostly below the belt-line, making it extraordinarily concealable. The handle still sticks sufficiently above the belt line for a clean and easy draw, however. Though also well-suited for the 3- and 4-o'clock positions, I favor appendix carry, for which I found this holster to be ideally suited.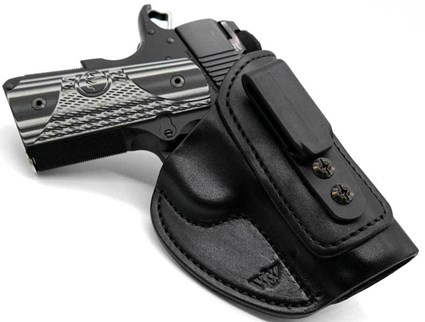 Cruiser in black holding an officer-sized 1911

Canted top-inward on the highest ride height, the holster and my officer-sized 1911 virtually disappeared when tucked (with, of course, the exception of the clip), and left me unencumbered to go about my day. Sitting down with it presented no issues, as the upper part rode high enough on my torso to stay flat without getting stuck, and the bottom hit just above the crease of my thigh, meaning it missed impacting my leg entirely. Even bending over to pick something off the floor yields minimal discomfort, though obviously the holster will catch and dig slightly with that drastic of a motion.
Though certainly aided by the tension of being worn inside the belt, the holster itself provided an impressive level of retention, holding snugly enough to require a solid yank even after it was broken in. The finish, which I ordered in walnut, was colored true to picture, and held up well with no scuffing from the usual routine of wear and tear.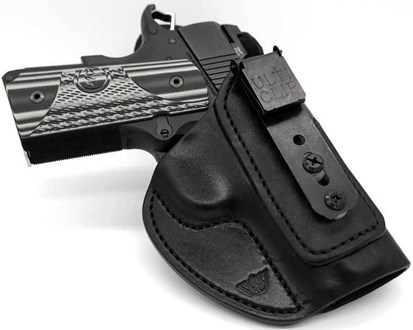 Cruiser in black with an Ulticlip, holding an officer-sized 1911

As an additional feature, those who favor the extra concealability (and arguably retention) of an Ulticlip, can order the holster with one of those instead of the standard IWB belt clip. For more information on the Wright Leather Works Cruiser, which starts at $98, please visit wrightleatherworks.com.