Support NRA American Rifleman
DONATE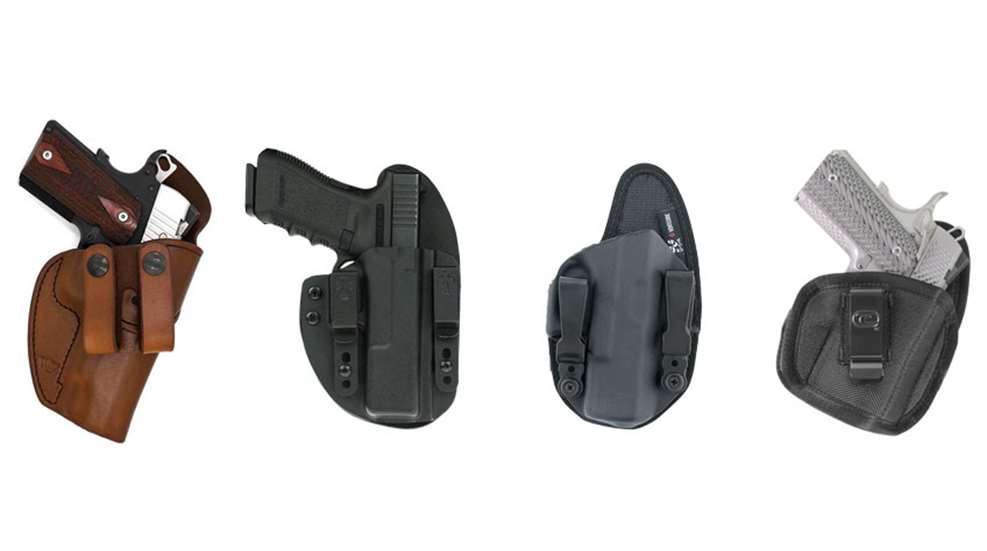 It's a fact: The popularity of appendix carry (AIWB) is on the rise. Driven by this uptick in demand, many holster makers are scrambling to fill the category either with all-new offerings, or by repurposing suitable holsters to serve as options for the appendix-carry devotee. Some, to be sure, are doing both. As such, it appears high time to cast a weather eye around the market. Whether a member of the newly converted (like myself), or one of the early adopters of this style of carry, here are a few options currently available for those preferring to keep their pistols out front.
As with more conventional holsters, the AIWB holster market hosts a number of competing materials and attachment methods. For the purposes of this roundup, categories are listed by material (one from each category), though a decent cross-section of attachment methods will be highlighted throughout. All samples were worn for a least a week during the course of daily life, incurring a broad range of activities, to determine realistic use and fit. All holsters were tested with a (relatively) stock Kimber Ultra Carry II.
Leather
Leather holsters retain their place as a sturdy-yet-refined choice for the contemporary self-defense practitioner. While more easily scuffed and scratched, its adherents point to leather's great resistance to tearing. Besides, there's just something about leather, available in all its fine finishes, that makes it appealing beyond any simple accounting of features. Representing this category is an example of fine craftsmanship from Wright Leather Works, one of the country's foremost leather holster makers.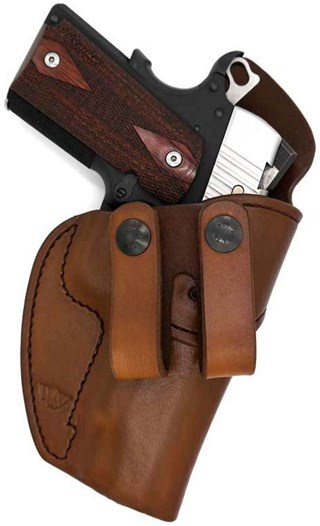 Wright Leather Works Closer
The company's rendition of the well-loved Bruce Nelson/Milt Sparks Summer special, keen observers will immediately notice one thing about the inclusion of this twin-loop, Pull-the-Dot (PTD) holster on this list: it is not Wright Leather Works' dedicated AIWB model. In fact, though they do state on their website that it can be worn in the appendix position, they recommend it instead rest at the 4 o'clock position. Let me emphasize this is not due to any deficiencies on the part of their more conventionally formed AIWB model (the Cruiser, which I also review here), but rather is simply due to the unique option the Closer gives AIWB carriers.
Notice that most AIWB holsters mimic icebergs in their presentation: They rest largely below the beltline, with only the handle protruding above the surface. While a boon as far as concealment is concerned, this can make movement and fit challenging, with the barrel of the pistol (and the end of the holster) digging into one's leg when one takes a seat. With the Closer, this issue of ride height is a total non-issue.
Sitting about 1 1/2" to 2" higher than what I would consider "conventional AIWB ride height," the Closer doesn't so much dig into one's leg as miss it entirely. Enough of the holster still remains inside and below the belt to provide a sturdy fit and feel, even on the version made for my officer-sized 1911, yet the holster resides high enough to allow unimpeded movement. The phrase "forgot it was there" gets bandied about quite often in holster reviews (much to my annoyance), but with this model I must confess, I came about as close to uttering that cliché as I ever have. Whether standing at my desk, sitting in my truck for journeys lasting anywhere from 15 minutes to four hours, or simply walking around, I sometimes could not even feel the Closer. This was particularly true whenever standing or sitting still (though no matter how comfortable, I certainly never really forgot about it). Odd as it may sound, the holster really does just sit that naturally. The fact that one can drop the holster straight, or cant it 20 degrees forward or backward, only increases the chances of finding this natural sweet spot.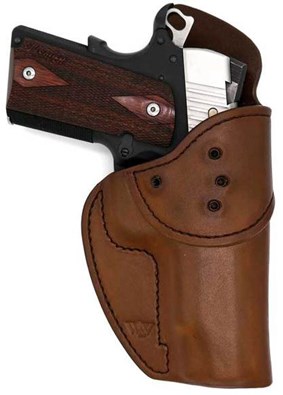 Now, as is the case with anything relied on to perform multiple tasks well—in this case help conceal one's pistol while still allowing the person to move freely—there ends up being a bit of a zero-sum game among its features. In this instance, the same ride-height that makes the Closer a best friend to people who enjoy touching their toes while carrying a pistol, also means that the gun is ever so slightly less easy to conceal. While the rig certainly still allows for concealed carry, I've found most AIWB setups can be hidden relatively easily beneath a regularly fitting T-shirt or polo. With the Closer, I would recommend a more loosely fitting version of either type of shirt, or a regularly fitting button-down, to comfortably conceal one's firearm.
Also, a marginally repetitive word of warning to those who, like myself, wear a slightly oversized belt buckle—one of the drawbacks to leather is that it can scratch and scuff. As seen in the photos below, I discovered this the hard way after the second day of wearing the Closer, when I realized the holster had a habit of gradually sliding ever so slightly left into the tang of my belt buckle. I remedied this simply by sticking one of the PTD loops on the other side of my belt loop to secure it away from my buckle. This change made, a little Fiebings walnut leather dye applied to the scuffs, and the issue has not recurred.



The Closer is available for a multitude of firearms, and can be had in Saddle Tan, Walnut (shown), Coffee, Mahogany or Black. For more information, check out the Wright Leather Works website.
Kydex & Mesh
If a good leather holster is the trusty stalwart of the industry, then Kydex is the modern darling. Light, strong and malleable into any shape imaginable, the material has become so prolific that it occupies two spots on this list, differentiated by backing material. First up, representing Kydex backed by mesh, is the Ventcore IWB Appendix from StealthGearUSA.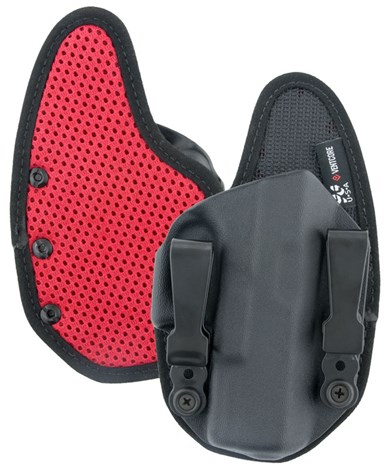 StealthGearUSA Ventcore IWB Appendix
A versatile, lightweight and rugged option, the Ventcore IWB Appendix can be had with two-hole straight or angled polymer clips, steel-spring clips or J-clips, and that's just the beginning. After deciding which clips to run, the Ventcore's height can be adjusted based off which screw-hole is utilized (provided one of the two-hole clip options is selected), while cant can be set by determining whether to use one clip or two. I found the inward angle generated by one clip to be the optimal setup, though two clips would offer the assurance of greater stability.
In day-to-day use this holster was seriously impressive, with arguably the best balance of qualities of any holster I've worn. Decently comfortable though still highly concealable, one won't exactly forget it's there, but no one else will have a much of a chance at noticing its presence. This holster got quite the workout, too, as my test week fell during a period when I was doing a good bit of work outdoors, going up and down tower ladders, squeezing into small spaces to rewire equipment, and a number of other activities that required pretty varied movements. Despite all this, the Ventcore IWB Appendix held up, providing robust retention of my firearm, and imposing only the most minimal of restrictions on movement.
Since the Ventcore IWB Appendix rides in the more conventional location, some adjustment can be required when changing positions. On some folks, this could be due to excessive contact with the thigh when achieving a seated position or its equivalent. On me, while the inward cant of my holster allowed it to miss my thigh, it could hang up slightly around my midsection. Far from an actual annoyance, all one must do to clear that contact is nudge out on the handle slightly, an inconvenience only in the most technical of terms. Aside from that, the holster performed flawlessly. The sturdy Kydex kept scratching and other such cosmetic damage far out of mind, while its overall design allowed me to go about my business virtually unimpeded, without any worry for the security (or the visibility) of my preferred sidearm. The Ventcore backing, meanwhile, kept things cool and sweat free, though I admit I didn't use it in the warmest of weather.
The Ventcore IWB Appendix can be had in an array of finishes (18 to be exact), and retails for $55. For more information, visit stealthgearusa.com.
Kydex and Leather
A combination of the latest-and-greatest and the tried-and-true, the option of Kydex backed by leather is a popular one. A great example of this is the Reckoning Holster from Crossbreed.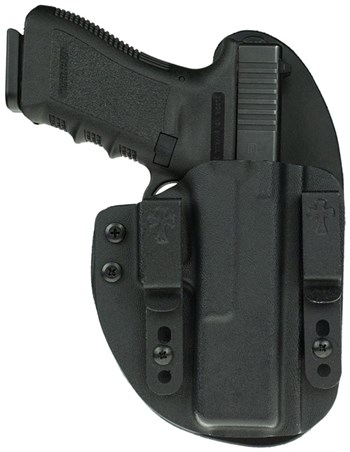 Crossbreed The Reckoning Holster
A substantial multi-position holster, the first noticeable characteristic ot The Reckoning is its stout design. The only holster on this list with an actual retention device, rare for an IWB holster, one's pistol slides into The Reckoning with a reassuring "click," and there it will stay regardless of circumstance. While I had no worries about my pistol falling out of any of the holsters on this list, The Reckoning held onto the gun with a firmness that inspired enough confidence to do pull-ups upside down during an earthquake. Unless drawn with intention, my pistol was going absolutely nowhere.
The Reckoning's retention device works by applying pressure to the trigger guard, and can be adjusted via an Allen screw. This, in conjunction with adjusting the overall tightness of the Kydex to the leather, allows one to either tighten or loosen the firmness of the holster's hold if retention level proves a little too tight.
Even disregarding retention, however, The Reckoning is quite a holster. It comes with standard IWB clips (J Clips), the buyer's choice of OWB Speed Clips or OWB Wings (belt loop clips), and can additionally be ordered with J Clips, Polymer IWB Clips, and V-Clips. That's correct, The Reckoning is an IWB holster that can be converted into an OWB for times when subtlety is not as necessary, making it quite a versatile offering.
All that said, The Reckoning is a substantial holster, and as is the case with most things described as "substantial," its presence is felt. Moving and sitting are not a problem, but if one has to bend over to tie his shoes, the holster is going to dig. 
Crossbreed's Reckoning starts at $69.95, and can be ordered in Founder's leather, Black Cowhide or Premium Horsehide, with Kydex in Designer FDE, Designer OD Green, Designer Sniper Grey or Standard Black. For more information, check out crossbreedholsters.
Nylon
The first adjective that generally springs to mind in reference to this category of holsters is "economical." While that is indeed the case, it does not necessarily preclude such units from being stalwart and reliable daily carriers for one's defensive pistol. Sure, they may lack the classy aesthetics of leather, or the tactical credentials of Kydex, but the ever-advancing march of technology has ensured mesh is more than equal to the task of comfortably supporting one's firearm. Representing this category is a holster embodying all the above attributes, the Tempest from Crossfire Shooting Gear.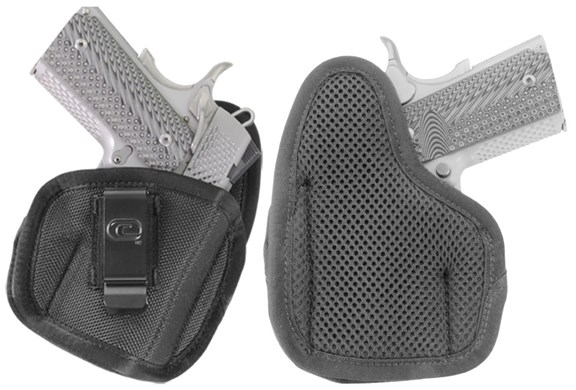 Crossfire Shooting Gear Tempest
Easy to affix and fairly universal in fit (the options when purchasing this holster are "Micro," "Sub-Compact" and "Compact," rather than being fitted to any exact model), the Tempest is, as its summary claims, designed around comfort. Its exterior is constructed entirely from tough yet breathable 1680 denier Ballistic Nylon fabric, which holds up well to the rigors of daily use, and retains its shape even without the pistol inserted. Its interior is formed from a memory-type foam laminate technology, which conforms and better molds to the gun the more it is used. Finally, a well-padded neck riser keeps the firearm well away from the wearer's body. 
In a phrase, this holster is an excellent jack-of-all trades. Comfortable—though not the most minimalistic—it is concealable yet still eminently accessible. The Tempest is more than adequate for daily carry. Where it shines however, is how versatile it is for its price. For this reason, I would consider it the ideal model for anyone contemplating, but unsure of, a switch to appendix carry. While it works great in the appendix position, if one decides at any point to deviate from the AIWB position, the holster transitions easily to 3 o'clock or back-of-hip carry, thanks to the added stability of its universal design. Switching between similarly dimensioned pistols is equally simple thanks to its universal fit, meaning one can easily use the holster to test out different guns for everyday carry. And it does all this for a relatively inexpensive $30.99. For more information on the Tempest, or other Crossfire holsters, head over to crossfiregear.com.