Support NRA American Rifleman
DONATE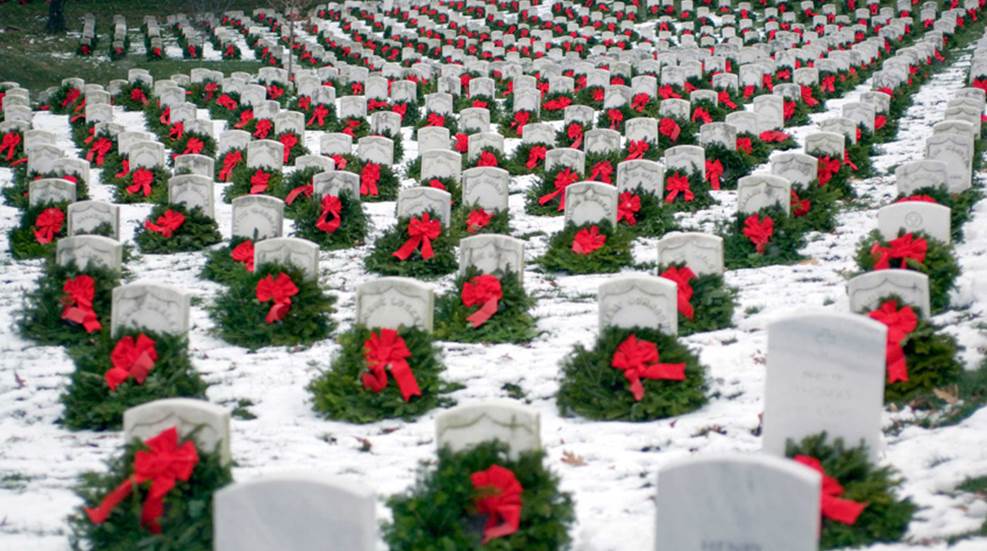 It has become one of the most compelling sights of the holiday season in the Washington, D.C. region: more than 253,000 headstones at Arlington National Cemetery individually adorned with fresh balsam wreaths, a solemn living tribute to American veterans, as much an honor to our heroes as any of the permanent monuments that stand tall in our nation's capital. 
The wreaths are laid each December by a growing corps of volunteers—now numbering more than 60,000 at Arlington alone—who join with Wreaths Across America (WAA), a national non-profit organization whose original goal was to expand the annual wreath-laying ceremony at Arlington started in 1992 by a businessman when he donated 5,000 wreaths leftover from his Maine wreath business (worcesterwreaths.com). Officially founded as a 501(c)(3) organization in 2007, Its mission is to honor every fallen military service member during the holiday season, no matter what is happening in the nation or the world.



And although Congress has each year since 2008 proclaimed a Saturday in December "National Wreaths Across America Day," the purchase of the wreaths is not federally funded. One hundred percent of the wreaths laid at Arlington National Cemetery—along with another 1.8 million placed on veterans' headstones at approximately 1,900 participating U.S. cemeteries—are donated by the public, often sponsored by family and friends of the deceased, but frequently by citizens who desire a simple way to pay tribute to a veteran. The goal this year is to place 2 million wreaths.
Karen and Morrill Worcester never envisioned the magnitude of their future, a new calling, after quietly donating the 5,000 wreaths from their company—a gesture itself that evolved from a memorable visit to the cemetery by Morrill when he was a young boy—but they do know that now it brings Americans together.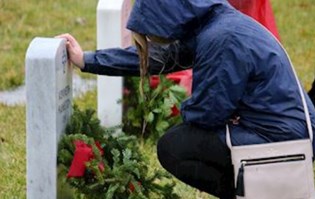 "It developed into a mission to teach patriotism, which starts at home, develops into community, then to country."
"We were just doing this to say thank you," said Karen, now WAA's executive director, "and then it developed into a mission to teach patriotism, which starts at home, develops into community, then to country."
The story of what Wreaths Across America has evolved into requires more space than can be told here (you can read all the details at WreathsAcrossAmerica.org), but WAA's ongoing mission to Remember the men and women who served America; to Honor our military and their families; and Teach our children about freedom and those who protect it is shared yearlong, culminating with the annual wreath-laying.
The one stipulation that WAA asks of its volunteers is that when they place the wreath, they say the deceased person's name out loud. "They say you die twice," Karen said. "The first is when you stop breathing. The second is the last time someone mentions your name." By saying the names of the deceased, it ensures no veteran is ever forgotten.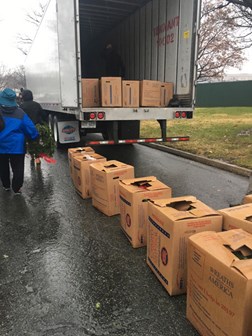 The requests by individuals and groups to sponsor wreaths through the years has steadily gained traction, accelerating exponentially in 2005 when the iconic image (top) of wreath-adorned headstones covered in snow, which first appeared on a Pentagon news site, went viral. In fact, it wasn't until 2014 that WAA first reached its goal of a wreath on every Arlington gravesite. It has since expanded outside the continental U.S. to Hawaii, where it honors those who served and sacrificed in the wars in the Pacific. Its latest milestone was in 2018 as its mission expanded overseas with the first placement of more than 9,300 veterans' wreaths at Normandy-American Cemetery in France. They have plans in 2020 to lay wreaths on graves in American cemeteries in Luxembourg and the Netherlands.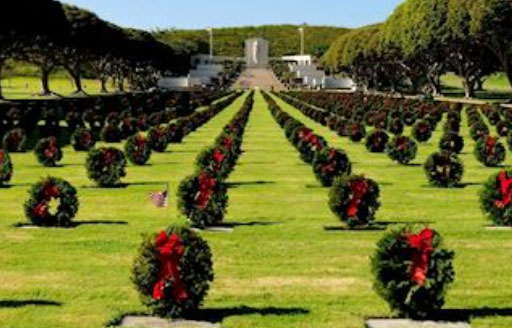 However, as the number of deceased veterans grows each year, so does the struggle to meet or exceed the previous year's drive.

This year, Wreaths Across America Day will take place on December 14, and the drive for wreath sponsorships for each Arlington grave—and others nationally—is in high gear. Currently, WAA has received approximately 40,000 sponsorships for Arlington National Cemetery—an impressive number, but one that still leaves a 200,000 deficit.
At first blush the number appears daunting, considering there is one month left for WAA to reach its goal. The good news, however, is that NRA members alone could immediately satisfy this deficit, even if fewer than 5 percent of NRA's 5 million-strong membership sponsors one wreath at $15 each. In fact, WAA has established a WreathsAcrossAmerica.org/NRA page for those who wish to donate a wreath as part of the NRA family. Donors can choose from multiple sponsorship options, including a 5-wreath Family Sponsorship for $75, for example, among others. NRA members are also encouraged to volunteer to lay wreaths, if not at Arlington National Cemetery then at any of the participating cemeteries around the country.
Karen says that NRA is comprised of individuals who naturally connect with this cause, as many in the NRA have served, and know intimately what it means to come together for something bigger than themselves. "Everyone knows someone who has served," she said. "This is about coming together as Americans."

A "Wreaths Across America" sponsorship is a natural fit for NRA members.

Joe DeBergalis, executive director of NRA General Operations said, "A 'Wreaths Across America' sponsorship is a natural fit for NRA members, many thousands of whom are active duty military, retired veterans or deceased veterans buried in these cemeteries around the world." He added, "It is a unique opportunity with an enormous visual impact to honor these American heroes who deserve our undying appreciation." 

The theme of the 2019 WAA drive is "Everyone Plays a Part," inspired by one of the Worcesters' nine grandchildren, who reached out to shake the hand of a service member in uniform as he thanked him. The service member responded, "Thank you ... everyone plays a part." 

To sponsor a wreath or to learn more about Wreaths Across America and the programs it supports, please visit WreathsAcrossAmerica.org.