by
posted on April 25, 2014
Support NRA American Rifleman
DONATE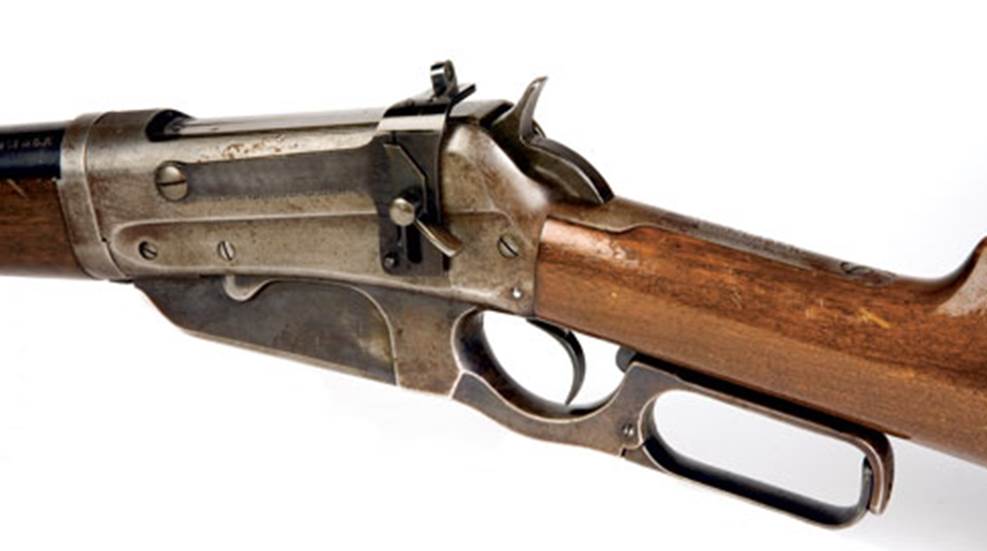 Winchester Model Of 1895 .405 Win.
Gun: Model 1895 Winchester Take-Down in .405 Win.
Condition: 75 percent (NRA Fine)
Approximate Value: $5,250
Patented in November 1895 by John M. Browning, the Model of 1895 Winchester was the first lever-action rifle with a box magazine. Until that time, most lever-actions had tubular magazines in which the nose of one bullet rested against the base of the cartridge in front of it. With the development of smokeless ammunition came radical changes in cartridge design and performance. High-power, smaller-caliber spitzer or pointed bullets became practical and highly sought after by sportsmen everywhere. In response, Browning designed a lever-action with a box magazine that stacked the ammunition to eliminate the danger of accidental discharge. The resulting 1895 lever-action has been a favorite of sportsmen ever since.

Initially offered in .30 Army (.30-40 Krag), .38-72 Win. and .40-72 Win., the list of calibers grew as the reputation of the rifle increased. Eventually it was chambered in .303 British, .30-'03 Sprg., .30-'06 Sprg., 7.62x54 mm R Russian and .35 Win. The 1895 became the most powerful lever-action rifle ever produced when in 1904 Winchester introduced the gun in .405 Win., then considered the best all-around North American game cartridge ever developed. The big 300-gr. bullet achieved more than 3,000 ft.-lbs. of energy and had an initial muzzle velocity of more than 2000 f.p.s.
The 1895 in .405 gained national prominence in October 1910 when Theodore Roosevelt wrote, "... the Winchester .405 is, at least for me personally, the 'medicine gun' for lions." Written for Scribner's magazine while he was touring Africa on a yearlong safari, sportsmen around the world began to clamor for Roosevelt's "medicine gun." The scramble for original 1895s in .405 began with a renewed vigor in 2002 when Hornady re-introduced the .405 Win. as a factory cartridge.
Traditionally, the 1895 in .405 was available in a standard 24" barrel with a shotgun-style buttplate. The crescent buttplate, which was actually standard on all models prior to 1904, could be special ordered for the .405, but few were produced, because as one customer wrote, "It kills at both ends."
Another rarity in the .405 is the take-down model. A total of only 837 take-downs was made in all calibers, making one in .405 an extremely rare example. The 1895 was produced between 1895 and 1932 and remained available in the catalog until 1940. More than 425,000 were produced, however 300,000 of those were muskets manufactured in 7.62x54 mm R and sold to Russia. That leaves approximately 125,000 rifles, carbines and non-Russian muskets manufactured during its brief run. Of those 125,000 produced for civilian sales, the Cody Firearms Museum has factory records on only 60,000 of the rifles.
The Twenty-Seventh Edition Blue Book of Gun Values lists the value of a Standard rifle in 95-percent condition at $4,000. The .405 Win. chambering can add another 50 percent or $2,000, and special-order sights and buttplate can raise the amount even further.
-Philip Schreier, Senior Curator, National Firearms Museum
Originally published April 2007.
According to the 34th Edition Blue Book of Gun Values, a Model 1895 in 95-percent condition can bring about $4,900 in today's market. If its chambered in .405 Win., make that $8,575, a 75 percent increase. The Lyman peep sight with windage and elevation adjustments (pictured) was a $3.50 factory extra. Today, it adds $500 to $800 to the original value. -The Eds.