by
posted on February 27, 2019
Support NRA American Rifleman
DONATE
Winchester has issued a recall for three lots of .38 Spl. 130-gr. FMJ center-fire ammunition. A press release issued reads as follows:
"Olin Winchester, LLC ("Winchester") is recalling three (3) lots of 38 Special 130 Grain Full Metal Jacket centerfire ammunition.
Symbol: USA38SPVP
Lot Numbers: KF21, KL30 and KM52
Winchester has determined the above lots of 38 Special ammunition may contain incorrect powder charges. Ammunition with excessive powder charges may cause firearm damage, rendering it inoperable, and subjecting the shooter and bystanders to a risk of serious personal injury or death.
DO NOT USE WINCHESTER® 38 SPECIAL 130 GRAIN SYMBOL USA38SPVP WITH LOT NUMBERS KF21, KL30 or KM52. The ammunition Lot Number is ink stamped inside the right tuck flap of the 100-round carton as indicated here. The symbol is printed above the UPC bar code.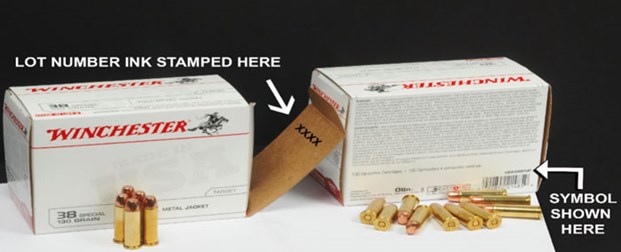 To determine if your ammunition is subject to this notice, review the Symbol and Lot Number. If it is Symbol USA38SPVP with Lot Number KF21, KL30 or KM52, immediately discontinue use and contact Winchester toll-free at 844-653-8358 for free UPS pick-up of the recalled ammunition.
This notice applies only to Symbol USA38SPVP with Lot Numbers KF21, KL30 and KM52. Other Symbol or Lot Numbers are not subject to this recall.

If you have any questions concerning this 38 Special centerfire ammunition recall please call toll-free 844-653-8358, write to Winchester (600 Powder Mill Road, East Alton, IL 62024 Attn: USA38SPVP Recall), or visit our website at winchester.com."