by
posted on August 31, 2022
Support NRA American Rifleman
DONATE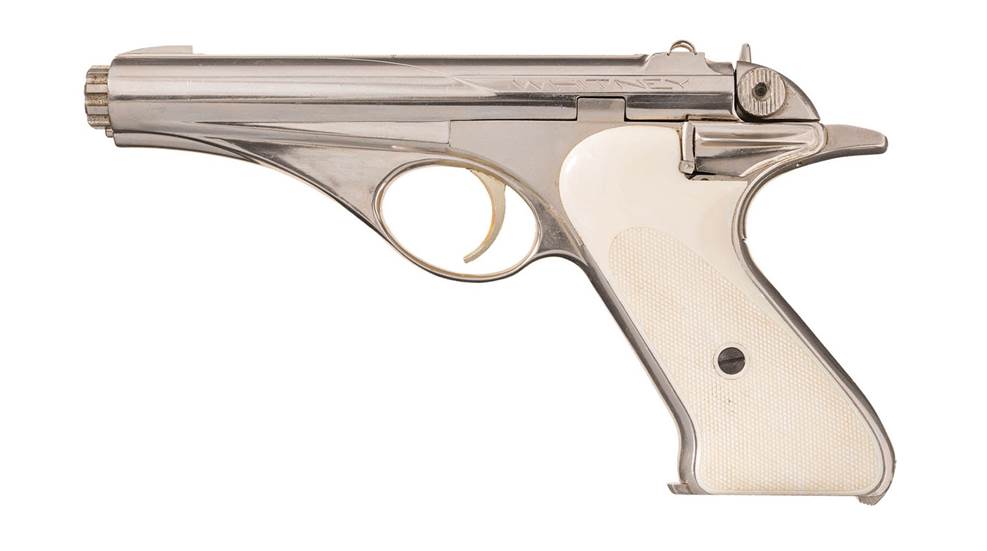 Gun designer Robert Hillberg was a big fan of the football program at the University of Michigan, precisely why he named the .22 Long Rifle-chambered, semi-automatic pistol he created the Wolverine. Production of the original lasted only two years. The manufacturer was Whitney Firearms—then a subsidiary of Bellmore Johnson Tool.
Despite the sleek, space-age looks, they first hit the market in 1956 at the eye-watering price of $49.95 for a nickel version (above). Blued models set you back less—$39.95 to be precise. Unfortunately, Colt and Ruger introduced their own .22 rimfire pistols at about the same time, and their MSRPs were a few dollars less.
In 1957, the last aluminum-framed Wolverine was produced, ending the run at slightly more than 13,000. The aluminum casting process used in the gun's production was new to the industry, an advancement Hillberg came to understand during World War II.
The blowback-operated pistol was 9" in length and had a barrel slightly longer than 4.6". It weighed 23 ozs. and shipped with a 10-round magazine. Grips were polymer and either black or white.
In 2004, Olympic Arms resurrected the design, but its frame was polymer. The profile was nearly identical to the original. Barrel and overall length were the same, along with chambering and magazine capacity. Weight dropped to 19.2 ozs., however.
When B. Gil Horman tested one for American Rifleman in 2014, he noted, "After just a bit of take-up, the trigger broke cleanly with 3 lbs., 6 ozs. of pressure. With the short trigger travel distance, pulling the trigger felt even lighter than the gauge indicated." The external-hammered, single actions were available in black, tan, brown and pink and shipped with a manual thumb safety. MSRP was $294, but the line was discontinued in 2017. Olympic Arms closed its doors completely only three years later.
Depending on condition, some of the newer models are commanding more than $1,000 on the used market. We were unable to find listings for aluminum originals, although the odds are good those prices are much higher.