Support NRA American Rifleman
DONATE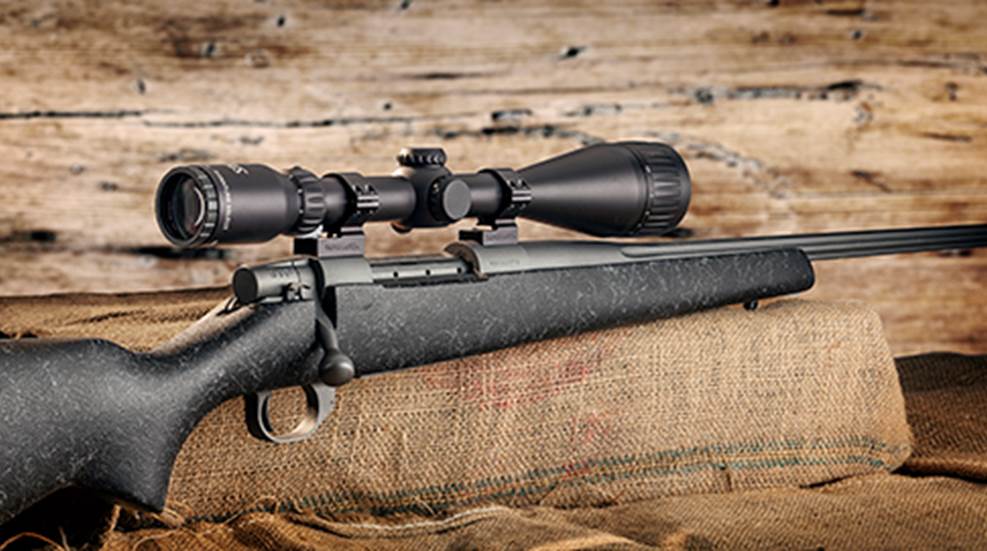 Long known-and particularly renowned-for its bolt-action rifles chambered for high-velocity cartridges, Weatherby has, since the 1970s, attended to the needs of the budget-conscious shooter with its value-priced Vanguard line. It launched a second series of Vanguard rifles in 2011, and among 2013's additions to the revamped Vanguard was a lightweight reintroduction of a model for which hunters from mountainous regions clamored: the Back Country.
Tipping the scales at 6 pounds, 12 ounces, the Vanguard Series 2 Back Country is Weatherby's answer for hunters who don't necessarily have wallets as big as the game animals they dream of pursuing. Though it stands out as one of the costlier rifles among the Vanguard line, Weatherby has pitched the Back Country with claims that few companies would stake on a rifle in a "value-priced" line.
The Back Country, like every rifle in the Vanguard Series 2 line, ships with a guarantee of three-shot sub-m.o.a. accuracy at 100 yards when used with specified Weatherby factory or premium ammunition. Among the other "standard" features that it inherits from its line, the Back Country includes a pillar-bedded stock and a two-stage trigger. As with all Vanguards, it's built on an action produced for Weatherby by Japan-based Howa. The push-feed design is largely a copy of the discontinued Sako L61R action.
Among the features that differentiate the Back Country from its Vanguard brethren are its Pachmayr Decelerator recoil pad and Cerakote Tactical Grey finish on all of the rifle's exposed metalwork. The Pachmayr keeps the lightweight rifle from beating on its operator, and the Cerakote finish provides the additional protection that rugged hunting grounds typically call for. It's more resistant to corrosion, chemicals and scratches-although scratching the Back Country isn't impossible. The rifle's Monte Carlo composite stock features spiderweb accents, giving it a sharp, eye-catching look.
A Back Country owner that's dedicated to creating a true light-as-possible configuration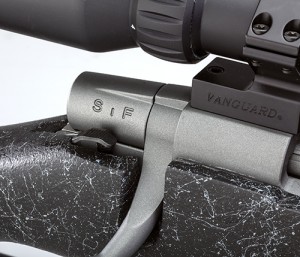 will find assistance in the form of some of Weatherby's series-specific accessories. The rifle's standard hinged floorplate can be swapped out for the company's Detachable Box Magazine Kit, a Vanguard-specific accessory that supports the .270 Win. and .30-'06 Sprg. variations of the Back Country. The kit replaces the floorplate, spring and trigger guard with a three-round-capacity detachable-box magazine that can shave up to 4 ounces from selected models. The magazine kit is available directly from Weatherby, and lists at less than $100.
For testing, the Back Country was topped with a Burris 4-16X 44 mm riflescope and settled on a benchrest for stability. The three loads used for evaluation were:  Winchester's Super-X 150-gr. Power-Point; Hornady's Superformance 165-grain InterBond; and Barnes' Vor-TX 180-grain Tipped Triple-Shock X Bullet Boattail (TTSXBT). The most accurate load proved to be that from Barnes, as the average for five consecutive, five-shot groups at 100 yards measured 1.74 inches. The smallest group, which was also produced by Barnes, measured 1.34 inches; however, a single group with Hornady's Superformance 165-grain InterBond was within 0.10 inches of that size.
In comparing these groups to Weatherby's guarantee, one must observe that the company's accuracy declaration is based on three-shot groups, not five, which is far more demanding of a firearm and marksman. In nearly every group, however, the first three, if not four, bullets impacted close enough to meet the company's guarantee. Inevitably, the final shot (or two) from the heated barrel went high, outside of the original cluster.
On top of the range trip, one evaluator was given an opportunity to put the Back Country's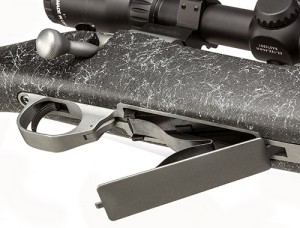 key selling point-its weight-to the test on a five-day elk hunt in the mountains of central Colorado. High altitudes and tougher-than-anticipated terrain made for a series of difficult hikes, providing the rifle with plenty of time to earn its keep. Light on the shoulder and easy to handle when moving through densely wooded hunting property, the Back Country kept grueling treks from becoming anymore unpleasant. During the trip, our reviewer spent one day with a Mark V Accumark (chambered in .300 Wby. Mag.) over his shoulder, and was eager to return to the Back Country the next morning.
No malfunctions-be they on the range or in the field-were experienced, and the Back Country proved to be comfortable to both carry and operate. The lighter-than-usual nature of the rifle didn't create a substantial increase in perceived recoil-though by the 75th evaluation round things had grown a bit less pleasant. More standard operation, however, should not be uncomfortable for an operator confident in the caliber of his or her choosing.
If you're a rifleman that's on the go, be it in a mountainous region or on flat terrain, Weatherby's Back Country makes for an ideal fit. Though the $1,399 price tag makes it one of the Vanguard Series 2 line's highest priced models, the rifle still checks in at a far more wallet-friendly rate than the custom builds that would be required to replicate its perks and performance. Yes, there are lighter factory-made mountain rifles on the market, but few that might stand up to the Back Country on an out-of-the-box basis.

Weatherby Vanguard Series 2 Back Country
Importer: Weatherby, Inc., 1605 Commerce Way, Paso Robles, CA 93446; (805) 227-2600
Caliber: .240 Wby. Mag., .257 Wby. Mag., .300 Wby. Mag.; .270 Win., .30-'06 Sprg. (tested), .300 Win. Mag.
Action Type: bolt-action repeating, center-fire rifle
Receiver: steel
Barrel: 24", No. 2 contour, fluted, chrome moly
Rifling: four-groove, 1:10" RH twist
Sights: none; receiver drilled and tapped for scope bases
Magazine: internal box, drop floorplate, three- to five-round capacity with standard box; three-round capacity with detachable-box
Trigger: two-stage, 2-lb., 8.6-oz. pull
Stock: Monte Carlo-style synthetic; synthetic; length of pull, 135⁄8"; drop at heel, 11⁄4"; drop at comb, 7/8"
Overall Length: 441⁄2"
Weight: 6 lbs., 12 ozs.
Accessories: owner's manual
Suggested Retail Price: $1,399