by
posted on November 23, 2015
Support NRA American Rifleman
DONATE
By all accounts, the Patriot bolt-action has been selling extremely well since its formal introduction at the 2015 SHOT Show. On the surface, that success would seem to run counter to the industry-wide trends toward tactical styling and technological innovation. Instead, the Patriot looks like a classic from the 1960s and sticks with engineering prevalent to the affordable bolt-rifle category. 
And that reflects the rifle's unique origin. According to Mossberg press relations manager Linda Powell, "The Patriot introduction did not go the more traditional route of an engineer bringing an idea to management or marketing research showing an interest in a particular category. We listened directly to our customers' requests for a more traditional, wood-stocked hunting rifle.
"Initial responses from our customers at last year's [wholesaler] shows told us that we had a home run, with the walnut Patriots and walnut/Vortex-scoped combos outselling other versions," said Powell. 


Call it clean, conventional, old-school or even plain vanilla, the Patriot represents a look and a shooting platform that's been around for well over half a century and its reception affirms that America is not yet done with it, especially when it can be had for around $500. 
Mossberg's round-bodied receiver carries over to the Patriot and, as with predecessor models, its streamlined barrel nut is made to be tightened by a hook spanner and thus lacks the tooling indents that kept other brands off some critics' best-dressed lists. The bolt is a conventional design with twin locking lugs flanking a recessed face that houses a plunger ejector. The right-side lug bears a sliding-plate extractor and is slotted to ride in a thin guide rail along the receiver wall. The straight bolt handle ends in a flattened, oval knob encircled by a band of checkering, and a toggle left of the tang releases the bolt. Opposite a two-position pivoting safety, a projection on the bolt's left side is intended to prevent over-rotation. The bolt body is finished with attractive spiral fluting.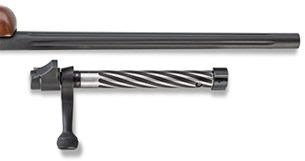 Decorative shallow fluting is also found on the barrel, extending 9½" from the fore-end tip nearly to the muzzle. Our synthetic-stocked test model, in .308 Win., was fitted with a No. 2 sporter contour, match-crowned, 22" barrel. The receiver's barrel nut secures a recoil lug whose rectangular underside mates into a slot molded into the stock. It measures 1.34" wide by 0.20" thick. Those dimensions—and in fact the basic blueprint—haven't changed since Mossberg adopted this receiver design for the ATR in 2005.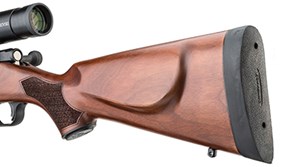 The stock also comes with standard features, such as stippling panels that bracket the fore-end and grip areas, an integral trigger guard, detachable plastic magazine, sling swivel studs and a soft, generous buttpad. While such touches are all fairly typical, what's really worthy of attention—but tends to go unnoticed when rendered in plain black synthetic—are the stock's lines and proportions, which are actually quite graceful. The rifle's attractiveness is naturally more apparent in its walnut-stocked variants like the one seen on these pages, but that goes beyond just the richness of wood grain and color.
I'm hardly the first to remark on the Patriot's "classic" lines, though there's no set definition for the term. The way it came together, said Powell, was that, "[After] the sales force brought the idea of an affordable, walnut, bolt-action hunting rifle with a classically styled stock, our engineering design team looked at many of the classics, their dimensions and overall appeal. From that, the Patriot was born."
Whatever examples inspired Mossberg designers, the end result closely follows a template offered up by the virtual father of the modern sporting rifle, Jack O'Connor. 
In his Complete Book of Rifles and Shotguns (Harper Row, 1965), O'Connor argued for a comb that's rounded, thick and is straight (level) front to back, with the same amount of drop at the heel as at the comb. He stated a preference for a small grip (circumference of 4½") that follows a "slight, parabolic curve," what we now refer to as an "open-radius" grip. In his view, the cheekpiece should be "flat … about 5/8" thick at most." A fore-end that's 10" long and "fairly substantial" is ideal for rifles with 22" barrels, he said, whereas buttplates (buttpads nowadays) should be "large and flat to minimize recoil by distributing it over a large area."
Keeping those guidelines in mind, the Patriot stacks up as follows: grip is an open-radius measuring 3 3⁄8" from the trigger to far point of the curve, while its smallest circumference is 5"; the comb is 1 7⁄8" across and it slants only slightly, 1/4" variance from drop at comb to drop at heel; cheekpiece maximum thickness equals 9/16"; and the buttpad is 5¼" x 17⁄8". Indeed, the measurables are pretty close to O'Connor's ideal. 
What's noteworthy is that these stock dimensions aren't just aesthetic considerations, but also contribute to shootability. The former is a matter of taste, though a common enough standard that it seemingly is helping to drive sales. But the latter can help drive sales, too, as early Patriot owners report positive experiences to friends.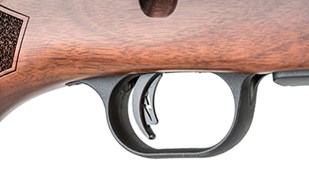 I certainly found it a very slick-handling rifle, one that fit me well, and didn't beat me up in the least during bench sessions with our .308 Win. test gun and a .300 Win. Mag. I encountered in hunting camp. The LBA trigger, set at a pull weight of 2 lbs., 2 ozs. from the factory, absorbed noticeable tension, but then broke in an instant. It's owner-adjustable, and so following directions in the manual, I reset it to 1 lbs., 8 ozs., which would be great for offhand match shooting but too light for my liking in field use.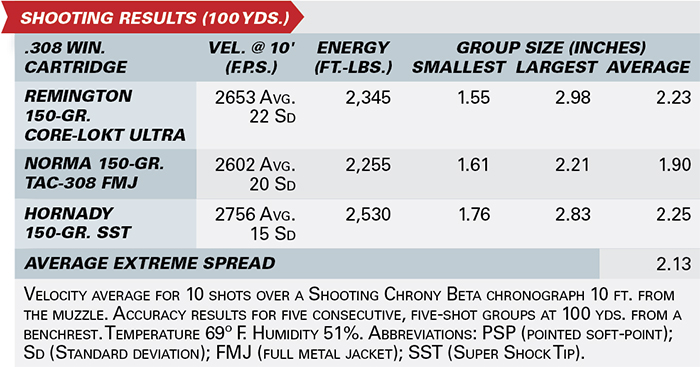 I did not like how the rifle shot initially, and so swapped scopes and then tried a succession of loads until I hit on one that grouped acceptably. With that one on paper, I went back to my first test load and, then, with an additional 80 rounds down the bore, it had settled in nicely for a lightweight hunting rifle shooting factory loads. 
I'd like to see what kind of accuracy could be had from Patriots equipped with heavier barrels. While that's not yet an option, 10 model variants are already on tap, including walnut, synthetic and laminate stocks, a Bantam youth model and more. Patriots are offered in 11 different chamberings, culminating in .375 Ruger, which means this is the first Mossberg truly geared for African dangerous game. Since returning to the bolt-action center-fire marketplace 10 years ago, the company has been proactive about churning out line extensions and always at bargain pricing. That flexibility will help ensure the Patriot holds its own in a market niche filled with fine models, and it doesn't hurt to be the best-looking of the lot.