Image: Left, a handsome, one-ounce American Eagle silver bullion coin and the special insert label with facsimile signature of NRA Executive Vice President Wayne LaPierre, shown right holding one of the coins and special insert label.

National Rifle Association Executive Vice President Wayne LaPierre now has joined an impressive list of former United States Presidents and other distinguished individuals whose signatures appear on labels packaged with historic, precious metal U.S. coins. Sales of the LaPierre signature American Eagle silver coins by Universal Coin & Bullion are helping to raise funds for the NRA's work in defending the Second Amendment. 
"The limited-edition Wayne LaPierre facsimile signature label accompanies beautiful, 2016-dated silver American Eagle coins graded Mint State 69 on the 70-point numismatic grading scale. Each superb condition coin contains one-ounce of 99.9 percent pure fine silver and has been certified for authenticity and grade by the industry respected Professional Coin Grading Service," said Michael Fuljenz, president of Universal Coin & Bullion. 
Previous signature label signers have included former U.S. Presidents and Mint Directors and over 40 baseball Hall of Fame players.
"Mike Fuljenz and Universal Coin & Bullion have been strong NRA supporters for over 10 years. I'm proud to join with them and announce the release of their NRA Signature Series Silver Eagles, and $2 will be provided to the NRA for every facsimile signature coin sold. Thank you for your support of the NRA and this important program," said LaPierre.
The price per coin, subject to change and while supplies last, is $26.99 plus shipping. Orders can be placed by calling Universal Coin & Bullion at (800) 822-4653 or by ordering online at UniversalCoin.com.
Universal Coin & Bullion is the Official Bullion and Rare Coin Expert of NRA Publications. Universal's President Michael Fuljenz is a Golden Ring of Freedom member, NRA Benefactor member and long-time supporter of the NRA's Eddie Eagle Gunsafe program. Known as America's Gold Expert, he has won more than 50 prestigious national and regional awards and honors for his consumer education and protection work about rare coins and gold and silver. Mike also has served with distinction as a consultant to the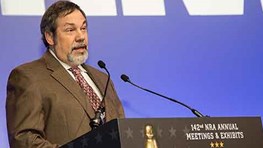 Federal Trade Commission, United States Mint and Royal Canadian Mint, and is on the Boards of Directors of the influential Industry Council For Tangible Assets, Numismatic Literary Guild and Crime Stoppers of Beaumont, Texas. He is a member of the prestigious Professional Numismatists Guild (PNG), and he is a PNG Accredited Precious Metals Dealer. For useful information about buying and selling rare coins and gold and silver, visit UniversalCoin.com.