by
Brian C. Sheetz, Editor In Chief
posted on October 19, 2022
Support NRA American Rifleman
DONATE
Harking from a time when the long gun was carried by cavalrymen and cowboys, the saddle ring carbine configuration of the lever-action was one of the most common and formidable. Its relative compactness and manageable weight, along with commendable power and range, provided those users and, later, law-enforcement officers and state guardsmen, with a powerful and fast-firing longarm. Today's shooter can enjoy the same benefits—enhanced through the selection of currently available accessories and ammunition.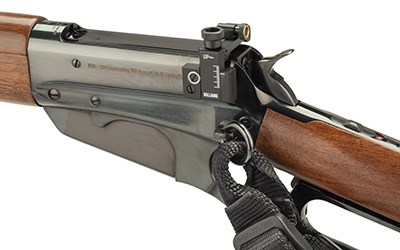 At least that's the conclusion I came to after acquiring a modern Winchester Model 1895 Saddle Ring Carbine (SRC) in .30-'06 Sprg. Made by Miroku in limited numbers during 2006 as a 100-year commemorative of the .30-'06 Sprg. cartridge, the SRC is the compact version of John Browning's last lever-action design for Winchester and the only one with a box magazine capable of safely handling traditional spitzer bullets. Like current models in the Winchester line—rifles chambered in .405 Win. and .30-'06 Sprg.—the 1895 SRC benefits from modern metallurgy and exhibits a remarkably high level of fit and finish.
With its 22" barrel and four-plus-one capacity, the 40 1/2"-long, 8-lb. 1895 SRC is a powerful and reasonably handy platform. And while several interesting features are unique to the model—a trap in the butt for cleaning equipment and a barrel-mounted, flip-up ladder sight graduated from 200 to an optimistic 1,800 yards—I decided that I could make the 1895 SRC even more user-friendly by adding a few modern and vintage-style accessories.
First was a sling. Originally designed as a means of ensuring that mid-19th century cavalry troopers would retain their longarms even if they fell from or had to hastily dismount their horses, the saddle ring method of attachment represents an early take on today's single-point-sling concept. An Internet search quickly turned up The Wilderness SPQD-SR adapter ($14, thewilderness.com), a heavy-duty nylon-webbing loop with a keeper that secures it to the saddle ring. Fitted with a Delrin quick-release buckle, it accepts the company's Single Point Sling ($35). The second item, Skinner Sights' Quiver ($120, skinnersights.com), is complementary as it transfers the gun's weight to the users' back or to a horse, ATV or bicycle while still allowing it to be tethered to the shooter by way of the sling. The 29"x6"x2½" scabbard is crafted from top-grain cowhide and has its own adjustable sling and shoulder pad attached firmly at two places with heavy-duty solid brass D rings. I was also compelled by period photos in the excellent book, Winchester Model 1895: Last of the Classic Lever Actions by Rob Kassab & Brad Dunbar, to track down a belt on which to carry spare cartridges. Triple K provided the solution in its #249 Rifle Cartridge Belt ($100, triplek.com), which holds 15 rounds of .30-'06 Sprg. and is available for other chamberings as well.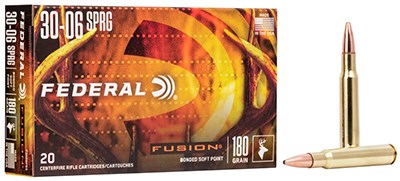 The next order of business was to take advantage of the two No. 6-48 TPI holes in the left side of the receiver intended for an aperture sight. Williams Gun Sight Co. provided the solution in the form of its 71 FP model ($97, williamsgunsight.com), which I fitted with an optional brass-ringed 0.50" aperture ($14). The new rear unit extended the factory sight radius from 15¼" to 25½" for a nearly 60 percent improvement. The aperture's top half "completes" the factory rear sight's buckhorn pattern to make target acquisition even more accurate and just as quick. With Federal 180-grain Fusion ammunition ($45, federalpremium.com), I managed a 1.34" five-shot group at 100 yards.
The resulting modernized 1895 SRC makes for an intriguing platform that promises to be a capable field companion. Its unique Browning design, colorful historical lineage and high-quality manufacture set it apart from rank-and-file bolt guns and semi-automatics.
I guess it just goes to show that, in the ongoing quest for practical general-purpose rifles, sometimes looking backward can inform the way forward.