by
posted on April 12, 2019
Support NRA American Rifleman
DONATE
U.S. Customs and Border Protection (CBP) has awarded a contract to Glock Inc. to provide CBP law enforcement personnel the next generation standard duty handgun.
The contract is for up to $85 million over 10 years, which includes other Department of Homeland Security law enforcement components that have the option to purchase duty handguns through the contract, according to a CBP news release. CBP's Law Enforcement Safety and Compliance Directorate led the solicitation process to replace CBP's current duty handgun (the HK P-2000), which reportedly included independent testing by the Institute of Justice Laboratories, extensive field evaluations, and direct input from 16,000 CBP law enforcement personnel. 
The contract calls for the replacement of existing .40-cal. duty handguns with 9X19 Glock pistols by 2021. Duty weapons will be replaced for CBP law enforcement personnel and additional Department of Homeland Security units which have chosen to purchase through the contract.
"This contract provides CBP law enforcement personnel the latest in handgun technology and represents our commitment to providing the highest quality use-of-force tools and equipment to our law enforcement personnel who defend America's frontline every day," said Deputy Commissioner Robert E. Perez.
More than 45,000 sworn agents and officers within the U.S. Customs and Border Protection control and protect the nation's borders, with operations at more than 330 ports of entry.
"It is indeed a great honor to serve those who go in harm's way to protect all Americans and defend our borders every day," said Josh Dorsey, vice president of Glock, Inc. "The comprehensive and arduous testing and evaluation process demonstrates that Glock pistols continue to deliver unmatched performance and value, giving all agents the confidence they need to succeed and survive in any situation."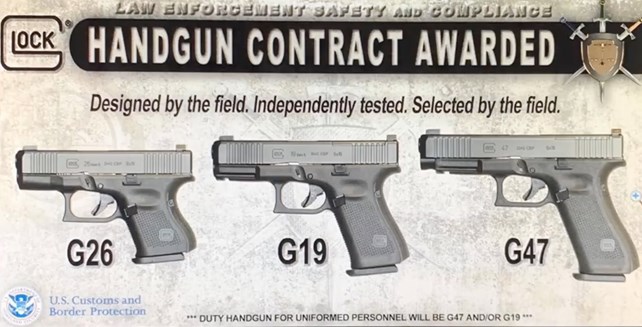 According to a Glock news release, the award incorporates several models, all featuring Glock's newest 5th generation technology. Included are the Glock 19 Gen5 MOS, the Glock 26 Gen5, and the newly developed Glock 47. The Glock 47 incorporates a full-size slide with a G45 frame. The Glock 47 was developed for the solicitation and is not available to consumers. All three models feature a flared magwell for faster magazine changes, the match-grade Glock Marksman Barrel (GMB) for enhanced accuracy, and will be outfitted with Ameriglo BOLD sights.