by
Evan Brune, Executive Editor
posted on November 1, 2021
Support NRA American Rifleman
DONATE
Four-time Olympian Vincent Hancock captured his third career gold medal at the Tokyo Games and set a new Olympic record in the men's Skeet final.
At the beginning of the 20th century, a rapidly growing National Rifle Association played a significant role in giving U.S. shooters the guns, gear, training and facilities needed to best the world's most talented marksmen. Decades of work set the stage for a Golden Age of Olympic shooting that reached its zenith in the 1920s.
A century later, at the Tokyo 2020 Olympics, held in the summer of 2021 due to the coronavirus pandemic, Team USA competitors displayed shooting skills that earned three gold medals, two silvers and one bronze. The tally marks the best U.S. Olympic showing in shooting since the 1964 games also hosted by Tokyo. Supported by America's robust shooting community and backed by some of the premier firearm and ammunition manufacturers in the world, an array of Americans showed that, when it comes to shooting, the United States is hard to beat.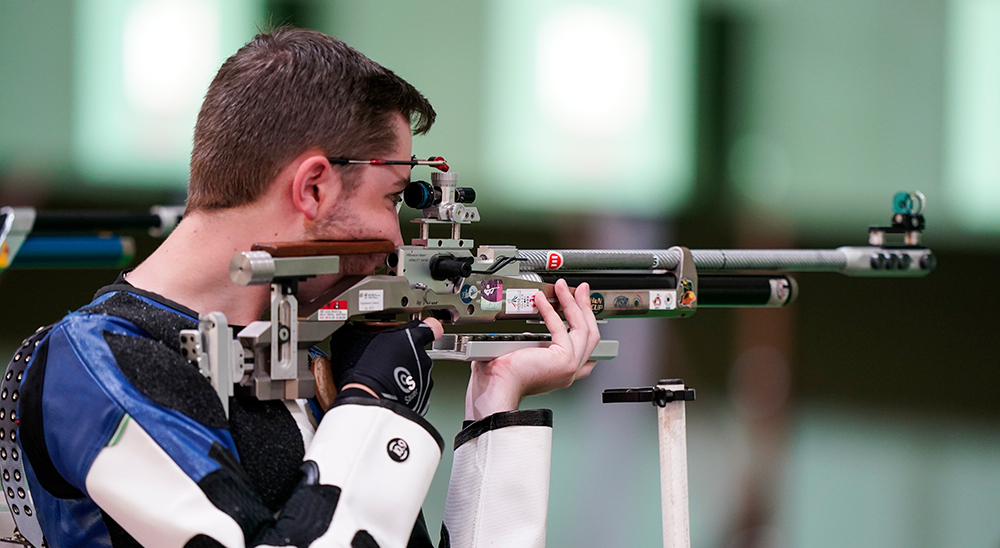 Team USA
In the run-up to the Tokyo Olympics, 19 athletes made up the Team USA shooting contingent. Among the group were Olympic veterans and young shooters representing the next generation of American competitors. These 19 Olympians would take part in 15 separate events during the Olympic shooting schedule, covering competitive disciplines in rifle, pistol and shotgun. During a selection process that was extended to nearly two years because of the COVID-19 pandemic, potential Olympians pitted their skills against other Americans vying for a slot at the Tokyo Games. Added pressure came in the form of a nationwide ammunition shortage as domestic manufacturers and supply chains felt the impact of the pandemic and increased demand precipitated by the 2020 election. A commitment from the team's ammunition sponsors kept the Olympians loaded with the volume of rounds needed for their extensive practice sessions throughout the year.
Olympian Mary Tucker, a 19-year-old Sarasota, Fla., native and a silver-medal winner in the newly created 10-meter Mixed Team Air Rifle event alongside Lucas Kozeniesky from Colorado Springs, Colo., highlighted her practice routine for Shooting Sports USA. "I think, for me, the biggest thing is just practice," she said. "It's quite common for me to be alone on the range all day. People may come in for a few hours, but I practice so much more." In fact, Tucker's practice schedule commits her to the range six days a week for five to eight hours a day. Heading into the 2020 Olympics, Tucker was ranked No. 1 in the United States for air-rifle shooting, a ranking she retained following her performance in the Games. Her teammate, Will Shaner from Colorado Springs, Colo., earned the first gold medal ever for a U.S. shooter in Men's Air Rifle. Shaner, 20 years old, is also the youngest American to earn a gold medal in an Olympic rifle event. In 2020, Shaner outlined the secret to his success for SSUSA. "Don't give up," he told readers. "Remember that the basics will take you a long way in the sport, but you have to have the patience to work through it and not let the bad days get to you."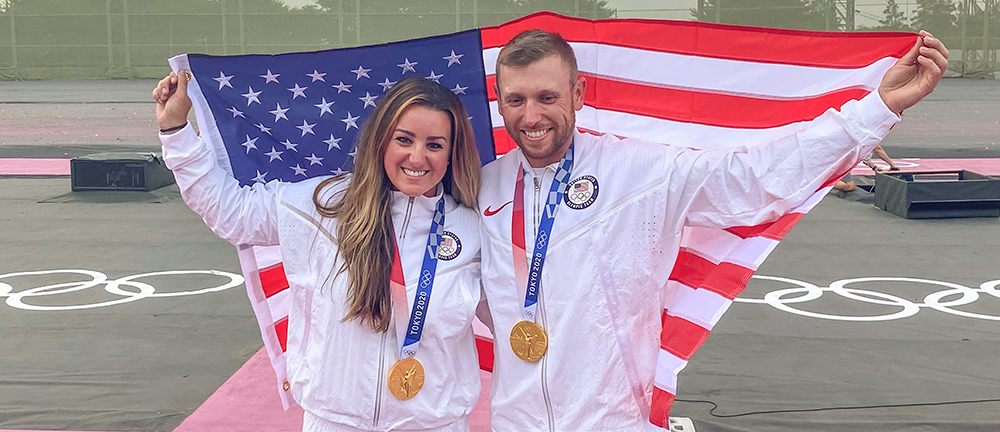 The Events
Olympic shooting competition consists of 15 events, six for men, six for women and three mixed-team shoots. Each requires an intense level of focus and precision that must be maintained through each stage, some of which last hours. The Tokyo Games were held at the Asaka Shooting Range, located on the base of the Japanese Self Defense Forces' Camp Asaka outside Tokyo. The range was constructed to host shooters for the 1964 Olympic Games, ironically the last time the United States had a medal showing this strong.
Three Position Rifle, also known as smallbore rifle in the United States, is shot from 50 meters and uses specially built .22 LR rifles. The only other Summer Olympic shooting sports that make use of .22 firearms are the 25-meter Rapid Fire Pistol, a men's event, and the 25-meter Pistol for women. Otherwise, other precision competitions use air rifles and pistols. New for this year, a mixed-team competition emerged for both air rifles and air pistols, with targets shot at 10 meters and teams comprised of a male and a female from each country. The three remaining events are all shotgun shoots, featuring men and women's trap and skeet, as well as a new mixed-team trap shoot.
Team USA Shooting's first gold medal came on July 25 in the Men's Air Rifle event. Competitors stand 10 meters from a bullseye target measuring 45.5 mm with a 0.5 mm bullseye, firing a .177-cal. air rifle weighing a maximum of 12 lbs., 2 ozs. The event is separated into a qualification round and a finals round. For qualification, 60 shots are fired over 1 hour, 15 minutes. Following the qualification, the top eight shooters line up to fire a 24-shot final with a highest achievable score of 261.6 points. Two series of five shots are fired, and each five-shot series must be fired within 250 seconds. After these 10 shots are fired, a final set of 14 shots follow, the competitors having 50 seconds to fire each shot. Within these 14 shots, competitors are eliminated after every two shots until the gold and silver medalists are decided. Shaner took the gold with a final score of 251.6 points. Two days later, the U.S. snagged a silver medal in Mixed Team Air Rifle. Following the same rules, a team of two shooters from each country, one male and one female, shoot simultaneously through two qualifying rounds and two medal matches, one for the bronze and one for the gold.
On July 26, Amber English took the gold in the Women's Skeet final. In Olympic Skeet, competitors fire 12-ga. shotguns at 185 clay targets measuring 10 cm across. Like other shooting events, skeet is separated into a qualification and a finals round. Qualification consists of five series of 25 clays shot in a sequence from eight different stations. Competitors in Olympic Skeet must call for clays with their shotgun off the shoulder and the stock positioned at the hip, requiring them to mount the gun only after a clay target is released. Shooters face disqualification if they move the gun before a target presents itself. Adding to the difficulty of such a shoot, a delay switch built into the clay launcher can delay a target launch for up to three seconds after it's called. Some targets will launch immediately, requiring an instantaneous reaction. Following the five qualification series, a sixth series consisting of 60 rounds is fired between the top six shooters for the gold. An hour after English's win, Team USA shooter Vincent Hancock won the gold in Men's Skeet, his third gold medal since 2008. With the win, Hancock entered the annals of Olympic history with a new record, having missed only one target in the final. His three gold medals are also the most ever awarded to any Olympic skeet shooter in history.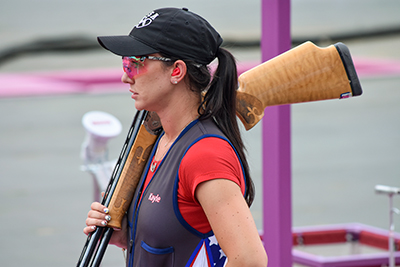 Kayle Browning earned another silver medal for the U.S. in the Women's Trap final on July 29. Unlike skeet, which features two separate "houses" from which targets are launched, Olympic (international) Trapshooting sees clay targets launched away from a shooter from a single bunker located in the center of the field. While skeet shooters fire from eight stations throughout one 25-shot series, Olympic trapshooters rotate between five stations, while a sixth shooter waits at a holding station immediately behind the first shooter position. Each shooter receives a total of 25 targets throughout a series, 10 of which travel left out of the bunker, 10 of which travel right and five that travel straight away from the shooter. These targets are delivered to the shooters in a random sequence, and the clays are thrown farther and faster than in skeet competition. Five series of 25 shots are fired in the qualification stage, and the final consists of 50 targets delivered in two series. Browning's final score was 42 out of 50, narrowly missing the gold by a single target.
The U.S. snagged its final Tokyo Olympic medal, a bronze, in the Mixed Team Trap event on July 31, with American shooters Madelynn Ann Bernau and Brian Burrows bringing a strong showing. Created by the International Sport Shooting Federation following the 2016 Olympics in Rio de Janeiro, Brazil, this year's Games in Tokyo was the first opportunity competitors had to shoot the event in an Olympic setting. The mixed-team shoot saw the two American shooters in a squad with shooters from two other countries to fill all six stations on the trap field. As in the individual trap events, shooters fire 25 rounds in each series for a total of 75 shots fired across three series for qualification. The top six teams coming out of the qualification round fire a single series of 25 rounds, at which point the lowest-scoring team is eliminated, leaving five teams left to compete in a final 25-target stage. Every five shots, another team is eliminated, until two teams battle it out in the final 10 rounds for the gold.
While the previous events were comprised of instances in which U.S. shooters claimed one of the top three slots, Team USA had participants fighting for position in all Olympic shooting events. In the 50-meter Three Position Rifle match, American shooter Sagen Maddalena clinched a top-five position in one of the longest and highest-tension Olympic shooting events. To qualify for a position in the final, rifle shooters fire 40 rounds in the kneeling, prone and standing positions for a total of 120 rounds fired in a time block of 2 hours, 45 minutes. Those top eight shooters who qualify for the final round then fire 45 shots in an elimination shoot, with 15 shots fired from each position. After 10 rounds are fired, the bottom two shooters are removed, and the last five shots are fired from each position, with one competitor eliminated after each shot. Competitors in this event are equipped with .22 LR-chambered precision rifles weighing up to 17 lbs., 5 ozs., and shots are taken on a 154.4 mm-wide target with a bullseye measuring 10.4 mm across.
Pistol events are comprised of five-shot strings, with each shot fired at its own target downrange, and the shots are fired in a limited time span. For the men's Rapid Fire Pistol, the strings are fired in eight-second, six-second and four-second time blocks. In the qualification stage for both men's and women's events, a total of 60 rounds are fired before moving onto the finals. All firing is done with one unsupported hand, and competitors must raise their arm from a 45-degree-angled starting position and rapidly take aim and fire at 10 cm-wide targets downrange for a maximum possible score of 600 points. To decide the medalists, the top six shooters enter a final round to fire eight series of five shots, with each shot string having a maximum time limit of four seconds. The other pistol discipline, the 10-meter Air Pistol, features a somewhat more relaxed timetable, where shooters fire 60 shots in a qualification period lasting 75 minutes. These shots are fired at 17 cm-square targets with an 11.5 mm bullseye. For the final round, the top eight shooters line up to fire a total of 24 rounds. These finalists are given 250 seconds to fire five shots upon command, a string repeated twice for a total of 10 shots. For the remaining 14 shots, shooters fire singly upon command, with the lowest-scoring competitor eliminated after every two shots.
While the Tokyo 2020 Olympics saw a few new events, many of the disciplines on display in the shooting bays of Asaka harken back to the decades when men and women showcased shooting skills eminently practical in warfare and civilian sporting life. Today's 10- and 25-meter pistol competitions, now shot with .177-cal. airguns and .22 LR firearms, are vestiges of military-style service pistol shoots with origins going back to the 19th century. Today's 50-meter Three-Position Rifle competition is a scaled-down version of the International Shooting Sports Federation's 300-meter rifle shoots, with origins in service-rifle competitions popular more than a century ago.
During the Golden Age of Olympic shooting, many of the world's nations understood the benefits of having a populace well trained in the use of arms, chief among them the United States and Great Britain. Today, the United States stands as the last place on Earth where the right of the people to keep and bear arms remains strong. As the shooting community of the U.S. looks forward to the 2024 Olympic Games in Paris, it remains to be seen whether or not that truth will hold.