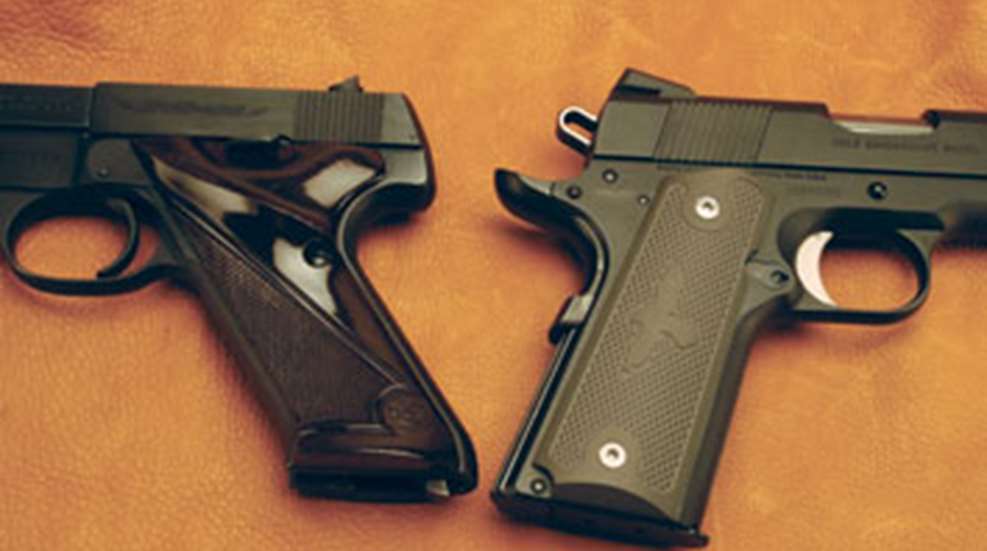 In the golden era of bullseye shooting—1950s and '60s—the great 2700 aggregate matches were fired on ranges all over this country. A 2700 was actually three different 900 aggregates fired with three different guns—a .45, a centerfire of some kind and a .22 Long Rifle.
While many shooters in fact used three different guns, a great many chose to use only two. Their .45 also filled the bill as "any centerfire," so that gun did double duty. In the .22 field early matches saw Colt or S&W .22 revolvers in frequent use. Typically, they were fired by thumb-cocking the hammer, single-action style. But, the inherent advantage of a self-loader eventually caused most shooters to use them for the so-called "mouse gun" third of the long program.
Obviously, if the .22 pistol was shaped like the .45, the more familiar feel was an advantage. Colt made the Ace model on the 1911 platform, but its accuracy was not up to the competition. Early on, it was mostly the Colt Woodsman (particularly the Match Target version) and several High Standard models. Both guns were decently accurate, but neither had the feel of the 1911. Their grips were more steeply angled, probably to facilitate feeding from the more efficient raked magazine.
As the competition progressed, Smith & Wesson entered the fray with the Model 41, a pistol with a very 1911-like butt and blue-chip accuracy. In no time at all, the Smith was the gun to have. Colt never responded to this challenge, so their beautiful little Woodsman lost heavily in popularity and eventually disappeared from the catalog.
High Standard took a different tack by modifying their basic frame to a more 1911-like feel and retaining the same magazine. The magazine now angled through the frame, rather than running parallel with the frontstrap, but it worked beautifully. It quickly became a battle between the S&W Model 41 and the High Standard Military Model. And contrary to whatever else you might hear, a pistol shaped like a 1911 is going to shoot better than an angled butt design when you are using the sights in deliberate aimed fire.