by
posted on April 11, 2022
Support NRA American Rifleman
DONATE
At the turn of the 20th century, the bolt action revolutionized the world of affordable .22 rimfire rifles. Winchester was one of the first manufacturers to jump into the low-cost bolt-action .22 market with its John Browning-designed Model 1900. While Winchester's previous .22 rifles had been based on the company's lever-action centerfire models, such as the 1873 and 1885, the Model 1900 was a new and simple design. The rear portion of the barrel was machined into a receiver, which accepted the turning bolt. The basic design features of the Model 1900 would carry on for subsequent generations of Winchester single-shot .22 rifles, including one of the most prolific, the Model 67.
By the 1920s, the bolt-action .22 market was crowded, with stiff competition from Savage, Mossberg, Iver Johnson and Remington. Winchester tried several designs in the late '20s and '30s in an attempt to meet their competitors' price points before introducing the Model 67 in 1934 in the midst of the Great Depression. In its standard form, the Model 67 featured a 27" barrel and a walnut stock and had a suggested retail price of $5.50. The rifle would fire .22 Short, Long and Long Rifle cartridges, and a large screw that held the action to the stock allowed for takedown.
With only a few minor design changes, the Model 67 was kept in production until 1963, though manufacture was discontinued between 1942-1945 to allow Winchester to focus on wartime products. Though the total number produced over these three decades is unknown, it is likely in the vicinity of 500,000.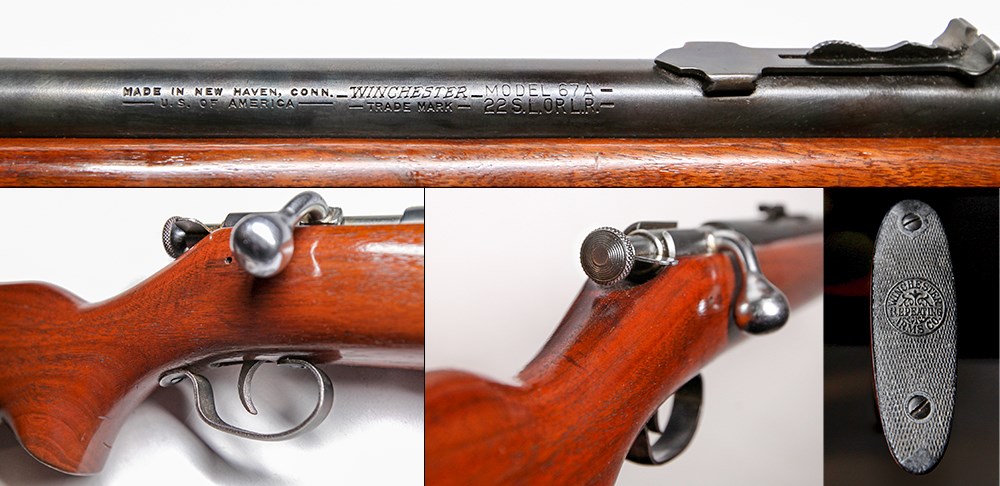 While Model 67s were not serial numbered, there are a few ways to approximately date one. The first year of production has finger grooves in the stock. Starting in 1937, the takedown screw was recessed into the stock. Early post-war rifles used a blued bolt, trigger and cocking piece instead of the normal chrome plating. Numerous other small design changes also give clues as to age. Later improved versions were marked "67A."
Several notable variants of the Model 67 exist. A .22 WRF chambering was added in 1935, and the following year a smoothbore model was offered for use with .22 shot cartridges. A "Junior" model, introduced in 1937, had a 20" barrel and a shortened stock. A "Miniature Bore Target" model, with a 24" barrel and simplified sights designed to shoot small clay pigeons with .22 shot cartridges, was offered in 1940.
While a standard Model 67 could also be ordered from the factory with a Winchester-branded scope mounted, a special version with a scope and no provision for iron sights was called the Model 677 (though it was still marked "Model 67"). Finally, an aperture-sighted "target model" was designated the Model 68. Variants based on the Model 67 would add more than 100,000 units to production totals. Model 67s were also purchased by the British government for training purposes during World War II and can be found with British proofs and military acceptance marks.
The rifle pictured is a standard, post-war Model 67A. It is in NRA Good condition and is valued at $250. Junior Model 67s, along with Model 68s, will bring a 25-percent premium over standard models, and smoothbore models or those chambered in .22 WRF bring a 100-percent premium. With just more than 2,000 of the Model 677s made, it is one of the rarest Winchester .22 single-shots and will command prices of more than $2,000.
Winchester Model 67s and other single-shot, bolt-action .22s of its era would serve generations as everything from a child's first rifle to a wartime-expedient trainer to a trusty hog killer on butchering day. They are a reminder of a time when American firearm ingenuity offered practicality and affordability in its simplest form.
Gun: Model 67/67A
Manufacturer: Winchester Repeating Arms Co.
Chambering: .22 Short, Long and Long Rifle
Manufactured: c. 1950
Condition: Good (Modern Gun Standards)
Value: $250