by
posted on July 15, 2012
Support NRA American Rifleman
DONATE
Due to the popularity and increasing size of the "This is My 1911" reader-uploaded photo gallery, we have created a second "This is My 1911" photo gallery to continue providing our readers a place to share the stories of their 1911s. 
Gallery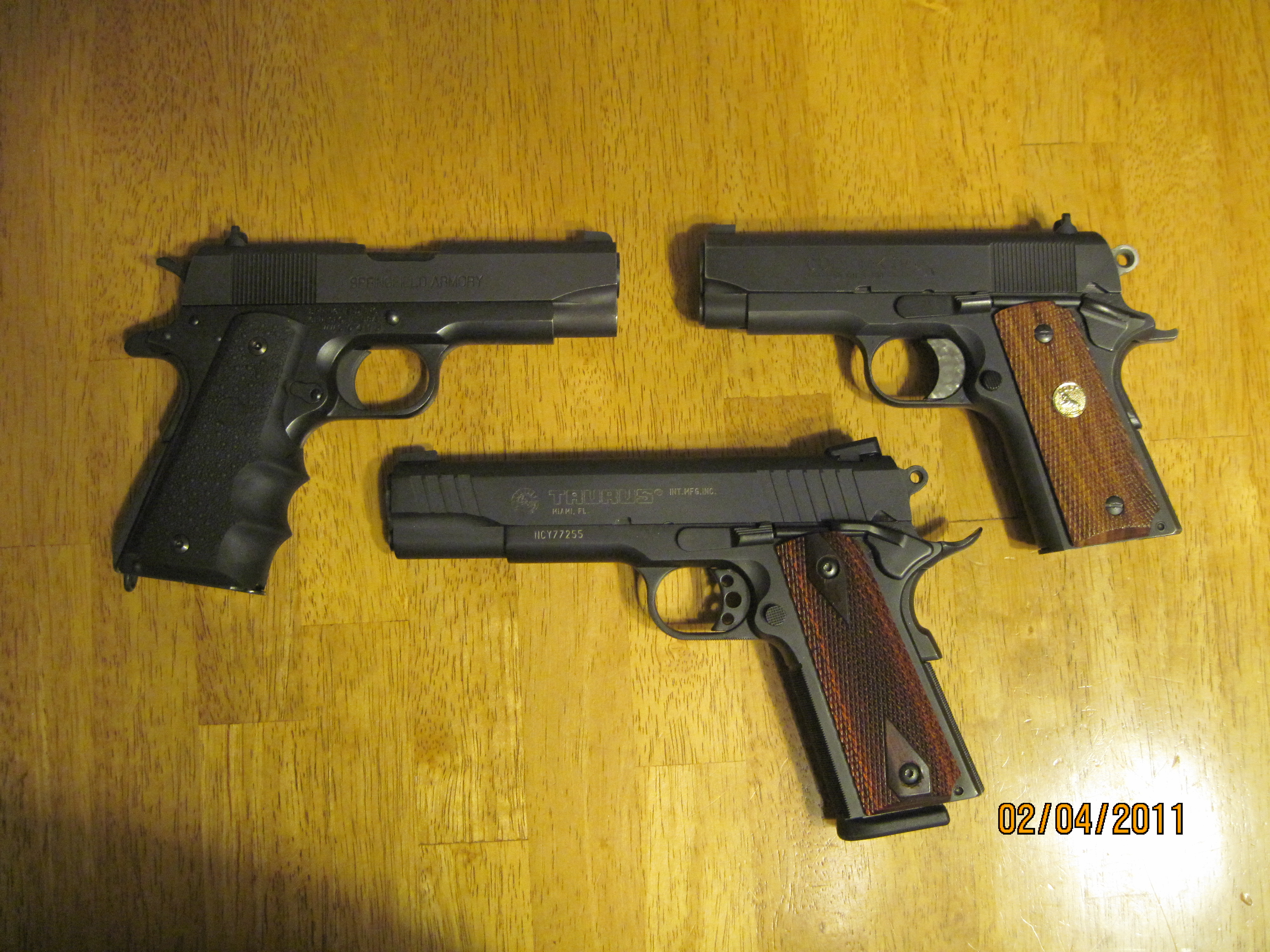 RazorBurn
My 1911's
RazorBurn
Colt Officer's ACP, Springfield Champion Lightweight and Taurus PT1911B. Love all three of them, and all three have performed flawlessly.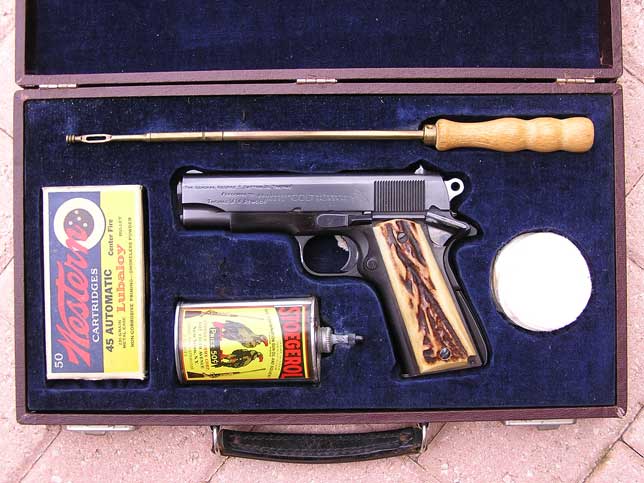 Tom Atwood
Patton Trophy
Tom Atwood
Colt Commander .45 ACP, presented to me in 1953 as the outstanding Armor ROTC graduate from Norwich University. Engraved on the left side of the slide is: The General George S. Patton Jr. Trophy, Presented to Thomas W.W. Atwood. On the right side is engraved a Patton maxim: "Do not take counsel of your fears" The award was sponsored by General Patton's widow, Beatrice Ayer Patton.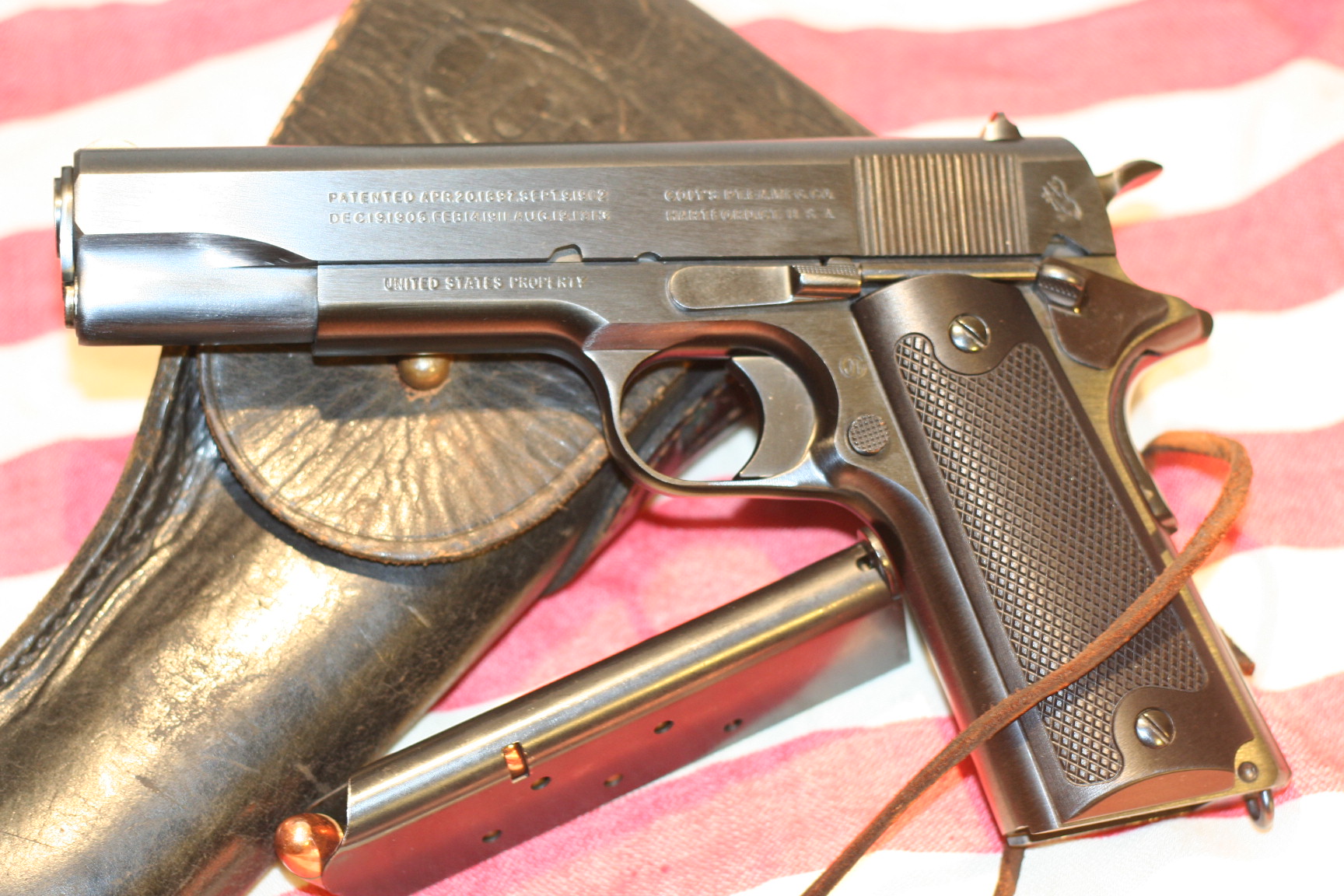 Billi Dakid
Colt 1911 WW 1Replica Carbonia
Billi Dakid
This is Colt 1911 WW 1 Replica in Carbonia Blue. It is the original John M. Browning design. I however, replaced the grips with aluminum grips, I'm sure John M. Browning would have approved. This was a limited run of about 4000 guns, this is the rarer version with in Carbonia Blue with the wmk number. The holster is an original army issue Hoyt made in 1944 which I got at Goodwill for $10, the gun I bought on gunbroker, it is a beauty, and is an American classic.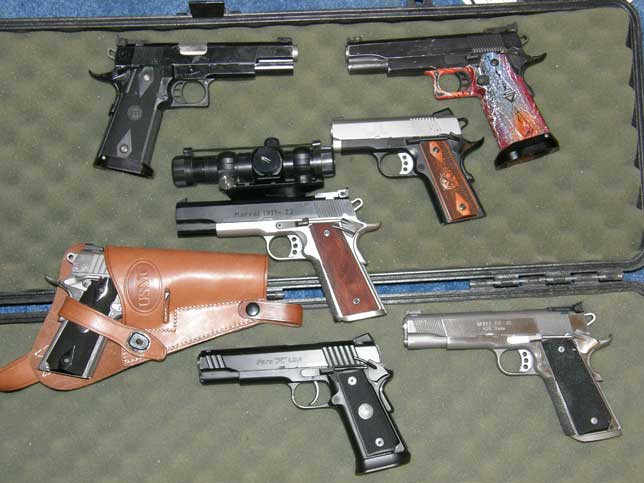 Travlnshooter
These are mine.
Travlnshooter
Three high caps, four single stacks. 3 in .40, 2 in 9mm, 1 .45 ACP, and one wearing a .22 conversion. I plink, compete with, or carry them all and wish I had one in .38 Super and one in 10mm.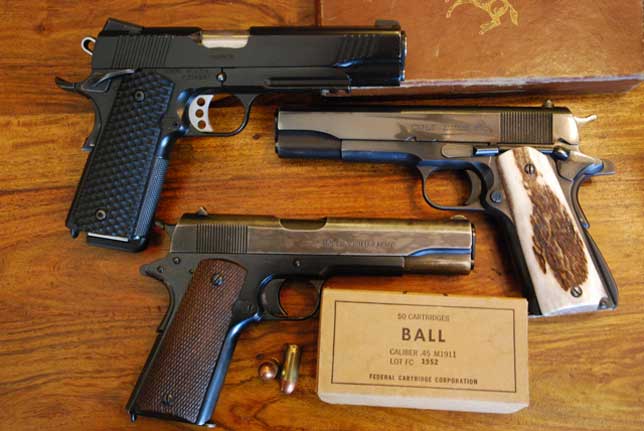 Favorite 1911s
RomeoJim
Bottom: My father's M1911 (manufactured 1918) first I ever fired (1961) Middle: This was my father's favorite 1911: Colt Super .38 automatic (manufactured 1949) Top: My favorite 1911: Kimber Warrior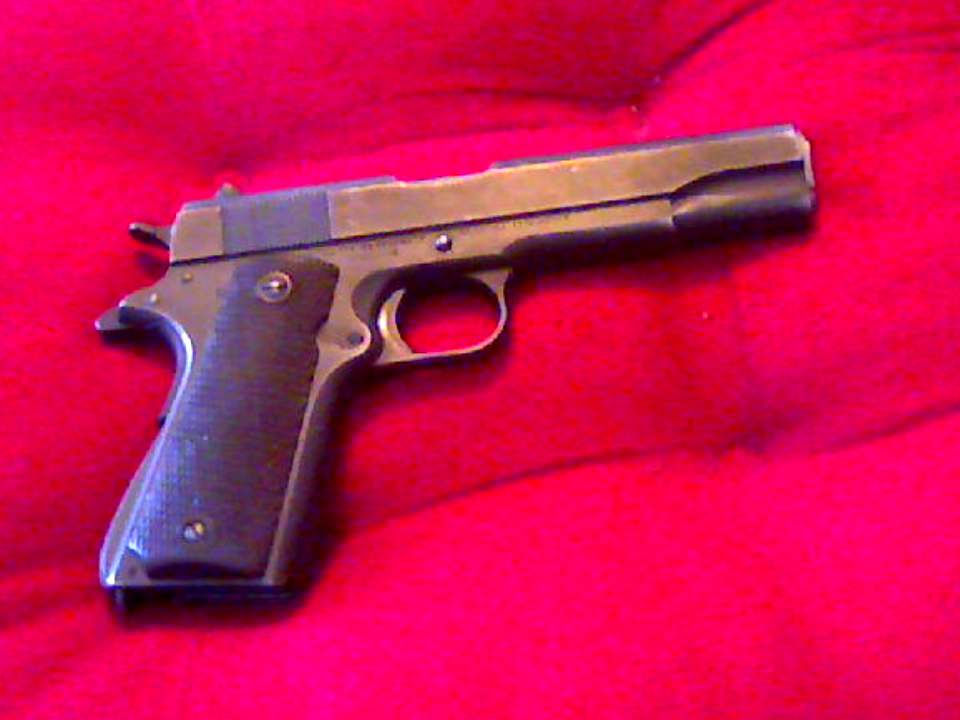 MGH4763
1911A1 1941
MGH4763
This is my fun shooter though it is not perfect it is fun to shot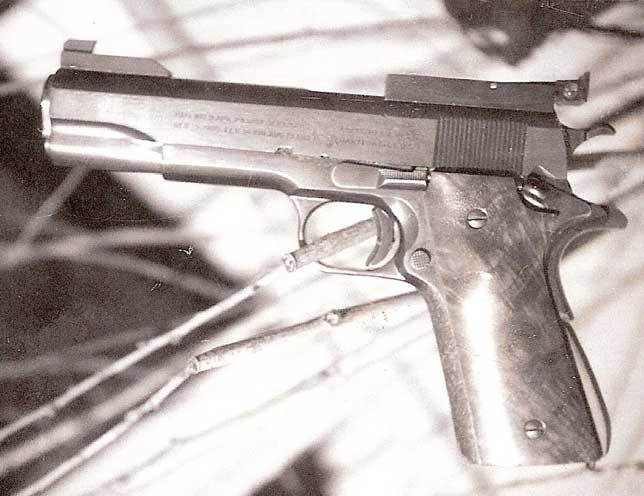 oldgringo
1911A1-Bomar
oldgringo
In 1962, as a member of the ARADCOM AMU, I was stationed at Ft. Carson CO. DCM was offering For Sale to NRA members, surplus military firearms. The .45 M1911 and .45 M1911A1 were offered at $17.00 each. Normal procedure was to get the paperwork from DCM, send it to the listed arsenal, and they would send it to you by Railway Express. Yes, mail orders were legal at that time. Since we were only 50 miles from the arsenal at Pueblo, CO, we were able to go there and hand-pick our .45. I found one in excellent condition marked "USS". At the time, I thought it stood for United States Steel, but found out it was actually made by Union Switch and Signal. Before I was discharged in October, 1962, I spent a lot of time with the unit gunsmiths learning how to make a National Match .45 out of a stock 1911A1. I was also able to accumulate a good stockpile of the NM parts. I completed this pistol after my discharge and installed a Bomar sight system that had an adjustable piece so that you could tighten or loosen the lockup at the breech end of the barrel, according to the type of ammunition and the weight rating of the recoil spring. In that way, I could use the same gun for wadcutter or hardball matches. The grips shown were Herrett's Cocabola smooth grips with ampidextrous trigger finger support. Later, I switched to checkered wood grips for better control. It shot amazingly tight groups and over the next few years, competed very successfully in NRA 2700 Bullseye Competition. After I entered Police work, I quit bullseye shooting and became very active in PPC Competition. I subsequently traded it off to a friend. I lost contact with him when I moved to Alaska and often wonder where that gun may be today.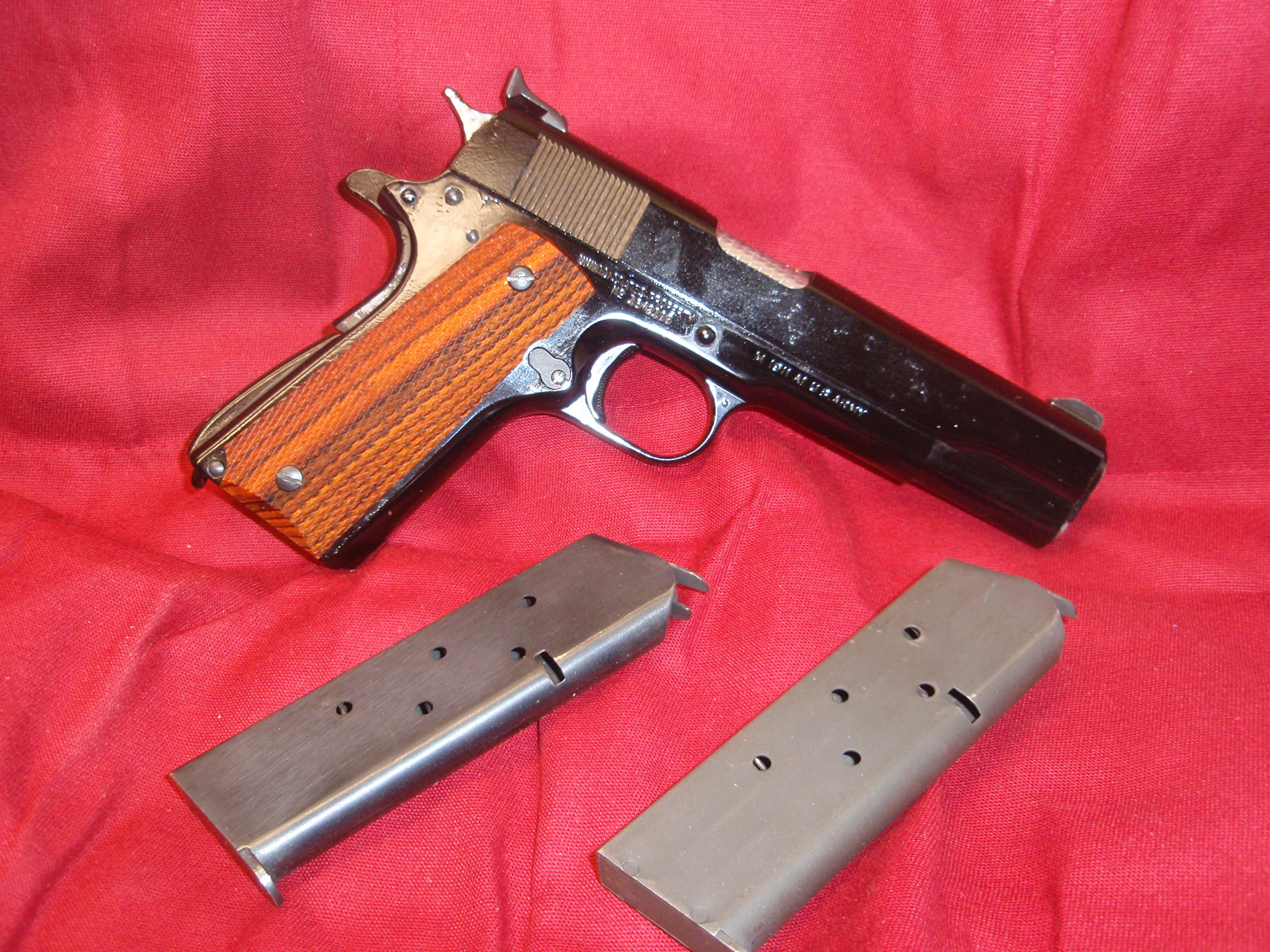 Seascape1
1944 Ithaca M1911A1
Seascape1
My M1911A1. It is an Ithaca manufactured in late 1944 and delivered to Rock Island Arsenal in March, 1945. It was rebuilt at some time because the Ithaca frame is mixed with a Remington Rand Type III slide. The barrel must also have been replaced since it doesn't show all the marks from that period; All proof marks are still clearly visible. I had it refinished and changed to Millitt fixed, 3-dot sights. Grips were changed from the original hard plastic to cocobolo double diamond. It was always a shooter and I don't think any collectible was damaged with the changes I made.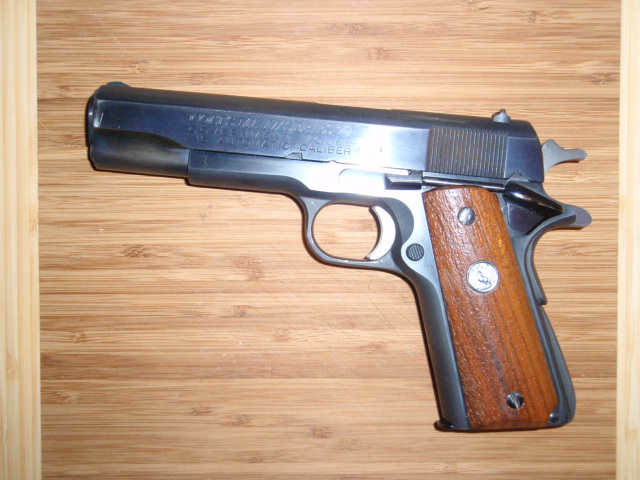 Phil
MY 1973 Government MK4 Series 70
Phil
I bought this Government model in 1973 for $150. This gun has been a comfort and a faithful friend in my travels around the country chasing jobs and somtimes living in rough neighborhoods. It fits my hand better than any other pistol I own. I taught two sons and two ex-wives to shoot this gun. It has had thousands of rounds of ammo run through it and except for changing the recoil spring this last year the gun has performed almost perfectly. Thank you Colt Industries for making such a fine weapon.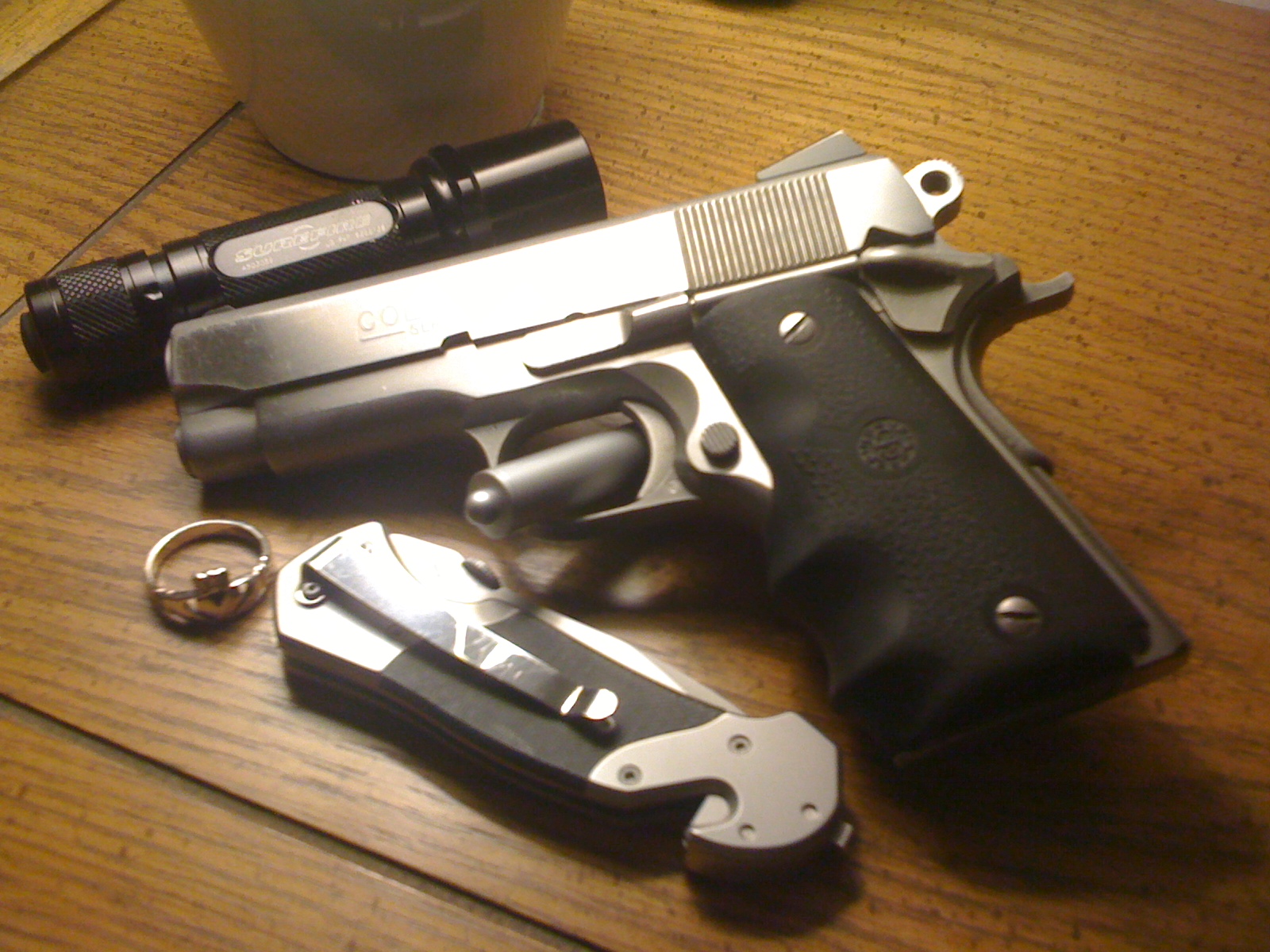 Mark58
Colt Officers ACP
Mark58
This is my daily carry gun. Compact and easy to conceal. It's been a favorite of mine since I bought it 25 years ago.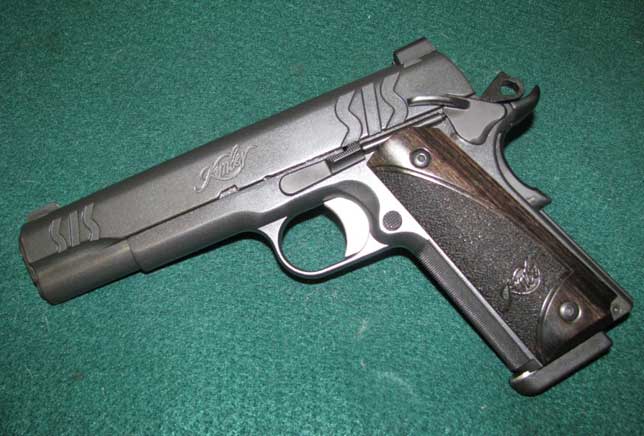 japander
Kimber SIS 1911
japander
My Kimber Custom SIS 1911 in .45 ACP.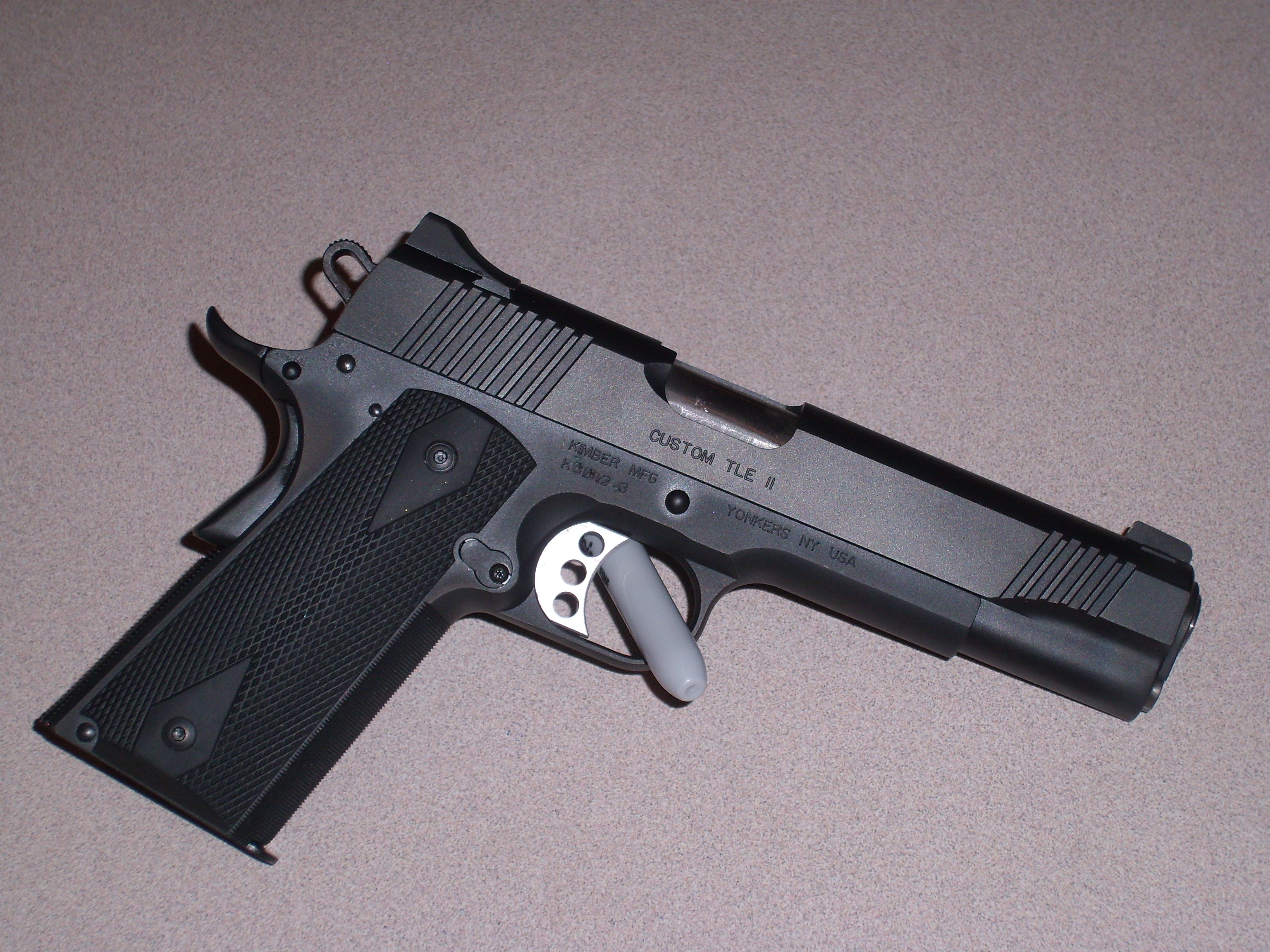 orangevol
Kimber Custom TLE II
orangevol
Not my 1st 1911, but my 1st Kimber. This thing is a tackdriver!
Bob Boyd, Assistant Editor, Shooting Illustrated
Robar custom Colt M1991A1 Commander
Bob Boyd, Assistant Editor, Shooting Illustrated
If convertible automobiles can serve of an example of how "variety is the spice of life," the same can be said for my Robar custom Colt M1991A1 Commander. 
Far from a ragtop, this 1911 is designed for some serious trigger time—thanks to its ability to digest 9 mm, .38 Super, .41. AE and .45 ACP ammunition—all from the frame's original, integrated feed ramp. 
Conversion involves swapping the barrel, magazine, recoil spring, slide assembly and slide stop. Thanks to an old issue of "American Rifleman," I discovered that changing ejectors wasn't necessary to shoot different calibers. As a result, I'm successfully able to run four different cartridges reliably from the single .45 ACP ejector.
The ambidextrous thumb safety enables me to give into my natural inclinations of shooting "southpaw," while the Ed Brown beavertail grip safety and stippled front strap and mainspring housing allow for maximum purchase without compromising comfort.
Robar's NP3 and Roguard finishes provides corrosion resistance with high lubricity and a low friction coefficient, reducing overall wear on the pistol while enabling more trigger time. Since NP3 seals the metal's surface, dirt and power residue has nothing to cling to. Therefore, cleaning is minimal and typically requires a cloth.
Given the wide range of bullet weights between the four different calibers, adjustable sights would have seemed the logical choice; however, I wanted the ability to use the pistol for concealed carry as well as punching holes in paper. So, I opted for Novak LoMount night sights with three-dot configuration.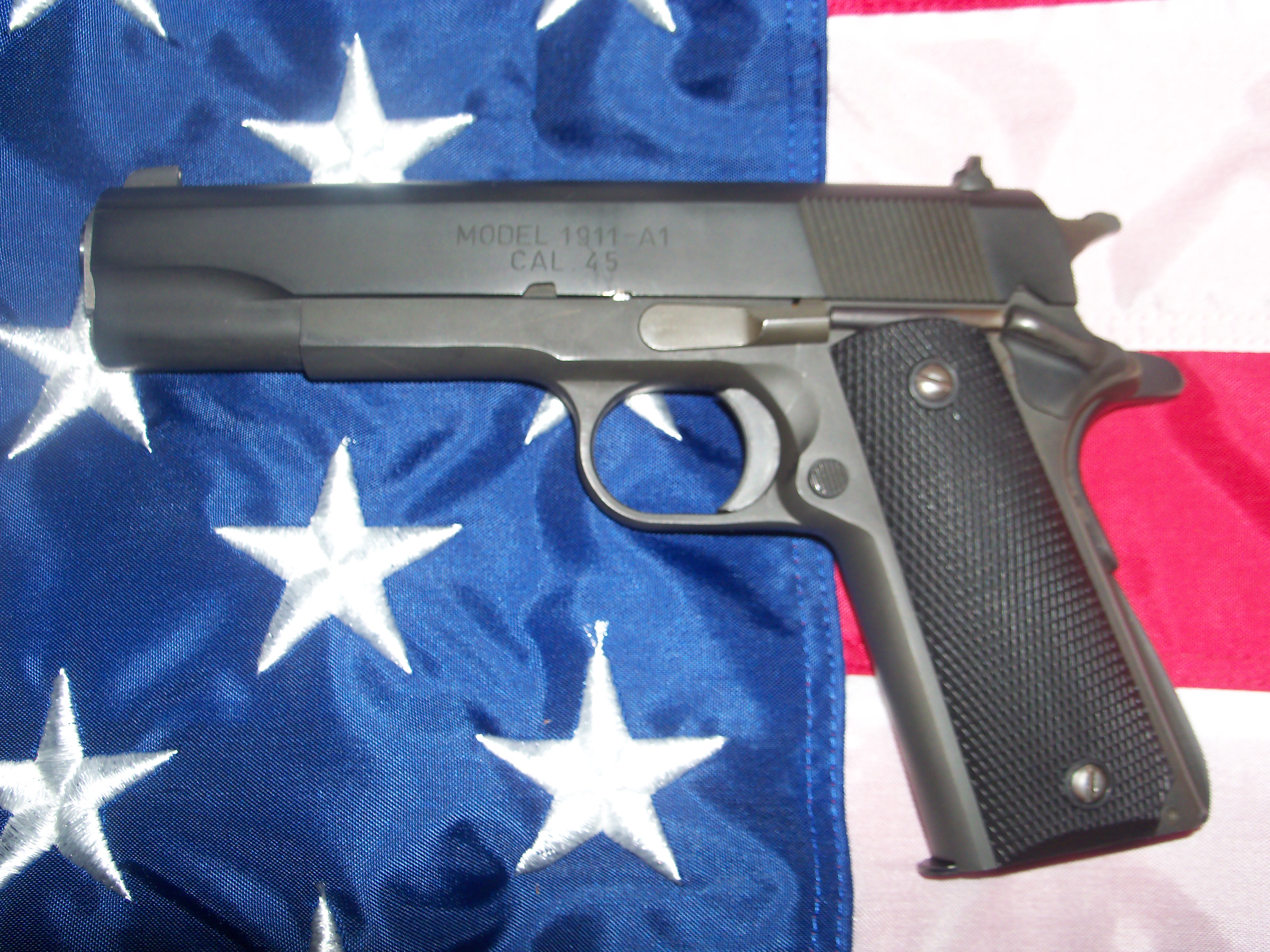 Cummings7
1911A1
Cummings7
1911A1 Springfield Armory Mil Spec. The history and the power says it all!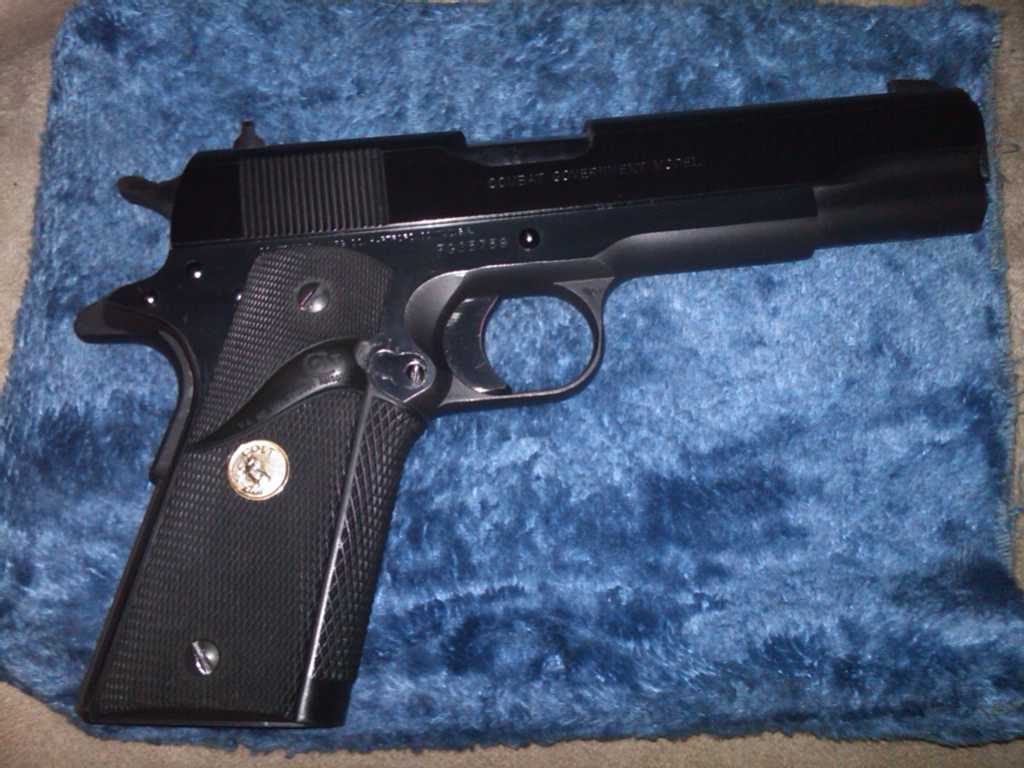 wali
1911 colt
wali
my colt 1911 26yrs. old and still my favorite all original.a true classic
ryergti
Grandads Remington Rand 1911
ryergti
Here is the 1911 that influenced my purchase of my first pistol. This is a Remington Rand 1911 built in and around 1940's at the Syracuse NY plant. A friend gave it to my Grandfather in pieces. I think it came out of the plant that way....kind of like Johnny Cash's Cadilac song. It sat in a Mason Jar for about 20yrs before my Great Uncle put it together in the 1960's. Must have been all the right stuff. Shoots great! That's my first pistol, a Kimber Grand Raptor, next to it.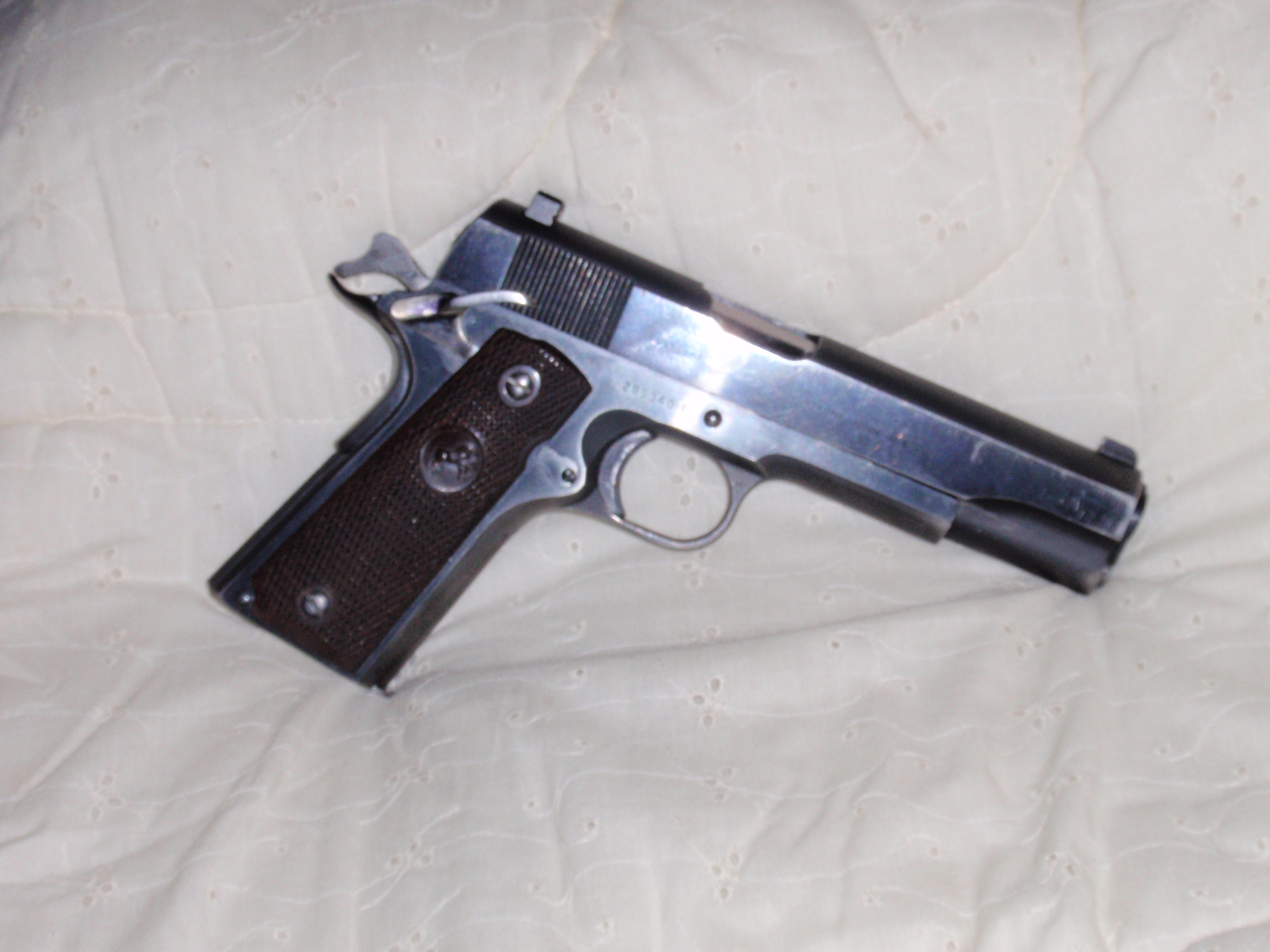 John A. Boesch, Jr.
This is my 1911
John A. Boesch, Jr.
I purchased this 1911 commercial, new, in late 1959 for about $75.00. It was target accurate out of the box. I have since added a straight backstrap and night sights.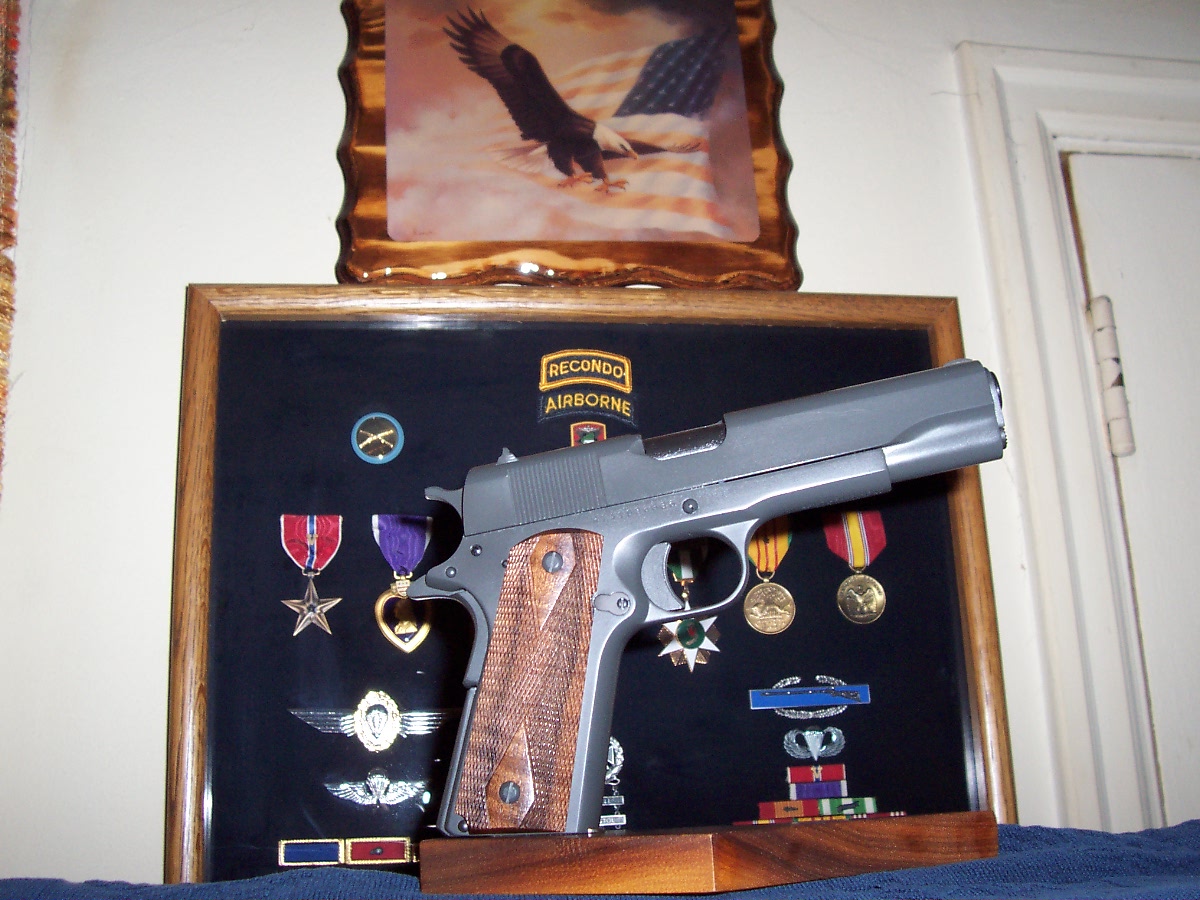 sfrtsierra
R.I.A.* G.I. .45
sfrtsierra
Rock Stock RIA G.I. 1911 .45 w/Spegel grips, pistol has been tuned to Wilson Combat specs and is reliable-accurate-powerful, best value of all my 1911's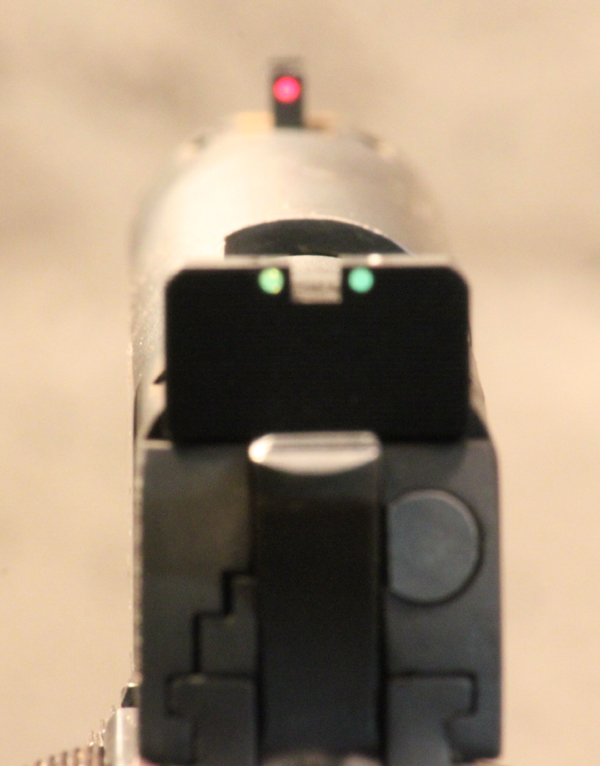 alfsauve
Colt Mk IV 1970
alfsauve
A Colt Mk IV Modle 70 with a flat main spring housing and adjustable fiber optic sights.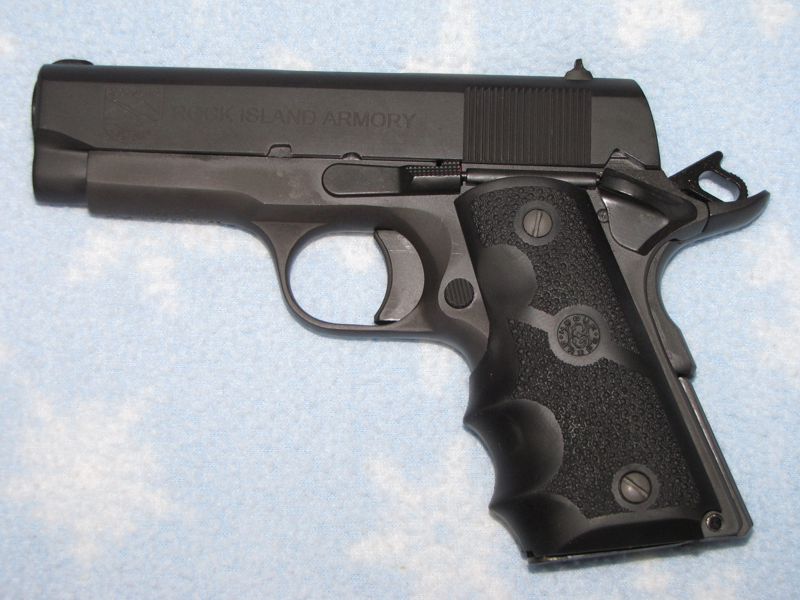 radioflyer777
RIA 1911-A1 Compact
radioflyer777
RIA 1911-A1 Compact 
Posted by radioflyer777
Rock Island Armory 1911-A1 Compact (Officer) I added a Hogue wrap-around grip and Nightsiters to the stock sights. It's simple, reliable, and is a joy to shoot; also used it to qualify for CCW.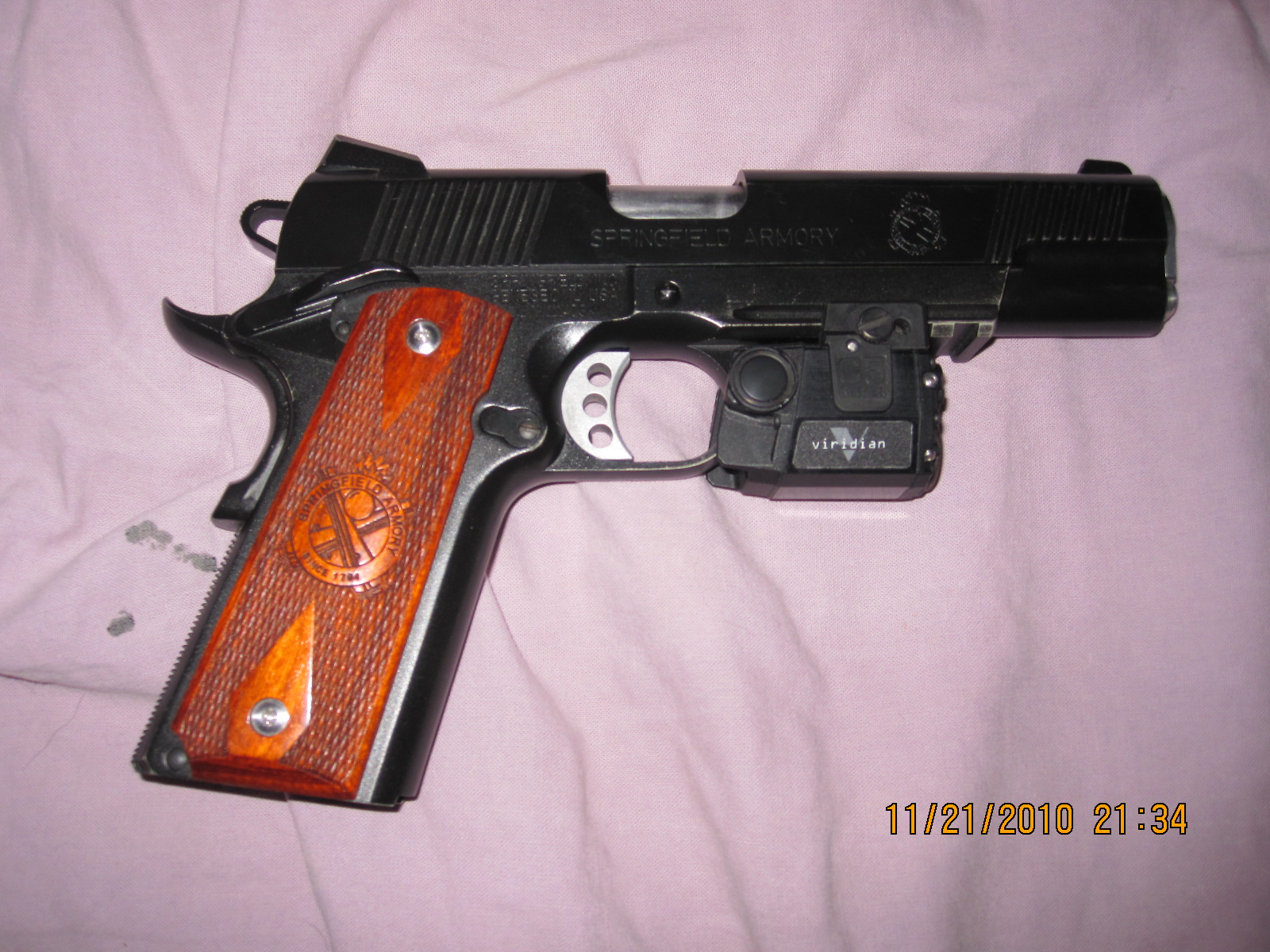 jonathon garcia
Springfield Operator
jonathon garcia
my springfield operator with my viridian c5 Laser light combo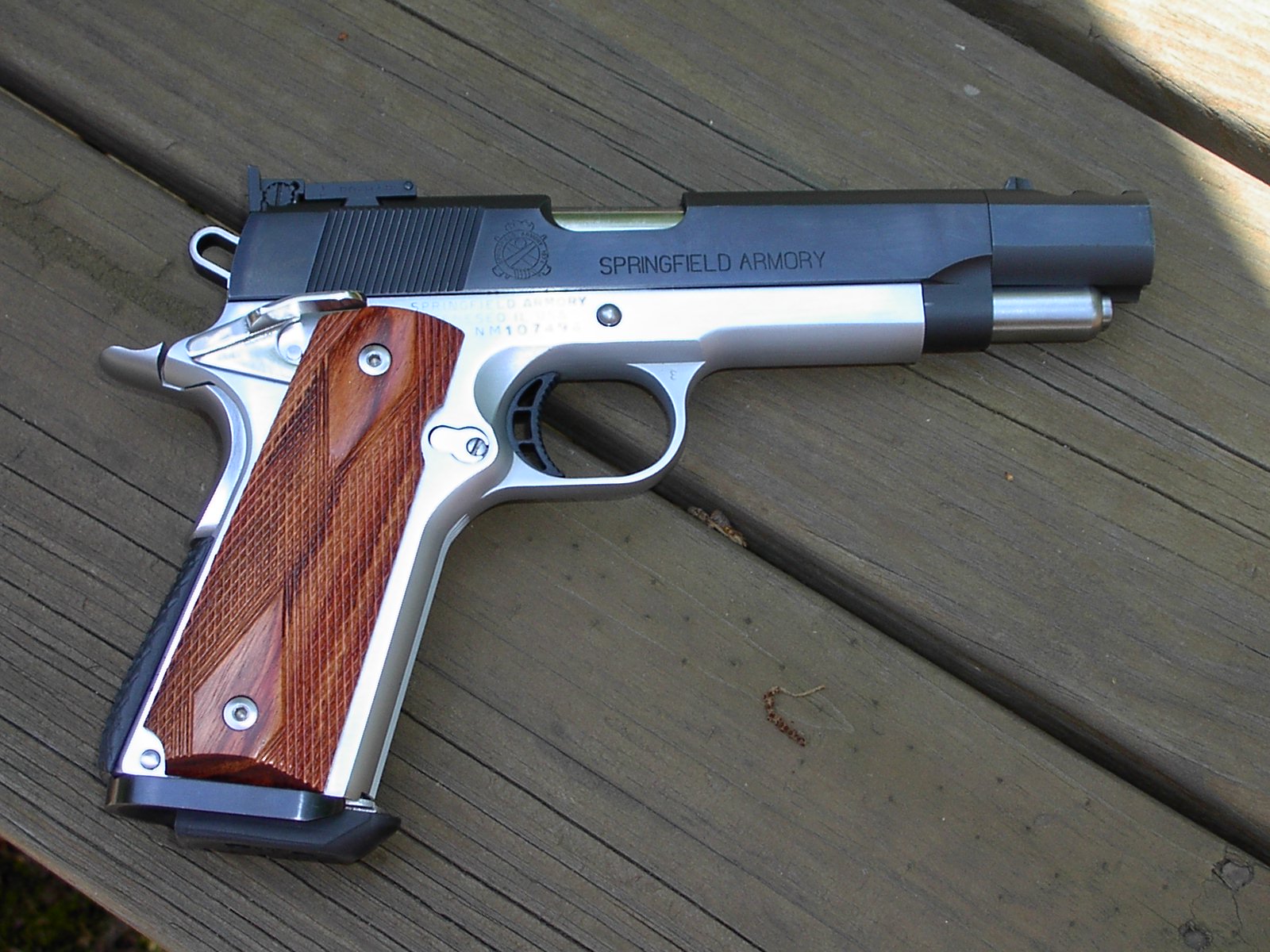 The Cheese
Springfield Defender
The Cheese
Springfield Armory Defender with the factory comp.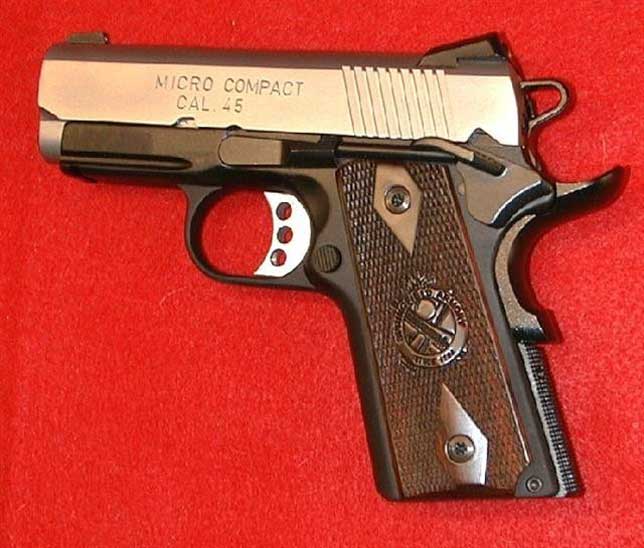 MOKANRACER
Springfield Micro 45 acp operator
MOKANRACER
I have just recently purchased this 1911 from an auction,where it is on lay away. It comes with a loader,2 mag holster and a rail light.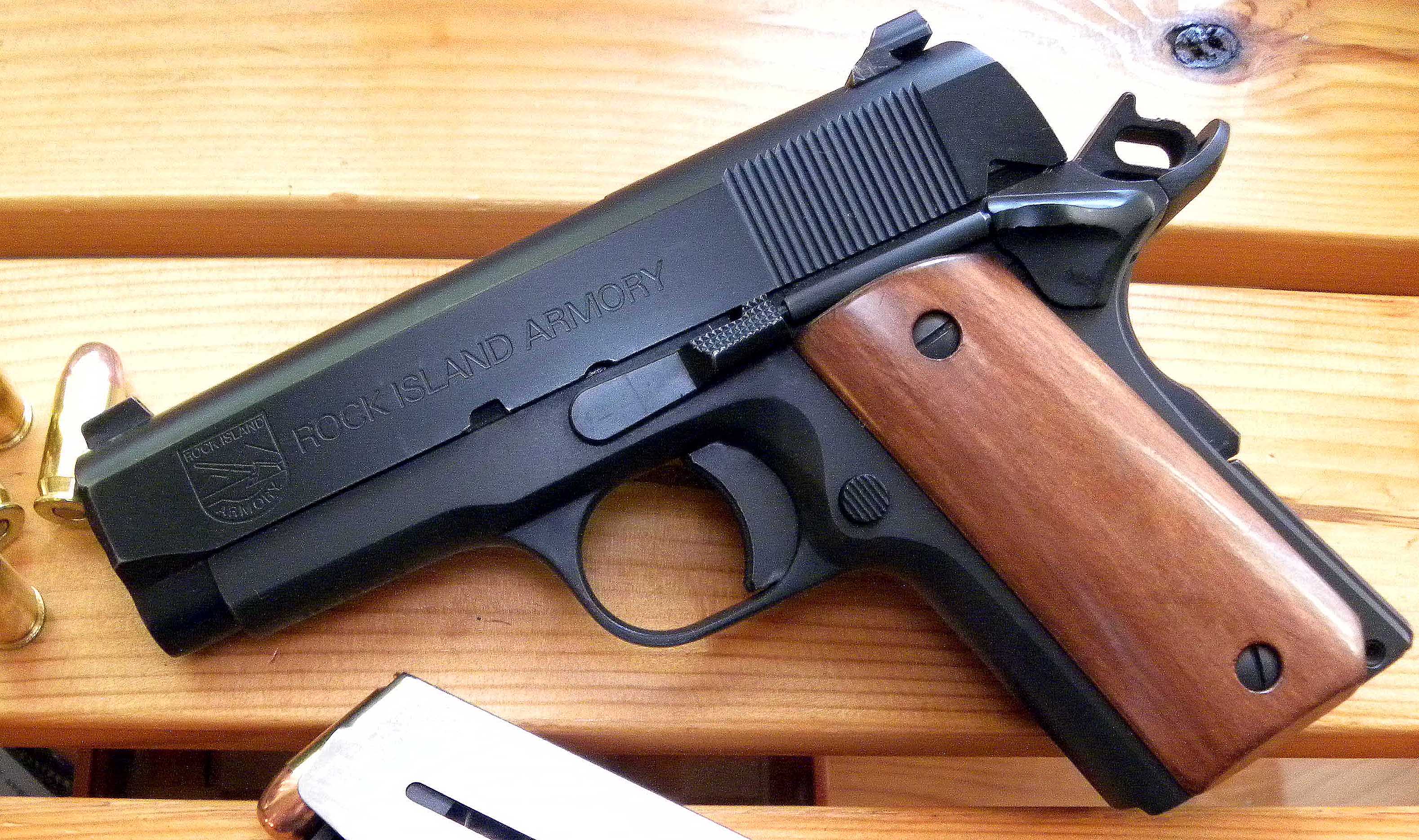 algregory
RIA Compact
algregory
Nothing as fancy as my Colt or Springfield but still my favorite. Easy to carry and fun to shoot. The Novak sights are the only modification from the original.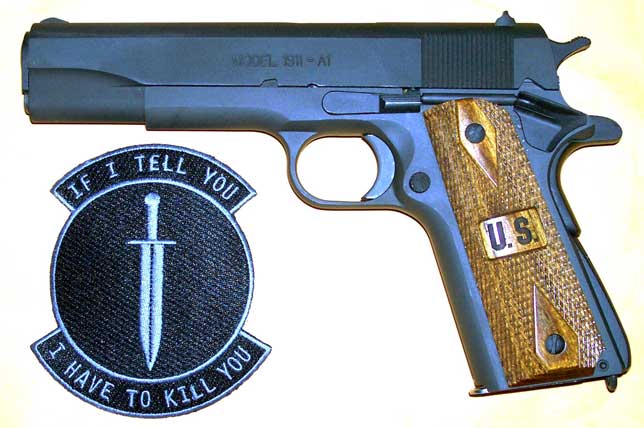 Frank Henderson
Springfield Armory "GI .45 Mil-Spec"
Frank Henderson
Springfield Armory "GI .45 Mil-Spec". Low rounded front and rear sights,designed as they were in WW2 for not catching on anything when drawn.A reproduction issue that is a historical proven lifesaver. Parkerized carbon- steel version of this pistol stays well being concealed.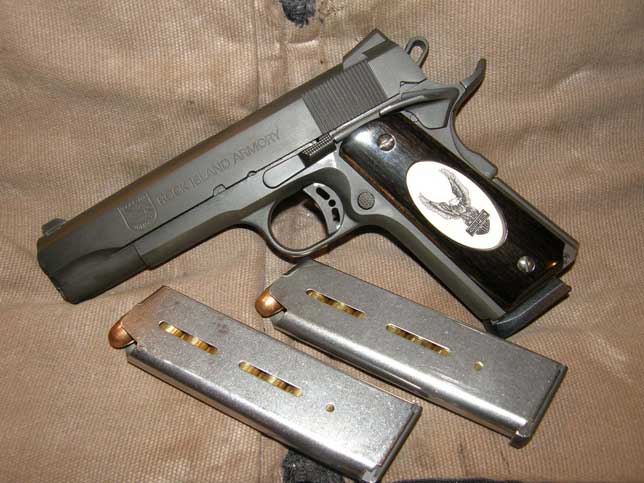 Commander Cody
Harley-Davidson Rock Island 1911
Commander Cody
1911 Rock Island Armory Tactical with Harley-Davidson Eagle inlaid grips.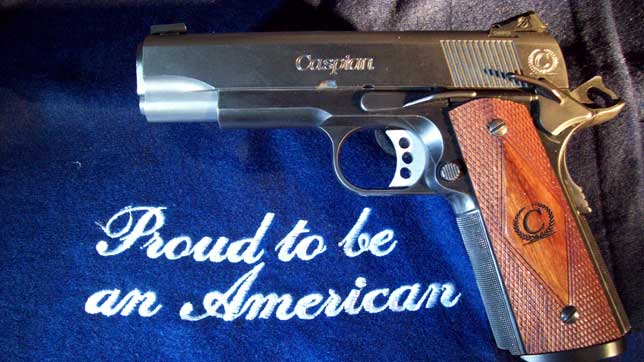 Pat
Custom Caspian Commander
Pat
Custom Caspian commander frame and stainless slide, cylinder&slide trigger group,Kart barrel, novak sights, Ed Brown grip saftey & mainspring houseing..Couple of Les Baer and Wilson parts on it also.Did the checkering on the frame also, It's cold blued til I get the tanks fired up. It's the fifth 1911 I've built and it feels and shoots like a dream. Love those 1911's.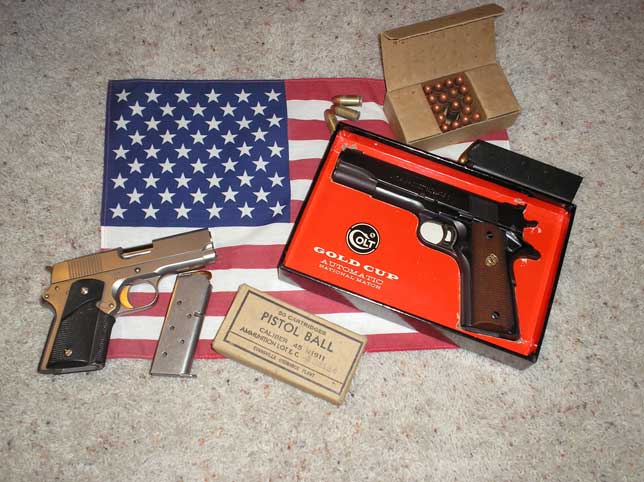 brack
Two Colts
brack
In the original box but a veteran of many seasons of three-gun bullseye matches long before the advent of optical sights. My favorite carry gun is a Seattle Detonics. The antique ammo is headstamped EC 43, my birth year.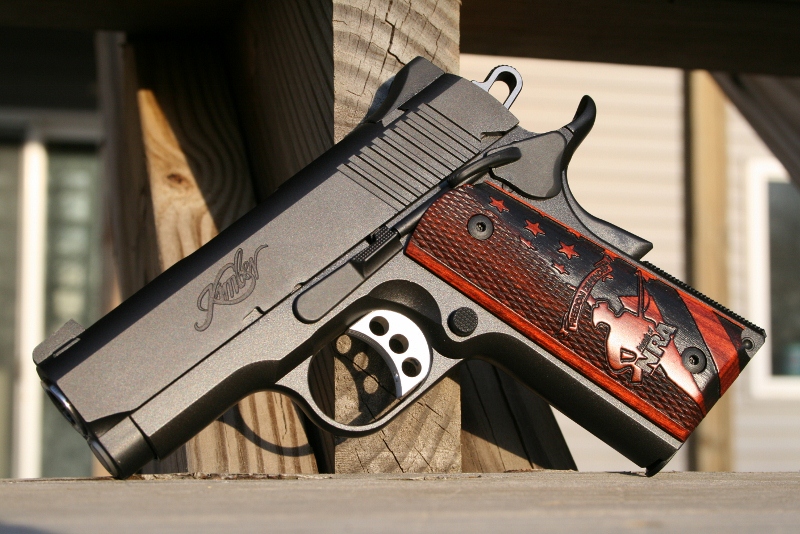 eccarryguy
NRA Kimber
eccarryguy
This is my Kimber NRA Freedom Defender. I am told 1 of 1000 made. I won the gun at a Friends of the NRA banquet. I have since installed a set of Crimson Trace NRA laser grips and Meprolite night sites on this outstanding 3" barreled 1911. This is my daily carry gun and trust it 100%. I also have a Springfield Armory 1911 A1 that has functioned 100% from day 1. The 1911 is a tried and true design that has worked for 100 years and I belive will survive the test of time as one of the worlds best designed firearms!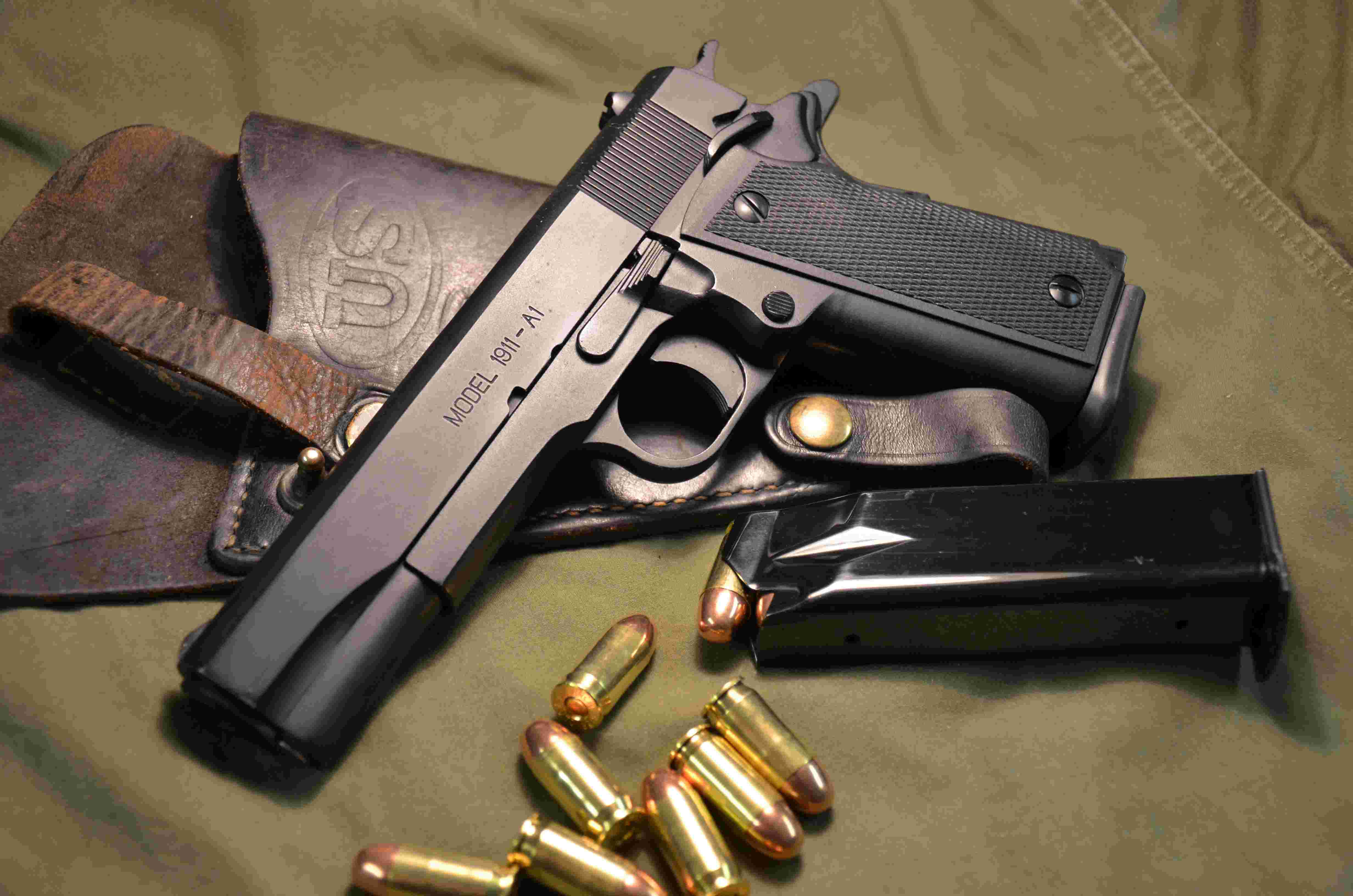 Hoppy Hopkins
Springfield 1911 wide body
Hoppy Hopkins
With a hand span of over nine inches, standard 1911's just don't fit right. Browning 1935's do, but I'm not a fan of nine millimeter. Over size grips help, but then Springfield started making a wide body .45. It maynot be pretty and it maynot say "Colt's" but it does work just fine...and it fits my hand!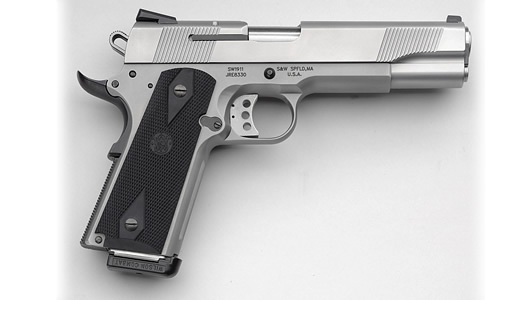 tkkeating
My S&W1911
tkkeating
This is my FAVORITE pistol.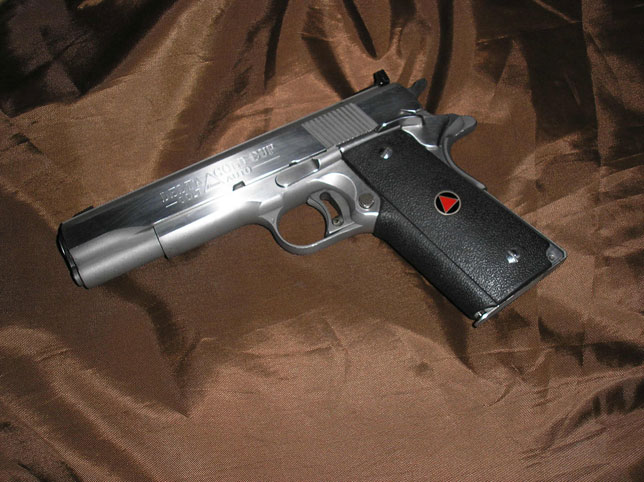 Safteytom
Colt Delta Gold Cup
Safteytom
The first of 6 and my favorite for any purpose. 10mm Auto is also my favorite cartridge. About 5K rounds and still going strong.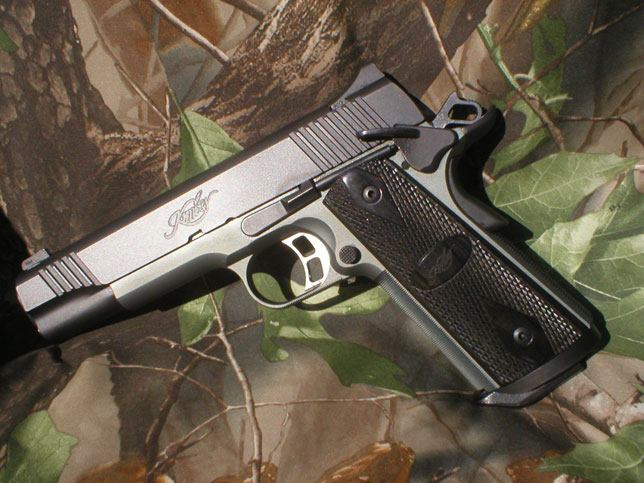 Safteytom
New York Carry Gun
Safteytom
As a resident of New York State, I do like our contribution to fine CCW equipment. A Kimber (made in Yonkers, NY) 1911 like this one carried in an Alessi (rest in peace, Lou) or a DeSantis rig and the world is a little less dangerous place to live in.
Action Firearms
Kimber
Action Firearms
A little pic of my Kimber Team Match II in 45acp. Shooting it in USPSA Single Stack class, IDPA CDP class and NRA PPC competition. I have since retired my old faithful Colt Series 70 1911. I have shot 10's of thousands of rounds through it over the years. That Colt was custom built by a now deceased local gunsmith Frank Paris.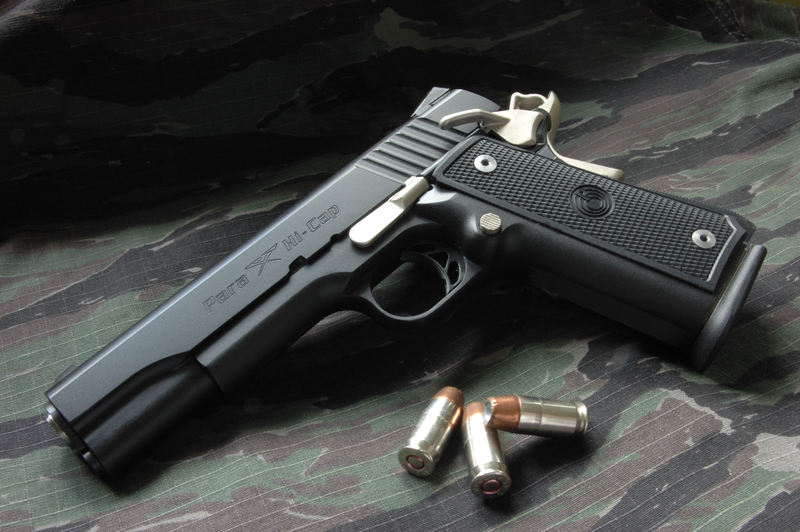 Action Firearms
Para Hawg
Action Firearms
This Para Ordnance is used as my carry pistol. With It's lite weight aluminum alloy frame and 13 round high cap magazine this is one powerhouse.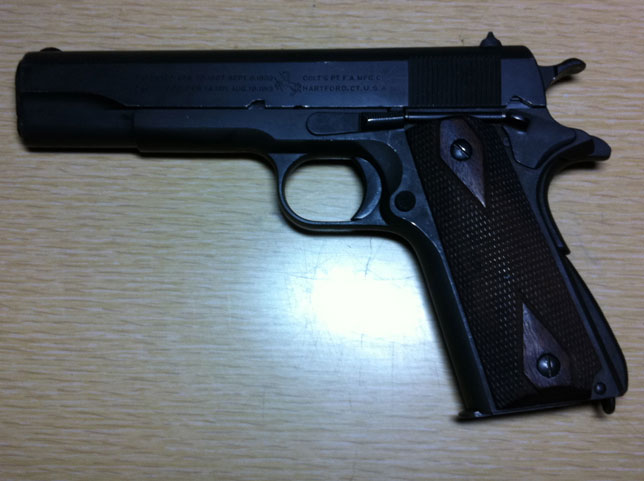 Deacondan
WWII Model 1911
Deacondan
I inherited this 1911 Colt from my father, who brought it home from WWII. It is in good working order. I treasure it above all the other firearms I inherited or have purchased.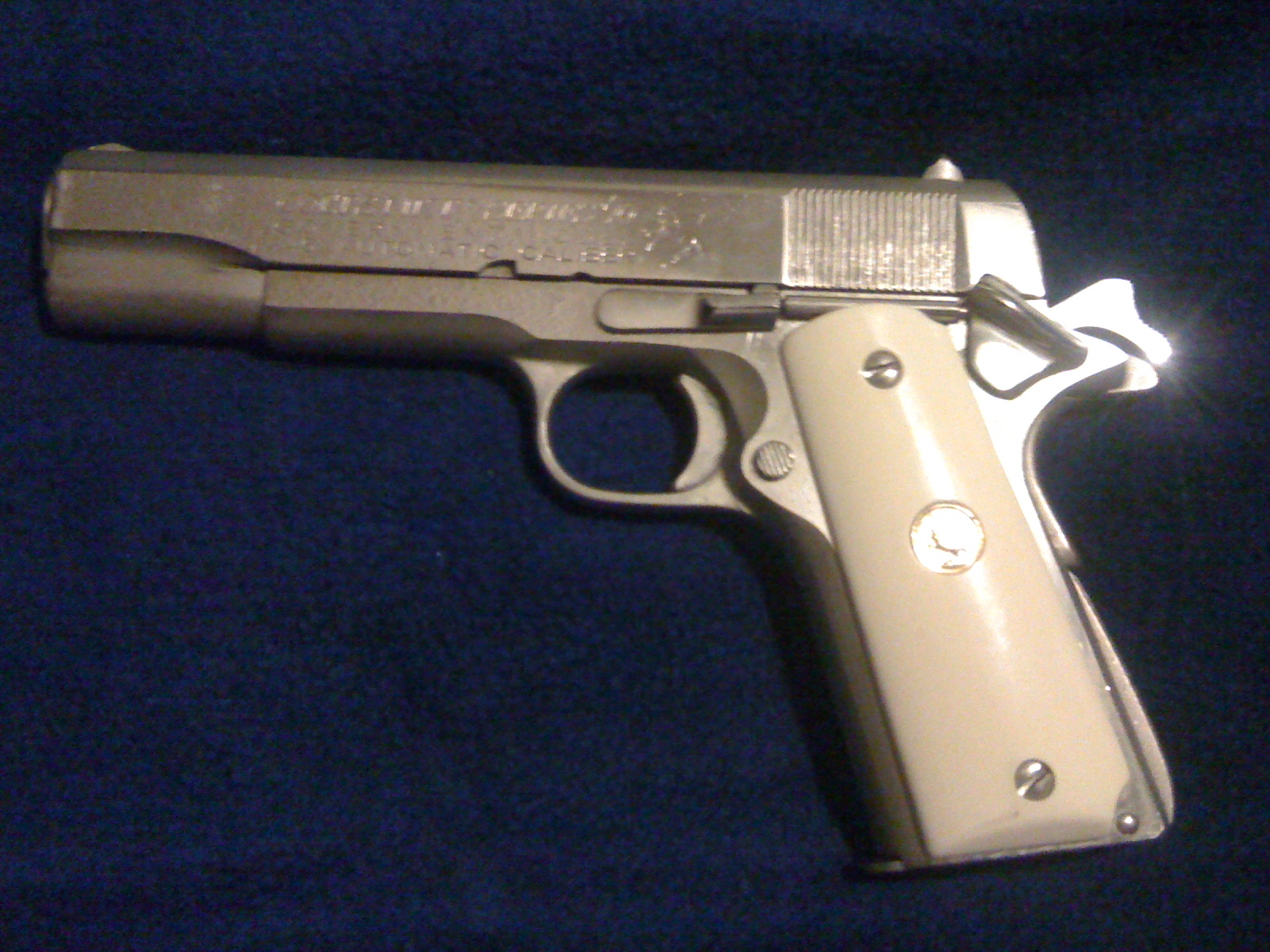 patnelaine
Colt1911 Mark IV series 70
patnelaine
I am a retired police officer and for many years had the same partner. He was 10 years older than me and a WWII veteran who fought with General Patton. He passes away several years ago. One day I was shopping for som ammo in a gun shop and saw his 45 in the show case. I asked the owner how he got it. He said the daughter sold it to him. I bought the 45 immediately and have had it and cherished it every since.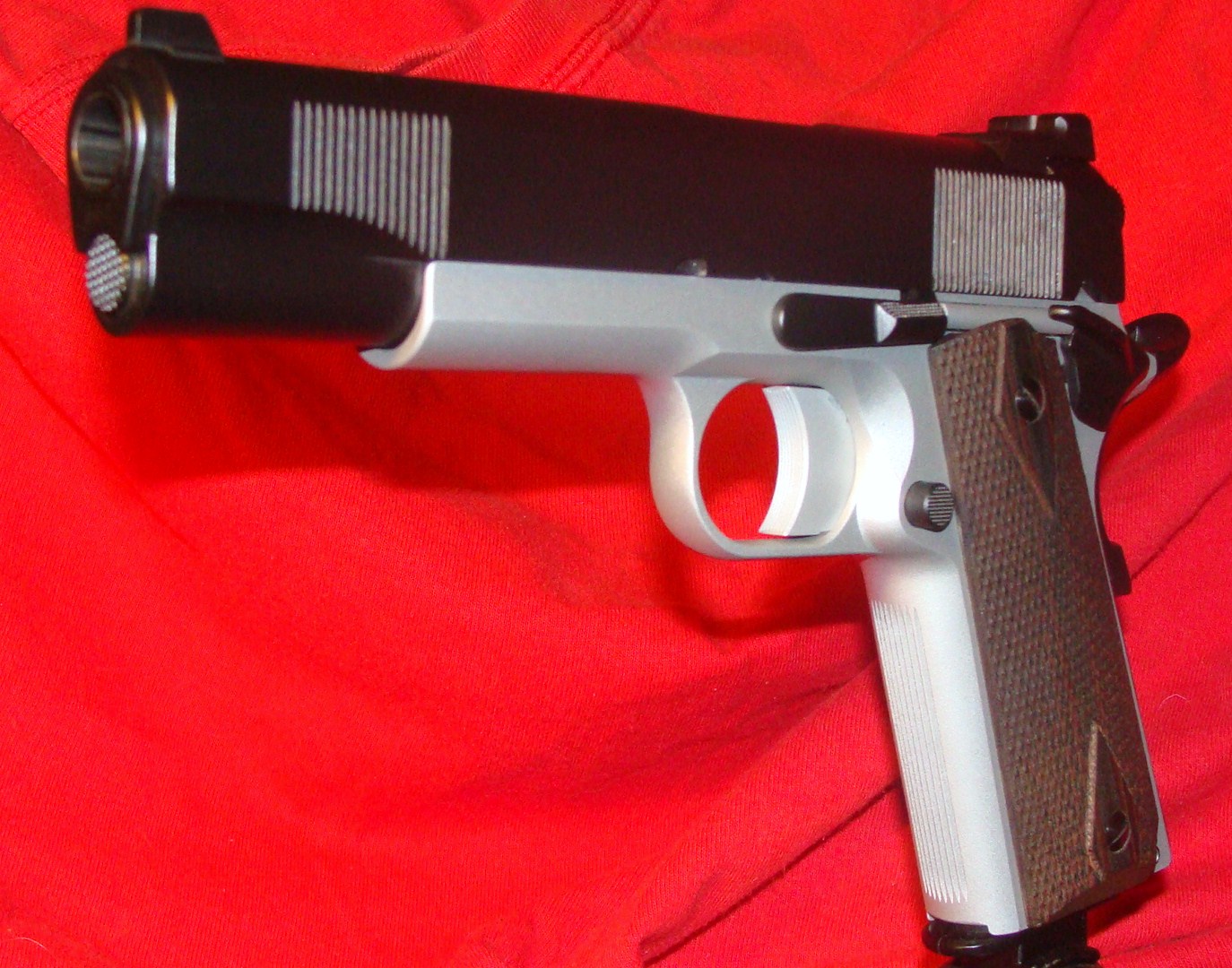 Curries103
My 1911
Curries103
This the 1911 I built from scratch. A Caspian frame and slide I hand lapped with the remaining parts from various manufacturers (10-8, Brownell's, Wilson Combat Tripp Research to name a few). The only things I didn't do was a trigger job, Cera-cote and install the rear sight Dovetail cut had to be reworked. A labor of love. Testing it before I installed the sights, it shot a sub 2 inch group at 25 ft. I shoots way better than I do.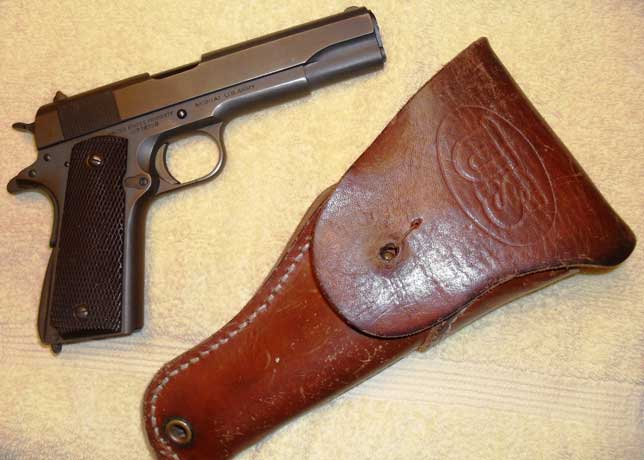 granderson69
1942 1911
granderson69
A friend of mine's father passed away recently and this 1911 was in his collection. Looks like the original holster also...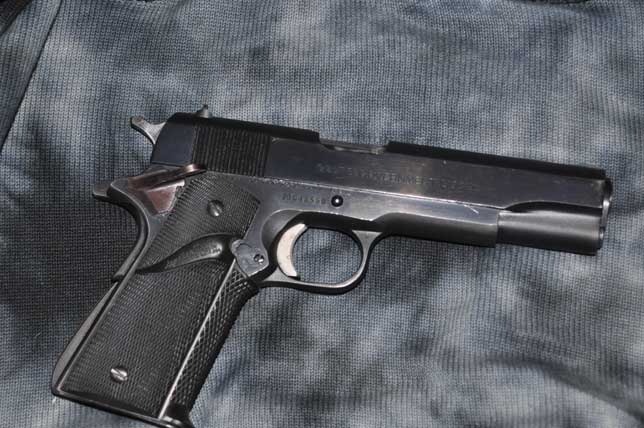 GDB
Gov't Model
GDB
I'm not in law enforcement, mititary, or competitive shooting. I am a lifelong NRA member and shoot at an ISRA range. This gun is heavy, holds only 7, kicks like a mule. But it's a hoot to shoot.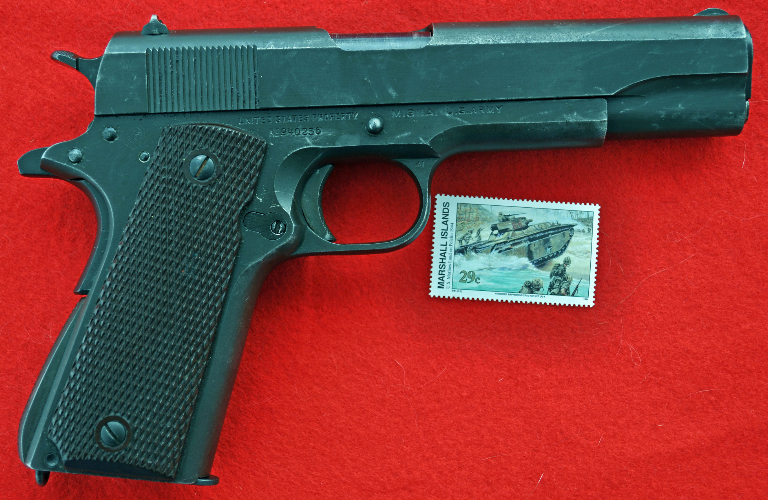 rebdoc
Colt with postage stamp
rebdoc
This Colt was issued to a new United States Marine Lieutenant, Carl Cook, just before he shipped out for the war in the Pacific. His first destination was Guadalcanal. He saw first hand the effects of attacks by large numbers of Japanese soldiers, at which point he also secured a sub machine gun. He carried the gun throughout the rest of the war. Many years later I purchased the gun from him, and still later, attended his funeral. On a stand near his coffin was a picture frame with a postage stamp in it. The stamp was issued by the Marshall Islande in 1994. The picture on the stamp shows an amphibious tank storming the beach on Pelilu. On the side of the turret you can clearly read the number assigned to the tank...it is Carl's tank.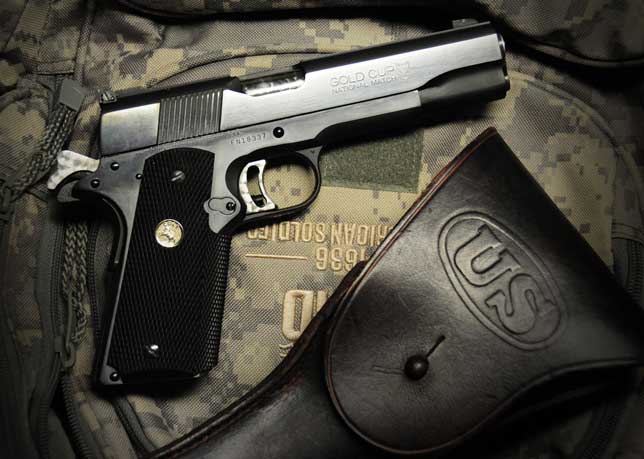 mdirle
Tying generations together
mdirle
My youngest son and I were at odds the entire time he was in high school. There was really nothing that he wanted to share with me. Then, about 1 1/2 years ago, I got back into shooting handguns. He fell in love with shooting and tinkering with our guns, especially 1911's. At 21 years old, he actually built a Bullseye 1911! It is very accurate and he can load up a target at 50 yards single-handed. This Colt Gold Cup National Match (pictured) is what I shoot when he and I go shooting. We go at least twice weekly and have gotten so close doing so. The holster was my dad's - retired 1st Sgt USMC. Thank you Mister Browning!
Highdesert45
My 1911
Highdesert45
This is my RIA M1911 A1. It has black Houge grips, but otherwise is straight forward and nothing fancy. It is my home defense cannon.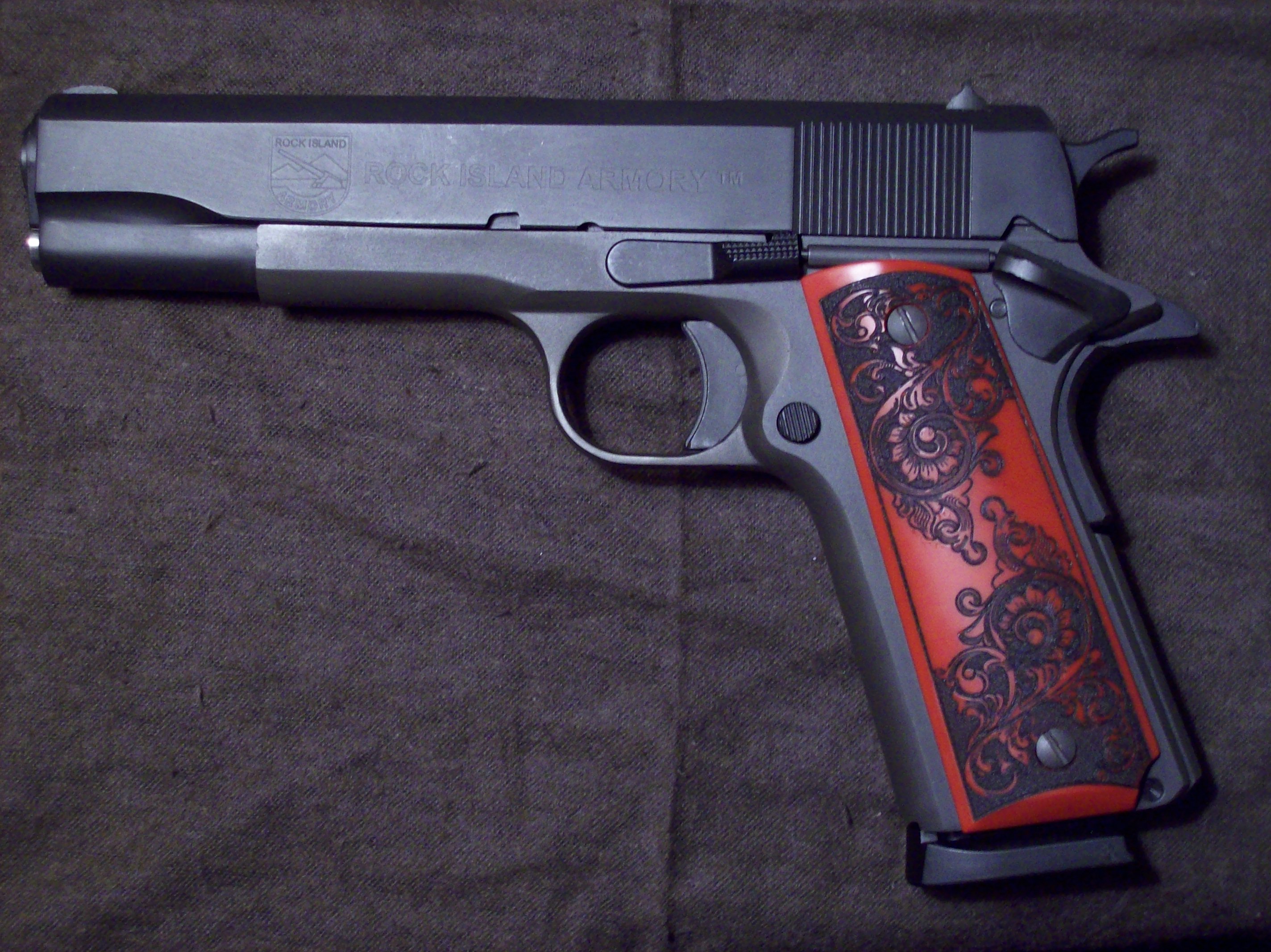 BLOODBROTHER031
1911
BLOODBROTHER031
MY ROCK ISLAND 1911 45 ACP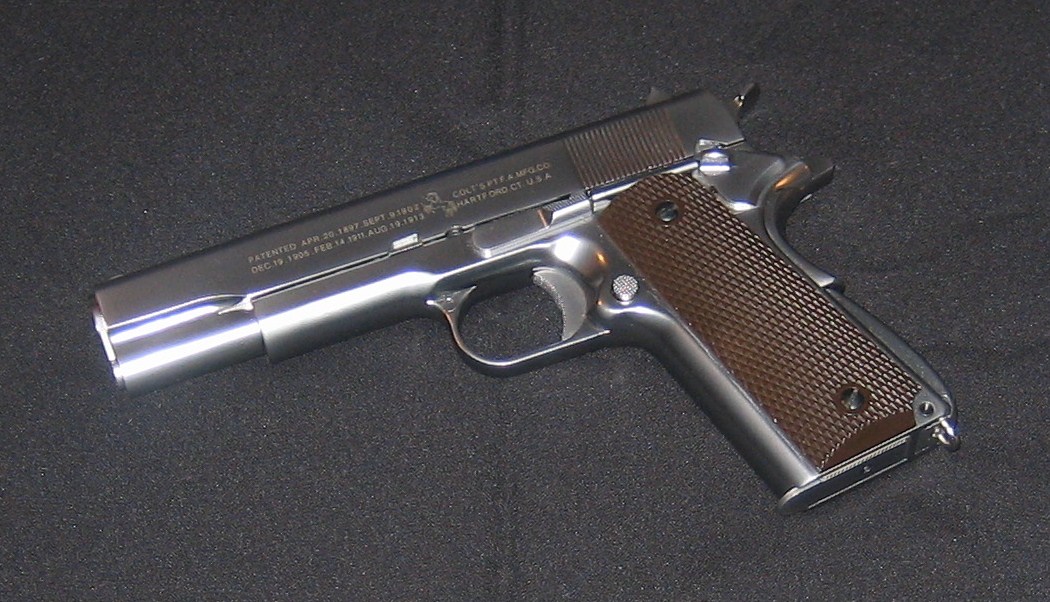 Lee
My Colt 1911A1 Stainless
Lee
I've always preferred stainless guns.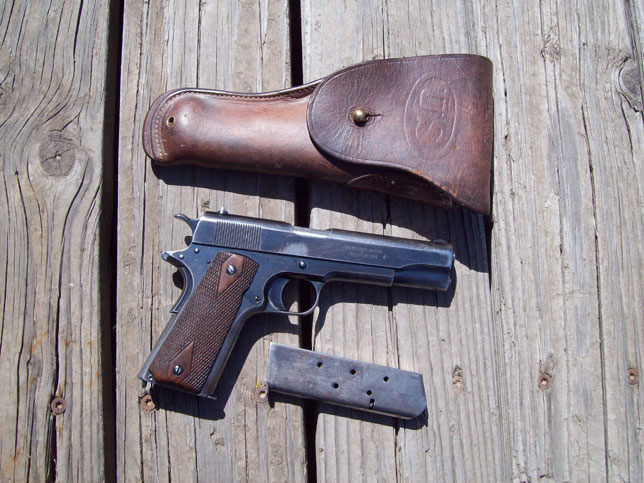 shays4me
Commercial Government Model
shays4me
I never did get a Colt 1911 handed down to me, but I met a guy who did and I encouraged him not to sell it. Evidently he didn't see the value in this family heirloom, so after he sold it I tracked it down and bought it. I'll be giving it to one of my children or grand children some day. It's without a doubt my favorite pistol. I have a Kimber for EDC, but this Colt Commercial Government Model made in 1920 has my heart.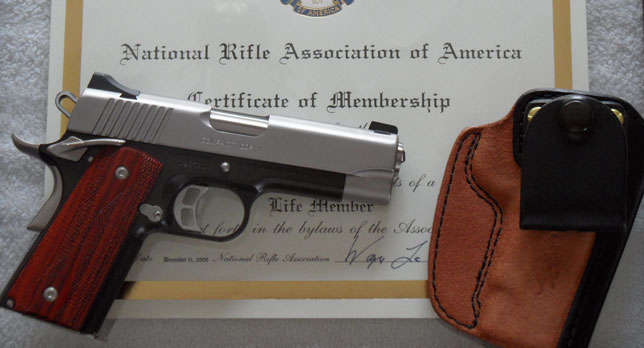 Lightnin
Kimber Compact CDP II
Lightnin
Fresh from the Kimber Custom Shop with carry melt. Small enough to wear comfortably. The rosewood grips are attractive and functional. Combined with a high quality Mitch Rosen IWB holster it's the perfect SD sidearm.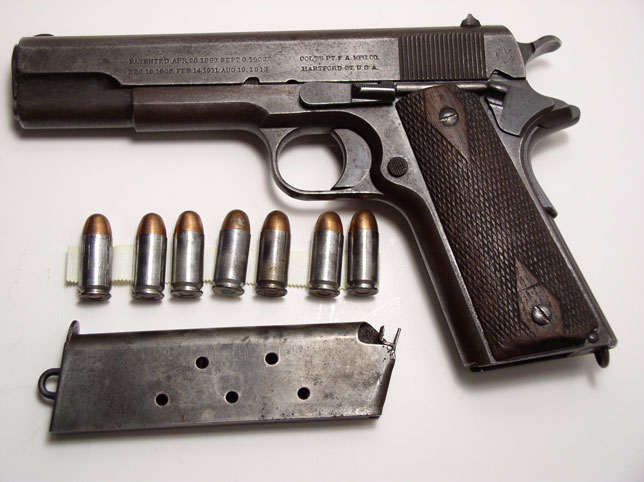 Citadel63
My 1911
Citadel63
My father gave me his 1911 a few years before he passed away. He had gotten it in 1948 and rarely fired it. I have discovered it was built in 1923, before the A-1 model came out. The bullets came from a box marked 1943. It is all original. I shoot it occasionally, and I treat it like the legend it is.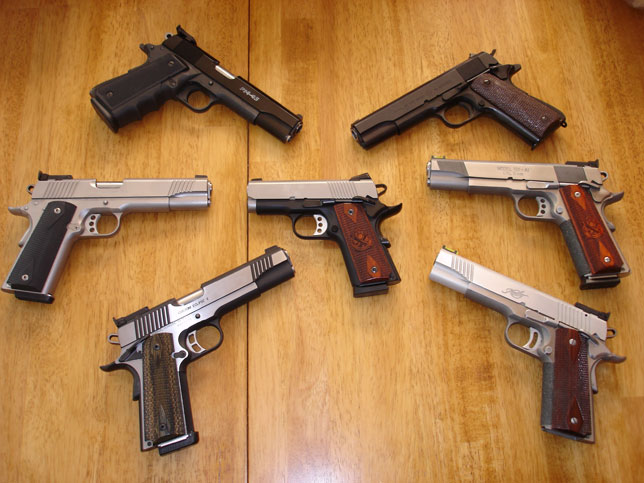 Cliffdropover1
My 1911's
Cliffdropover1
I guess you could say I like the 1911. Each serves a different purpose. A person can never have enough.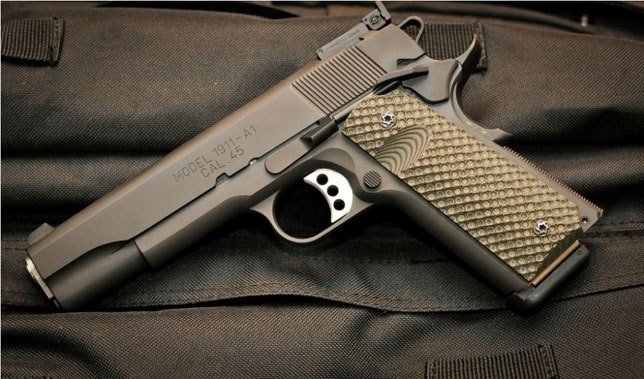 JSA
Springfield Range Officer
JSA
This is my Springfield Armory Range Officer. I've always wanted a 1911 and just recently made my dream come true with this incredible piece. It's very accurate and looks amazing with the VZ Grips.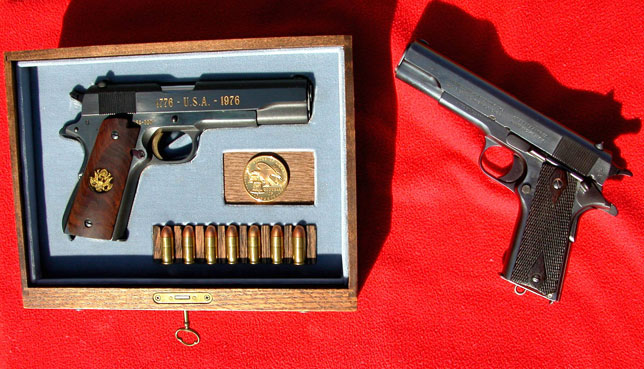 Jerry in AZ
Kimber & Llama
Jerry in AZ
Kimber 45ACP full size for winter carry when I'm wearing heaver clothing. Never a malfunction with ammo from a standard jacketed and cast round nose to JHP or cast SWC. Perfect right out of the box. Llama 380 for the summer with light weight Arizona clothing. Ya Ya, I know – Llama. Don't knock it. This puppy has had well over 1,000 rounds of every thing from 90 Gr round nose to 115 Gr JHP without a miss feed. No complaints except that I would like thicker grips to better fit my meathooks. Now if only I could find a nice compact 38 Super to fill the gap.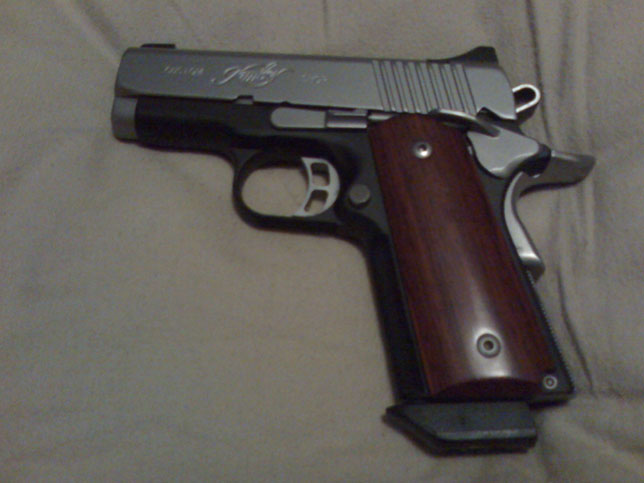 Redwing
Kimber Ultra CDP
Redwing
My carry gun, a Kimber Ultra CDP II in .45 ACP. All original except for the smooth rosewood grips.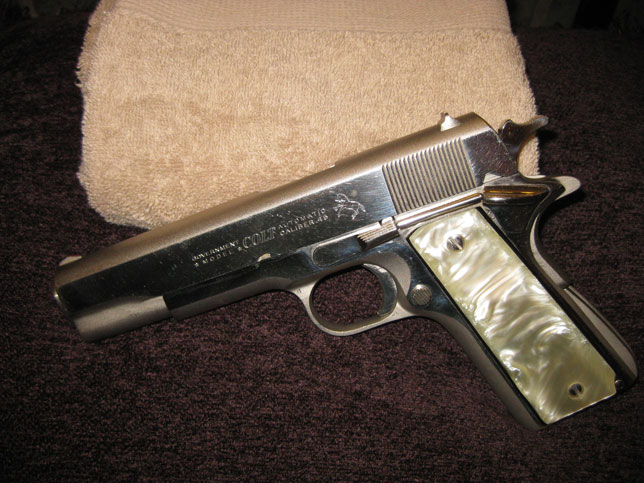 Chaser
1911
Chaser
Colt 1911 It was my Daddys.