by
posted on July 15, 2012
Support NRA American Rifleman
DONATE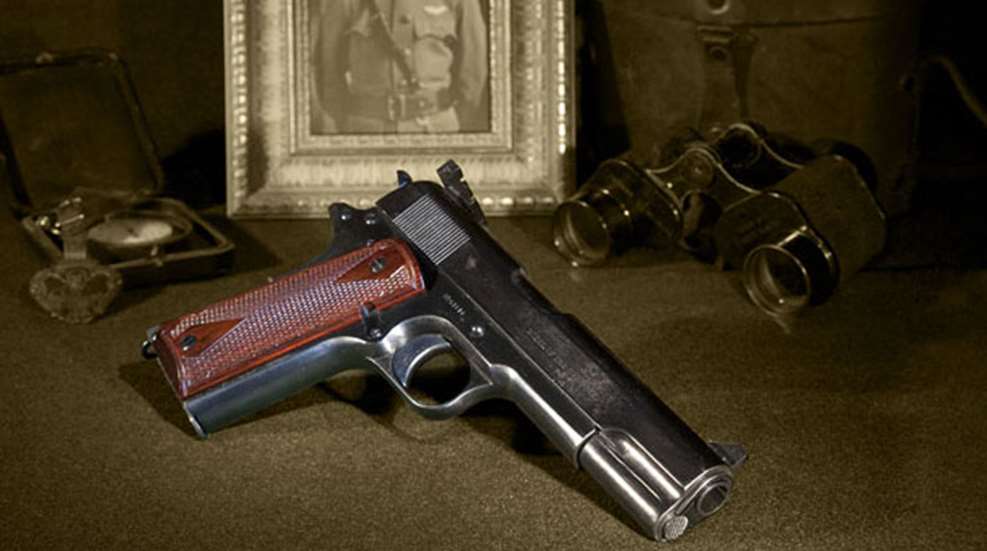 2011 is the 100th anniversary of one of John Moses Browning's most iconic handguns. AmericanRifleman.org is kicking off its year-long celebration of the 1911 with the "This Is My 1911" photo gallery to give our readers a place to share the stories of their 1911s. Upload a photo of your 1911 (please follow all firearm safety rules) and tell us why this is your 1911.
Gallery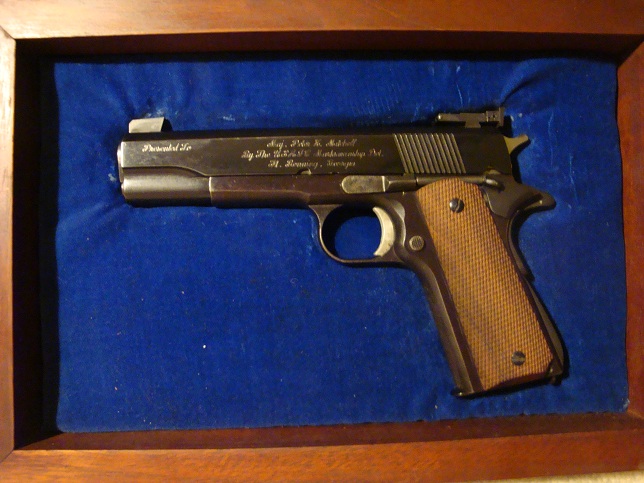 Retirement M1911A1
This was given to my dad when he retired from the Army in 1978. It is a patchwork of parts on an Essex Arms frame. It was made by the the people who worked for him at the Post Marksmanship Detatchment at Ft. Benning, GA. I remember helping them as they thought it would be a great thing for his son to be a part of it. He has since passed away and I inhereted it. It is in working order and I have shot it several times. I will do whatever it takes to keep it that way.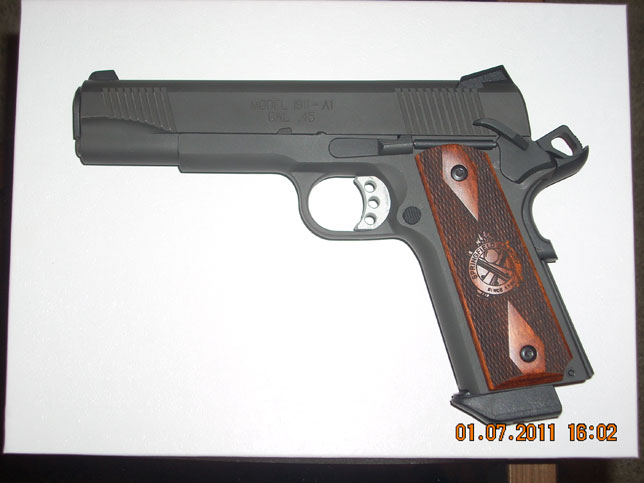 My 1911
Springfield Armory 1911 Loaded, 5" Barrel, wood grips, tritium night sights, 7+1 rounds Great balance, generous sight plane, very accurate, deadly to look down the barrel of this firearm.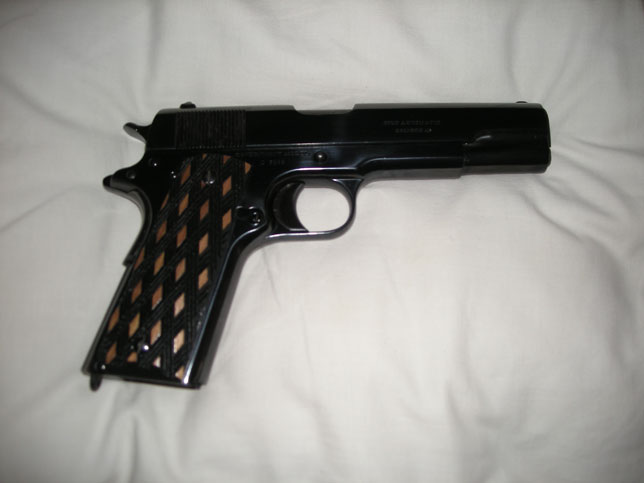 My 1911
Colt Commercial/ civilian model 1911, made in 1914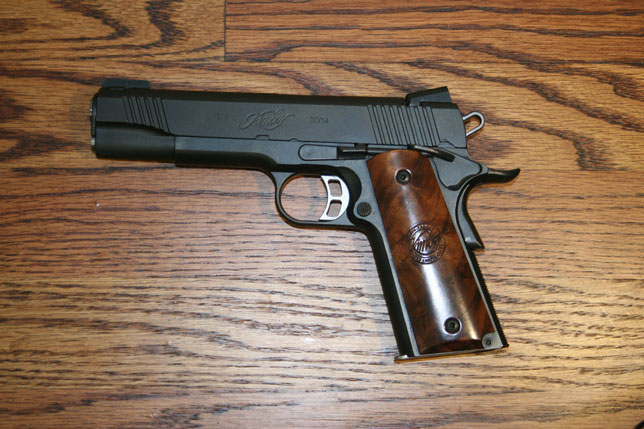 My Kimber 1911
I purchased this Kimber Custom II 25th anniversary model 1911 as I got into shooting for personal defense.It is a well made, accurate, reliable weapon that I enjoy shooting. I added Truglo combination Tritium and fiber-optic sights. and a Ciener .22cal. conversion unit.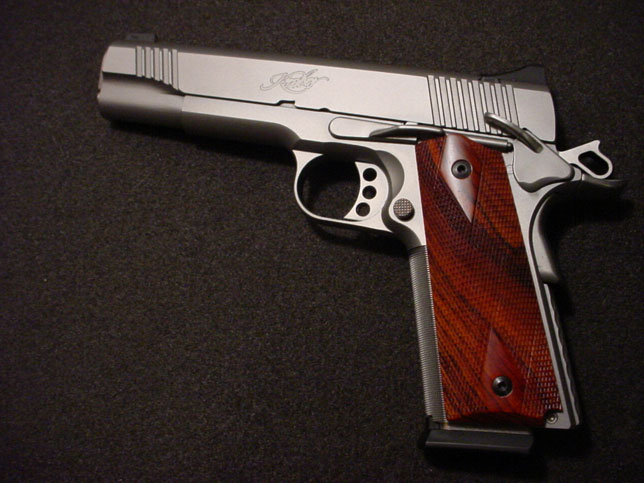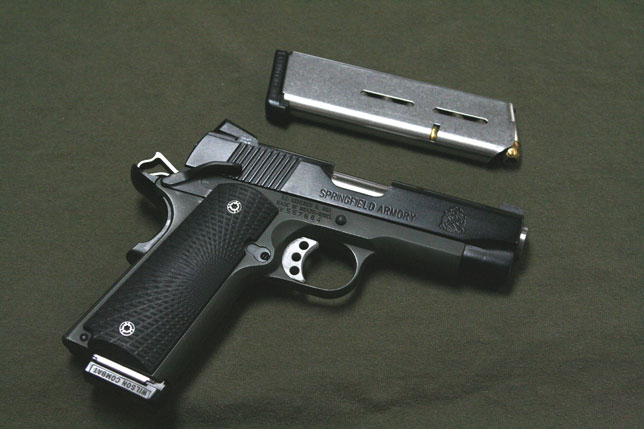 LW Champion
I recently acquired this Springfield Armory Lightweight Champion, this now my everyday carry gun. It has a trigger kit and hammer by Evolution Gun Works, Wilson Combat bulletproof slide stop, grips by Davidson's, and some VZ Grips "Radiation" grip screws...just for the coolness factor. The trigger is nice and crisp, and even though it is light enough to carry comfortably, it's still a joy to shoot.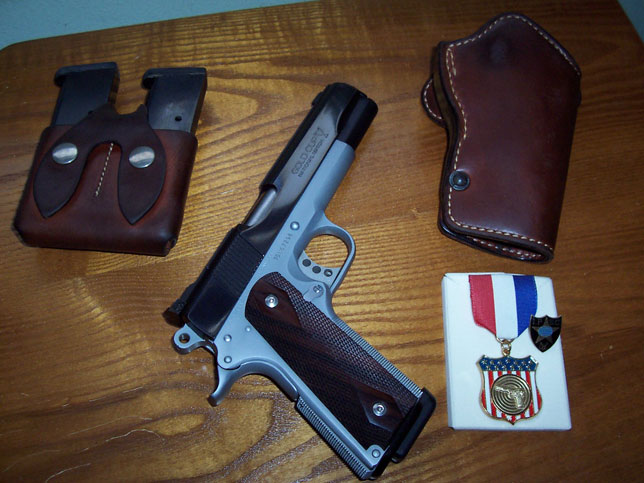 Old School <> IPSC
My custom series 70' Gold Cup National Match .45 and Milt Sparks #1 gear <> Thank you Col. Cooper for your contribution to practical shooting. I started in 76' and stayed old school IPSC till 96' <> attained 'Alpha' rating in 1983 <> OPSA(USPSA) 3-gun state champ 1985 <> D-V-C <> "it will do to ride the river with" <> Thank You John Moses Browning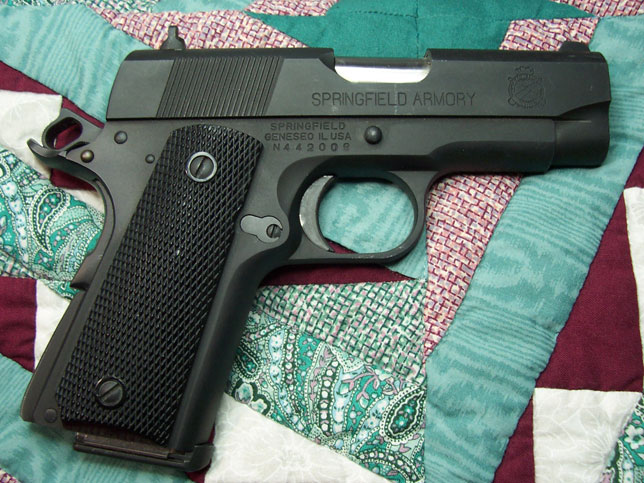 SA Mil Spec Ultra-Compact
All steel for balance and recoil absorption. This Mil Spec has a beavertail grip safety and modified hammer installed by Alex Hamilton of San Antonio.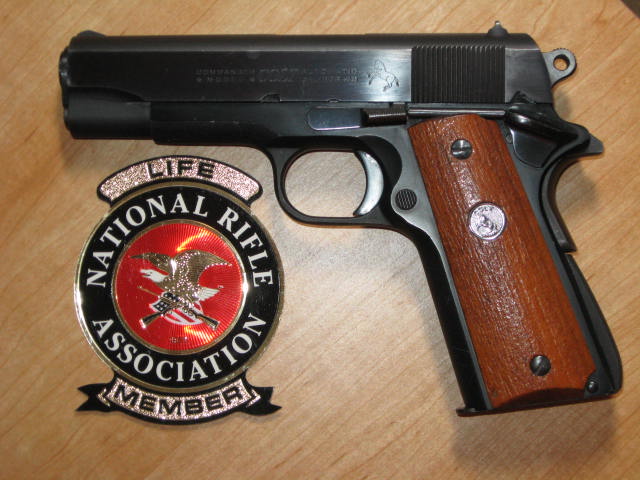 1972 Colt Commander LW
I've always wanted this model of Colt .45 since I was a soldier in the Army in the late sixties. It seemed to be the most functional of all the models. Not too long, not too short, and not too light. This one was made in 1972, and yet still it looks like new. I was lucky to find it.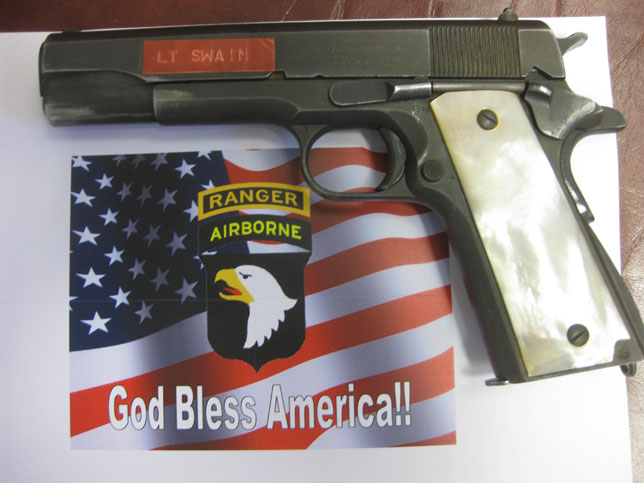 My $35 Modell 1911
In the early 1950's, as a teenager, I saw an ad in The American Rifleman for new war surplus Model 1911s selling for $35. I purchased one. Mine is a Remington Rand model to which I added ivory grips (think General Patton). Prior to going to Vietnam with the 1st Brigade (Separate), 101st Airborne Division in July, 1965, I qualified Expert with my 1911. In Vietnam, I used green tape to cover the grips so that my pistol would not standout, and possibly even be considered a "trophy" by some VC. Now my 1911 continues to serve as my favorite family personal defense weapon. Thank you for giving us the opportunity to tell our story about this fine pistol.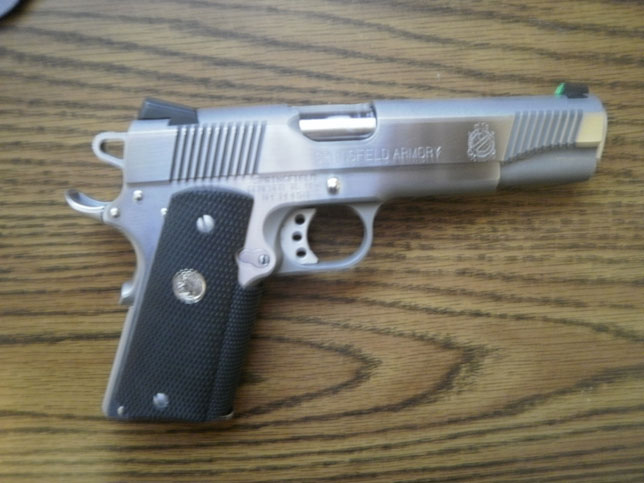 Springfield 1911A1 loaded
This is my Stainless Springfield A1 loaded. I purchased it used with a Colt wrap-around rubber grip. The original (new) grips were with it but after shooting it with the rubber grip, I decided not to change it.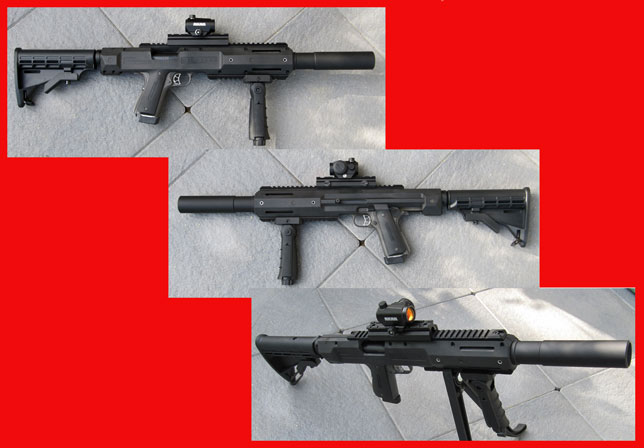 Colt 1911 Heraarms
Hi, this is my Colt 1911 45ACP in a new garment !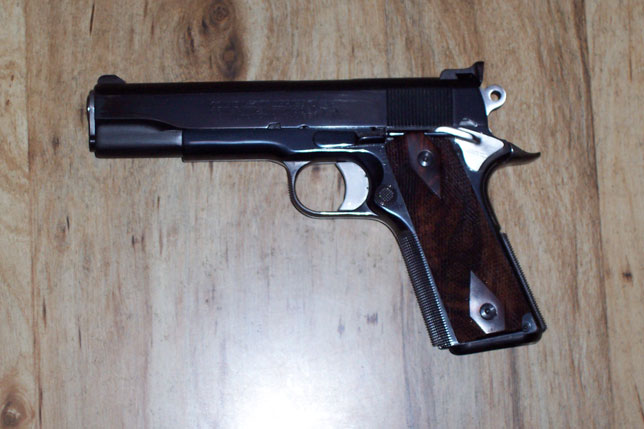 Colt 1944 GI <> Custom
This is my 1911 .45 fighting pistol, there are many like it, but this one is mine.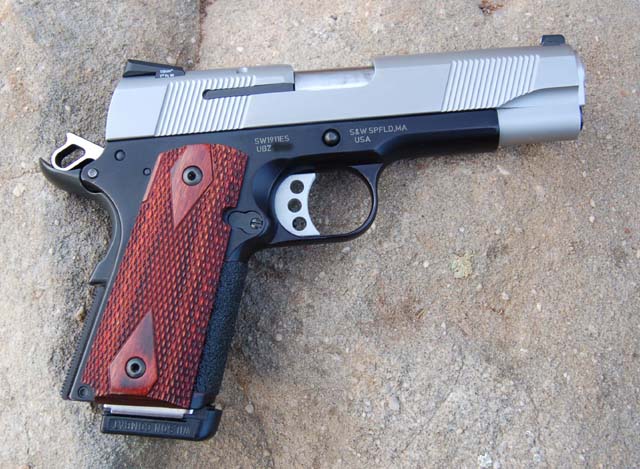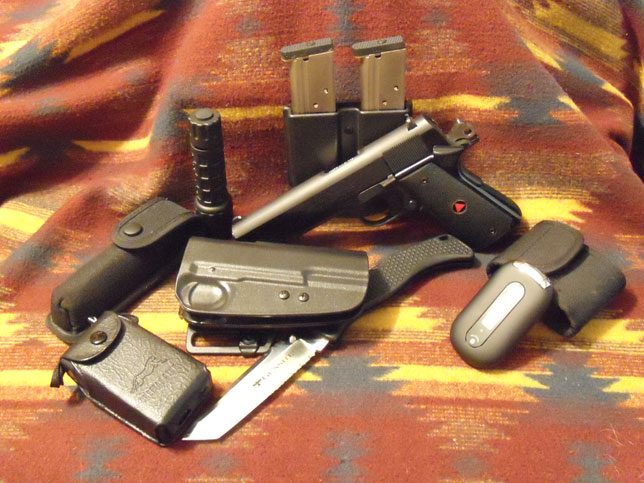 Delta Elite
Colt Delta Elite 10mm made in 1986. Stored MIB unfired.Bought years later after I FINALLY had enough money to get one. Raw power when combined with the Black Talon. 100% efficiency rating. Accuracy like crazy. Obviously it is no longer unfired!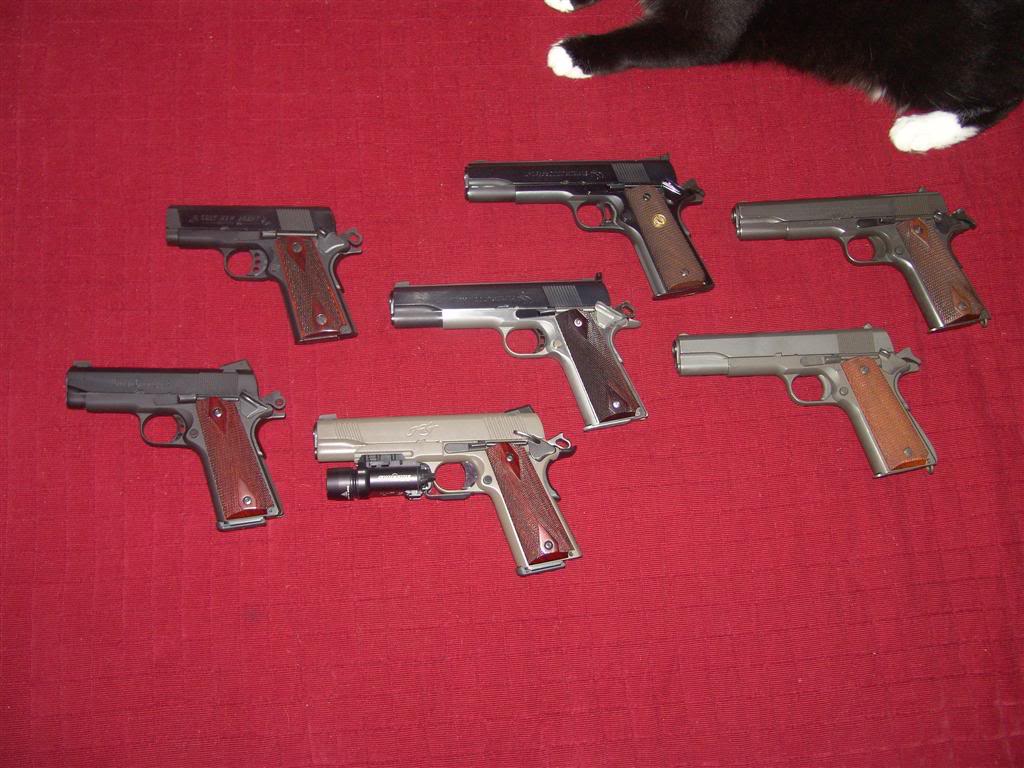 An Extended Family Reunion
The oldest Colt in my collection was made in 1918 and the newest came home in 2008, and the Remington Rand is just like the one I first carried while on active duty. The Kimber and the New Agent are my two carry guns, currently. ...and the cat's toes are an homage to AR15.com's gun picture posting convention ;-)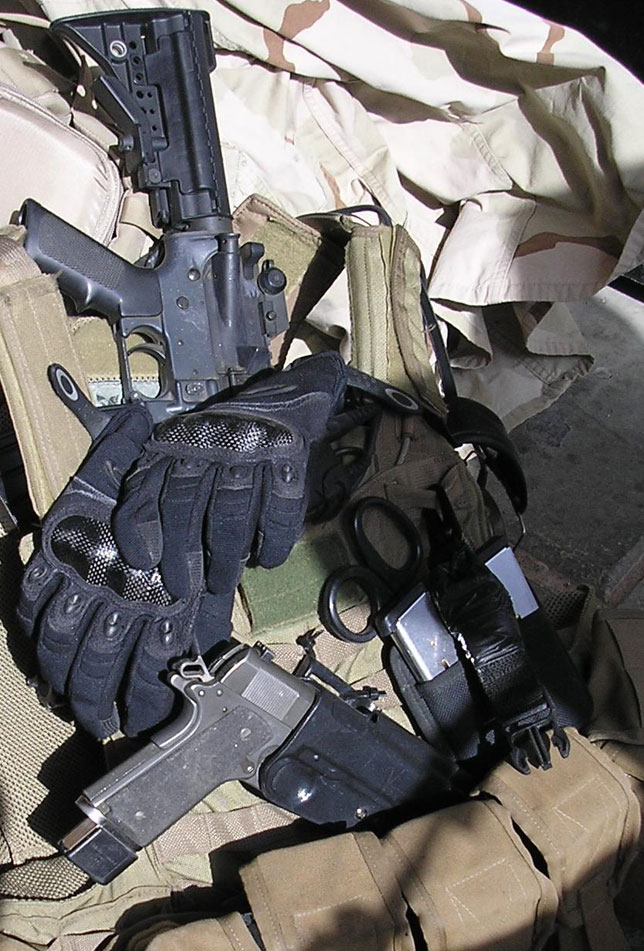 Still Serving
I took this picture in 2006 at a heliport in Iraq while waiting for a flight. After 100 years it is still, in my opinion, the pistol of choice.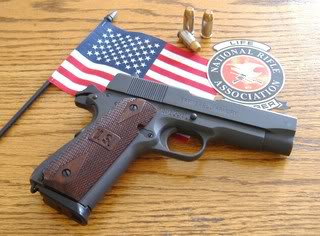 This one is mine....
Springfield G.I. model. This is my pistol. There are many like it, but this one is mine..... I chose this pistol because; 1) I wanted a 1911 (again), 2) I trust Springfield Armory 3) the price was right and 4) nostalgia. All I've done to upgrade it was to install larger sights (not pictured) that my 64 year old eyes can actually see and I stocked up on 8 round magazines. Happy Birthday old "slabsides."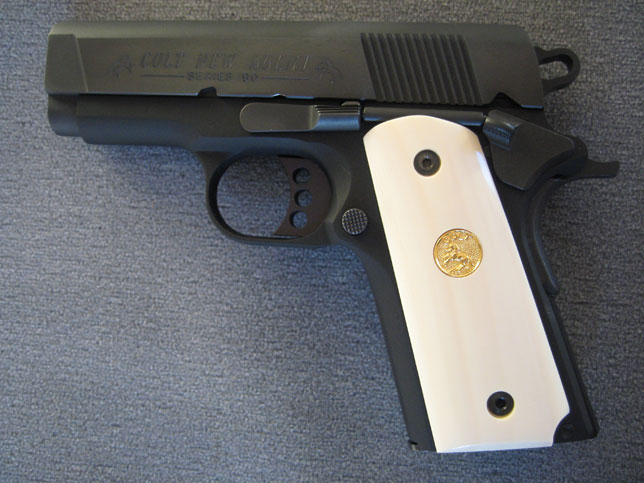 Colt NewAgent
Stock Colt New Agent with genuine Colt Ivory smooth Slim Grips.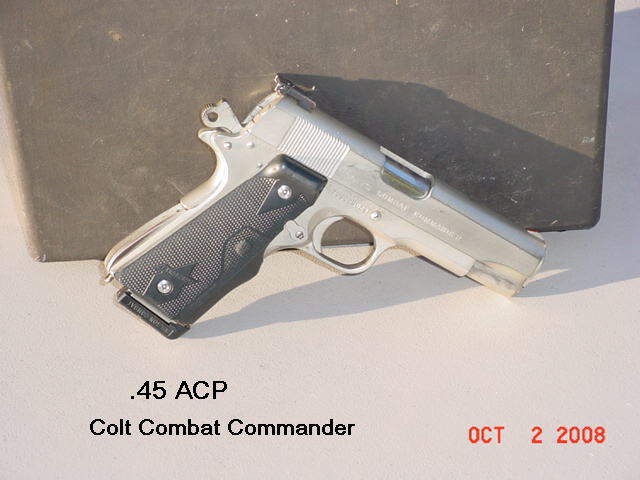 Colt Combat Commander
Colt Combat Commander (70 series)...Purchased in early 70s for Duty and Off-Duty Use...Served me well through-out my 35 year law-enforcement career...Will be handed down to my youngest son, himself, a oop...Through the years, added a combat recoil spring, low-profile adjustable sights, and finally, Laser-Grips...I took care of it, and it took care of me...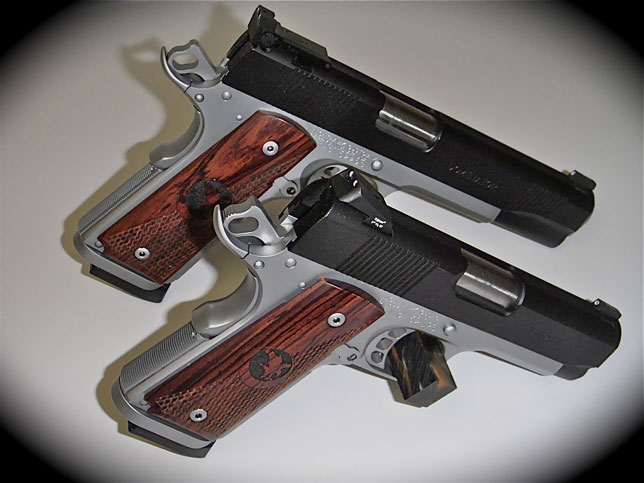 Nighthawk Custom twins
I couldn't post only one of them -- the Dominator and the Talon. Never a failure, nary a flaw.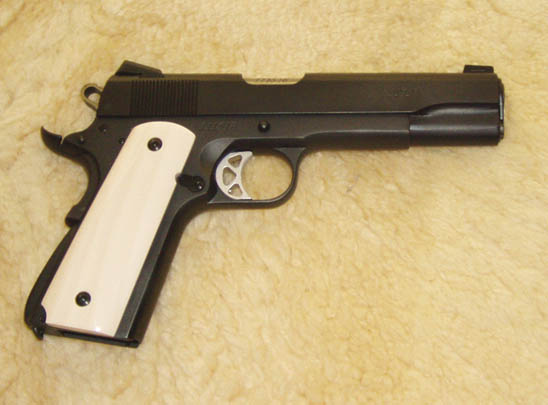 My other 1911...
I bought an excellent condition 1927 Sistema Colt with the intent of making it my carry gun. This was my first 1911 custom build. I installed new fire control parts, a beavertail safety, and had the slide milled for Novak sights. All of the add-ons that I feel are needed were done, including beveling the mag well and tightening up the slide/frame fit and fitting a new barrel bushing to get better accuracy. It is 100% reliable and the pistol that I use most.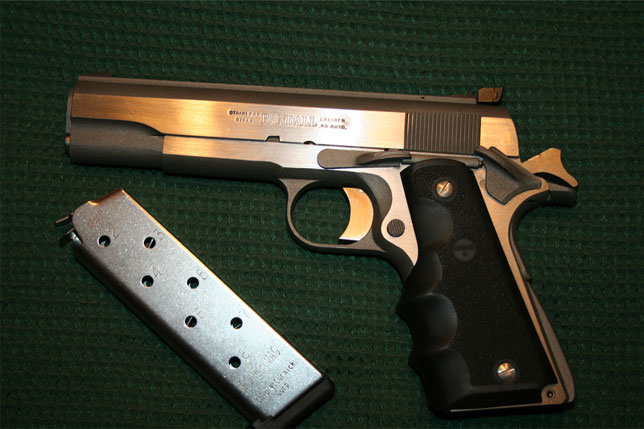 Randall Service Model
Randall Service Model purchased in 1985. All stainless including inner workings. Company also made a left-handed mirror image version, but they went bankrupt anyway.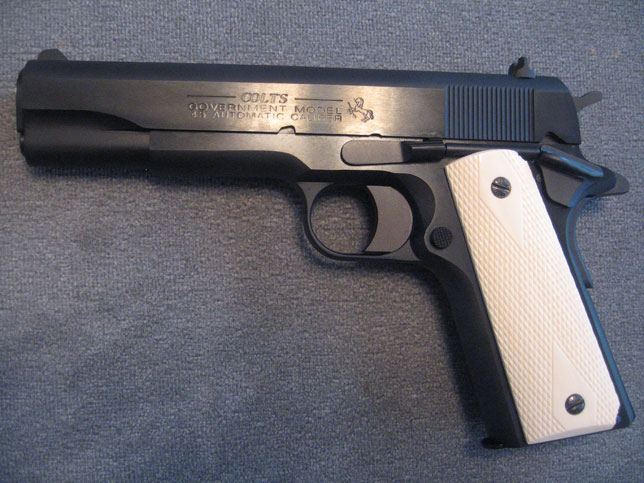 Coltgovnt1911
my Colt Government 1911 with checkered Ivory Grips and Engraved grip screws. a pleasure to shoot!
MY P10-45
Para-ordnance P10-45, My favorite 45cal conceal carry, sub compact, stainless slide,polished, alloy frame.very accurate at medium range, reliable and user friendly.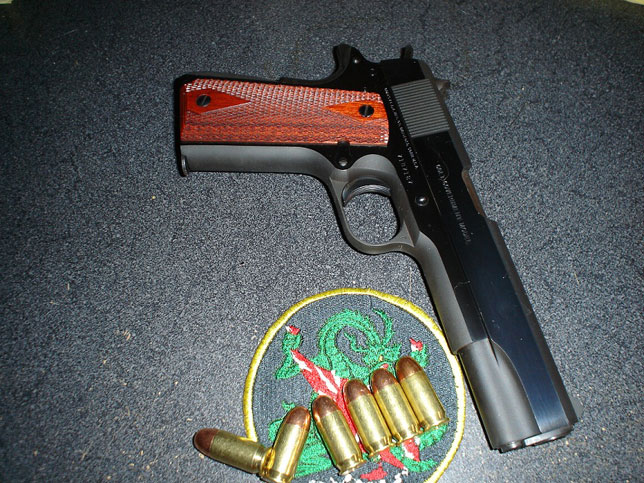 Basic 1911
My Series 70 1911, layout inspired by the original "The Getaway" movie poster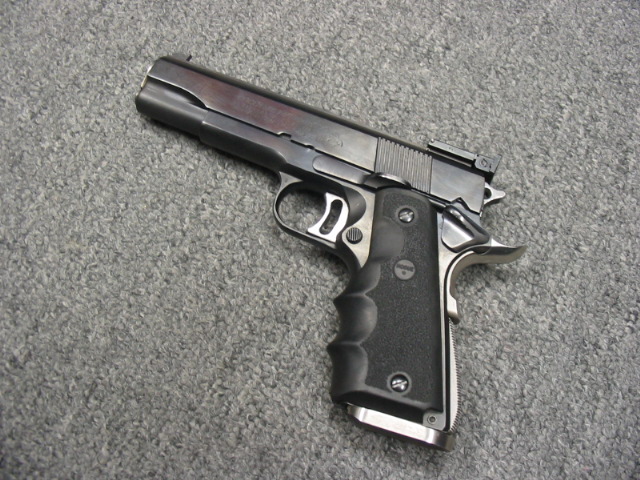 ser.70 gold cup
i aquired this series 70 gold cup in 1992. put a few add-ons on it. ppc and idpa gun. has nearly 40,000 rounds thru it, and most internal parts are origional.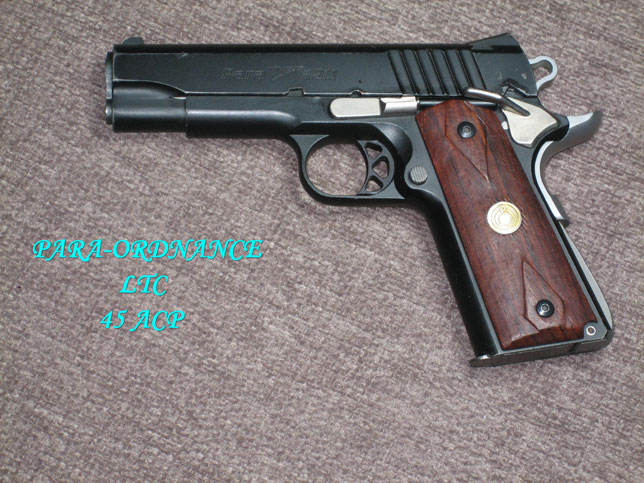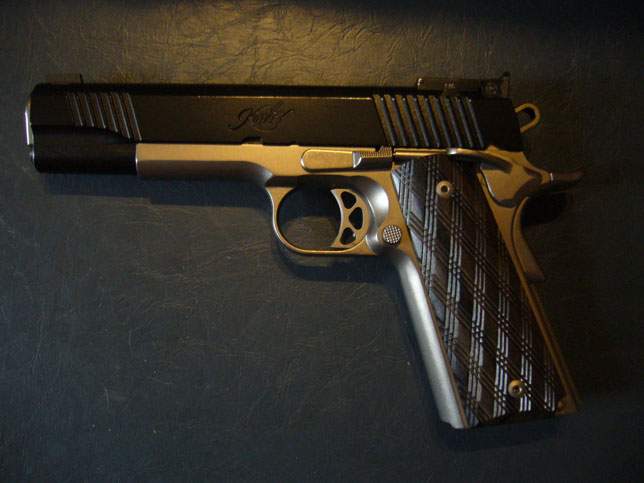 Kimber 1911
This is my favorite 1911. Its a Kimber Custom Classic from Clackamus, OR. The slide is finished in Roguard and the frame is coated in NP3. This was the gun that started the 1911 revolution. The Colt at the time was overpriced and Springfields were mostly made in Brazil.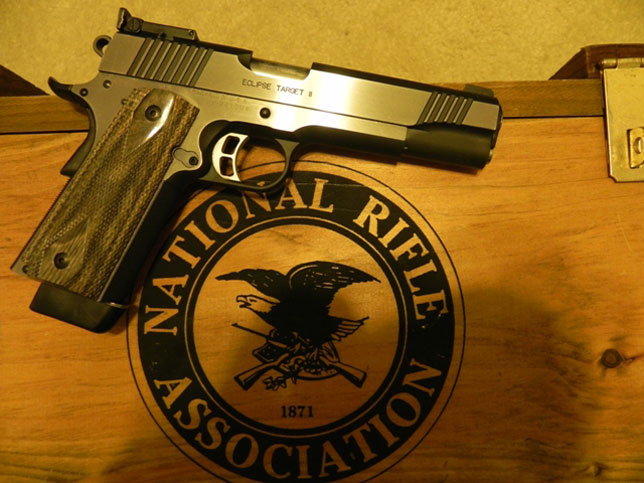 Kimber Eclipse II
I bought this Kimber Custom Eclipse II about 3 years ago for my Wife. Now she shoots better than me!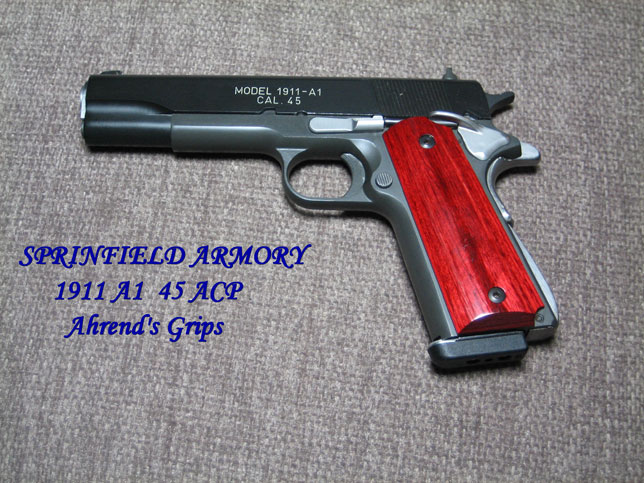 SA Mil-Spec
Springfield Armory Mil-Spec Parkerized with SS controls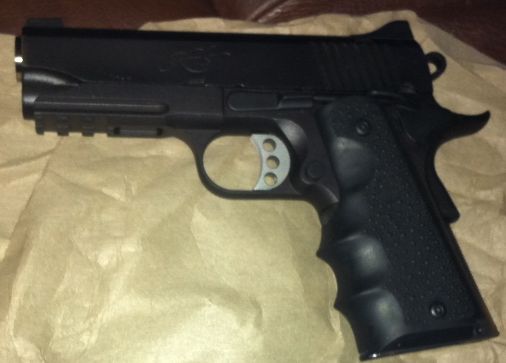 Kimber 1911 Pro TLE/RL II
A pic of my Kimber 1911 Pro TLE/RL II. Before this beaut I'd never owned a 1911. After getting it and shooting it for the first time I sold my XD-45 the following week. I can't get over the workmanship and the crispness of everything about it.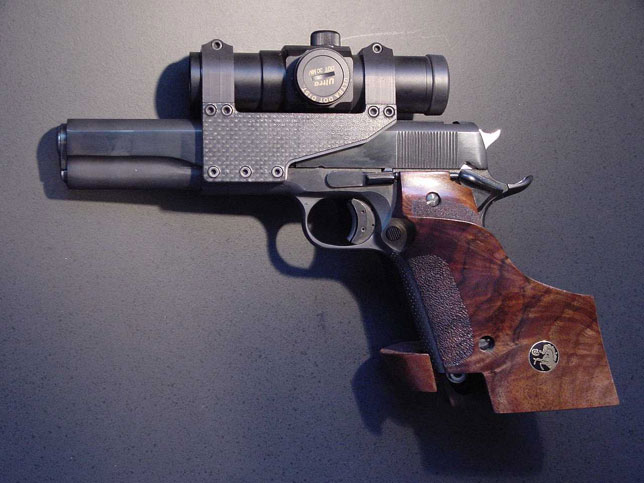 Clark LongSlide
This Colt 1911A1 started life as a commercial model and was built into a bullseye match pistol by Jim Clark Sr. for my Dad back in the early '70's. He later gave it to me when I got involved in competition. I added a red dot sight and made a set of custom grips from a beautiful piece of walnut. This gun took me to 8th Master at the Nationals in 2005 and Texas State Champion in 2006. Earle Andrews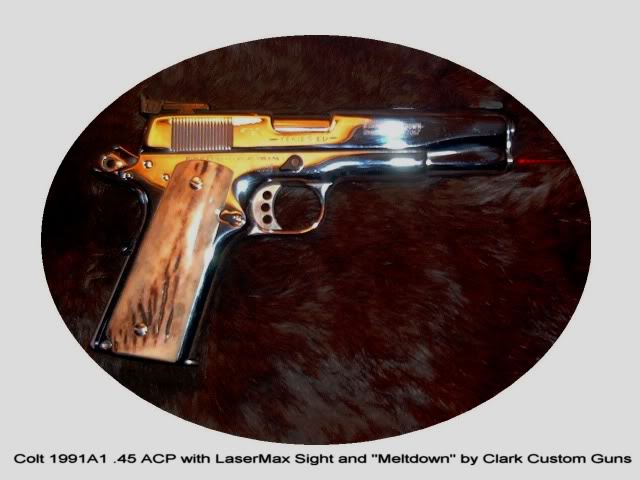 Colt 1991A1 with "Meltdown" by Clark Custom Guns
This Colt 1911 started life as a "Plain Jane" Government Model 1991A1. It was sent to Clark Custom Guns for "Meltdown," reliability package, and hard-chrome plating. Back home, it was given a set of Sambar Stag grips and a LaserMax sight. It is now a real "tack driver" which is rarely far from my side.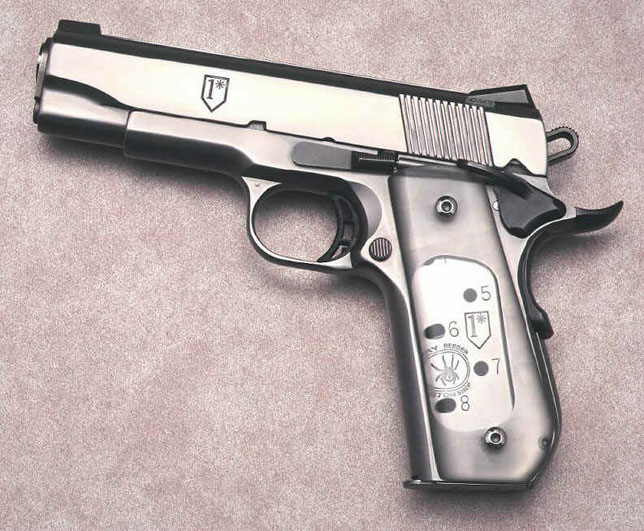 1*
My combat commander made perfect by Kase Reeder! he won 1* model.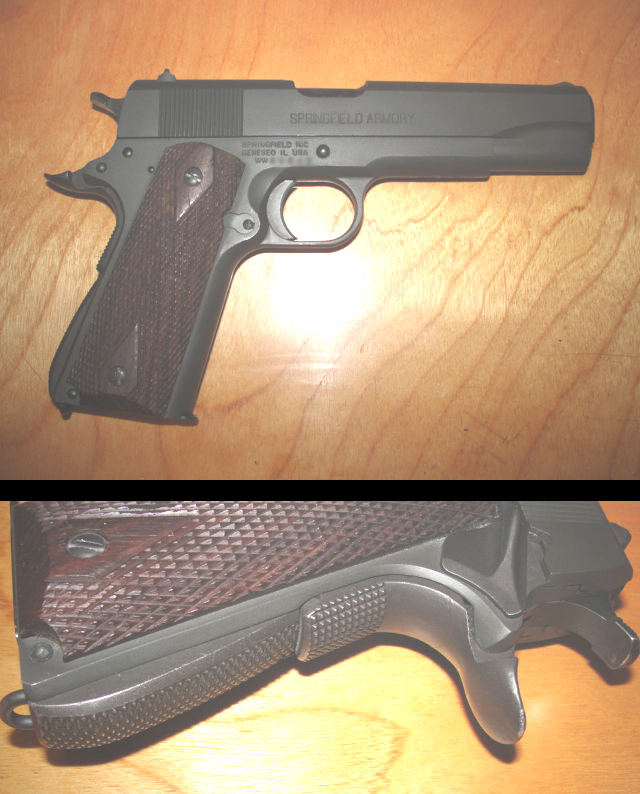 My Springfield 1911-A1 G.I. Model .45 ACP Modified
This is my Favorite Carry/Self Defense Gun of all. It's a Modified Springfield 1911A1 G.I. Model with Parkerized Finish. This is about as close to an Original WWII era styled gun you could carry from a good reliable modern manufacturer, without risking an original collectible antique. I've modified mine with a Wide Spur Hammer like an older model Colt would have, as well as the checkered-Arched Main Spring Housing. But I also had to replace the Grip Safety because the factory one would start to eat into the web of my hand after the first few mags at the range, this one is parked to match the finish and with the checkering on it, it goes well with the Checkered Main Spring Housing I also replaced the shinny Springfield Armory Grips with Double Diamond Rosewood grips, they have to my mind a nice color and a matte appearance that goes with the feel of an old military field piece. It has a very comfortable grip and is an excellent Shooter. Everything I've come to expect in excellence, accuracy, and reliability from the Springfield Armory.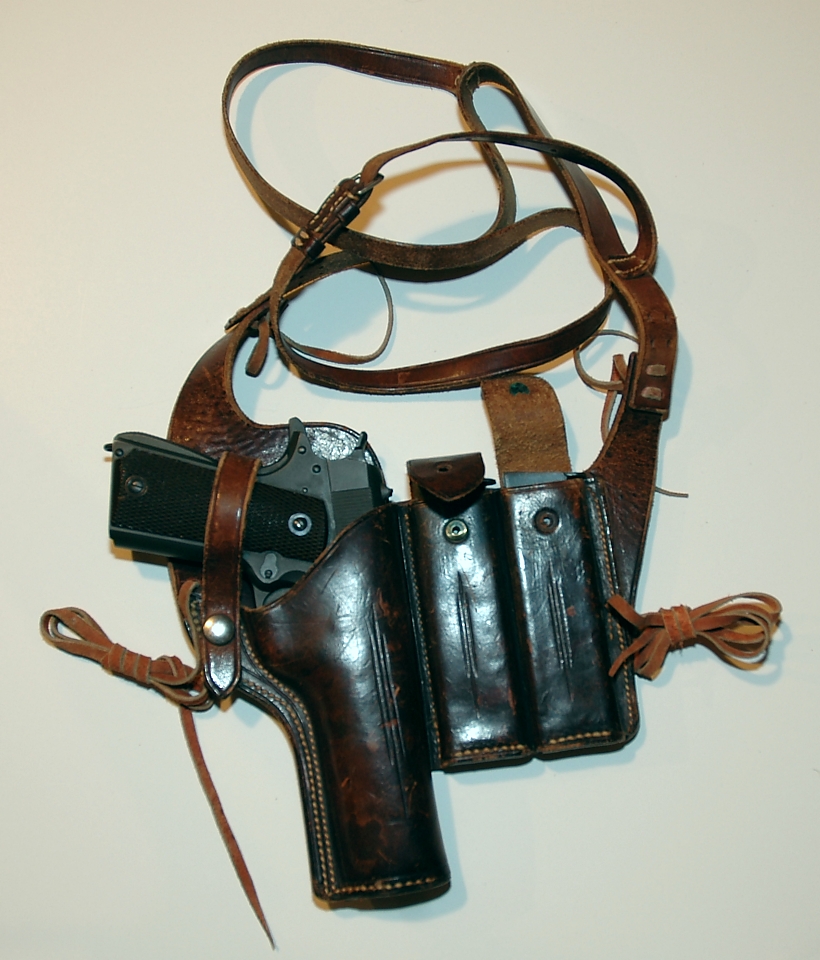 GoodEnough
This 1911 was carried by my late ex-father-in-law during WWII. Joe was a P-47 pilot flying out of Wewak, Papua New Guinea. He was forced to bail out over the mountains and spent eleven days getting back to the "friendly side." The pistol was a gift, given to me by my already-ex-wife. And what a gift!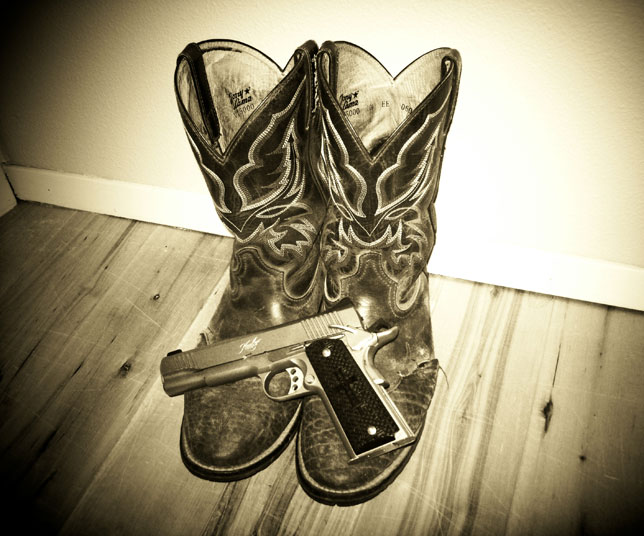 Kimber1
I don't leave the house without my boots or my Kimber Stainless Government model. It has a Wilson Combat slide stop and a Les Baer main spring housing. The grips are by Esmerelda. Life's too short to pack an ugly plastic gun!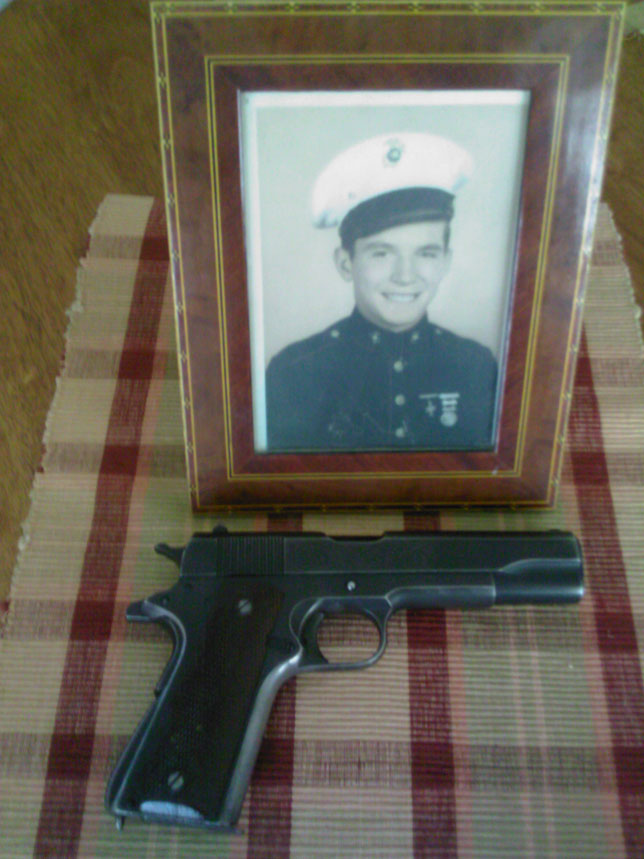 Dad's 1911
Dad's Ithaca made US Army issue 1911. He was a Marine on Peleliu and this was his sidearm. He shot the head off a rattler with it while we were hunting in Arizona that was coiled and ready for my leg. I heard "freeze", saw the muzzle in my periferal vision and saw a flash and I was looking at a headless snake. I was thanking him but I could only see his lips move, I couldn't hear a thing after this monster went off next to my ear. It's my prized possession. Dad was an NRA member his whole life.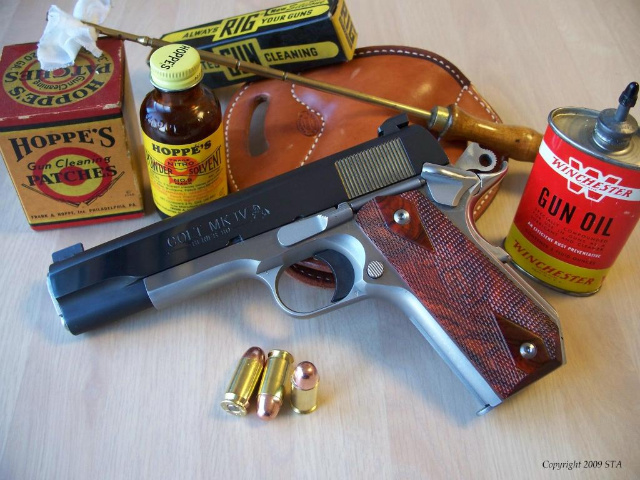 Colt Combat Elite Custom Bobtail
After buying a Dan Wesson CBob, I had a gunsmith install an Ed Brown Bobtail mainspring housing on my Colt Combat Elite .45 1911. It feels fantastic in my big hands and it shoots even better!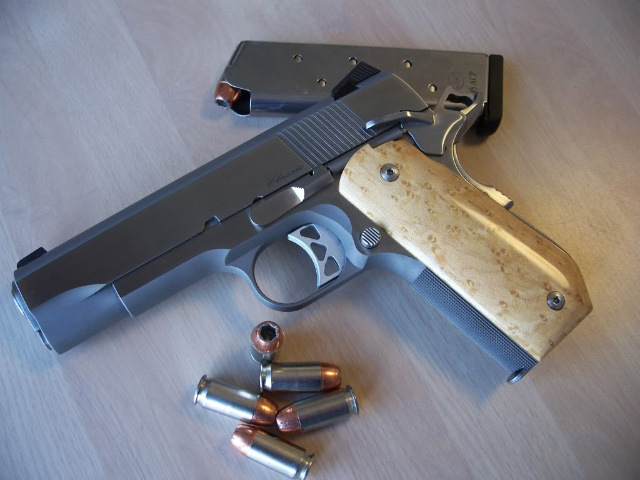 Dan Wesson CBob
Just when I thought the John M. Browning 1911 could not be further improved, Ed Brown came out with the Bobtail mainspring housing. I bought a Dan Wesson Commander Classic Bobtail and set of custom birdseye maple handles for it. The Bobtail feels so much better, shoots better, and recoils better in my big hands. It felt so good that I had to have a gunsmith install a Bobtail on my Colt 1911 .45 as well!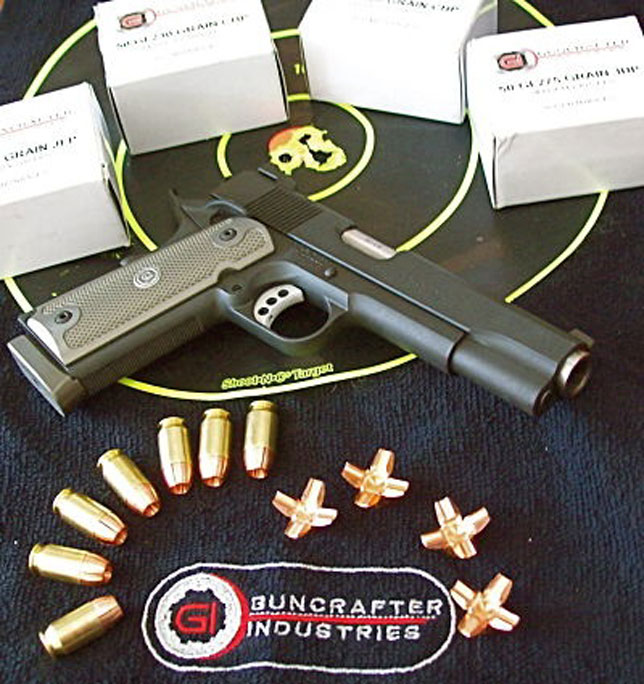 GI 50 Model 1
In my opinion, my Guncrafters Industries GI 50 Model 1 is the finest iteration of John M. Browning's original design. It is beautifully crafted, with every custom feature you need, and nothing you don't need. And the .50 caliber round is a pleasure to shoot!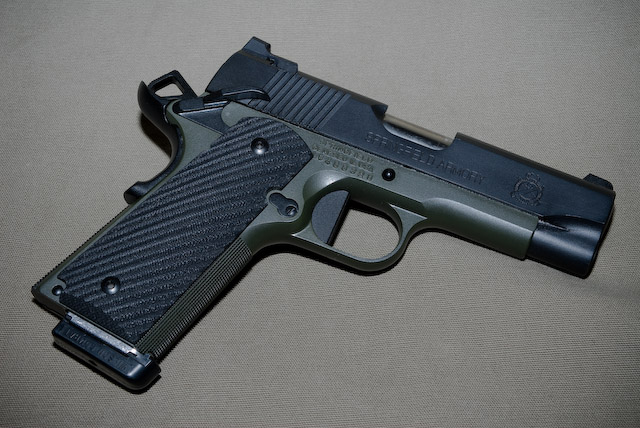 Springfield Champion LW
This is my Springfield Armory Lightweight Champion. I have had the front strap checkered, a 10-8 flat trigger installed and a trigger job all done by Springfield Custom. The grips are by Mil-tac. It's my daily carry gun and I trust my life to it.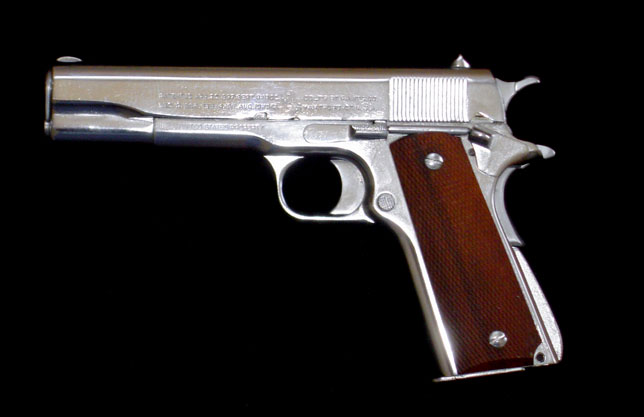 1911 circa 1918
I inherited this from my father who is now 101 years old. It left the Colt factory in 1918 and was issued for service during WWI. As far as I can tell, it was also issued for service during WWII. Someone nickel plated it at some point and I have thought about restoring it (and I may someday) but, for now, I think of the finish as part of its history. All parts are true to its vintage with the exception of the grips and the arched mainspring housing. Even the barrel appears to be of the correct vintage.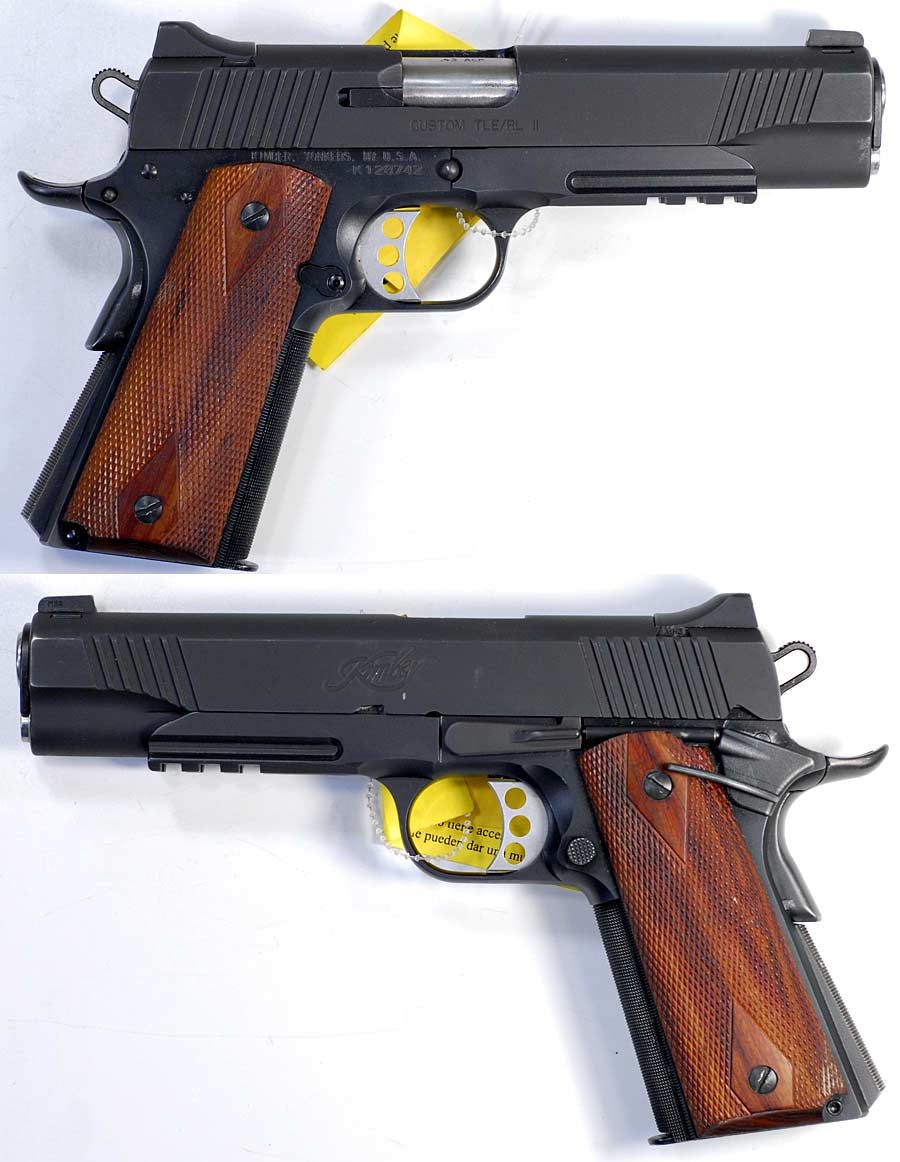 Kimber
This is my Kimber TLE/RL II in .45ACP. I bought it used and already set up the way you see it here. It has a Gunsite lowered thumb safety, walnut stocks and a "Tactical Wedge" mainspring housing (that I intend to change to a regular arched mainspring housing). Of course it also has the 30lpi checkered front strap, beavertail grip safety and Meprolight night sights that all Kimber TLE models come with. Since this photo was taken I have also equipped it with a Streamlight TLR-1 weaponlight and a pair of Crimson Trace Pro Series Lasergrips (dipped to look like burlwood). This is my everyday carry gun, and it is extremely accurate and 100% reliable.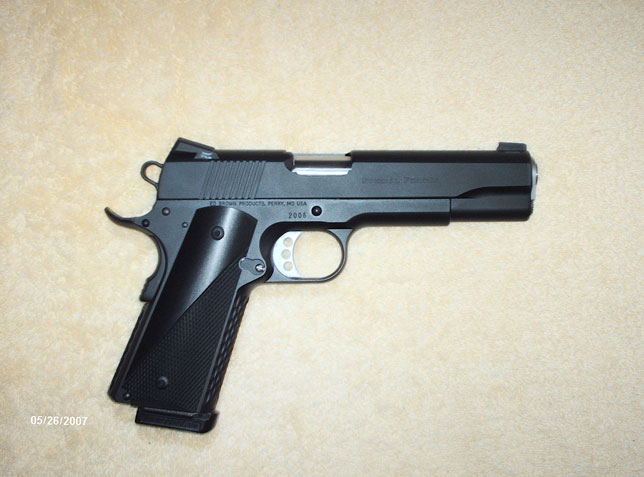 Ed Brown Special Forces
This Ed Brown Special Forces is my favorite 1911 that I have ever owned because it is smooth as silk, 100% reliable and makes an average shooter like me look great, not to mention it is a beautiful gun as well.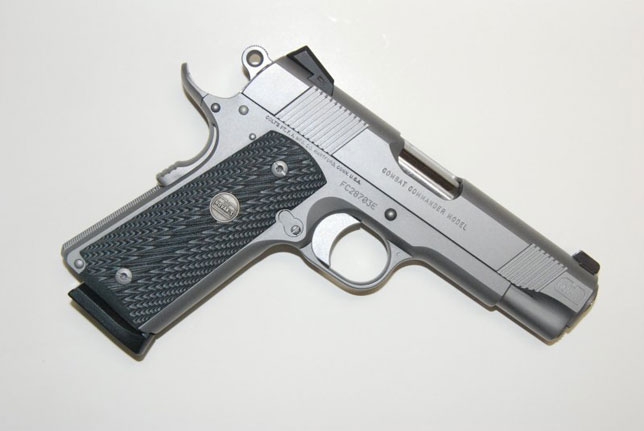 COLT / NOVAK
Colt XSE Series Commander with Novak Carry/Duty Package.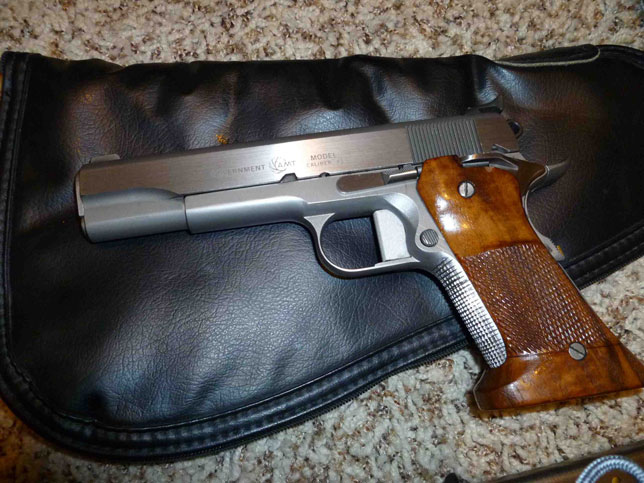 Stainless AMT you can ferget about
Good old dependable AMT from the 1980s. Stainless steel and sturdy, it will still be solid 100 years from now. Herrett's custom grips, as I recall.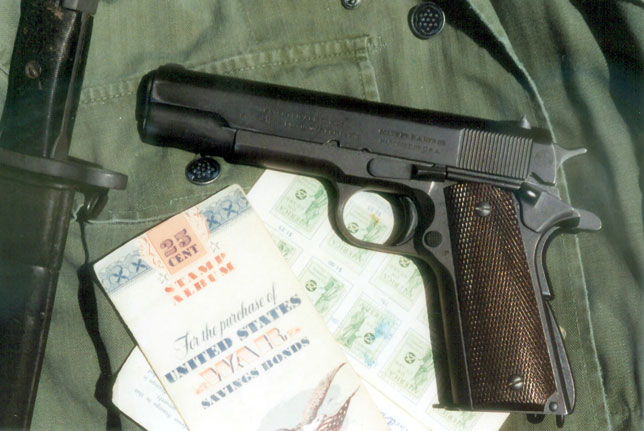 GI 45
Ithaca frame with old Colt top--so old it does not have the 1913 patent date. I used this to qualify for concealed carry. Background is a WWII shirt and WWII savings stamps my grandfather bought for me.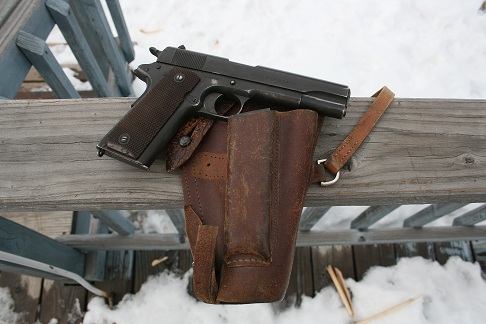 1911 World War II
My father used this during The Battle of the Budge in WWII He was a Second LT. with the 11th Armored Division.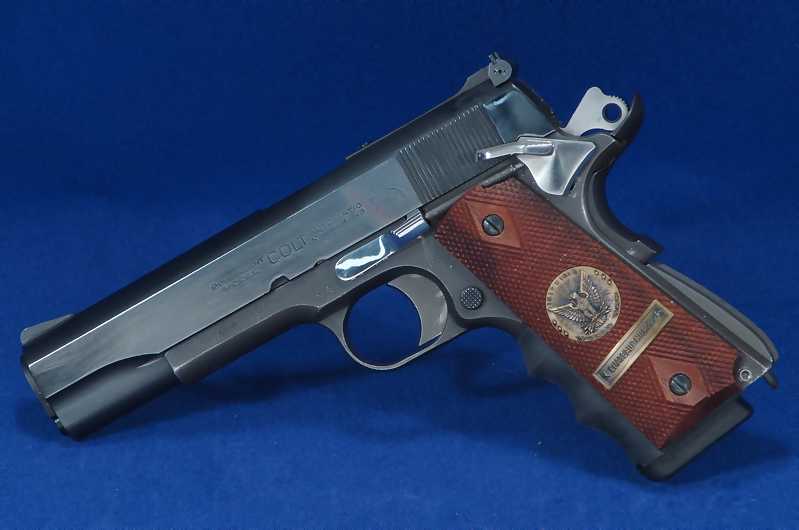 Cooper Tribute
This is my very first firearm, a 1918 Remington-UMC "customized" in 1973 in the style of a late-'60's Jeff Cooper pistol. No collectible was harmed in the making of this 1911, because Anniston Arsenal's rebuild with a WWII M1911A1 slide and barrel (including Parkerizing), removed any chance of restoration. However, the frame has not been modified in any way. Walt Kuleck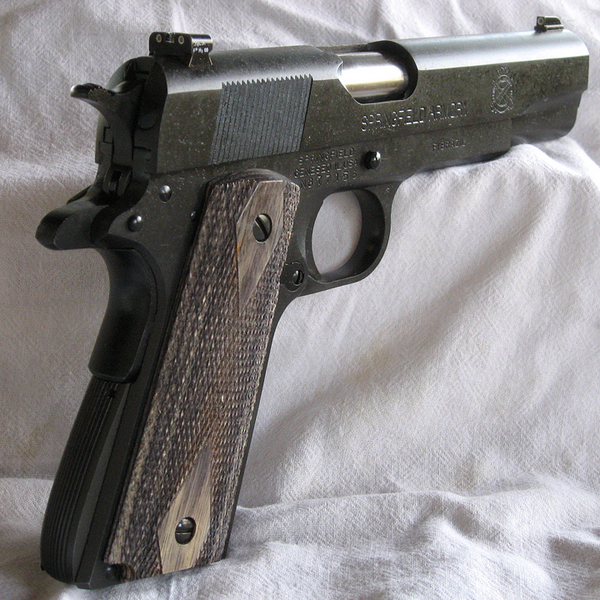 Older Springfield Armory
Springfield 1911 circa 1990. Has night sites, and custom grips but no other upgrades.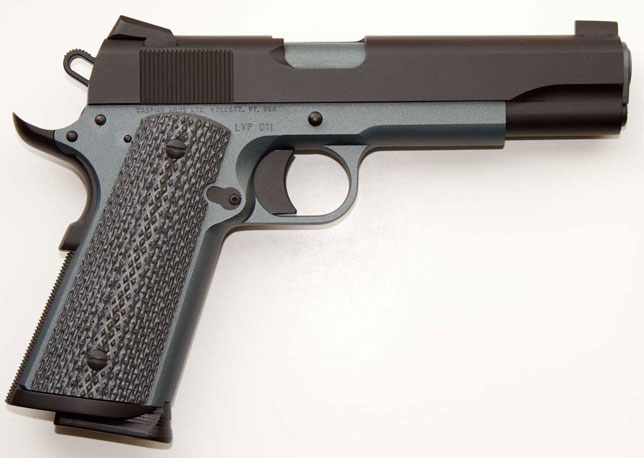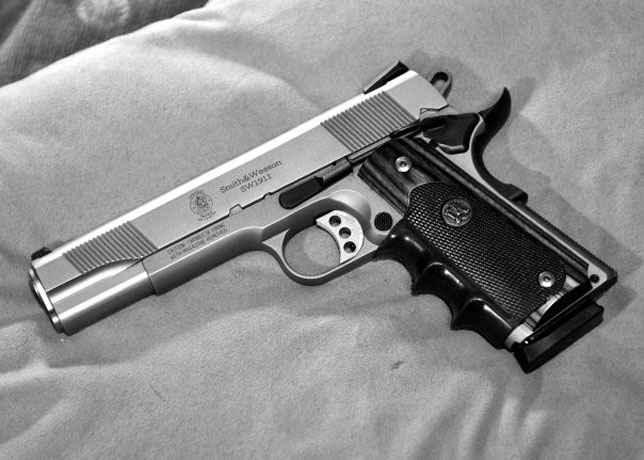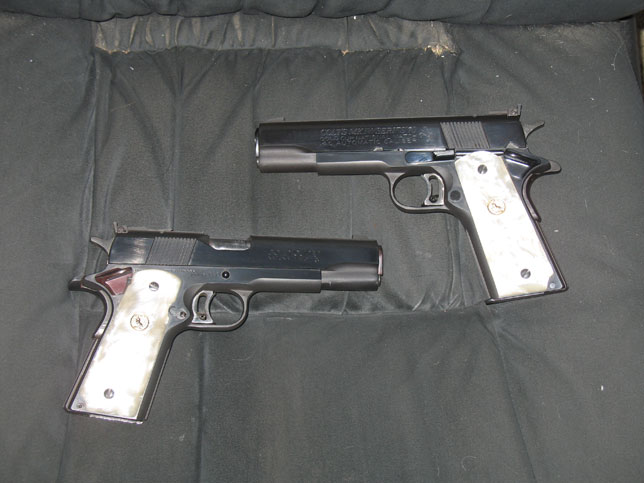 my 1911
MKIV/series 70 gold cup national match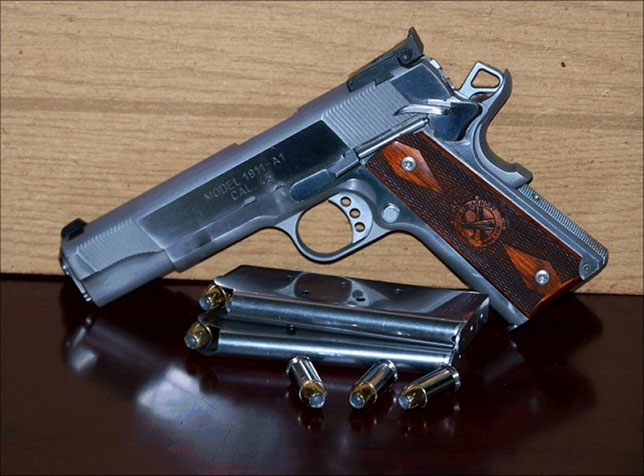 Springfield Loaded
The first handgun I ever purchased. I can't imagine why I would want anything else. I got rid of the ambi-safety and put a GI guide rod in it. It just keeps getting better and batter. Thank you, JMB.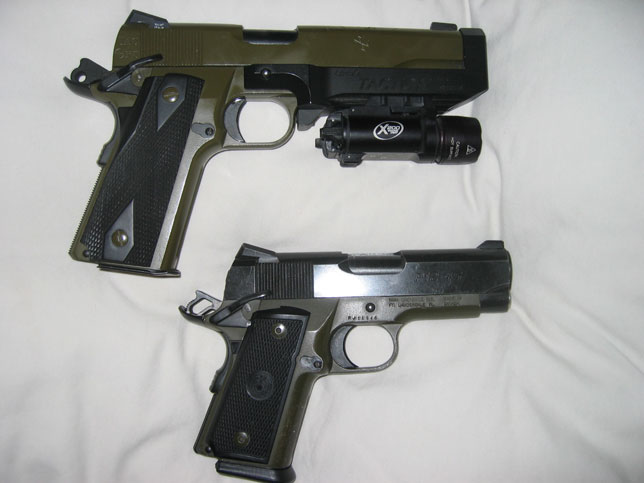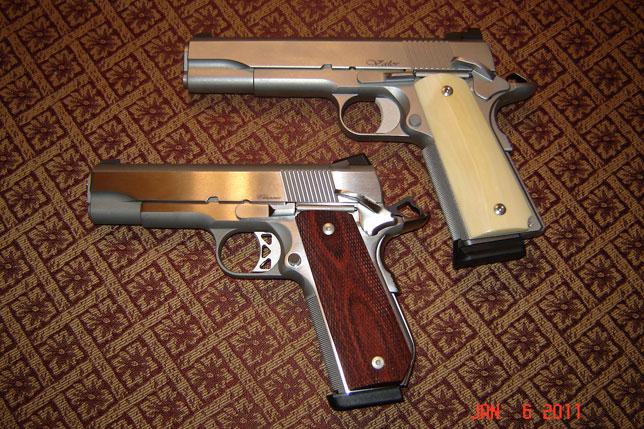 Dan Wesson 1911 X2
This is my Dan wesson Bobtail Commander Classic in stainless, and my Dan Wesson Valor in stainless with real pre-ban elephant ivory grips.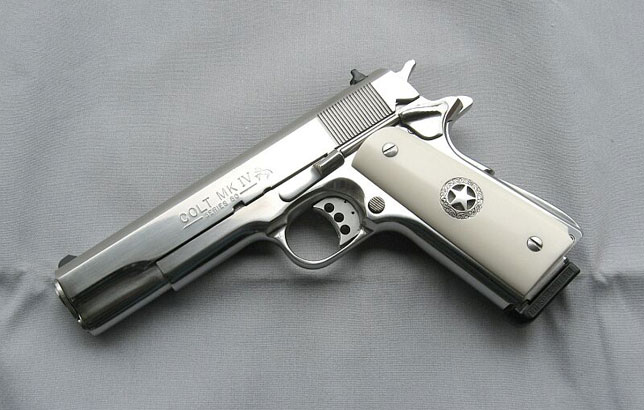 Ultimate Bright Stainless Government Model
This has always been one of my favorite 1911's. It is a bone-stock Colt except for a Wilson trigger and some faux pas ivory grips with a Texas Star.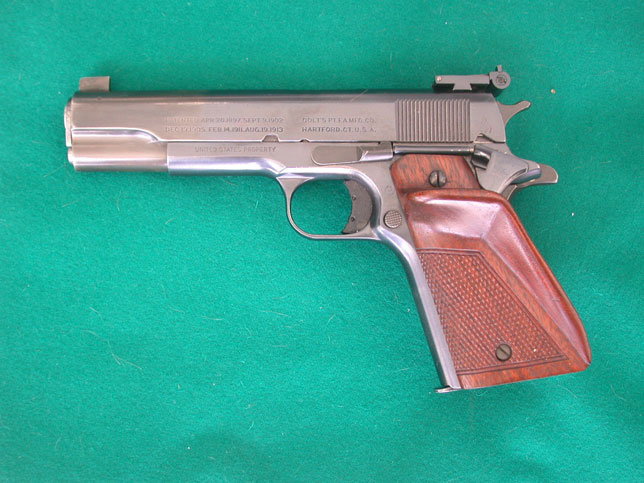 DCM U.S.Army pistol team 1911
I acquired this 1911 throgh the DCM in 1957 for the outageous sum of $32.70. It was a match conditioned former U.S. Army pistol team gun. I made the custom grips myself and used it in NRA competitions from 1957 to 1963. Many fond memories.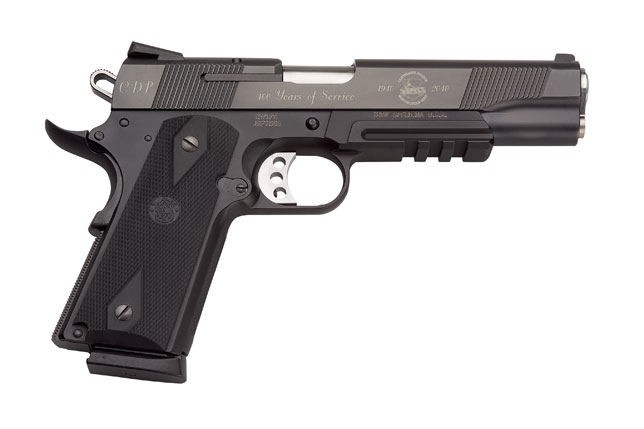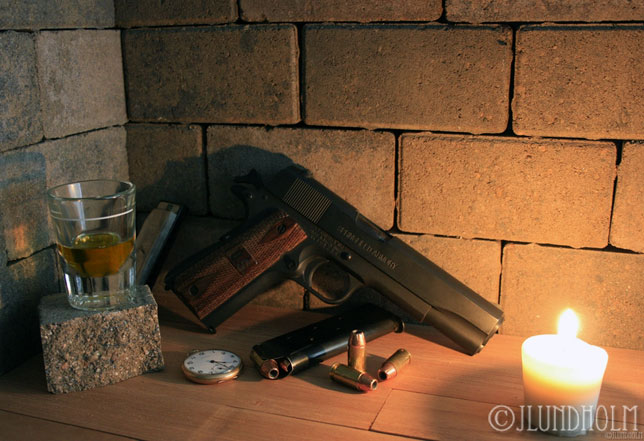 It's been a long night...
This 1911 was chosen because of the value Springfield Armory offers as an American manufacturer. Nothing fancy here, just a good, solid firearm that does what it's called to do.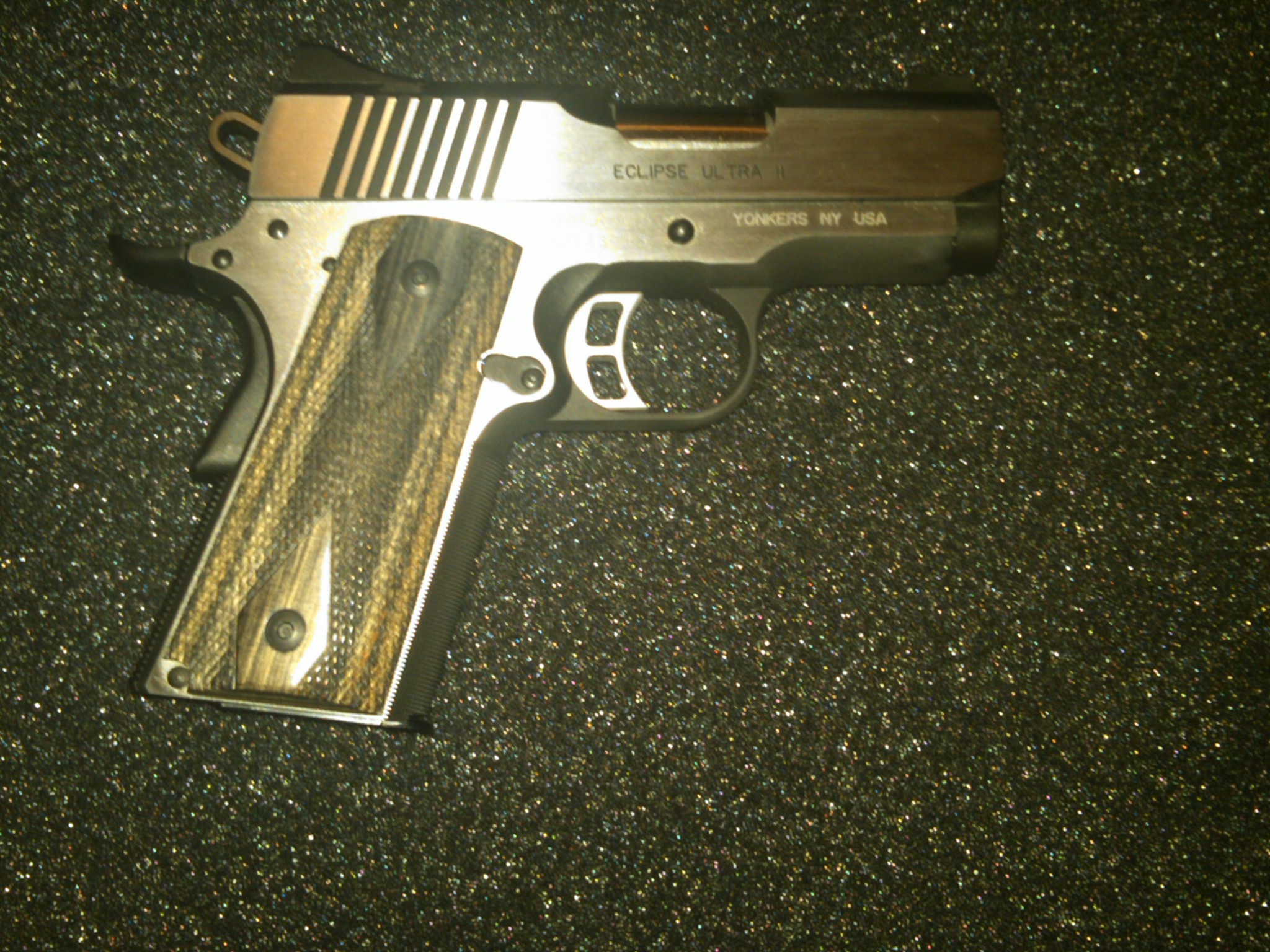 Kimber Eclipse Ultra
Kimber 45 Ultra Eclipse II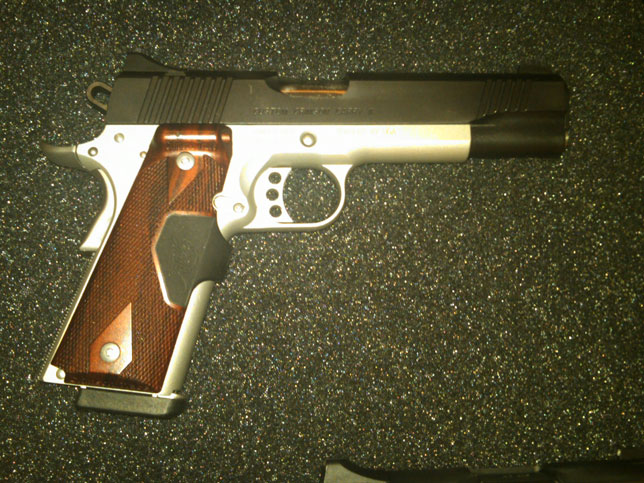 Kimber Custom Crimson
Kimber 45 Custom Crimson Carry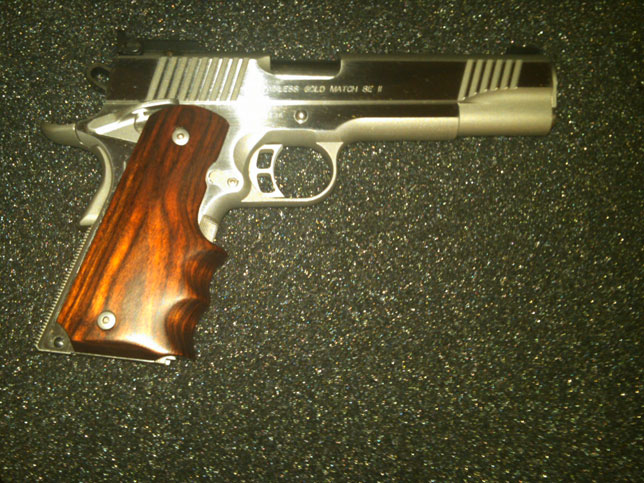 Kimber 38Super
Kimber 38 Super Custom Gold Match II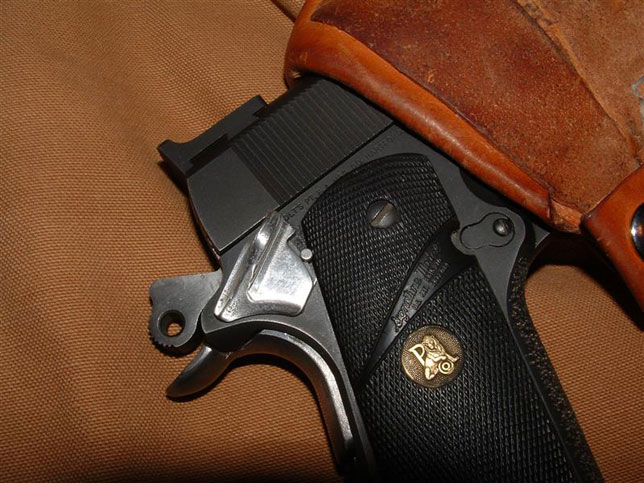 Daily carry working gun
I bought a Colt Officer's ACP soon after they became available because I knew that someday Kansas would pass shall issue concealed carry. It took almost 30 years and lots of work my many people to get it passed about 4 years ago. The gun has been modified by Richard Heinie with a reverse plug recoil spring and Heinie sights. It has been modified with MUESCHKE ss ambi safety and a Videki trigger. The grip safety was modified by welding to be a beavertail. The frame has been cut in anticipation of installing a better, high-rise beavertail. Crimson Trace laser grips complete the package. The original finished was black phosphate and it is worn smooth but it is rust free.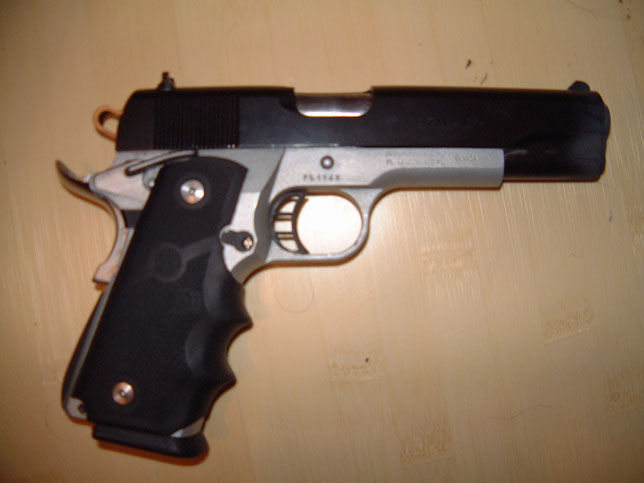 Para Ordnance P14-45
Double stacked awesomeness! Hogue wrap-around grip, STI trigger, full-length guide rod, and other customizations for accuracy and speed. And of course, 14+1 rounds of .45 ACP power.
38 SUPER RACE GUN
This is my favorite 1911 because of the fit and accuracy it provides. Many years of shooting it and it gets more enjoyable each year.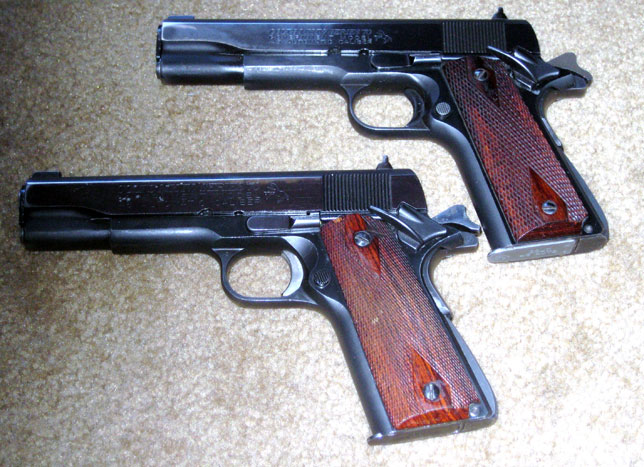 COLT'S SERIES 70 1911s
Colt's Series 70 Government Model 45 ACP - Top one made in 1970 and bottom made since 2002 - low serial number. Only mods - King's Harddballer sights and Gunsite Low Mount Thumb Safeties. Original uses collet bushing - both are shot every week and one or the other carried. Not fancy but 100% reliable with any ammo.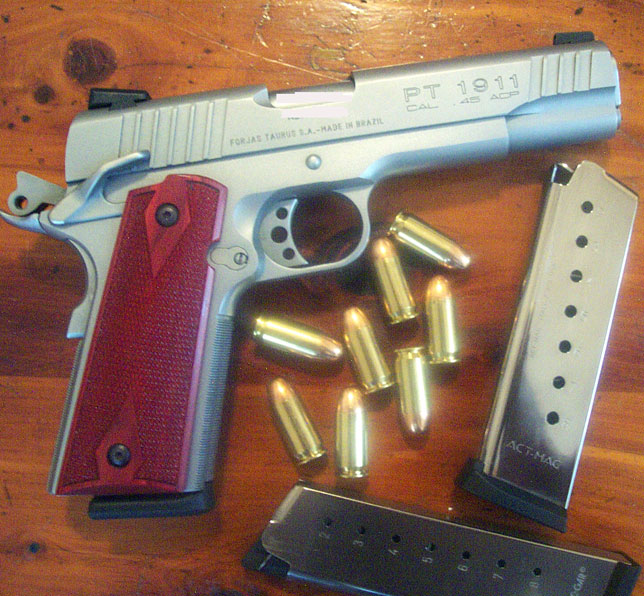 PT1911
Got this PT1911 in Oct. 2010 and have become a big fan of the 1911 design - plan on acquiring more of various mfg's to do comparisons :) - plan on feeding the habit as $$ allows :)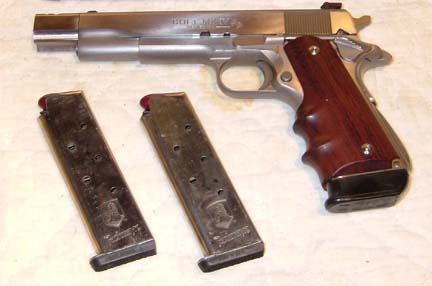 My Colt MK IV
My favorite 1911-based pistol is my Colt MK IV Series 80 with compensator. I enjoy taking this to the range and putting tight groups in targets - the compensator helps. It features Pachmayr wrap around grips and magazines. It's stainless steel finish with the grips make this a beauty.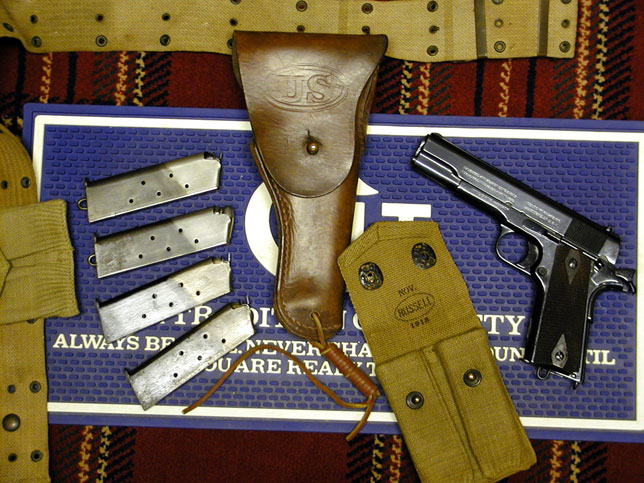 My 1918 Colt
I found this trade in at a local gun shop. Everything is original and must have been put away after WWI and found by a relative 80 plus years later. It is very accurate and nothing like what I was given to qualify with during my service time. The best $150 pistol that I ever bought.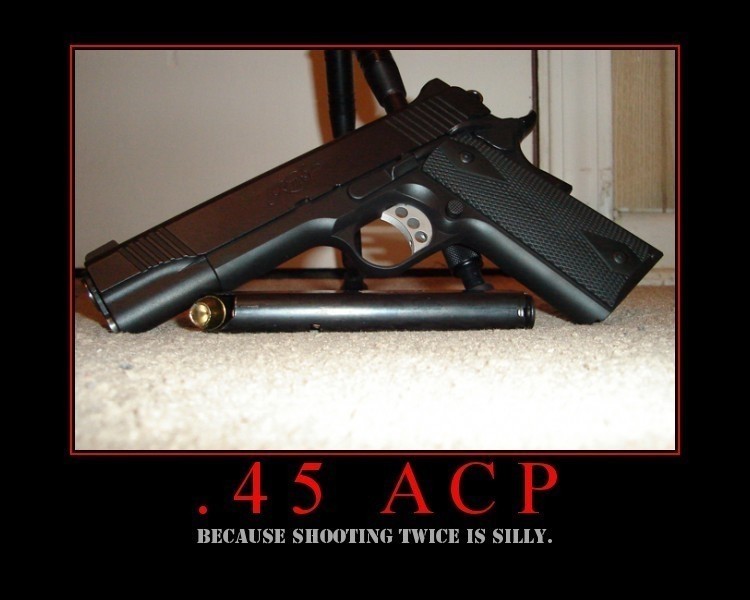 No 2nd shot
Just like it says, shooting twice is silly.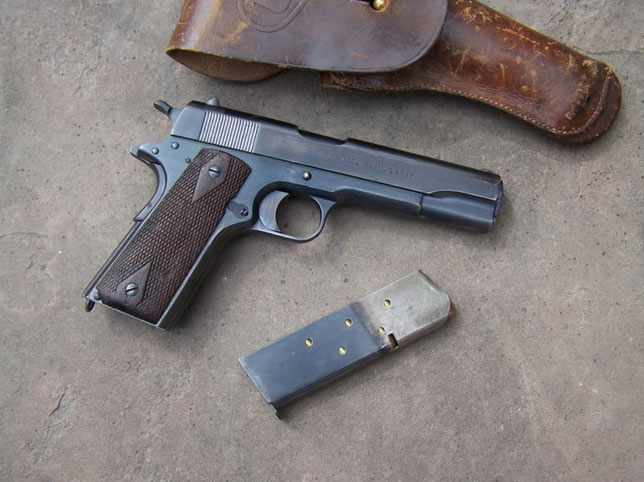 Great Grandad's Pistol
This M1911 was issued in 1918 to my Great-Grandfather who was served in the Signal Corps as a dirigible pilot.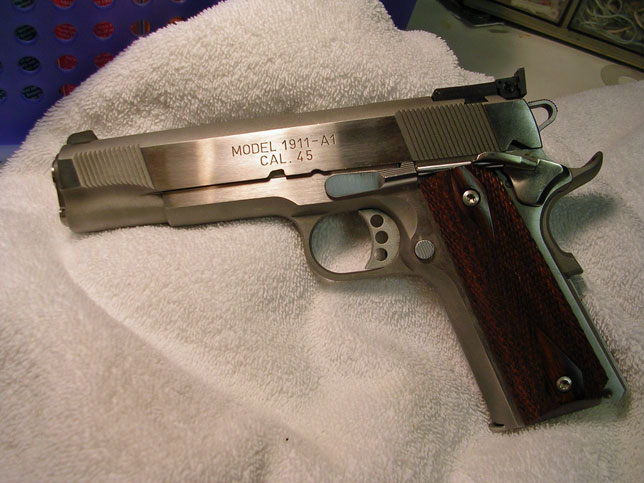 Springfield 1911-A1
I looked at a lot of 1911s before I went with this Springfield in stainless steel. Many people say that all 1911s are the same, but I don't think so. There are many quality handgun manufacturers turning out great products, but I think people should look for the one that "clicks" for them. This is an individual thing, and for me it had to be stainless. Over the years, I have introduced quite a few people to shooting with this gun. Once they fire a few rounds and become comfortable with the action, they are hooked. If the gun didn't feel right, the results would be different.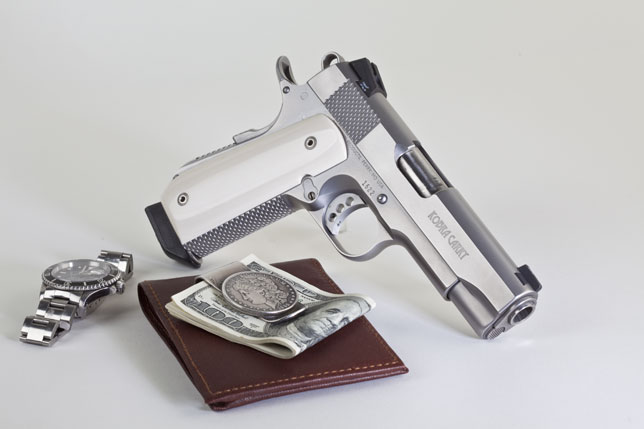 Ed Brown Kobra Carry in .45 ACP
One of my favorite 1911 handguns is my Ed Brown Kobra Carry featuring a 4-inch barrel, stainless-steel finish and elephant ivory grips by Eagle Grips. It also comes with the Ed Brown Bobtail frame, which is more easily concealed when carried, but still fits my palm very well, and which I believe enhances the accuracy of an already superlatively accurate pistol. It addition to its accuracy, this gun has superb balance and phenomenal reliability. I have fire more than 4,000 rounds through this gun without a single failure-to-feed or ejection malfunction, including a session at Gunsite where more than 1,000 round were fired without cleaning. My Kobra Carry is accurate, reliable and fits me well, and the fact that it looks great doesn't hurt either.
Colt M1911 in .45 ACP
As a member of the U.S. Cavalry, my grandfather was issued this M1911 in .45 ACP, which he carried while in pursuit of Pancho Villa. I am unsure of its value, but records show that it was made in 1913 for the U.S. Army. This handgun is in good condition and still shows the craftsmanship of John Browning's wonderful design.