by
John Zent, Editor Emeritus
posted on May 2, 2016
Support NRA American Rifleman
DONATE
So let's get right to it, the operable metric here being muzzle velocity: 2000 fps with a 103-gr., .30-cal. bullet.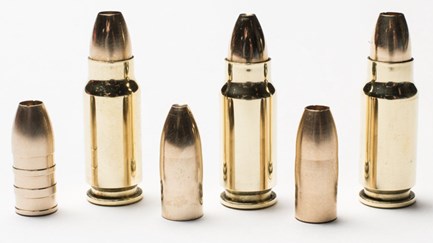 Or so said the engineer/would-be manufacturer behind the eye-opening 7.5 FK Brno semi-auto pistol and proprietary cartridge, and he added that muzzle energy is about 960 ft.-lbs. Granted, that falls short of ballistics from single-shot "hand cannons" chambered in rifle calibers, but it'll put the new cartridge in a category with legendary—now obsolete—handgun speed demons like the .357 Rem. Max. (1825 fps/1168 ft.-lbs. with 158-gr. bullet); .475 Wildey Mag. (1850 fps/1900 ft.-lbs. with 250-gr. bullet); or the closest comp, the .357 Auto Mag (1900 fps/882 ft.-lbs. with 110-gr. bullet). Interestingly the copper-alloy bullets loaded in the new caliber are also a proprietary development. Recently the cartridge gained approval from CIP, the European body that oversees ammunition standards and safety. 



I learned about the FK Brno in April while attending the giant IWA Outdoor Classics trade show in Germany. In fact, the pistol/cartridge debuted there in 2015, and since then opinions have been bandied about the internet, though seemingly not by anyone who'd actually shot it. There's a quite a bit of information and misinformation floating around, along with chatter on what purpose it might serve. As yet the gun is not in commercial production.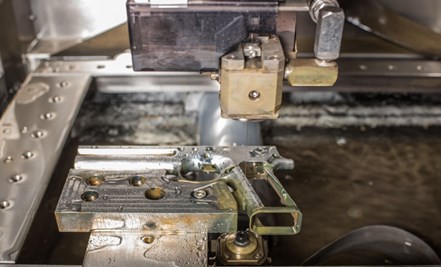 As its name suggests, this development hails from a city in the Czech Republic with a long armsmaking history, though this current venture reportedly has no ties to any former Brno gunmaker. The pistol appears to be a plus-sized CZ 75/Browning High-Power-derivative, though heavily modified with an oversized cylindrical dust cover extending below the barrel to house a sliding counterweight whose purpose is to arrest felt recoil and muzzle rise. The steel-framed gun's overall length is nearly 9½" and the barrel measures 6"; the weight is 45.8 ozs.  Ammo capacity is 14+1, quite respectable in today's market, and considerably greater the capacities of the aforementioned high-velocity handguns. The rear sight, though fixed, is a clever hybrid incorporating both V-notch and peep sight elements in a single compact unit, and the slide is machined to accept a reflex optic.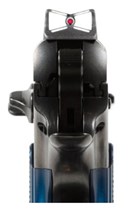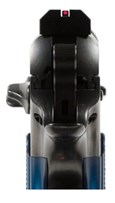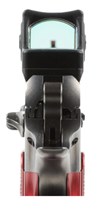 At this year's show, the maker, FK Brno Engineering, occupied a large end booth in which numerous pistols wearing an array of aluminum grip panels were displayed along with packaged factory ammunition. Two variants have been designed, one with squarish grips and the other sporting a rounded backstrap. At the booth I met former U.S. Army Ranger Sgt. Erik Burge, who works for a contractor that tested the FK Brno pairing and is featured in a company-made demo video, since posted to YouTube. The operator likened the recoil to that of the .40 S&W, said he'd experienced no feeding or extraction problems with the bottle-necked round, and bragged about its accuracy. His video was looping on a big-screen monitor, and it included footage of a hunt for red deer that culminated in a 75-meter shot that dropped a big stag like it was a chainsawed oak. We can't quote his narration at that point, but suffice it to say he enjoyed reliving the moment. 
I also met the man behind the product, the inventor-businessman, who said he'd rather we keep his name out of it. Along with filling me in on his invention, he also predicted it would be in production by mid-2016 and that they were finalizing an agreement with a U.S. importer based in Florida. He promised to supply American Rifleman a pistol for testing in due course, but also offered to send his private jet to fly us to the Czech Republic if we couldn't wait until then.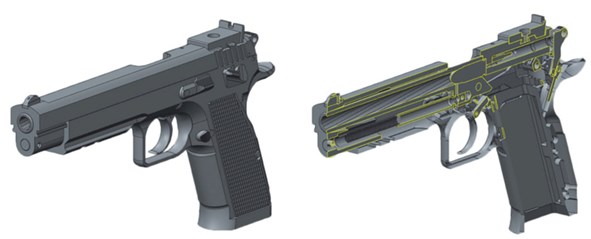 If all this has a sort of Bond-esque ring—and certainly the central European setting fits that bill—it strikes us the same way. The reality is that firearm-industry products often take an erratic track to market, though this one has an exceptional out-of-nowhere quality. And it's anyone's guess whether BATFE might approve it for importation anytime soon. And on top of all that, there's the matter of what such a gun will cost, and rumor has it that could be well north of $5,000. Regardless, the FK Brno is one of the more intriguing prototypes that has come to our attention of late, so when and if we receive an actual production sample, you'll hear much more from us on what very well could be the world's fastest pistol.