by
John Zent, Editor Emeritus
posted on September 28, 2020
Support NRA American Rifleman
DONATE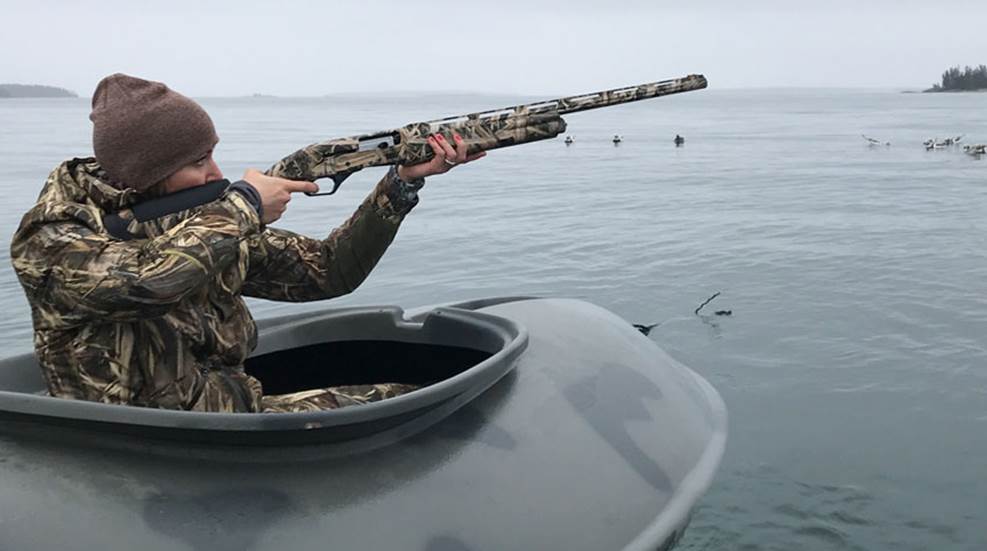 On the eve of the 20th century, a fledgling gunmaker from Utica, N.Y., put forth a new model to compete in the then-hot lever-action-rifle category. That was the Savage Model 1899 (later just Model 99), and while it never quite surpassed its top competitors, many lever-gun fans have contended it was the best of the breed.

With an action strong enough to handle high-intensity cartridges, an on-board rotary magazine that safely housed spitzer rounds, side ejection and a sleekness that made it look and handle better than its peers, the 99 was a magnum opus of firearm engineering that, over the course of 90 years in production, sold more than 1 million pieces.
In 2020, Savage is again barging into a well-established market niche bristling with excellent options. The new Savage Renegauge enters the semi-automatic shotgun arena, hardly a new category, but one radically transformed some 30 years ago and now dominated by models especially celebrated for durability and unblinking performance in the harshest conditions, even while being the most shooter-friendly smoothbores ever built. Like the iconic 99, the Renegauge is the culmination of a discriminating development process that sought original solutions in creating a gun that could run with the big dogs.


Savage Did What? 
There were double-takes when news of the Renegauge leaked out last fall, and it was attention-getting on two different levels. The first was that Savage, a quintessential rifle brand, was going into shotgun production. The flipside was that Savage was going into production on this shotgun.
The initial bewilderment—including my own—was misplaced, since the company has in fact been active in shotgun production and sales since 1920, though its sole recent in-house output has been the bolt-action 210/212/220 series with just one smoothbore iteration.

Nonetheless, long ago, Savage bought the marquees and assets of two other legacy American firearm makers—Stevens and Fox—both of which it continues to use, working with partners in the U.S. and overseas on shotguns marketed under those historic names. (See the accompanying sidebar below for more on Savage's colorful century in the shotgun business.)
Given what came to light, it was surprising, in order of disclosure, to learn the following:
• Savage would manufacture this new gun at its home base in Westfield, Mass.
• The Renegauge would be an original platform not based on any existing or former design.
• It would be one of the category's pricier guns.


This last revelation represents a pivot point for the company and its ownership, which changed hands in mid-2019 when a group led by existing President Al Kasper purchased the controlling interest from Vista Outdoor. As a longtime investor prior to securing the top job, Kasper had wearied of the near-universal qualifier bound to surface in any discussion of Savage's superb rifles.

"No, it's not right to say that we're 'building the best gun for the money,'" he stated during a December press gathering at Savage's corporate headquarters, "because we're building the best guns, period!" Clearly it wasn't the first time he'd said so, either.
Determined to change the narrative, Kasper is doubling down on a push originated by former CEO Ron Coburn to make Savage a performance innovator, as seen in trend-setting upgrades like the AccuTrigger and AccuFit stock, plus the brand's ever-expanding array of bolt-action and modern sporting rifles, all boasting superb button-rifled barrels.

Now comes a performance wingshooter designed from the screws up to tackle some of the best-loved smoothbores ever, and at about $1,500 MSRP, the customer won't be making a "for the money" decision.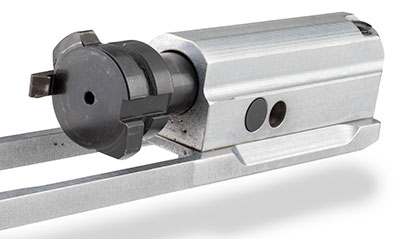 Asked about the new direction, Kasper commented, "When we got into the position to make new investment, we said: 'For growth, we need to get into the next logical segment, which is shotguns.' But it had to be something unique, something special. It's never been our style to come out with me-too stuff." 
That reflects efforts by Coburn and Kasper to strengthen the in-house engineering culture and, in an echo of Savage's finest hour, led to development of the Renegauge. Just as founder Arthur Savage encountered false starts on the way to his breakthrough Model 99, the "something special" shotgun initiative hit snags that shelved the project more than once. But that changed when product development engineer John Linscott, a bright newcomer assigned to other things, happened to look through the closed file in his spare time.
Working independently, Linscott went on to devise a gas management assembly that's as inventive as any currently in use. The patented Dual Regulating Inline Valve system (D.R.I.V.) is designed to siphon off only as much of the propellant gas as is needed to cycle the action, and does so with everything from mild target rounds to the stoutest magnums.

It relies on eight pinhead-sized ports located on the underside of the bore where they link directly to the pair of spring-loaded valves. Incoming gas opens the valves just long enough to punch a short-stroke piston that, in turn, gives a hard shove to the action bar on which the bolt is fixed. But after admitting the finite amount of gas needed for that operation, the valves close, and any remaining gas escapes forward.


The valves and piston, and their respective springs, reside in a 4"-long, thick-walled containment unit welded to the barrel. Equally rugged is the chromed-steel action-bar assembly, and during our plant tour we were shown custom designed jigs for TIG-welding it to exacting tolerances for straightness. That's a critical step since the "pusher," as it's called on the production line, is the design's principal moving part and carries the bolt, which bears a rotating two-lug head that locks into recesses in the barrel extension.
Regulating the gas governs the force of the retracting action-bar assembly, thus limiting the amount of recoil. A second on-board recoil check is a buffer rod extending from the rear of the receiver into the buttstock. It acts as a shock absorber when the action mechanism completes its rearward travel. And, by then, the action return spring encircling the magazine tube has fully compressed, providing yet another brake on felt recoil. 
The result, for now, is a 12-ga., 3" gun weighing just under 8 lbs. While not a lightweight, our testers felt it balanced well and possessed lively shouldering and swing dynamics. Positives also include the gun's controls, notably a trigger that is factory-set at 3 lbs., 8 ozs., more like one of the maker's rifle AccuTriggers than what we're accustomed to on field shotguns. The bolt handle and release are plenty big enough without being oversize, and the loading gate admitted fresh shells without a hitch. We also appreciated the bright red fiber-optic front bead, which comes mounted atop a sturdy ventilated steel rib.
For durability's sake the internal, reciprocating components are chrome-plated, and the barrel is Melonite-treated. Thanks especially to the unitized action-bar design, takedown and routine cleaning are simple; however, hardcore owners will also have to pull the gas valves and piston on occasion. That extra step is trickier but shouldn't stump most folks, and if attended to as needed, we can't foresee long-term maintenance issues cropping up.
But that's not all that makes the Renegauge so manageable that nearly every NRA Publications editor who fired it mused that the new gun could be the softest-shooting 12-ga. ever. The stock will custom-fit every shooter thanks to interchangeable inserts that make it easy to adjust length of pull and comb height, plus the ability to change the buttpad's vertical position and pitch (angle).

Regardless of one's size and mounting technique, this shotgun can ease target acquisition by naturally aligning the shooter's eye with the sighting rib, encouraging proper cheek weld, and directing recoil laterally into the shoulder. Lessons learned through the popular AccuFit rifle stocks will now similarly benefit shotgunners.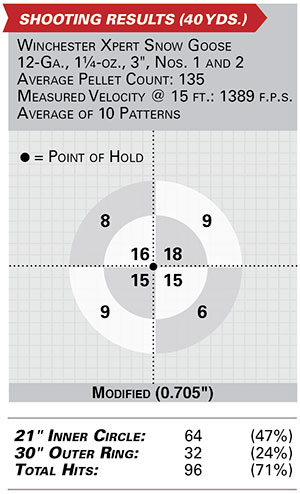 Flat planes forming the grip and butt give the Renegauge stock a cubic appearance that's unusual for a shotgun. Rounded lines at the comb and fore-end—including twin bulges to house the gas-release valves—help to soften and normalize the look. Grip areas have both stippling panels and molded ribs to optimize one's control of the otherwise smooth polymer shell. Gunners smitten with classic lines may not go for it, but we doubt hunt-everyday pragmatists will mind.
The three basic models offered for 2020 all wear synthetic stocks and semi-matte metal finishes, and are sold in locking, TSA-compliant hard cases with a selection of choke tubes. The Field and Waterfowl versions are offered with either 26" or 28" fluted barrels, but differ in stock color; the former is black, while the latter is camouflaged in Mossy Oak Shadow Grass Blades. The Turkey's barrel is just 24", can be had in Mossy Oak's Bottomland or Obsession patterns, and its choke selection includes an extra-full tube. At this early stage, replacement barrels are not on offer, though Savage says eventually that will be the case. We were supplied a Turkey barrel and found that it installed easily on our sample Field model. It certainly helps that the D.R.I.V. units are integral, and in fact are tuned to work with the corresponding barrels. 
The Renegauge has a lot of ground to make up versus competitors that have earned cult-like followings through years of hard use. It will have to match their durability, and it will need to help its owners become better wingshots. Finally, it can't be perceived as a hard kicker. It's a tough checklist, indeed.
Time will tell how well the Renegauge will endure punishment, but we're encouraged by the thoughtful design and top-notch production craftsmanship. And after a fair amount of hands-on use, we're convinced it'll tick off the other boxes. 
Heeding Mr. Kaspar's wishes, we won't call the Renegauge a good gun for the money. But it is a good gun, and in today's market, it's worth the money.