by
posted on December 1, 2017
Support NRA American Rifleman
DONATE
The combat legend of the Thompson submachine gun did not end in 1945. Large numbers of "tommy guns" remained in U.S. arsenals, and the Thompson retained its classification as "Limited Standard" or "Substitute Standard" well into the 1950s, long after the M3A1 "Grease Gun" was named as the standard U.S. submachine gun. Thompsons were back in action with American troops during the Korean War, 1950-1953. More action was still to come.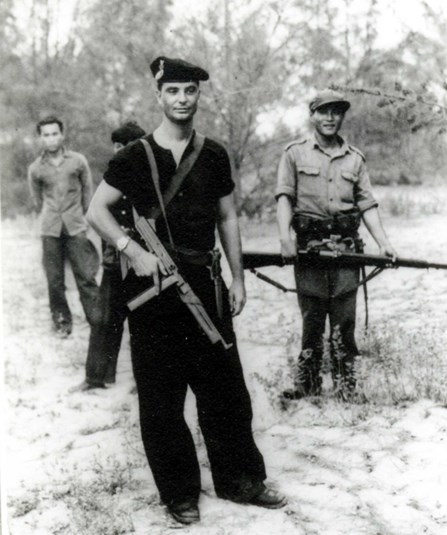 The Thompson stayed in service aboard U.S. Navy vessels for ship-board defense and for use by shore parties. This sailor carries an M1A1 near Quang Tin during 1964.
In 1957, the U.S. military declared the Thompson obsolete, but the guns remained in storage. In late 1961, President Kennedy made the fateful decision to dramatically increase military aid to South Vietnam. Soon after, crates of Thompsons were on their way to Southeast Asia. A new conflict provided yet another chance for the Tommy gun to serve.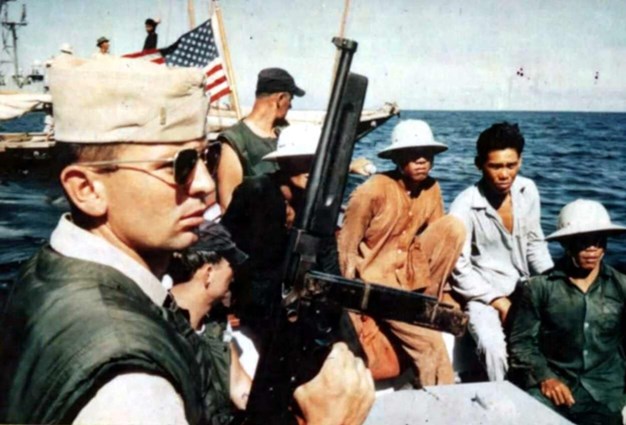 The Thompson was used to guarding the sea lanes. This U.S. sailor carries a Thompson while inspecting Vietnamese coastal traffic.
Over the past few years, I've spoken to a number of Vietnam War veterans, and a surprisingly large percentage have a story about the Thompson. Certainly the Thompson's reputation preceded it, but another generation of Americans were drawn to it, whether it was issued to them or not.



The Army of the Republic of Vietnam (ARVN) was a significant user of the Thompson in the first half of the 1960s. Note the steel reinforcing band on the front grip of this soldier's M1A1.
I spoke with a CIA field agent whose team ended up burying several cases of Thompsons during 1962 to prevent Viet Cong operatives from stealing them. The CIA advisers had tried repeatedly to get the Army of the Republic of Vietnam (ARVN) to accept the submachine guns, and the South Vietnamese troops continued to reject them, as they considered the Thompsons to be too heavy. Viet Cong agents were always nearby, waiting to acquire arms by any means possible. Somewhere, slightly north of Saigon, are many Tommy guns, encased in their original wraps, and buried under copious amounts of earth and a double layer of railroad ties.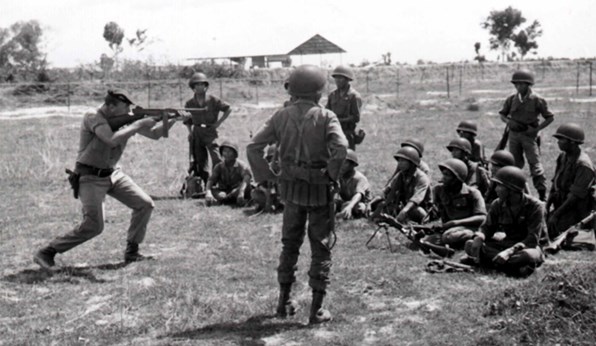 A U.S. Special Forces advisor providing ARVN troops with instruction on using the Thompson in October 1962.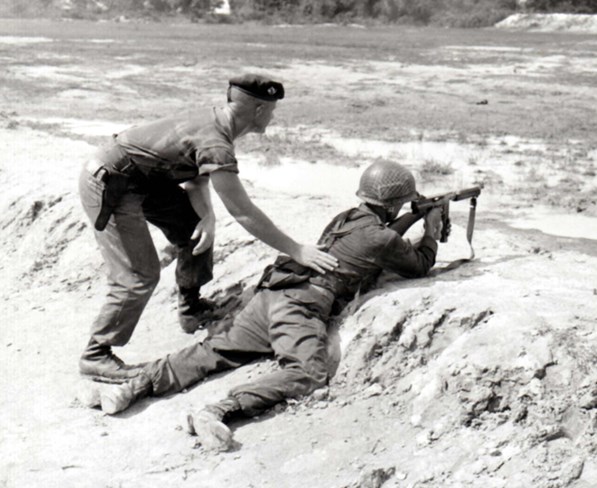 A U.S. Special Forces advisor working with an ARVN Ranger, October 1962.
A helicopter door gunner told me that he acquired a Thompson from ARVN troops, removed the buttstock and used the vintage SMG as a "bug-out" gun in case his whirlybird crashed (which it did, twice). He also carried his Thompson when he was "going into town" away from base. There were never any truly safe areas behind the lines, and the Thompson provided him with a strong measure of personal security.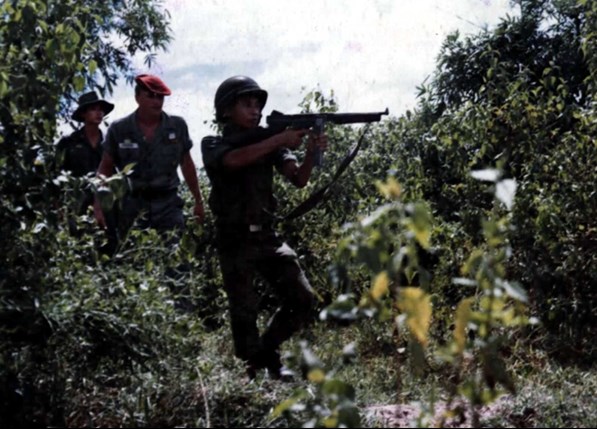 This ARVN Ranger was training with an M1A1 Thompson during October 1962.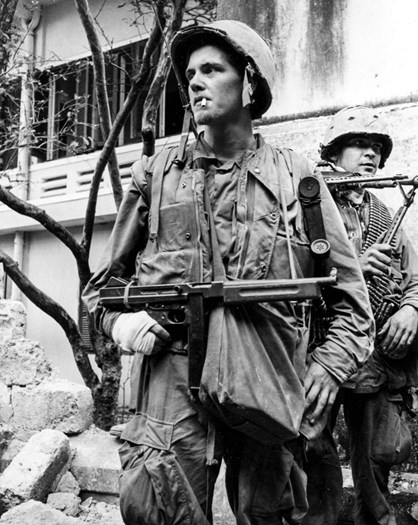 The Thompson was used by Americans during the Vietnam War. This leatherneck of the 1st Marine Division carried a Thompson gun during the Tet Offensive, in the battle for Hue, February 1968.
Captain Dale Dye, USMC, mentioned that he saw quite a number of M1A1 Thompson SMGs in Vietnam. "Many of the advisors to the Vietnamese took the opportunity to acquire and carry Thompsons in my observation. It was also a favorite of the guys working the USN Market Time ops off-shore as I recall. Very often I saw Thompsons modified with the stocks removed, although I never understood why beyond the cool factor. There were a number of them captured and carried by Marines who found them discarded or abandoned in Hue. In fact, I picked one up myself and carried it for quite a while ... mostly, I must admit ... because it looked very cool. After a little while though, I realized that SMGs tend to eat ammo at a high rate and the guy on the trigger is forced to carry a bunch of 30-round mags which get quite heavy. That said, for close-range combat like we were experiencing in Hue, the Thompson was an effective and hard-hitting weapon. I liked the terminal effect of a big .45 caliber slug travelling at a relatively slow muzzle-velocity. It tended to do a lot of damage. It was also fairly easy for a left-hander like me to manipulate and fire effectively."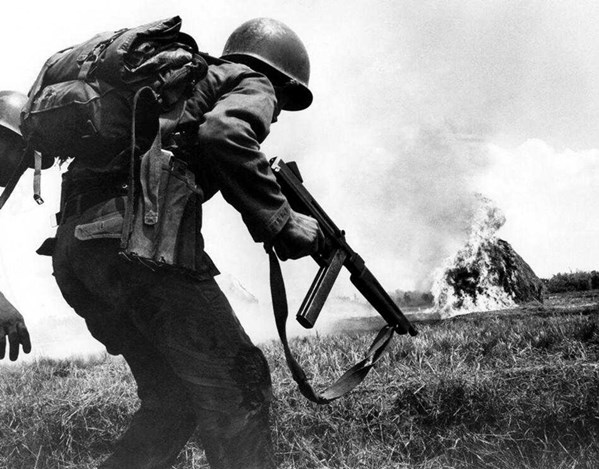 A new decade, a new war: an ARVN trooper with a M1A1 Thompson during an operation against the Viet Cong during 1965.
Gordon Rottman, a veteran of the U.S. Army's 5th Special Forces Group in Vietnam commented: "I only saw a couple of Thompson M1A1s in VN, I think with Regional Force troops. They were also issued to some ARVN units prior to the issue of the M16A1. Even then I think they were scarce and not too popular owing to their weight and bulk. Thompsons were complex to disassemble and reassemble, making them difficult to keep clean. Muzzle control was also difficult for small stature Vietnamese. I don't think I've ever heard of anyone in Special Forces using them (including the CIDG), although the rare one might have turned up. Many camps had an odd weapon or two (usually some kind of SMG), but they were seldom used in the field, mainly because it was rare to have more than a few magazines on hand. Heavy, complex, difficult to control, and poor penetration through dense bamboo were the Thompson's main faults."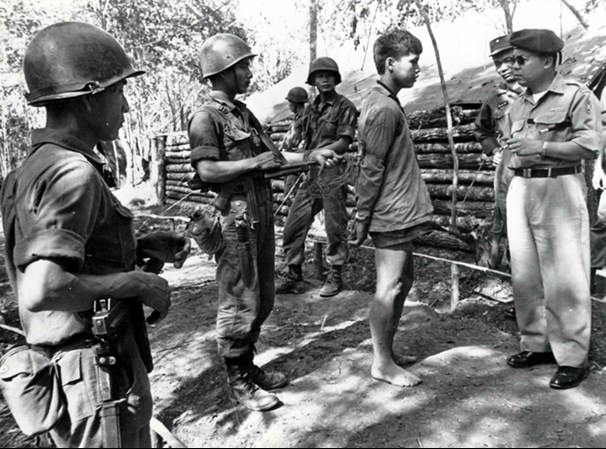 South Vietnamese troops interrogate a suspected Viet Cong during 1962. Note that they have removed the buttstocks from their M1A1 Thompson guns to save weight, a common practice among South Vietnamese troops.
Throughout South Vietnam, Thompsons could be found in the hands of Popular Force and militia units, and prior to 1967, to some degree with various ARVN units. Ultimately, the Thompson was replaced in South Vietnamese service by the M16 rifle, a gun better suited for the small Vietnamese soldier.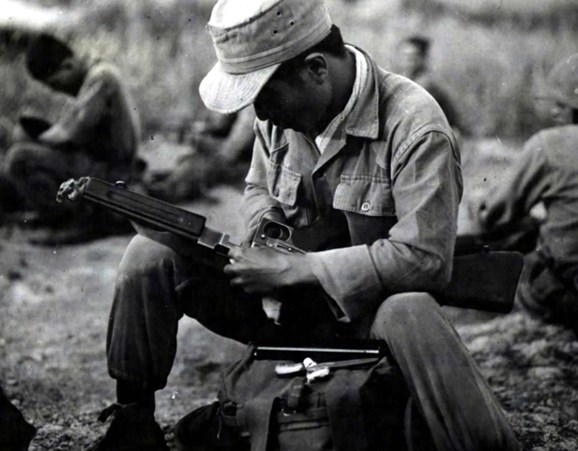 In the spring of 1963, this ARVN soldier was cleaning his new best friend.
The Thompson was appreciated and carried by the enemy as well. Beginning with the French war in Indochina (1945-1954), Thompsons were used by Viet Minh insurgents. Some of these guns were taken from French forces, and many more were supplied by Ho Chi Minh's communist Chinese allies (from stocks acquired during World War II). As the Viet Cong organization developed, many Thompsons were introduced into their service, with some copies manufactured in clandestine jungle workshops.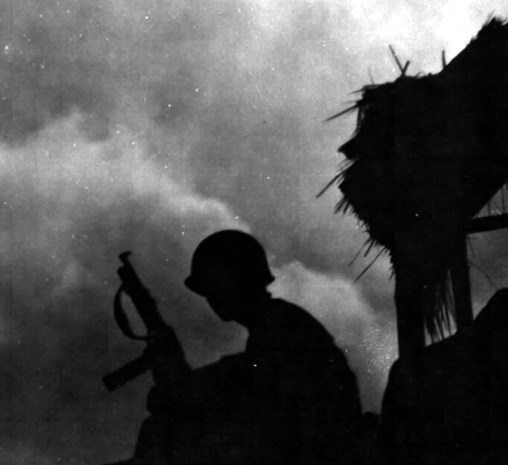 Twilight of the Thompson: a Thompson-armed sentry of the 1st Marine Division stands guard near Da Nang in February 1967.
The Thompson was a combat legend long before the Vietnam War. With the conflict in Southeast Asia, a new generation of combat troops learned to appreciate the Thompson gun all over again.