by
Bruce N. Canfield, Field Editor
posted on September 24, 2021
Support NRA American Rifleman
DONATE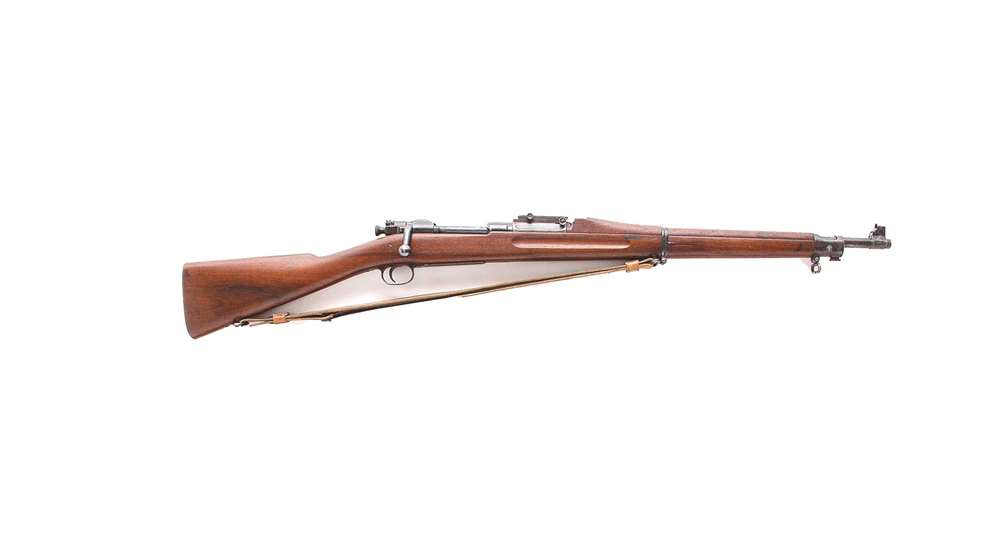 The Rock Island Arsenal
One would be hard-pressed to find an American shooter, arms collector or firearm enthusiast who is not familiar with the "U.S. Rifle, Caliber, .30, Model of 1903." Developed by the Springfield Armory and adopted in 1903, the rifle is so closely associated with that venerable National Armory in Massachusetts that when someone refers to a "Springfield rifle," it is almost axiomatic that they are referencing the M1903. It is sometimes forgotten, however, that another U.S. government ordnance facility also manufactured M1903 rifles from the time of the rifle's adoption in 1903 until just after World War I. That entity was the U.S. Rock Island Arsenal in Illinois.
The Rock Island Arsenal was established in 1862 on the site of a former military fort, but construction on the arsenal itself did not get underway in earnest until after the Civil War. Between 1872 and 1875, five armory shops were constructed. During this period the armory buildings were utilized primarily for storage. Rock Island fabricated a number of ordnance-related items, such as leather goods, but no small arms were produced.
In 1899, Congress appropriated funds to establish a military rifle production line at Rock Island. Before this could be accomplished, however, plans to adopt a new service rifle to replace the Krag resulted in a delay in establishing a rifle production line at Rock Island. On June 23, 1903, soon after adoption of the M1903 rifle, the commanding officer of Rock Island Arsenal was ordered to begin plans for manufacture of this new rifle. In early 1904, 70 skilled workers were transferred from Springfield to Rock Island to assist in setting up the rifle manufacturing program. The officer initially in charge of M1903 production at Rock Island was Captain John T. Thompson, who later gained fame as developer of the submachine gun that bore his name.
Springfield was given a production quota of 400 M1903 rifles per day, and Rock Island's daily quota was 125. Springfield's production proceeded relatively smoothly, but Rock Island was plagued by problems and delays. Rock Island's first completed M1903, serial number "1," was not assembled until December 1904—although some parts were produced as early as May of that year. The M1903s initially made by both Springfield and Rock Island were of the "rod bayonet" pattern and chambered for the M1903 (.30-'03) cartridge. Although Rock Island was able to meet its quota of parts sufficient for 125 rifles per day by January 1905, production of complete rifles was limited.
In 1905, problems with the rod bayonet and the original M1903 sights resulted in the '03 rifle being redesigned to utilize a conventional knife bayonet and improved sights. Both the new bayonet and sights were designated "Model of 1905." With the adoption of the M1905 changes, production resumed at Springfield in November 1905. Rock Island, however, did not begin assembly of the modified rifles until after April 1906. The '03 rifles manufactured at Springfield and Rock Island were essentially identical except for markings.
Soon after production of the M1903s with the modifications of 1905 resumed, production was again halted at both Springfield and Rock Island in order to incorporate the newly adopted M1906 (.30-'06 Sprg.) cartridge, which featured a pointed spitzer bullet and improved ballistic performance as compared to the original .30-'03 cartridge.
The receivers were stamped "U.S.," "springfield armory" or "rock island arsenal," "Model 1903" and the serial number. Barrels were marked behind the front sights with the initials of the manufacturer ("S.A." or "R.I.A."), the Ordnance Department flaming bomb insignia, and the month and year of production. Barrels made in 1905 were only marked with the year of production ("05"), while those made from 1906 until the end of production were marked with the month and year.
Relatively few Rock Island Arsenal '03s were assembled prior to 1908. Therefore, it is not unusual to see totally original Rock Island rifles with receivers and barrels of various pre-1908 vintages, but with a "1908" dated stock inspection stamp. Thus, one should not assume that such a rifle found today is a non-original assembly of parts. If all the components are of Rock Island Arsenal manufacture—and are of 1908 or earlier vintage—the rifle could well be original, even if the "1908" dated inspection stamp postdates the vintage of the other parts by a couple of years.
Bayonets, Scabbards And Slings
In addition to manufacturing M1903 rifles, Rock Island Arsenal produced sufficient M1905 bayonets to equip the rifles made by Rock Island. Springfield also manufactured large numbers of M1905 bayonets identical to the Rock Island Arsenal blades except for the markings. Prior to World War I, Rock Island was also the primary manufacturer of M1905 bayonet scabbards. The M1905 scabbard was superseded by the M1910 scabbard.

Until the First World War, Rock Island was the primary manufacturer of the leather M1903 and M1907 slings issued with the '03 rifles. The slings, bayonets and scabbards were typically stamped "R.I.A" and the year of production.
Initial Cessation Of Production
By 1913, sufficient numbers of M1903s were on hand to equip the rather small armed forces of the United States. Production was halted at Rock Island since Springfield could keep pace with the limited demand. The last Rock Island '03s made during this period came off the assembly line on November 17, 1913. Springfield continued its M1903 rifle production, albeit at a reduced rate. Sources vary on the number of '03 rifles manufactured at Rock Island Arsenal from the beginning of production until the cessation of manufacture in 1913. Estimates range between just under 235,000 to over 263,000. Analysis of serial number data tends to support the lower estimate.
Resumption Of M1903 Production At Rock Island
In late 1916, it was obvious to all but the most myopic observer that the United States would soon be drawn into the war raging in Europe. To meet the needs of an anticipated growth in demand for military arms, Rock Island was directed to re-establish its M1903 rifle production line on September 19, 1916. This was easier said than done. Much of Rock Island's talented workforce, which had successfully produced the M1903 rifle prior to 1914, was gone, and many skilled artisans had taken jobs in other industries. In addition, the demands of the war in Europe created shortages of raw materials. Eventually, Rock Island was able to assemble and train a new work force and put its production machinery back in working order.
Production resumed on the M1903 at the arsenal in late February 1917. Apparently, Rock Island began production of some parts before this time: Barrels dated as early as December 1916 have been reported. Prior to the resumption of assembly line production of new rifles, Rock Island assembled several thousand rifles from parts remaining on hand from the previous production run that ended in 1913. The M1903s manufactured by Rock Island beginning in early 1917 were essentially the same as the rifles made there previously.
Low And High
There were some problems encountered with single heat-treated receivers—some were overly brittle due to improper forging. In order to rectify this problem, a change was made in the method of forging and the single heat-treated receivers and bolts were replaced by improved double heat-treated components. This began in 1918 with Springfield Armory rifles at approximately serial number 800,000, and with Rock Island Arsenal rifles at serial number 285,507. Rifles below this range are typically referred today as "low numbers" and the rifles above the range are dubbed "high numbers."
The double heat-treated receivers were eventually replaced by strong nickel steel receivers. Rock Island began the use of nickel steel as early as May 1918, whereas Springfield did not utilize nickel steel receivers until early 1928. Rock Island made double heat-treated and nickel steel receivers concurrently for a rather brief period of time.
Rock Island temporarily ceased production of receivers in early 1918 so that the issue of the low-numbered receivers could be addressed. At that time, there were about 15,000 unfinished receivers on hand. About one-third had previously been improperly forged and were destroyed. The remaining unfinished receivers had not yet been heat-treated and were subsequently double heat-treated and used to assemble complete rifles in the approximate 270,000 to 285,500 serial number range when Rock Island resumed '03 production. Therefore, it cannot be assumed that all Rock Island rifles below the generally accepted serial number of 285,507 had unsafe receivers because some 10,000 rifles of this vintage utilized properly forged, double heated-treated receivers. There is, however, no sure method to determine which receivers in this range were improperly forged, so all are suspect.
At the conclusion of World War I, the M1903 remained firmly entrenched as the standard U.S. military service rifle. The coming of the Armistice resulted in greatly reduced demand for rifles, and production schedules at Springfield and Rock Island were drastically curtailed. After the conclusion of World War I, just over 8,000 complete sets of M1903 rifle parts manufactured by Rock Island Arsenal were sent to Springfield Armory and assembled into rifles. Upon assembly, the stocks were stamped with the typical Springfield Armory "Final Inspection Stamp," but all other parts were of Rock Island origin, and so marked, which occasionally causes confusion among collectors.
It is interesting to note that Rock Island Arsenal manufactured a relatively small quantity of M1903 National Match Rifles circa 1919.
Final Cessation Of Production
Rock Island Arsenal continued to manufacture some complete rifles into Fiscal Year 1920 (July 1, 1919 to June 30, 1920), primarily from receivers and other components made circa 1918 and remaining in inventory. Rock Island continued making barrels until mid-1922. After cessation of the '03 production program, a number of unfinished receivers remained in storage at Rock Island for future use, and a number of the barrels made after the war were utilized for subsequent rebuild/overhaul purposes.
Springfield-Made Rock Islands?
In the early 1920s a number of semi-finished receivers remained on hand at Rock Island. In 1927, some 25,600 of them were sent to Springfield to be assembled into complete rifles. Many had been marked "Rock Island Arsenal" but had not been serial numbered. Springfield finished the receivers, stamped serial numbers and assembled them into complete rifles. Published sources vary somewhat regarding the serial numbers used by Springfield on these receivers, and estimates range from as low as 1,275,767 to as high as 1,293,000.
Original examples of the Rock Island/Springfield hybrid rifles of this vintage represent an interesting collector variant. Barrels should be marked "SA" and dated circa 1927, with other features of late-1920s vintage Springfields, including stocks with grasping grooves and two reinforcing screws. No one should infer from this that Springfield and Rock Island routinely swapped components when both entities were involved in '03 rifle production. Other than this exception, Rock Island receivers with Springfield barrels are a sign of a mismatch.
The M1903s manufactured by Rock Island Arsenal were equal to their Springfield counterparts in every respect. Although the number made by Rock Island was significantly less than the number produced by Springfield, they were an important part of our nation's arsenal. Even though most of us probably refer to the rifle as the Springfield '03, the examples made by Rock Island Arsenal should not be forgotten.
---
This feature article "Rock Island '03" appeared originally in the February 2005 issue of American Rifleman. To subscribe to the magazine, visit the NRA membership page and select American Rifleman as your member magazine.