by
Brian C. Sheetz, Editor In Chief
posted on June 26, 2023
Support NRA American Rifleman
DONATE
"Taking it to the next level" is a familiar phrase that seems particularly appropriate after reviewing the feature content in this month's issue—the "it" being the state-of-the-art in several familiar categories within the realm of firearms and accessories.
The one featured on our cover is a classic single-action, steel-frame service pistol. In "Low-Profile High Powers: EAA's Girsan MCP35 PI & Ops" by Field Editor Justin Dyal, we find out that the 88-year-old original design by American John Browning and Belgian Dieudonné Saive has finally come entirely of age. Importer European American Armory Corp., in partnership with manufacturer Girsan, has transformed the old warhorse into a 21st century concealed-carry sidearm that is competitive, feature-wise, with many modern, polymer-frame designs. And despite its "PI" size designation, the new gun isn't just for private investigators, but for armed civilians who can appreciate its signature crisp trigger break, newly acquired accessory rail and facility for mounting a red-dot optic.
As to riflescopes, Senior Executive Editor Kelly Young, in "All-Around Excellence: Leupold's 2-10X Mark 5HD," explains how the well-regarded American optics maker's expertise in manufacturing, and its experience in working with the U.S. military, continues to result in versatile target-acquisition tools for hunters, competitors and home-defenders alike.
In one of the latest developments in rifle ammunition, Editor Emeritus John Zent has penned "Undeniable: Hornady's 7 mm Precision Rifle Cartridge" to illustrate, once again, that the Nebraska-based ammunition maker is unceasing in its efforts to leverage traditional materials and methods with state-of-the art technology. In this case, the company's latest Precision Rifle Cartridge offering, the 7 mm PRC, is not only for targets but for tough animals such as those encountered on African safari.
In "The Texas Rangers: 200 Years  Of Justice," by longtime contributor and former Lone Star State sheriff Jim Wilson, we learn how far the tools of the law-enforcement trade have come in the two centuries since that agency began—and yet how its mission remains both simple and lofty: serving and protecting the people of our second largest state.
Also, in our "Exploded View" treatment of the Mossberg 940 Pro Tactical, Executive Editor Evan Brune reveals the modern construction of one of today's top defensive scatterguns and demonstrates how it can be taken apart for cleaning and maintenance then re-assembled to keep it running trouble-free.
As usual, there's much more within these pages to elevate your knowledge, understanding and interest in firearms and related gear. Which brings us back to "taking it to the next level."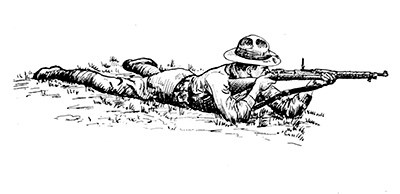 It seems appropriate to suggest that we could all consider re-adjusting our schedules to include more trigger time. Life has a way of pulling us in many directions, and while some pursuits—faith, family and country—should be a priority, others that are less important have a way of proliferating until it seems there's little time left for those we once held in high regard.
Shooting is one that often gets set aside, which is unfortunate because it is, after all, a perishable skill, and proficiency can only be achieved through continual practice (See "100 Years Ago"). More to the point, shooting should be considered an essential skill—particularly in a country where the widespread private ownership of firearms is still the law of the land.
Firearm owners who are proficient shooters together form the last bastion of protection for true personal liberty. So resolve now to get to the range on a regular basis and revive your marksmanship skills—then make a plan to teach them to a family member or friend. Nothing less than our nation and our freedom hang in the balance.