by
Kelly Young, Senior Executive Editor
posted on June 5, 2023
Support NRA American Rifleman
DONATE
Leupold & Stevens can claim credit for a number of the optics industry's most transformative innovations, and, as a result, the Oregon-based company has had an outsized influence on the state of the contemporary riflescope landscape. Primarily a maker of surveying equipment and water-metering devices up until that time, the company's entry into sport optics began when a fogged-up riflescope ruined an Eastern Oregon deer hunt for president Marcus Leupold in the mid-1940s. He subsequently committed his family's business to developing the world's first fogproof/nitrogen-purged riflescope—which it did to rave reviews in 1947 with the Plainsman. And let's also not forget that the duplex reticle, one of the most popular styles of hunting reticle encountered (and copied) today, first came about courtesy of the Leupold Vari-X II back in 1962.
But, in a development every bit as seismic, we also have Leupold to thank for creating the first ever tactical riflescope, featuring enlarged, exposed turrets that allowed windage and elevation adjustments to be made quickly on the fly—to better facilitate the rapid engagement of multiple targets at varying ranges. Prior to its fixed-power 10X Ultra, released in 1988 as part of the U.S. Army's M24 sniper weapon system, our armed forces had gone into combat with rifles topped by glass functionally no different than what was in use by America's hunters and sportsmen in the deer fields.
As perhaps might be expected, since creating the category of the purpose-built tactical riflescope, Leupold has had more success than any other company securing contracts to outfit the U.S. armed forces with them. And given that no more thorough product tester exists than the American serviceman, having its scopes put through hard use in some of the most inhospitable environments imaginable has allowed the company to radically improve each subsequent generation of its tactical-riflescope catalog. Introduced in 2018, the U.S.-made Mark 5HD represents the culmination of all the wisdom and know-how that the company has accrued during the past 35 years of tactical-riflescope development, and our previous evaluation of the 5-25X version of the scope found it to be an impressive feat of optical engineering.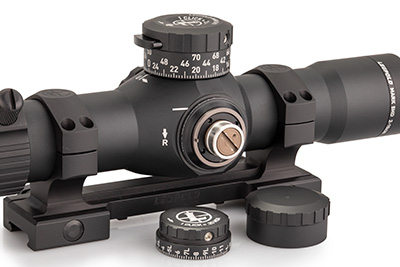 However, as capable of a platform as the Mark 5HD is, prior to January of this year, it had remained an exclusively middle-to-long-range proposition, with options ranging from 3.6-18X to 7-35X. Given that the low-power variable optic (LPVO) is one of the hottest trends in the scope industry right now, the announcement by Leupold of a 2-10X 30 mm variant of the Mark 5HD at SHOT Show 2023 was both timely and welcome, and I jumped at the opportunity to snatch one up prior to its public unveiling. I have not been disappointed: By incorporating all of the features of its bigger brothers into a much more compact optic, Leupold has successfully created one of its most versatile scopes yet—one that is equally at home atop a close-quarters defensive carbine, a mid-range hunting rifle or a long-range competition rig.
The new 2-10X shares all of the same attributes as its higher-magnification kin; in fact, from the turrets back, it is identical to the rest of the Mark 5HDs—and its much trimmer objective bell allows it to sit considerably lower on its host rifle as a result. Three versions are being offered at launch, which only vary according to their first-focal-plane (FFP) reticles and the adjustments on their turrets. Both illuminated and non-illuminated variants of the TMR reticle, paired with the company's M5C3 milliradian-based turrets (1/10-mil graduations), are available, as is a non-illuminated, minute-of-angle-based model that employs Leupold's PR1-MOA reticle and M1C3 turrets with 1/4-m.o.a. click values. It was an example of the latter that I received from the company for testing.


Leupold's larger Mark 5HDs are appreciated for being markedly lighter than the competition's models of the same class, which, in addition to making them more portable, is also a benefit from a durability standpoint, as less mass means less inertia, so the scope's internals are stressed less as the rifle recoils under it. While this relative weight savings isn't the case with the 2-10X—its 11" length and 23-oz. weight place it squarely in the ballpark with most LPVOs on the market—there is a very good reason for this. Nearly all LPVOs available today are built on less-capable 30 mm main tubes; the 2-10X's 35 mm aluminum tube allows the scope to have a total adjustment range of 165 m.o.a. in elevation and 80 m.o.a. in windage—considerably more travel than we are accustomed to seeing with this type of optic.
A few years ago, the use of a 35 mm main tube would have made finding rings compatible with such a scope problematic, but that is no longer the case. Options are currently available from Leupold, Badger Ordnance, Griffin Armament, Hawkins Precision, Seekins Precision, Spuhr and Warne, to name just a few. For my testing, I used Leupold's Mark IMS mount atop both a 6.5 mm Grendel Alexander Arms AR-15 and a 6.5 mm Creedmoor Ruger Precision Rifle.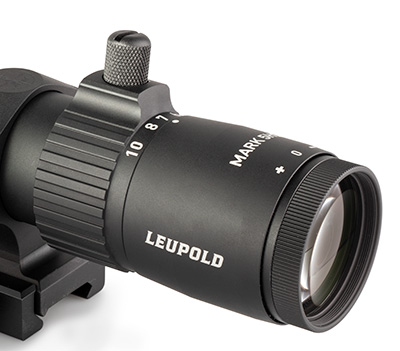 Magnification changes are made to the scope by turning the power ring located just forward of the diopter-adjustable eyepiece. The ring features a threaded throw lever that is pretty much essential when making field adjustments, as a decent amount of force is needed to rotate the control. Somewhat uncommon for an LPVO, the 2-10X's parallax can be adjusted via a side-focus knob on the left side of the unit where it is easily reached while behind the gun; the dial indicates an adjustment range from 75 yards to infinity, but Leupold assures me that the scope is capable of focusing at 50 yards for use in short-range applications.
The 2-10X Mark 5HD uses turret-style adjustments for both elevation and windage, and it has quite possibly the easiest-to-use elevation turret on the market. The control offers three rotations' worth of adjustment (71.5 m.o.a.), with an ingenious revolution-indicator tab that stands proud on the first rotation, sits flush on the second and recesses into the turret on the third—and a zero-stop physically prevents the shooter from going too far when dialing the optic back down.
By eliminating the possibility of getting lost, or at least making it much simpler for the shooter to find himself again if he does, such a convenient turret is of particular value to competitors who must dial while on the clock—and, of course, military snipers whose lives depend on their equipment under the stresses of battle. Each click could be tactilely and audibly noted. Zeroing the scope involves the removal of the turret caps by loosening the hex screws that hold them in place, revealing a pair of large flat-head screws that act on the erector tube to effect point-of-impact changes.
I found the PR1-MOA reticle to be suited well to both quick and precise work. Located as it is in the first focal plane, it presents a very simple, duplex-esque sight picture at 2X that naturally draws the shooter's eye to the center of the image for quick target acquisition. Yet at higher magnifications the reticle's 1-m.o.a. hashmarks and 0.2-m.o.a. center dot clearly manifest themselves to allow for accurate holds at distance. While the 2-10X does not offer true unmagnified use, which shooters most accustomed to running red-dots may prefer, at 2X it does provide a very open and uncluttered sight picture with a wide, 52.9-foot field of view at 100 yards (5.29 feet at 10 yards) that makes it highly practical for indoor encounters.
The "HD" in the scope's name indicates that it uses the company's high-definition lenses, and Leupold's Professional-Grade Optical System coatings are designed to optimize the user's view regardless of the conditions—maximizing light transmission during the dusk and dawn hours and reducing the glare of the midday sun. During testing, I found the edge-to-edge clarity of the 2-10X Mark 5HD at all zoom levels to be excellent, and through-the-optic glare was a non-issue.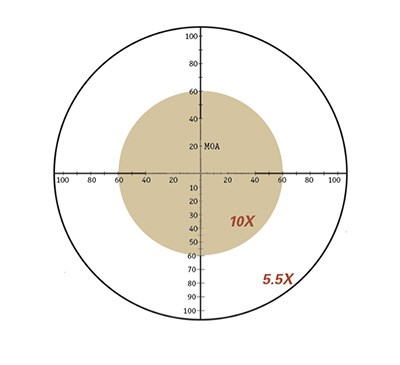 You can't beat physics, unfortunately, and its slimmer 30 mm objective lens does result in a smaller exit pupil at its higher magnifications than is possible on larger scopes. While I did head-to-head comparisons with several less-expensive 3-9X 40 mm scopes that I had on hand, and the image through the 2-10X at times with sparse ambient light was as bright as any and brighter than most of them, light transmission is necessarily going to suffer compared to other top-shelf scopes with larger objectives. At low magnification, the optic's eye box was quite generous, and although it obviously shrinks a bit as the zoom increases, it was not enough to be a problem.
The Mark 5HD passed all of my quality-control testing without any troubles. In order to confirm the accuracy of the scope's adjustments, after establishing a zero, I "shot the square" using the Leupold atop my RPR, which revealed that the turret's clicks did, indeed, alter point of impact to the correct degree, in a repeatable manner. Using a level target, I was also able to confirm that the adjustments tracked perfectly both vertically and horizontally, which is obviously vital if an optic is to be depended upon at distance.
Neither spending 15 minutes submerged in water nor overnight in a freezer resulted in any lasting damage. The former had no impact whatsoever; the scope is, indeed, waterproof. The latter confirmed that no moisture had entered the optic during the manufacturing process, as only the exterior of the lenses fogged up following its reintroduction to room-temperature air—and this subsided after about 20 minutes. The more complex a scope is, the more difficult it is to seal it completely, and the high-complexity Mark 5HD 2-10X passed with flying colors—you'd think that Leupold had invented the process of fogproofing riflescopes or something.
I have found that, regardless of what the scope is capable of, I personally do my best shooting with a given optic set in the 10X to 12X range—beyond that, the wobble starts to get too pronounced—and over the years, I have had great success engaging targets out to a kilometer with a scope set at 10X. That being the case, it's hard for me to envision an application within 1,000 yards at which the 2-10X Mark 5HD would not excel.
It has the durability needed to serve well atop a home-defense carbine, and run-and-gun close-quarters drills with the Grendel AR-15 were a joy, although I would likely choose the illuminated-reticle variant if that were to be my primary application. It also maximizes the LPVO platform's performance at range, with dependable adjustments and enough elevation travel built into it to get all but the very most absurdly ballistically inefficient of centerfire hunting bullets on target out to 500 yards and virtually any match bullet out to 1,000 yards, making it a good fit atop a sporting rifle of either persuasion. And with an MSRP of $1,999, my test sample would be eligible for use in the Precision Rifle Series' Production Division. Of course, those whose hobbies take them out beyond a kilometer with regularity, or who simply prefer more magnification on the high end, could do far worse than the 5-25X and 7-35X versions of the Mark 5HD.
Once upon a time, Leupold went out in search of contracts to supply the U.S. military with optics for its weapon systems, and, in pursuit of this, created several products that exactly matched the specs laid out in the military's tender. However, the company pretty quickly wised up to the fact that it actually knows a good bit more about scope manufacturing than do the American armed forces—as what the military wants for a given contract often isn't necessarily the best product possible, optically speaking.
As a result, rather than producing potentially sub-optimal scopes, in recent years, the company has taken the opposite tack. It focuses on designing what it knows to be the best products, letting the results speak for themselves. And these days, the U.S. military seeks Leupold out for contracts, with both the 3.6-18X 44 mm and 7-35X 56 mm variants of the Mark 5HD—currently in use by the Army's Semi-Automatic Sniper System (M110) and its Precision Sniper Rifle Program (MK22), respectively—being examples of this changed dynamic.
While no contracts for the 2-10X 30 mm Mark 5HD have materialized so far, I will, frankly, be shocked if the military and/or numerous three-letter agencies don't eventually come knocking at Leupold's door with an interest in this optic for use atop their carbines and designated marksman rifles. Until then, it's civilians that will get to have all the fun.