by
posted on August 30, 2018
Support NRA American Rifleman
DONATE
Tucked away in a mountain valley in Gillette, Wyo., the High Bar Homestead (HBH) is a ranch that's been converted into a world-class shooting facility and lodge. In addition to the standard square pistol range and 100-yard rifle range, HBH provides an extended distance range (1,000-1,600 yards) and an outdoor shoot house. Unconventional shooting experiences include a mountain ridge range with plenty of steel plates to ring and a 250-yard timed dash through a gully with plates placed in challenging locations. It's a classy set up that takes the enjoyment of outdoor shooting to a new level.
Recently, Palmetto State Armory (PSA) held a product announcement event at HBH in which a handful of media members were invited to test drive a variety of PSA offerings and to get a sneak peak at a new pistol that's bound to shake things up in the AK market place. Plenty of Federal Premium ammunition was on hand to keep the guns running through the entire event. Here is a closer look at five of the guns we got to work with.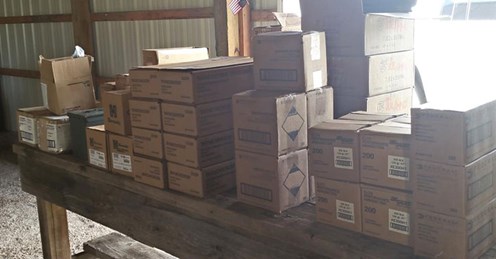 1. 1911 Two-Tone Premium .45 ACP Pistol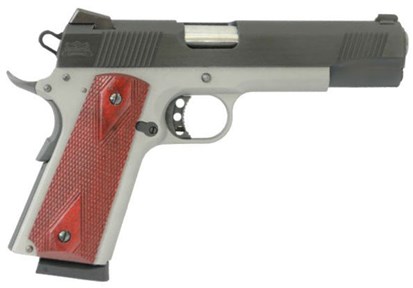 One of the things I like about events like this is the opportunity to make new acquaintances while visiting with old friends—both of the human and shooting-iron variety. So, I couldn't help but smile when the PSA team broke out a set of the company's in-house 1911 pistols chambered in .45 ACP. Available in a variety of finishes, we worked with the Two-Tone Premium featuring a forged 4140 blued steel slide with matte stainless steel frame.

One of the first things folks will check on a 1911 is the slide-to-frame fit to see just how much G.I. rattle there is. PSA purposefully manufactures their 1911s at tolerances that are just a bit too tight when they first leave the factory. This means the pistol will require a 100 to 200-round break-in period at the range. But once it's broken in, its one smooth operator. With a desirable set of features and a list price of $799.99, this is one 1911 that's tough to beat at this price point. You can read a full review of these slick shooters here.     

2. PSA Long-Range Uppers
For many PSA fans, the first thing that comes to mind when considering the company's AR-pattern offerings will be its budget-friendly options. But what some folks may not know is that in addition to these rifles, carbines and kits, PSA is now offering precision long-range uppers that provide top-dollar levels of accuracy at prices that won't break the bank. Available in AR-10 and AR-15 configurations, I opted to spend most of my rifle-based trigger time working with the AR-15 uppers chambered in 6.5 Grendel and the new .224 Valkyrie.
I've had limited experience working with the 6.5 Grendel up until now and the PSA upper at this event provided an excellent opportunity to get to know it better. These uppers are available with 18" or 20" A2 profile 416R stainless steel barrels with Type 2 6.5 Grendel chambers and a 1:8" rifling twist rate. The muzzle is fitted with an A2 flash hider, the gas tube is rifle length and the handguard is PSA's 15" Lightweight M-Lok free-float model. The 6.5 Grendel cartridge has been around for a while now and is available in a useful range of bullet weights that produce mild to moderate levels of felt recoil.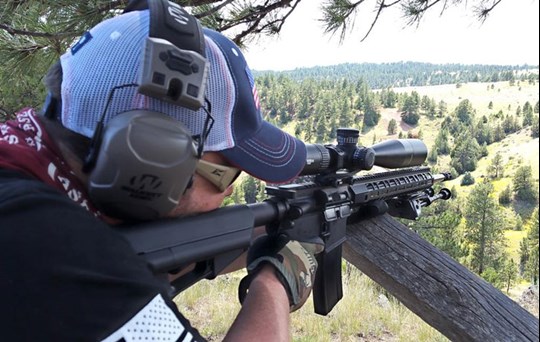 The PSA upper and .224 Valkyrie cartridge combination is so satisfying to shoot that I didn't get as much trigger time as I wanted—despite a plentiful supply of ammunition. Not only does this flat-shooting round place hits on target accurately at distances similarly-sized cartridges can only dream of, the felt recoil is mild and all-day comfortable to work with. Since I only got to scratch the surface of what this particular 20" upper has to offer, I requested one for additional testing. Keep your eyes peeled for the review. 

3. PA-9 Shockwave 4" Barrel 9 mm Pistol

Just before the HBH event, I discovered the 4" barrel blowback-operated 9 mm PA-9 Shockwave AR pistol in the company's online catalog. When asked if there were any particular models I hoped to handle at the event, I asked specifically for this pistol to try out.
Based on my previous experience with testing AR pistols for home defense, I found that the PA-9 Shockwave was quite handy on the square pistol range. The 4" barrel is fitted with a 3" long aluminum gas-forward can that extends just past the end of the 6" M-Lok handguard. This barrel configuration, along with the length-adjustable Shockwave stabilizing wrist brace, made the pistol easy to swing and comfortable to shoot.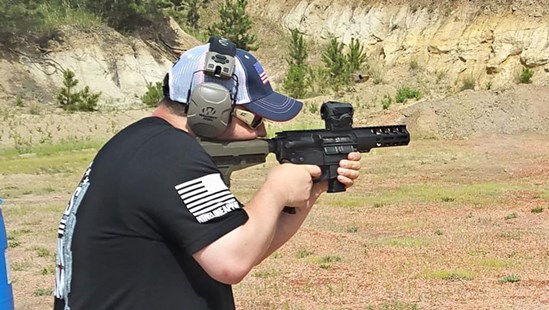 When it came time to make the 250-yard timed dash through Daly's Draw, I picked this pistol to run with. The course contains 16 steel plates of various sizes and shapes cleverly placed at differing heights and locations. For this run, we got just one shot per target. Although I didn't set any new land speed records, every plate went down. This was another PSA platform that left me wanting more, so it's going to get its own review too. 

4. Lead Star Arms Prime PCC Race Carbine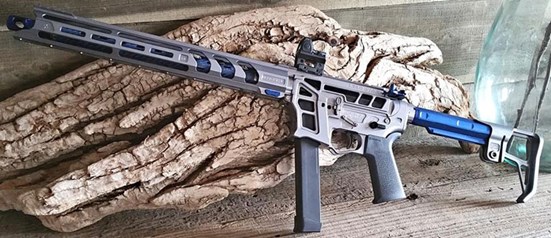 Those of us in attendance at this event had the opportunity to meet and shoot with Derek Hicks of Lead Star Arms. As a sister company to PSA, Lead Star Arms specializes in American-made lightweight, race-gun-quality pistol-caliber carbines. One can't help but notice the company's use of strikingly-applied, weight-reducing skeletonization throughout the platform. We got a first look at the yet-to-be-released Prime PCC chambered in 9 mm, which tips the scales at just 5.1 lbs.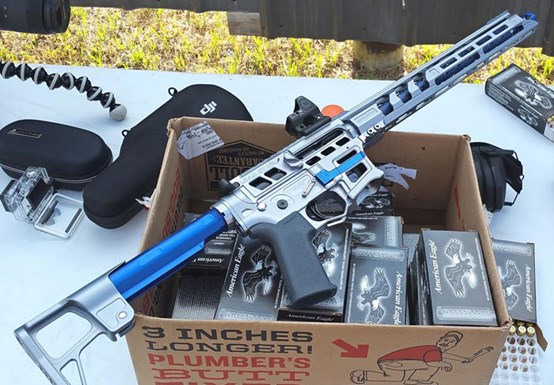 I learned the most about the handling characteristics of the Prime PCC during our time at the massive HBH outdoor shoot house. While some shoot houses have competitors engage targets inside the facility, all of the targets for the HBH set-up are placed outside of simulated window spaces. We moved through much longer series of corridors than most simulators provide.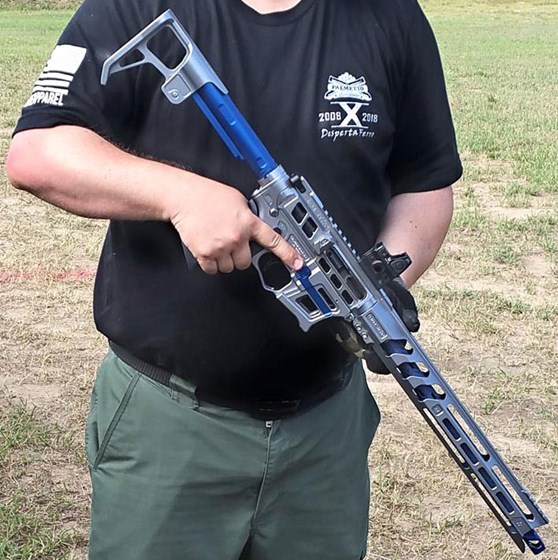 When running through an unfamiliar simulator for the first time, especially with a newly introduced firearm, competitors can find themselves having to expend mental band width on operating the gun that would be better used in engaging the environment. What I liked best about the Prime PCC was how quickly its lightweight and positive handling characteristics allowed for greater focus on the moving and engaging targets instead of managing the carbine. I'm looking forward to working with Lead Star more in the future. 

5. Sneak Peak: PSAK-V 9 mm Pistol

At last we come to the sneak peek of the featured product of the event, the new PSAK-V series of blowback operated 9 mm AK-type pistols. Jamin McCallum, a co-founder of Palmetto State Armory, explained that the pistols on hand were still in the prototype phase but very close to what customers would see in the production models.
The PSAK-V takes its design cues from the Vityaz-SN, which is a Russian 9 mm AK that cannot be imported into the U.S. due to current regulations. One of its most noteworthy features is the milled dust cover with an integral sight rail and a hinge connecting it to the front trunnion. The typical sheet metal dust cover is only secured at the rear by the recoil assembly. Thus, it rattles around too much to support an optic. Adding a hinged connection at the front of the cover provides the stability needed to keep an optic zeroed.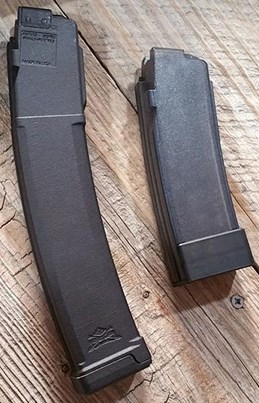 These pistols are designed to feed from CZ Scorpion magazines. Unlike the AK pistols that feed from Glock magazines (which stick straight out like a sore thumb), the CZ magazines have a gentle curve to them much like the rifle-caliber magazines. Aesthetically speaking, the CZ option is a much better fit.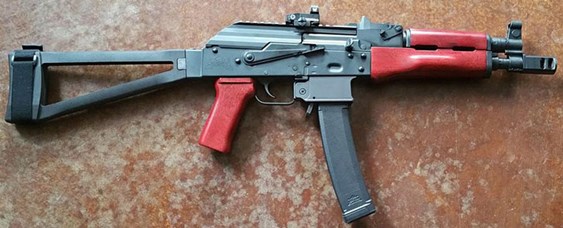 I'm a long-time fan of rifle-action pistols and this one certainly did not disappoint. The actions were smooth and the felt recoil mild. PSA teamed up with SB Tactical to produce a custom stabilizing wrist brace which closely mimics the original Vityaz-SN folding stock. The PSAK-V will be available in a tactical version with the black furniture and extra accessory rails many folks crave. But I have to admit that I really liked the look and feel of the wood-stocked version of this pistol. The official release date, prices and specifications for this new platform have yet to be announced.