by
Mark A. Keefe, IV, Editorial Director
posted on November 18, 2019
Support NRA American Rifleman
DONATE
New cartridge introductions are one of the key engines to the success of not only ammunition companies, but also rifle, and sometimes, even handgun makers. The right new cartridge can make the difference between a great year and one with layoffs and belt-tightening.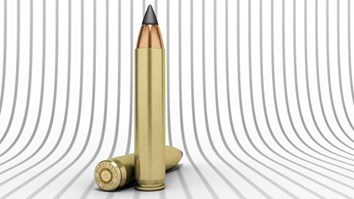 While much fanfare has been attached to the 350 Legend introduced by Winchester this year, and Federal's .224 Valkyrie of last year—which appears to be on its way to more widespread acceptance—notice neither of those cartridges have a company name as part of their designations. What you are seeing is a reaction to what I would term the vanity cartridge craze of the late 1990s and early 2000s.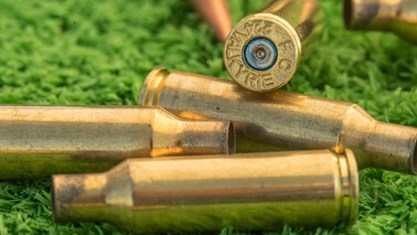 It really began with the .300 Remington Ultra Magnum (RUM) and the .300 Winchester Short Magnum (WSM). The former was a bigger, longer case designed for maximum powder capacity, while the latter was intended to give .300 Win. Mag. performance out of a short-action rifle. Even though Remington's Short Action Ultra Magnum (SAUM) cartridges had already been developed, Winchester got to market first with its WSM series, which later spawned the somewhat stumpy Winchester Super Short Magnums or WSSMs.
But Remington and Winchester were loath to chamber the other's new cartridges in their own rifles, which perhaps hampered both.
One of the most successful and important cartridge introductions in modern memory came in 2002, and that was the .17 Hornady Magnum Rimfire (HMR) cartridge, which paired a 17-gr., .17-cal. Hornady V-Max bullet with a necked-down .22 Winchester Magnum Rimfire (WMR) case. It resulted in one of my favorite magazine covers, one we called the white cover, with "The Story Of The Little Cartridge That Could" (March 2002).
But that was just the beginning for Hornady. It worked with companies such as Marlin and Ruger on the .17 HMR, but then the Grand Island, Neb., bullet and ammunition maker started getting into cartridges with company names on them. For varminters, there was the .204 Ruger, followed by the big .375 Ruger and Hornady's answer to the WSM/SAUM frenzy, the Ruger Compact Magnums. Even Thompson/Center got together with Hornady for the .30 T/C. Then you had the .450 Marlin and the .30 Marlin Express. Of course, there was the big-bore .450 Bushmaster, essentially a beltless, rebated-rim version of the .450 Marlin. And Hornady's cartridge innovation has not just been limited to rifles, as it developed the .480 Ruger for that company's big, heavy revolvers.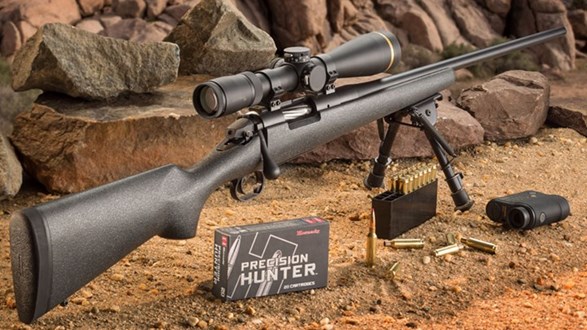 Meanwhile, Hornady continued to work on a cartridge that would become 6.5 mm Creedmoor. As ably described by Executive Editor Joe Kurtenbach (americanrifleman.org/creedmoor), it took 10 years to gain widespread acceptance. Now I have a feeling that it is probably the most popular bolt-action rifle cartridge in the nation, and not by a small margin.
But Hornady didn't stop there, developing its PRC—for Precision Rifle Cartridge—series, which, of course, is based on the cases Hornady developed for the .375 Ruger. And you can read about the .300 PRC in Keith Wood's story in the December American Rifleman.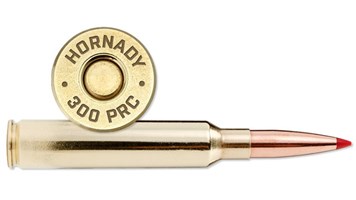 It was 70 years ago that founder Joyce Hornady had an idea that a generation of returning veterans would want better performance from their hunting bullets and went into business supplying them. The company now has developed more cartridges in the last 25 years than any other. Not all have been runaway successes, but Hornady has more wins than losses, and it has changed the rifle cartridge landscape.