by
posted on August 28, 2021
Support NRA American Rifleman
DONATE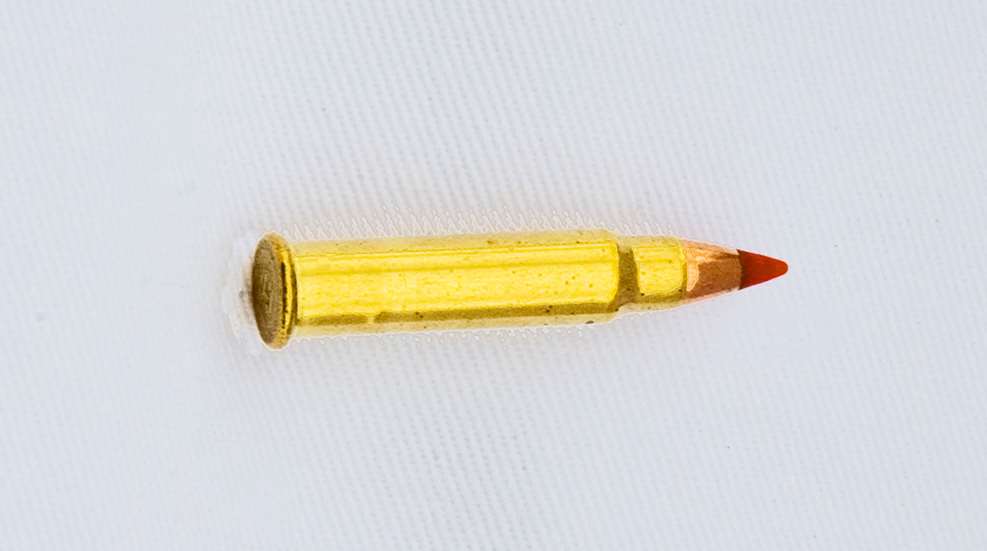 In 2002, I was doing a fair amount of pest shooting on a couple of ranches onto which I had access. Hornady announced at the SHOT Show that year it was bringing out a hotshot, .17-caliber rimfire round for just such tasks. I recall first shooting the .17 Hornady Magnum Rimfire cartridge in a bitterly cold gale of a windstorm at the range day before the show. Predictably, it was nothing more than a noisemaker in that gale since the wind simply ripped the tiny 20-grain bullets from their intended paths and flung them to who knows where. Nonetheless, the idea intrigued me, but like a lot of things, I put off getting a rifle for it.
Sometime later, I ordered a 93R17 rifle from Savage for the cartridge, as well as a G2 barrel for my T/C Contender. Once I got rifle, G2 barrel and ammo assembled, I set about seeing whether the bite was as bad as the bark. The .17 HMR is one of those relatively rare cases where the bite is as bad—actually good—as the hype. Velocities in the 22" barreled rifle were nearly 2,400 f.p.s. with Hornady 20-grain V-Max ammo, and the 14" barreled G2 generated a consistent 2,100 f.p.s. Accuracy from both rifle and handgun were sub-3/4 m.o.a., as long as there was no wind.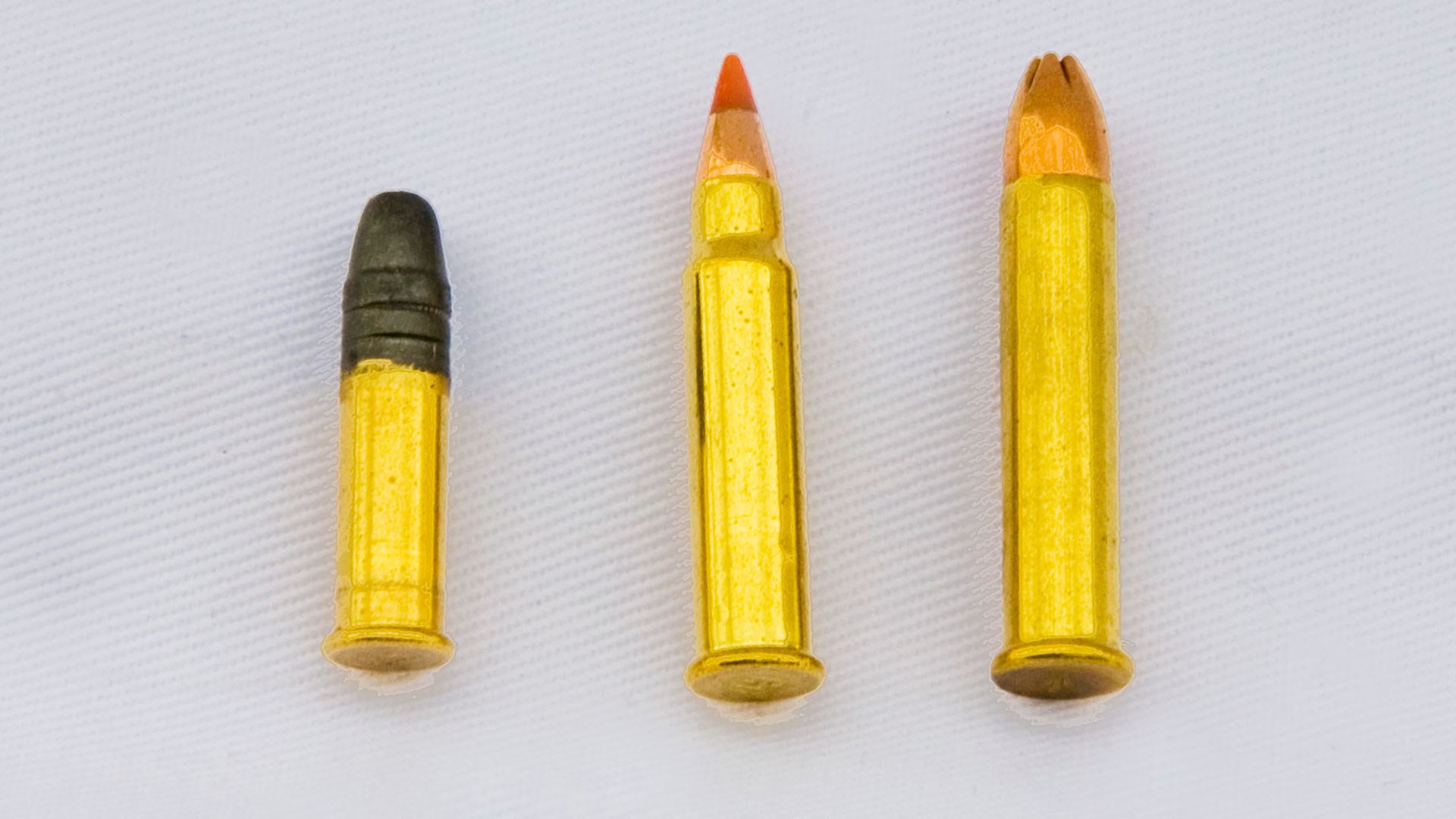 .22 Long Rifle (left), .17 HMR (center) and .22 WMR (right) compared.
When I took them into the field, both ground squirrels and prairie dogs found a lot to dislike about the little rimfire. Hits out to 150 yards were quite doable—again, as long as the wind stayed down—though especially toward that outer limit, the impacts were not as spectacular as with centerfires. Gun and ammo companies have been trying over and over again to create a rimfire cartridge that would generate the enthusiasm of the .22 Long Rifle. The .22 WMR, developed in 1959 and debuting in 1960, has had some success.
Its trajectory is twice as flat as its .22-cal. sibling over 150 yards, and it carries nearly two-and-a-half times the energy as the .22 LR cartridge. However, the WMR carries with it a stinging report to the ears, especially in a revolver. In 1969, Remington, as part of its compulsion to take an idea and make it better, brought out its 5 mm Remington Rimfire Magnum, a cartridge that launched a 38-grain .204" bullet at 2,100 f.p.s. with 372 ft.-lbs. of energy. The parent case, which was loosely based on the .22 WMR case but stronger and larger in diameter, was designed in-house.
Rifles were produced in the form of Remington Models 591 and 592, the principle difference between the two were a 4-round, composite box magazine in the Model 591 and a 10-round tubular magazine in the Model 592. The rifles were accurate, well-designed and ballistically on par with the .218 Bee and .22 Hornet, but ammunition was comparatively expensive, compared to .22 LR and .22 WMR ammo. Distribution suffered, ergo the cartridge and rifle sales languished. Production ceased in 1974, although there has been a revival of the ammunition by Texas Centurion (Aguila) in 2008 to feed existing guns.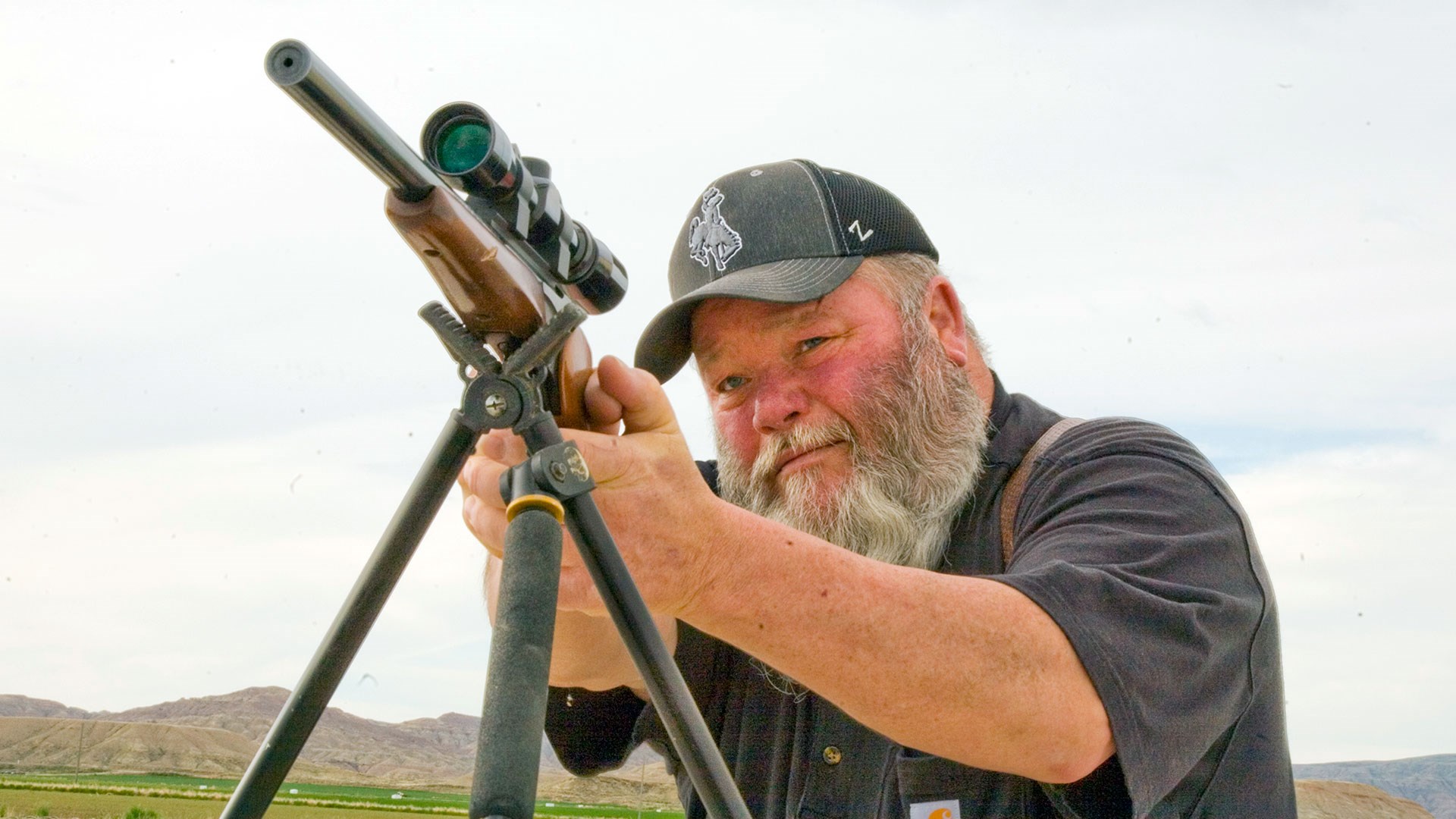 The author shooting one of his scoped single-shot handguns chambered for .17 HMR.
Thompson/Center produced some 30,000 barrels for its Contender (G1), but again sales were less than spectacular. So that brings us back to the .17 HMR. There is no doubt that the cartridge has been an unqualified success. For one thing, Hornady went all-in on the cartridge, producing massive amounts of it and seeing to it that it got into the right distribution channels. Other reasons the .17 HMR has done well is that it is accurate, its flat trajectory and that guns are available. Today, almost every manufacturer of rimfire rifles makes a .17 HMR-chambered gun. Bolt actions seem the most popular, but Savage has been successful with its bolt-action 93R17 and semi-auto A17 rifles.
Henry makes a lever action in .17 HMR. Marlin has the XT17 bolt-action rifle. Ruger makes a nice bolt-action .17 HMR in its American series. Winchester chambers it in its 1885 Series of single shots. Ammunition companies have followed suit, as CCI, Federal, Remington and Winchester all produce 17 HMR ammo today. Even during the current ammo supply crunch, .17 HMR ammo seemed to be one of the more available cartridges, at least in my neck of the woods. The .17 HMR has beaten the odds—that of producing a successful sub-.22-caliber rimfire round—by making an accurate, affordable and available cartridge, while working hand-in-hand with gun manufacturers to build rifles wanted by consumers. I have a feeling it's here for the long run.