Support NRA American Rifleman
DONATE
The inaugural Winchester Ladies Cup got underway in 2021 as part of the National Sporting Clays Association (NSCA) Championship Tour. The tour gathers the world's top sporting-clays shooters and gives them an opportunity to compete for prizes and recognition, and the Ladies Cup gives women shooters added recognition for their efforts in what has long been a male-dominated competition circuit. American Rifleman Television was on the scene at this first shoot, and you can watch our feature video above to learn more.
"The Winchester Ladies Cup started in the back room, sitting around a couch, talking about the future of females in clay-target sports," said Desirae Edmunds, Team Winchester competition shooter. "Obviously, this was a male-dominated sport, so you see a lot of males at the top of the leader boards, and I feel like there was always a place for the ladies to reach into that spot, but there was never really any incentive. So, I spoke with Winchester, and we came up with the idea of combining it with the Championship Tour, which was already powered by Winchester, and putting that kind of financial incentive for these ladies."
This first Ladies Cup was the first opportunity for female shooters to compete for additional prize money, with $5,000 in payouts awarded to the top three female shooters at each of the seven NSCA Championship Tour regional events. The top three shooters are determined by who has the highest cumulative score in Five-Stand, Main Event and FITASC shoots.
"There isn't a whole lot of women's added money, so when we saw that, we were like, 'Hey, this is awesome. It's giving us a little bit more to shoot for,'" said Karen Shedd, winner of the inaugural Ladies Cup Championship.
Once the Championship Tour wraps up, the Winchester Ladies Cup Trophy and $5,000 is awarded to the Ladies Cup champion, with $3,000 given to the runner-up and $2,000 awarded to third place. Current season standings are updated continuously on the NSCA website.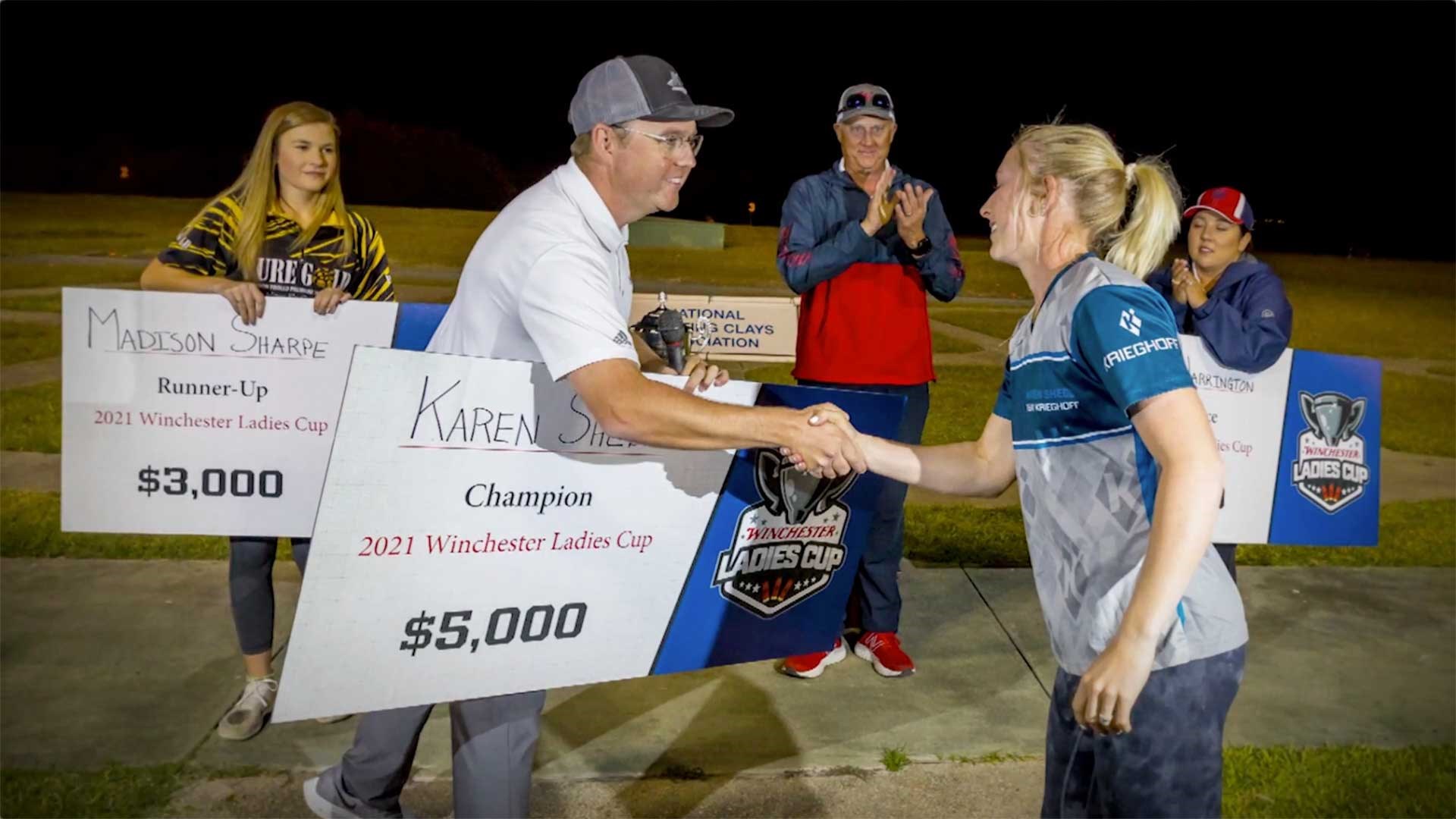 "It was just taking a look at what's going on and knowing that I see these women spending as much time practicing, a lot of time traveling around, and a lot of cost, and there was no return on their efforts. There was no major recognition, thus far, of their participation," said Brett Flaugher, president of Winchester Ammunition. "So, when we had the opportunity to start thinking about this, it was also just simply saying that, 'Hey, you know, the ladies are working just as hard as everybody else. Why don't we recognize them and the efforts they've put into it?' It's not just about the money, it's about also recognition for their efforts and the time that they've put into it."
To watch complete segments of past episodes of American Rifleman TV, go to americanrifleman.org/artv. For all-new episodes of ARTV, tune in Wednesday nights to Outdoor Channel 8:30 p.m. and 11:30 p.m. EST.