by
posted on November 20, 2023
Support NRA American Rifleman
DONATE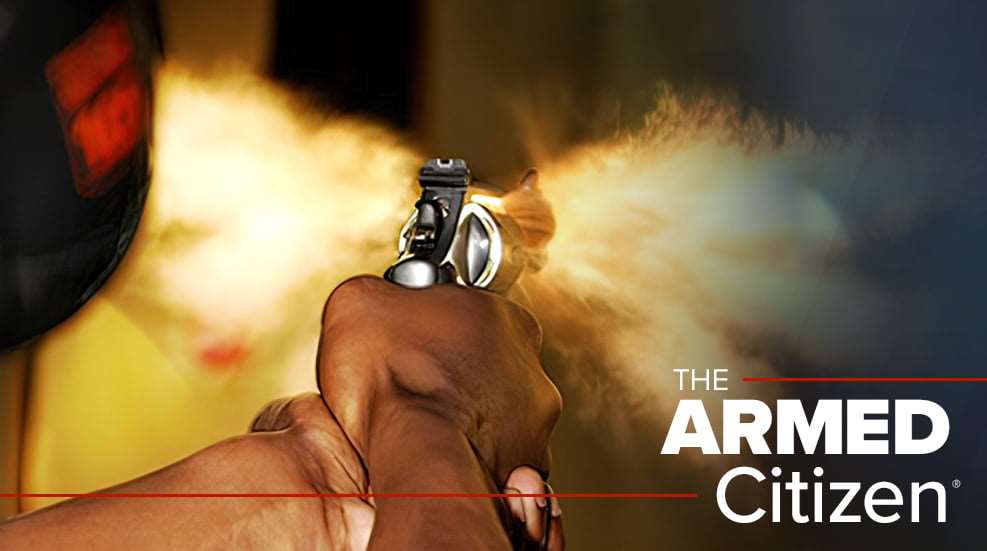 Armed Citizen® Today
A California concealed-carry holder defended himself at his front door from an armed duo in Los Angeles on Saturday, Nov. 12, 2023.
The man was returning to his gated home after being at the gym that evening, when two armed men jumped his property fence and attempted to force their way into his house. Inside was the man's wife, 5-month-old daughter and the family's nanny. "Out of nowhere, boom, I had a gun to my back. And there was another guy running up at the same time and I couldn't really make out what he was saying," the homeowner said.
At the time of the encounter, the man was holding a scalding-hot cup of tea, and he slammed it into the hooded assailant holding a gun up to him. Immediately, he drew his own concealed-carry firearm as the suspect attempted to flee. The other burglar began drawing his own firearm, and the three men exchanged gunfire. During the fight, the two suspects jumped over the fence and fled the scene. The homeowner was not harmed in the encounter. He credited his firearm with saving not only his life but the lives of his family.
"It saved our lives," he said. "I'm a tough guy … but there's only so much I could do against a gun. They would have pistol-whipped me, they would have pistol-whipped my wife. They would have come in the house and there's nothing in my house."
The victim also excoriated LA officials for allowing crime to run rampant in the city. "Every single person that I know has gotten stuck up," he said. "It's not normal." (Fox News; Los Angeles, Calif.; 11/12/23)
From the Armed Citizen® Archives – January 1981
An unidentified woman clad only in panties heard a glass door shatter in her suburban Cincinnati home. Picking up a .32-cal. revolver, she went to investigate and encountered an intruder in the hall. She screamed and leveled the gun at the man, who fled and eluded a police search. (The Enquirer; Cincinnati, Ohio)