by
posted on November 15, 2021
Support NRA American Rifleman
DONATE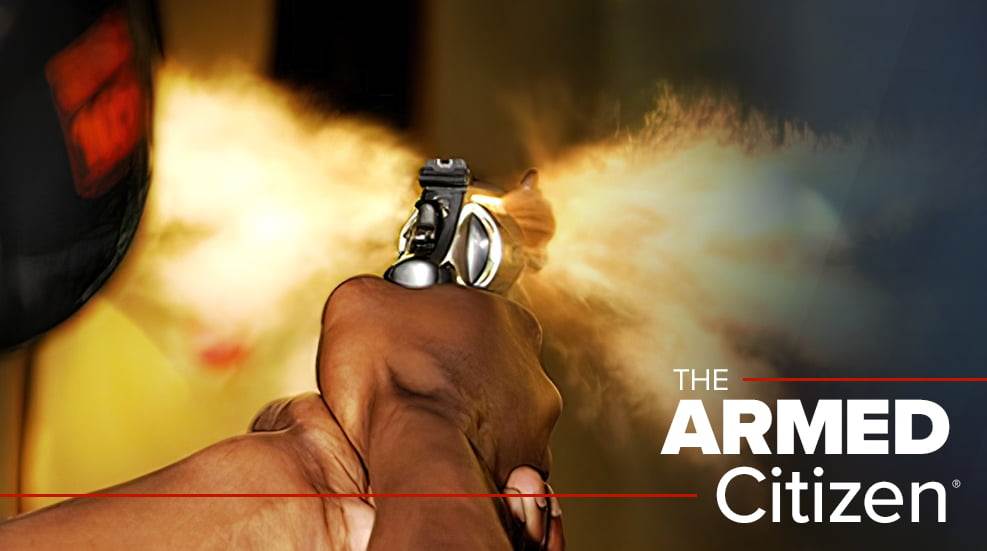 Armed Citizen® Today

A woman in Anderson, Ind., defended herself when an intruder broke into her home in the early morning hours of Sept. 29, 2021.
It all started sometime after midnight that Wednesday, when a man drove up and parked his car in front of the residence. The man, wearing a mask, then walked up to the home and began looking through the windows before forcing his way through the door and producing a weapon. His movements and actions were captured by neighbor's surveillance cameras. The cameras also captured audio of the intruder talking once he entered the residence, saying, "It's the police," and asking for money.
Alerted by the intruder's voice and the sound of the forced entry, the woman retreated upstairs and armed herself. When the intruder came upstairs, she shot the would-be burglar. She then ran to a neighbor's house around 12:47 a.m. and called the authorities. When police arrived, they found the 40-year-old intruder dead in one of the upstairs bedrooms. As stated by Madison County Prosecutor Rodney Cummings in regards to the home invasion, "If you're breaking into someone's home in the middle of the night, if you don't get shot or killed, you should feel fortunate." (fox59.com, Indianapolis, Ind., 09/29/2021)

From the Armed Citizen® Archives - Feb. 21, 1987
Legal secretary Diane Sutter was working late in a Fort Walton Beach, Fla., law office when she saw a man walking in the hallway. She placed a handgun on her lap, and when the intruder approached, she told him to leave. The man made some threatening statements and, when he touched her, she fired. The man tried to flee but collapsed in the hall. The wounded suspect and an accomplice were charged with burglary. (The News Journal, Pensacola, Fla.)