by
posted on December 30, 2022
Support NRA American Rifleman
DONATE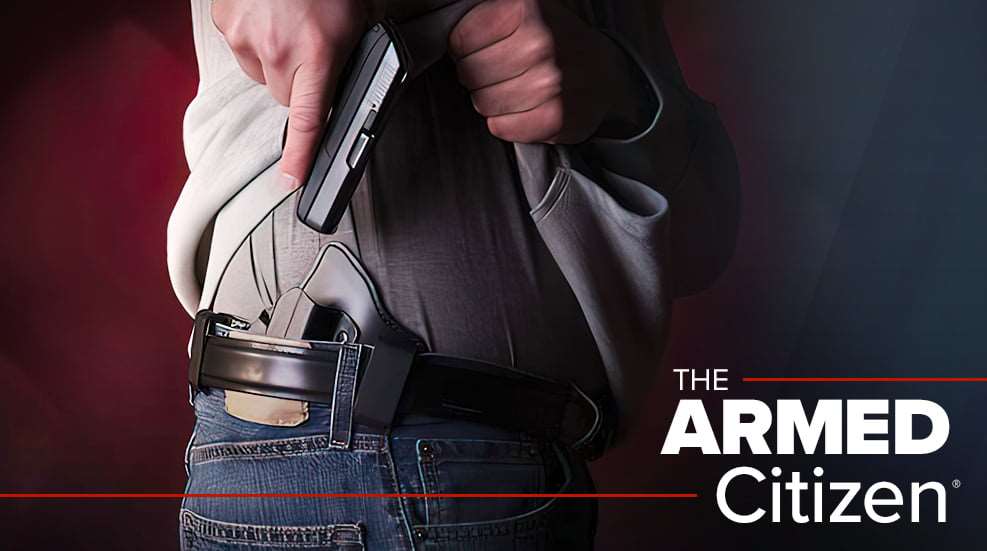 Armed Citizen® Today

A Chicago, Ill., woman defended herself when an alleged robber tried to get into her car on Wednesday, Nov. 23, 2022.
Around 2 a.m. that morning, the woman was in her car when a black sedan pulled up, and a man got out. Armed with a handgun, the man then tried to open the woman's car door and get in. However, unknown to the man, his intended 23-year-old victim had a valid concealed carry permit, and she was armed.
As the intruder tried to force his way into her car, she produced her own gun and fired at the man, striking him in the head. After defending herself, she fled from her vehicle. Three other accomplices to the would-be robber also fled the scene. The stricken robber was taken to a local medical center in critical condition, while the woman was treated for minor injures at a different center. (wgntv.com, Chicago, Ill., 11/23/2022)

From the Armed Citizen® Archives – Oct. 22, 1987
Bill Sanborn, an Andover, N.H., auto repair shop owner, got tired of thieves stealing stereos from his customer's cars. So the businessman decided to keep watch nights, armed with a pistol and pots of coffee. When his vigil was disturbed by two carloads of intruders, Sanborn called police. But when the group moved towards the customers' cars, the owner went out and held six trespassers at gunpoint. Charges of criminal trespassing were filed against the suspects. (The Monitor, Concord, N.H.)