To say that the gun industry has enjoyed a healthy level of civilian sales over the last couple of years would be a gross understatement. But as the market has started to slow down, a few companies have chosen to trot out some unusual new products to shake things up. These curious handguns are exercises in extremes, new takes on old ideas, or innovative products that are leading the market in new directions. Then again, they may just leave you scratching your head. Here's a look at a few new handguns that shoot outside the box, so to speak:
7. The Bond Arms Backup
When thinking of over-under derringers, many people envision the classic Remington 41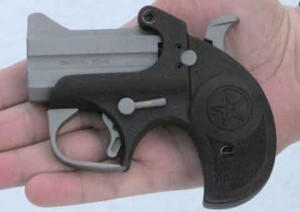 pistols so often seen around the poker tables of old Hollywood Westerns. However, Bond Arms says its customers have been clamoring for an ultra-compact double-barrel pocket  rocket chambered for common defensive semi-auto cartridges to use in conjunction with its full-size slide guns. To meet the demand, Bond released the new two-tone Backup version of its modular pistol this year. This pistol is shipped with a tactically correct non-reflective finish, soft rubber grip panels, and a stubby 2.5-inch interchangeable barrel chambered in .45 ACP. MSRP: $410
6. The Taurus View Revolver
One of the admirable traits of Taurus International is its willingness to push the limits of revolver design. Some of the company's most successful wheelguns have been fairly hefty big bore models, including the Judge .45 Colt/.410 and the Raging Bull in .454 Casull. This year, Taurus decided to expand its pocket-pistol options with one of the most compact and light-weight .38 Special revolvers to hit the market. Weighing it at just 9 ozs, The View has been trimmed down in just about every possible way for comfortable pocket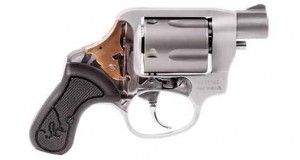 carry, including a tiny contoured grip. Just in case this was not enough to catch people's attention, this revolver has a clear Lexan side plate that allows the user to see the gold hammer and inner workings of the gun in action. MSRP: $599
5. Boberg Arms XR45-S .45 ACP PISTOL
Generally speaking, when a pistol's size and weight are reduced, the recoil it produces increases. But the mission of Boberg Arms' unconventional pistol design is to tackle this problem by providing a carry gun that's compact with low recoil. The new single-stack XR45-S .45 ACP features a low bore axis, a rotating barrel locked-breech action, and a reverse-feed magazine that allows the barrel chamber to sit further back in the frame of the pistol. Boberg states that its .45 is so good at managing recoil that it's rated for hot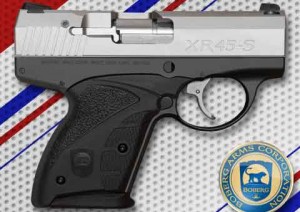 .45 Super cartridges as well as .45 ACP +P and standard pressure loads. MSRP: $1,199 - $1,399
4. S&W Model 460XVR Revolver
Every so often a gun manufacturer will do big-bore revolver fans the favor of making something new that goes boom instead of just bang. This year it was Smith & Wesson that did the honors by stepping up to the plate with the stainless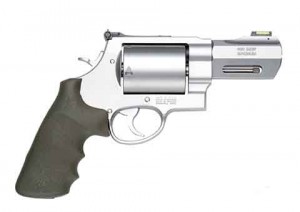 steel Performance Center 460XVR revolver chambered in the potent .460 S&W cartridge. Fitted with a relatively short 3.5-inch barrel, adjustable sights, and a recoil taming Hogue grip, the 460XVR is intended to provide handgun hunters a portable, powerful and flexible platform. The 5-shot cylinder is capable of safely firing not only the .460 S&W cartridge, but .454 Casull and .45 Colt rounds as well. MSRP: $1,609
3. Edge Arms Reliant 4-barrel .22 Mag
New double-barrel and single-barrel defensive derringers have arrived on the market this year, so why not revisit the four-barrel personal-protection gun as well? Edge Arms is a new manufacturer offering a fresh take on the rotating firing pin multi-barrel break action design with its Reliant .22 Magnum pistol. The frame is fitted with an integral laser sight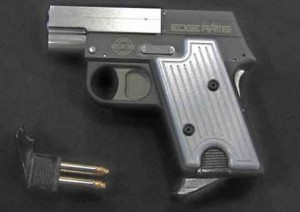 housing and the grip base doubles as a four-round speed loader. The company plans to provide .17 HMR and .380 ACP versions of the gun. Projected to start shipping early in 2014, the Reliant has yet to reach dealers' shelves. MSRP: To Be Announced
2. Heizer PAR1 Pocket AR .223 Pistol
Heizer Defense arrived on the shooting scene last year with the launch of its flat-sided .70-inch-wide single shot PS1 "Pocket Shotgun" pistol, chambered for .45 Colt cartridges and 2½ -inch .410 shotgun shells. The pistol has sold well for Heizer, so it has taken the next step, from unusual to unheard of. This year it released the PAR1, which is the same platform chambered to fire the .223 Remington rifle cartridge. Like its shotshell shooting compatriot, the PAR1 features a snag-free profile with a rounded grip, a smooth roller bearing trigger, and a storage compartment in the grip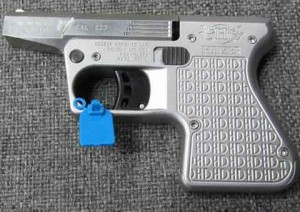 frame. But the barrel will be about a half inch longer than the .410 version. There's little doubt that touching off a military rifle round in a derringer is going to provide a unique shooting experience. MSRP: $499
1. Century International Arms MDL 38-3 Revolver
The last gun on the list is unlike anything on the market. Announced at the 2014 NRA Annual Meetings & Exhibits, the Century International Arms MDL 38-3 is a 3-shot double-action-only .38 Special revolver. Instead of trimming down the grip and barrel to make it more compact for concealed carry, Century opted to slenderize the cylinder which is flat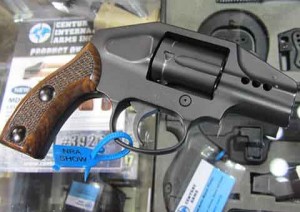 on one side and has a single flute on the other. This reduces the revolver's thickness to just under 1-inch, which is on par with many of the popular pocket sized semi-autos. The MDL 38-3 features a light weight 7075-T651 aluminum frame, a concealed hammer, and an integral laser sight. Century hopes to have production guns shipping toward the end of this year.  MSRP: To Be Announced.