Support NRA American Rifleman
DONATE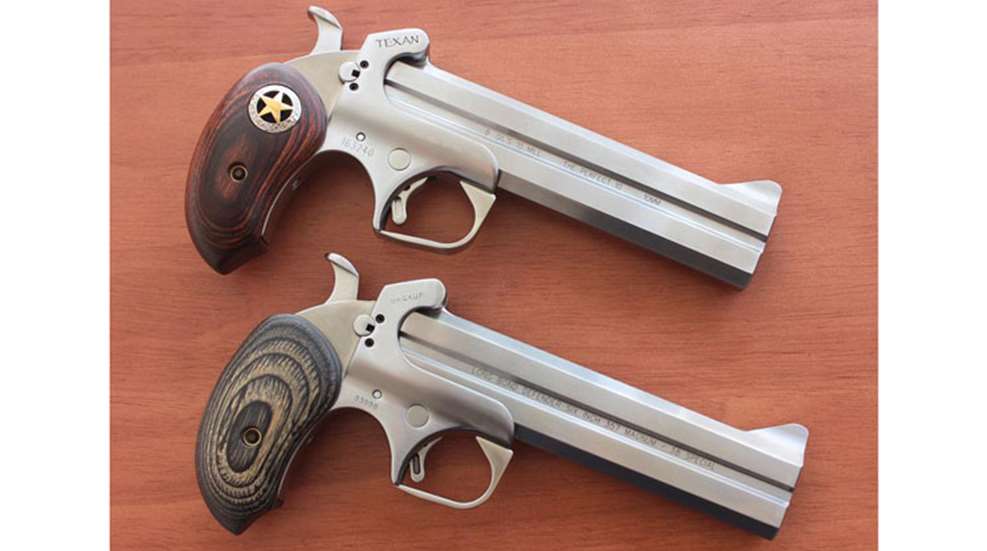 Just how much performance can one squeeze out of an over/under derringer inspired by the Remington Model 95? If it's a member of the tough, all-stainless steel Bond Arms series of caliber-convertible, double-barrel pistols, then the answer is: more than you might expect. With the barrel hinged shut and locked in place, the only direction the high pressure gases produced by the cartridge can go is though the bore and out the muzzle. Much like a bolt-action rifle, there is no pressure loss due to a cylinder gap (revolvers) or energy used to cycle the action (semi-automatic pistols). As a result, I've found that the Bond pistols can pack more of a punch than some might expect, even when using the shorter 3" and 3.5" Defender barrels.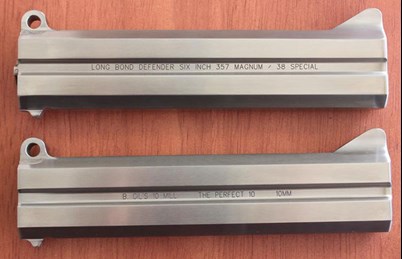 Recently the company offered a limited run of 6" caliber-conversion barrels chambered in .357 Mag. This piqued my curiosity because until now the longest conversion barrels in the catalog were 4.25" and the only 6" barrel available was attached to the .45 Colt/.410 Texan. A non-ported 6" barrel chambered in .357 provides 4.71" of uninterrupted rifled bore once you deduct the nominal 1.29" cartridge case length. This cartridge usually gets between 4" to 6" of revolver barrel to work with after jumping the cylinder gap. This barrel is 0.71" longer than 4" revolvers with no gap to bleed off the pressure.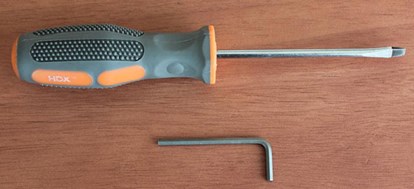 The other caliber option Bond offers that could really travel at full tilt out of an unported 6" barrel is the 10 mm Auto. I've written articles about 10 mm performance when fired from a 6" Glock, 4" Ruger GP100 revolver and the Bond Arms 3" and 4.25" caliber conversion barrels. I was quite happy with the results of those tests, so once again I leaned on company president Gordon Bond to make a 6" 10 mm barrel to see what it could do. The nominal cartridge length for this semi-automatic cartridge is listed as 0.992". Typical semi-automatic barrel lengths include 4.61" (Glock G20), 5" (1911) and 6.02" (Glock G40) with rifled bore lengths of about 3.62", 4.01" and 5.03" respectively. In other words, the Bond Arms provides about 5.01", or nearly the same amount of rifled bore as the Glock G40.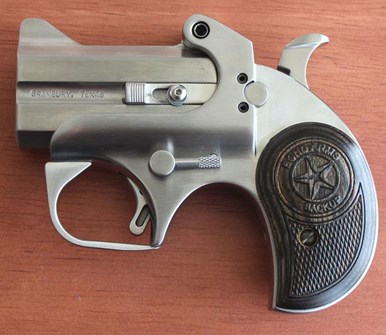 When organizing these "Full-Tilt" builds, I opted to wring out two new 6" holsters along with some slick-sided extended hardwood grips that would roll back in the hand during recoil. Both of the frames have removable trigger guards which help to manage felt recoil.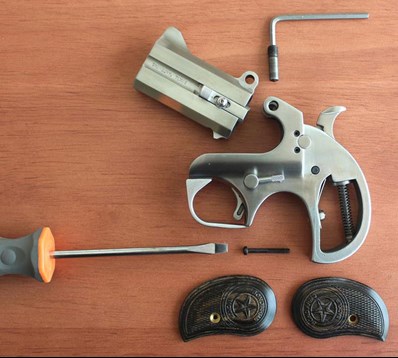 For those who are unfamiliar with the Bond Arms platform, the barrel and grip conversion process is quick and easy. The barrel's hinge pin is twisted out of the frame using a hex key, then the barrel is removed from the frame. The grip screw is removed with a small standard screwdriver so that the two grip panels can be removed. Reverse the process with the replacement barrel and grip and the pistol is ready to shoot again in a total of about two minutes.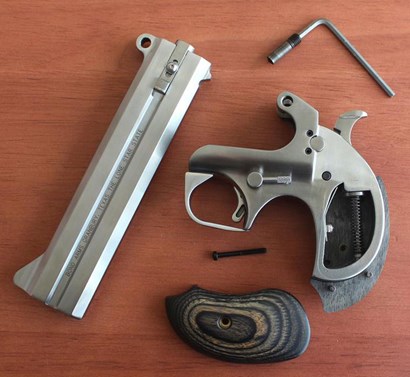 The 6" .357 Mag. barrel was placed in the frame of an early version of the BackUp (which would later be released with a matte finish). The same frame is available with the Texas Defender and Snake Slayer models. The checkered compact laminated black ash grip was replaced with a smooth extended version in the same wood and finish. The finished pistol has an overall length of 8" and it tips the scales at 31.1 oz., unloaded.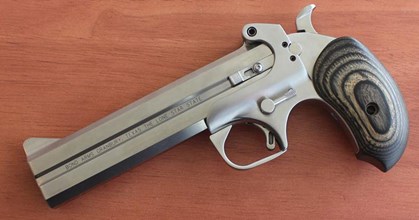 This means the 6" barrel pistols are much better-suited to belt holster carry than their pocketable compatriots. So, this gun was paired with a premium leather BMT holster in black. This holster is fully lined to protect the pistol's finish, it has a closed base to keep out dust and debris and the snap retention strap is ideal for use in the field. The BMT can be ordered with either a 1.5" leather belt loop or a steel belt clip.
The frame of a Texan model formed the foundation of the 6" 10 mm. The factory installed textured grip was replaced with a smooth extended rosewood grip fitted with two-tone Texas Lone Star medallions on both sides. It weighed in at a slightly lighter 29.6 oz. due to the increased bore size reducing the amount of steel in the barrel. This pistol was tucked into a tan Quick Draw leather holster. This open-base holster features white stitch work along with decorative stamping and tooling. It can be worn strong side or cross-draw with up to a 1.5" wide belt.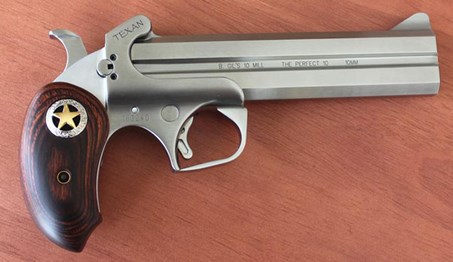 The 6" barrel offers a good deal of real estate along the sides for additional engraving above and beyond the usual markings. So the company included "B. Gil's 10 Mil", which made me smile, and "The Perfect 10" to show off some of what they can add to a barrel for those customers looking to personalize their guns. They are still working out the details and pricing for custom engraving at this point but hopefully the option will make its way out to the public soon.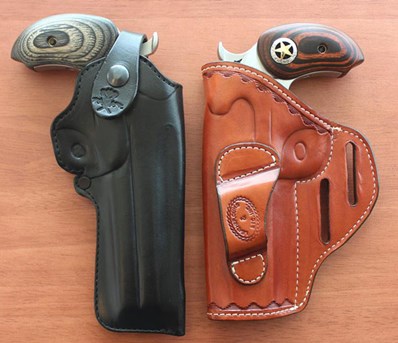 At the range, I settled into the shooting bench with a pistol rest and a target stand set at 7-yards. The accuracy results with these two barrels were on par with the 6" Texan when loaded with .45 Colt. Firing 10 shots at a time, five from the top barrel and five from the bottom, the five-shot groups averaged 1.5" in size. Shorter barrels tend to produce groups around 2" to 3.5" at this same distance. The upper and lower groups exhibited around 3.5" to 4" spreads between them.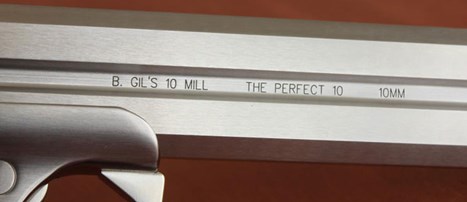 Felt recoil with both barrels ranged from moderate to stout depending on the load fired. Without Mag-Na-Port barrel porting, the 6" guns tend to roll back into the hand instead of coming straight back (which is why I went with smooth-side grips). Nevertheless, I'm going to renew my request that Bond Arms work up a straight backed, Bisely-like grip for the 6" models. It doesn't need to be longer or thicker, just give it a straight back strap to help support the longer barrel.  


Since this was a velocity potential test, the pistols were loaded with speedy rounds. The .357 Mag. was tested with one .38 Spec. load, Super Vel's .38 Spec. +P topped with 90-gr. jacketed hollow points loaded to produce 1300 fps. of muzzle velocity from 1.875" barrel snub-nose revolvers. DoubleTap Ammunition's .357 Mag. Bonded Defense 125-gr. jacketed hollow point is listed at 1600 fps. from 4" revolvers while Inceptor Ammunition's .357 Mag. Preferred Defense 86-gr. ARX has a listed launch speed of 1650 fps.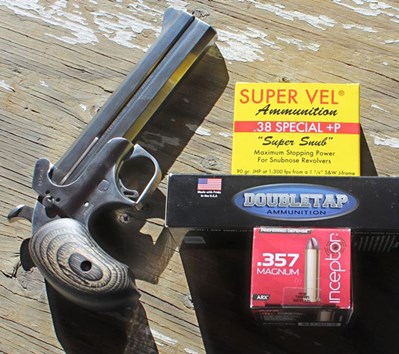 The 10 mm barrel was stoked with light, medium and heavy weight bullets. The DoubleTap 135-gr. jacketed hollow point is listed at 1600 fps. when fired from 5" semi-automatics. Super Vel's 160-gr. all-copper hollow point flies at 1250 fps. and Speer Ammunition's 200-gr. Gold Dot jacketed hollow point scoots right along at 1100 fps.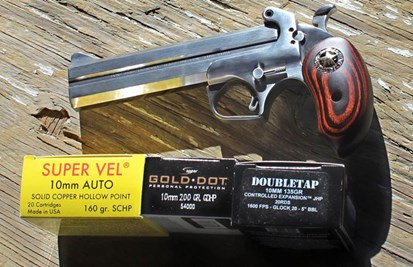 Bullet velocity was measured for 10 consecutive shots fired next to a Lab Radar chronograph with a 12" offset from the muzzle. Manufacturers' listed velocities tend to be optimistic and are often generated in laboratory conditions using test barrels which are longer than typical handgun barrels. Despite the chill in the air and listed velocity odds stacked in favor of the house, the results were not disappointing, as the following table shows: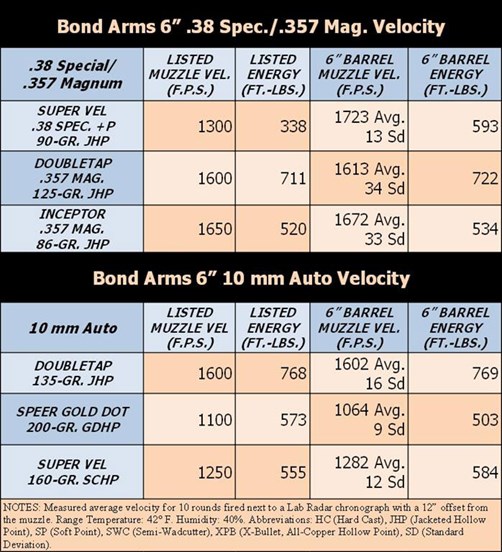 Four of the test loads performed slightly better than the manufacturers' data by producing muzzle velocity averages that were between 2 to 32 fps faster than those listed. Considering that most test results are slower (sometimes significantly) than listed velocity, I'm going to call those four a win. The only round that lost speed was the Speer Gold Dot 10 mm with a muzzle velocity 36 fps slower than listed. The surprise speedster of the test was Super Vel's .38 Spl. +P. It gained an impressive 423 fps making it the fastest round of the test set.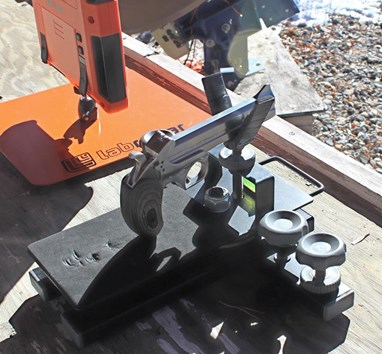 The Bond Arms double-barrel pistol is certainly one of the most unique shooting platforms on the market. Is it a back-up gun, a slim pistol for defense against dangerous game or a novelty to enjoy at the shooting range? That, my friend, is up to you to decide. The 6" long .357 Mag. and 10 mm barrels are not currently listed in the company catalog, so contact Customer Service if you are interested in buying them.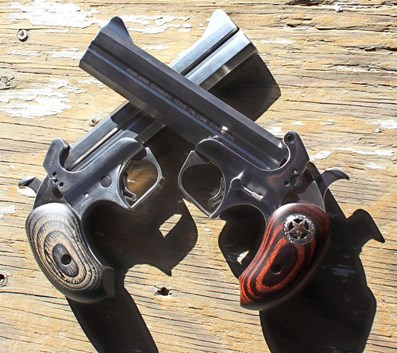 Specifications
.357 Mag Custom Full Tilt Build
Base Gun: Bond Arms Texas Defender $493
Action: Single Action
Accessory Barrel: 6" .357 Mag./.38 Spl., Non-Ported $300
Finish: Satin Stainless Steel
Removable Trigger Guard: Yes
Trigger Pull: 4 lbs 2oz.
Overall Length: 8.00"
Height: 3.75"
Frame Width: 0.98"
Grip Width: 1.12"
Weight: 31.1 oz., Unloaded
Capacity: 2 Rounds
Twist 1:18.75" RH
Grooves: 6
Grip: Plain Black Ash, Extended $69.95
Holster: BMT Bond Arms Premium Leather Holster $109.00
10 mm Custom Full Tilt Build
Base Gun: Bond Arms Texan $700
Action: Single Action
Accessory Barrel: 6" 10 mm, Non-Ported $300
Finish: Satin Stainless Steel
Removable Trigger Guard: Yes
Trigger Pull: 4 lbs 2oz.
Overall Length: 8.00"
Height: 3.75"
Frame Width: 0.98"
Grip Width: 1.12"
Weight: 29.6 ozs., Unloaded
Capacity: 2 Rounds
Twist: 1:16" RH
Grooves: 6
Grip: Smooth Rosewood with 2-Tone Star $100
Holster: Texan Quick Draw 6", Tan $97