by
posted on May 25, 2016
Support NRA American Rifleman
DONATE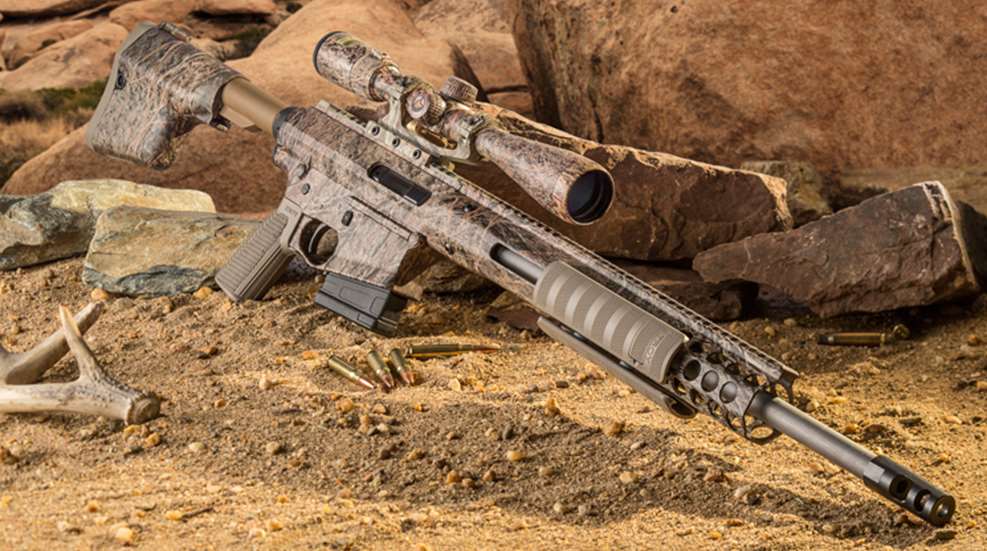 Some states have misguidedly enacted draconian restrictions against the use and ownership of certain semi-automatic rifles with "politically incorrect" features. These include vertical pistol grips and length-adjustable buttstocks. Pump-action rifles, however, have not—for the most part—been the subject of such "cosmetic" legislation. As a result, pump-actions are permitted to feature many of the same external properties as some banned rifles simply because their actions are manually operated.
In order to give its customers in restricted locales access to its products, Troy Defense has developed a line of 50-state-legal pump-actions modeled after the company's AR-15 and AR-10 platforms. This year, Troy is adding a new hunting model chambered in .338 Federal with a Mossy Oak camouflage finish, which is the subject of this review. 
Troy's pump-action sporting rifle design is something of a hybrid. It provides the look, feel and many of the same features as an AR. However, due to the internal modifications required to convert the gun from gas-impingement operation to a pump action, the rifle does not share the same level of modularity as its gas-operated compatriots. For example, the AR-10 rotating bolt is an interchangeable component, while the bolt carrier group in this gun is a unique design that will not fit other ARs.
At the heart of the Troy pump is its AR-10-type upper and lower receivers. Both units are milled from aircraft-grade aluminum, hard-coat-anodized,  and then finished off with a Mossy Oak camouflage hydro-dip pattern. The handguard and buttstock are also dipped to provide a more uniform appearance. The rifle's synthetic furniture, including the rail covers, BattleAx Control Grip and recoil pad, are made from matching tan polymers. 


The flat-top upper receiver provides 7.5" of integral Picatinny rail space for mounting optics. The 15" handguard is based on Troy's TRX2 model with round ports and a full-length top rail. The pump-action fore-end, which is incorporated into the fixed handguard, is cleverly executed as three covered accessory rails located at the 3-, 6- and 9-o'clock positions. The textured polymer covers provide a comfortable, rounded grip surface and can be removed to make space for rail-mounted accessories, including vertical grips, lights and laser sights. The 20" stainless steel barrel is bead-blasted to produce a non-reflective surface. The threaded muzzle arrives with a two-chamber brake that effectively mitigates perceived recoil.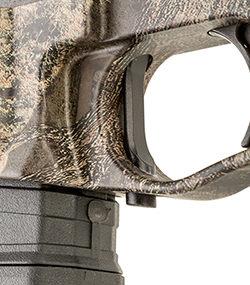 The rifle's tan buffer tube sports a Troy Lightweight BattleAx CQB six-position buttstock with push-button sling mount points on the left and right side. The external controls follow AR conventions for the most part, with some notable exceptions. The right-side magazine release, left-side safety selector lever and trigger all look and feel familiar. Nonetheless, there is no charging handle, forward assist or bolt-catch lever because the manual pump-action does the work of loading and ejecting cartridges in their place. Troy opted to leave off the ejection port dust cover as well. A round button located under the trigger guard is used to release the slide. The rifle arrives with a single 10-round Magpul PMAG; it's the company's 7.62x51 mm NATO model, but is compatible with .338 Federal cartridges.
At the range, the Troy .338 Federal pump-action proved to be a comfortable rifle to work with, although it is a bit on the heavy side at 8 lbs., 10 ozs. with an empty magazine inserted. Small-framed shooters may find the pump-action grip a little difficult to reach, but the average adult will find all of the controls on this rifle easy to operate. The pump-action cycled smoothly, as did the single-stage trigger, which broke cleanly at 4 lbs., 4 ozs.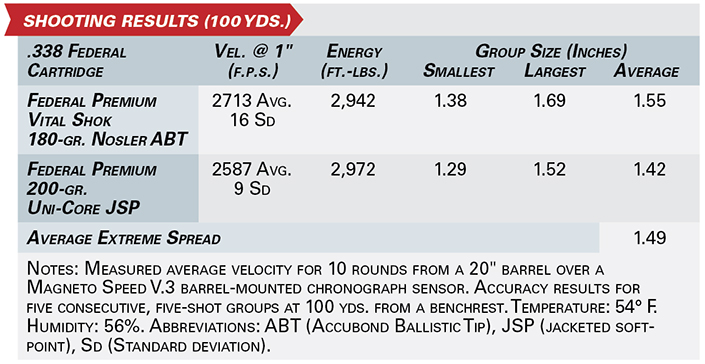 The .338 Federal cartridge consists of a .308 Win. case necked up to accept .338-cal. bullets. The goal of developing the cartridge was to provide hunters with a larger, heavier big-game-stopping bullet without the intense levels of felt recoil that often accompany magnum rifle cartridges. The already-moderate recoil of the .338, combined with the rifle's weight and muzzle brake, ensured the Troy was pleasant and pain-free to shoot. 
The rifle proved to be utterly reliable thanks to the manually operated action. Formal accuracy testing was conducted at 100 yds. using a Nikon Monarch 3, 4-16X 42 mm SF NP Custom XR Turret scope. It's worth noting that .338 Federal ammunition can be tough to find. At the time of testing, only two loads were available, both from Federal Premium Ammunition. The loads featured two bullets, a 180-gr. Nosler Accubond Ballistic Tip and a 200-gr. Uni-Core jacketed soft-point. Both produced five-shot group averages of about 1.50".
The Troy pump-action .338 Federal rifle is a best-of-both-worlds design that allows big-game hunters to enjoy the precision and power they need while using the controls and configuration they prefer. Overall, its fit, finish and function are excellent and should provide years of reliable service in the field. And, like other Troy products, it is 100 percent American made.