posted on December 18, 2017
Support NRA American Rifleman
DONATE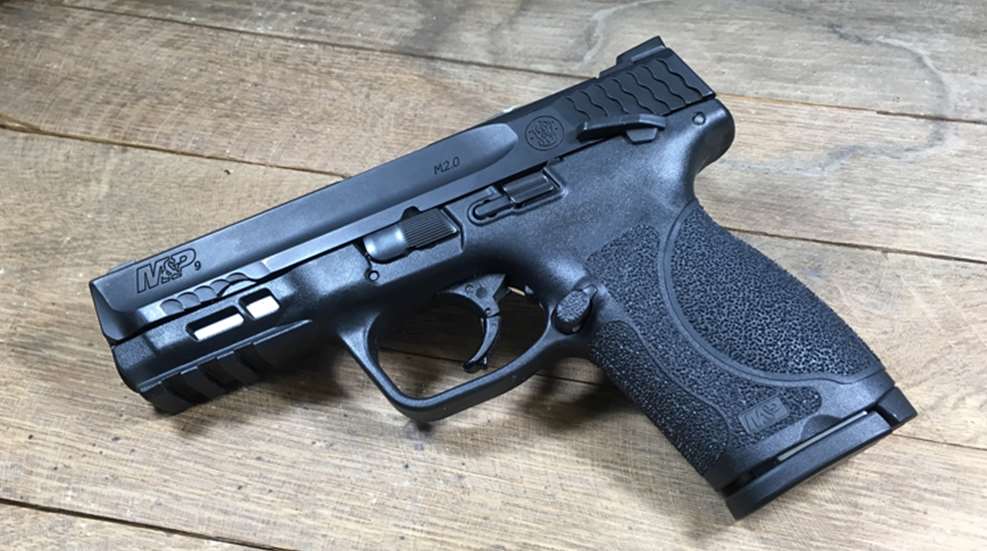 This is one I've been waiting for. Smith & Wesson's M&P9 M2.0 Compact downsizes the M2.0 platform just a touch to use a 4" barrel and a 15-round magazine. This gun is direct competition for the Glock 19, and that is exciting. The Glock has long been considered a near-perfect duty/carry cross-over pistol, with excellent shooting and concealment qualities, and plenty of ammunition on board. It is great to see some serious competition in the category, made in America by a firm that has a very long history of producing personal-protection and service sidearms, as well as diminutive hideout guns.
Giving the gun a once over before a shot is fired, the M&P lineage is obvious—there are no major departures from S&W's first generation of polymer-frame striker-fired semi-automatics, but there are some serious enhancements. The M2.0's most prominent changes are the very aggressive texturing pattern on the frame and interchangeable palmswell inserts, and the much-improved trigger which—after a little bit of take up—has a crisp break and clear reset. The M2.0 features more bilateral controls than M&Ps past, notably adding a right-side slide stop/release. And, as with all M&Ps, models are available with or without a bilateral thumb safety, which is probably the biggest differentiating factor between the M&P and Glock platforms. For my review, I requested a thumb safety model; I like shooting M1911 pistols, and have trained with them a good deal, so my hope is that the manual of arms between the Compact and my .45s will be consistent and familiar.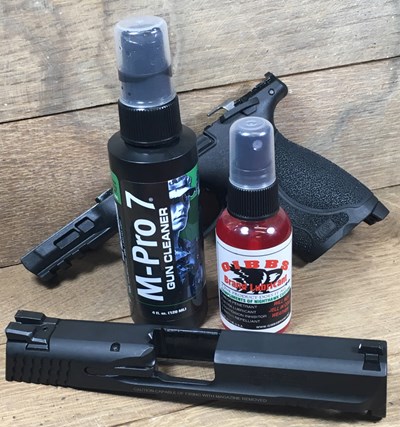 After receiving the gun, I disassembled it and gave it a pretty thorough cleaning. Most new-production firearms are pretty clean right out of the box, but I still like to strip and clean all my new guns to remove any residual grease or debris from the manufacturing and packing/shipping processes. I then applied a little bit of lubricant/protectant solution to the metal-on-metal wear areas—like the slide rails and the barrel hood—and it was off to the range.
To really wring out the Compact, I wanted to shoot more than the typical 200-300 test rounds. I see this gun as a high-volume utility firearm, in the same vein as the Glock 19, capable of excellent performance at the range and reliable service for law enforcement, military personnel and, of course, defense-minded armed citizens. But I felt I had to put it through its paces, at least a couple thousand rounds, to ensure it can go the distance with minimal maintenance.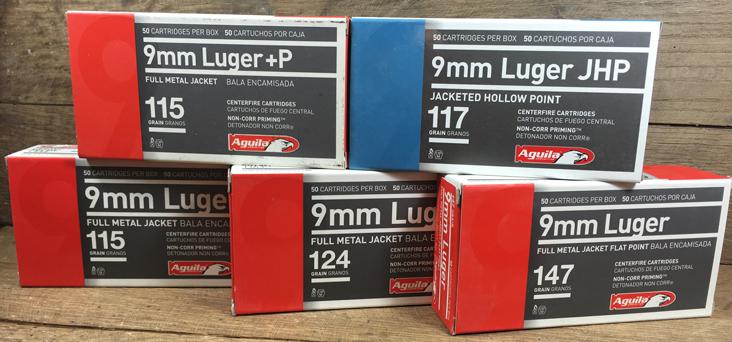 In support of this effort, Aguila Ammunition furnished the first 1,500 rounds of ammunition for the evaluation. In my experience, Aguila's ammo is reliable, consistent and affordable—prices for ball loads are on par with Winchester white-box loads or American Eagle. It also tends to be pretty darn clean, which is a minor concern in the grand scheme, but I hate that value-priced ammo also tends to be filthy stuff. Aguila offers five 9 mm Luger loads—115-gr. FMJ; 115-gr. +P FMJ; 117-gr. JHP; 124-gr. FMJ; 147-gr. FMJ flat point (FP)—and included a sampling of each for testing. A further review of Aguila's 9 mm offerings will be forthcoming.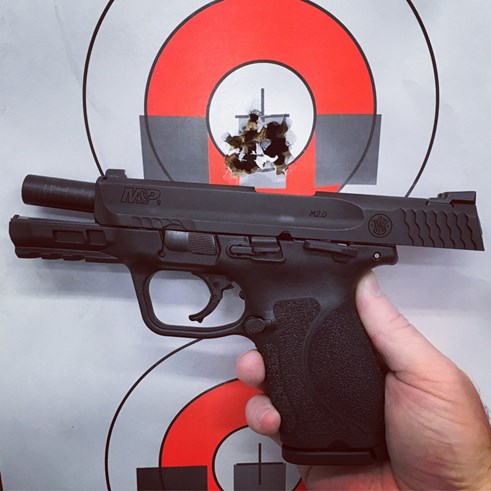 The first range session with the Compact was just focused on familiarization and ensuring function. I chose to shoot a couple hundred rounds of the mid-weight 124-gr. FMJ load, and about a box-and-a-half of the 117-gr. JHPs—as these would be my carry ammunition throughout the evaluation, or at least while the Aguila lasted—for a total of 270 rounds. I encountered exactly zero stoppages or malfunctions, and my first magazine, shot at 5 yards, produced perhaps the best 15-round group I've ever shot.
Familiarization fire continued, with an emphasis on learning the trigger and getting used to the sights—despite their popularity on new-production guns, none of my EDC pistols wear white, three-dot sights. Overall the gun shot very well, the sights are right on the money and the trigger is quite good—different of course from my M1911s, but better than most stock striker-fired pistols, in my opinion. The texturing pattern on the M2.0s is excellent, by the way, and really anchors the gun in the hand, mitigating the effects of recoil. So far, I am a big fan of the aggressive, gritty, coarse-grain sandpaper-like texture, though I suspect I may not appreciate it as much when I'm carrying against the skin in an IWB holster.
198 Rounds (468 total)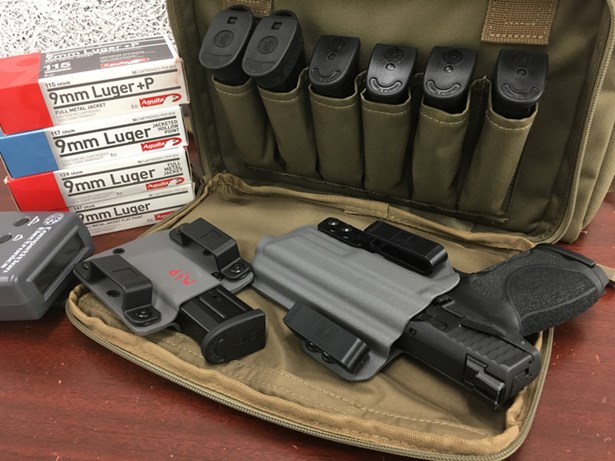 For this range session I wanted to start working on drills and test initial reliability with some other Aguila offerings. I used a Bravo Concealment Torsion IWB holster and mag pouch and ran a box each of the 115-gr. +P FMJ, 124-gr. FMJ and 147-gr. FMJ FP. I also shot and refreshed the 117-gr. JHPs serving in my carry mags, and finished the remainder of the box. To no one's surprise, the Compact ran perfectly on the varied diet. Shooting results were also good, as I worked my training times for various exercises, especially first shot from draw and Failure Drill, down close to my averages with an M1911 or Glock 19—guns I've carried and trained with for years.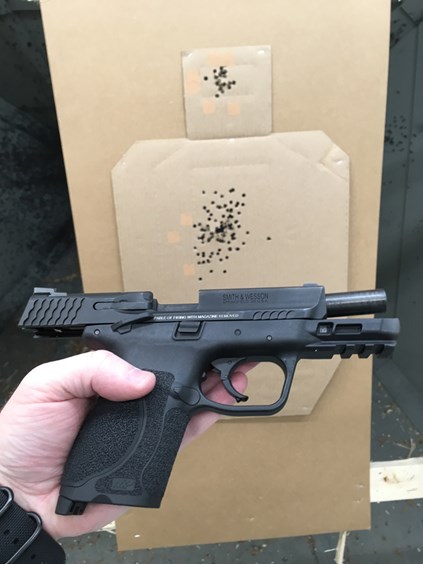 So far, I'm liking the thumb safety. It adds a level of comfort when carried, and, given my background with .45 Autos, it's very natural for me to disengage during the draw stroke, as with an M1911. I can also ride it through the recoil, applying pressure to get sights back on target. The safety's placement compared to the slide release on the left side was a bit of a hang up, though. During a reload, I have typically released the slide on a fresh magazine using the thumb of my firing hand. For whatever reason, following my typical technique is causing me to accidentally lift the safety lever. My solution was to start releasing the slide with the support-hand thumb. So far, so good, but I'll need to continue practicing the maneuver.
152 Rounds (620 total)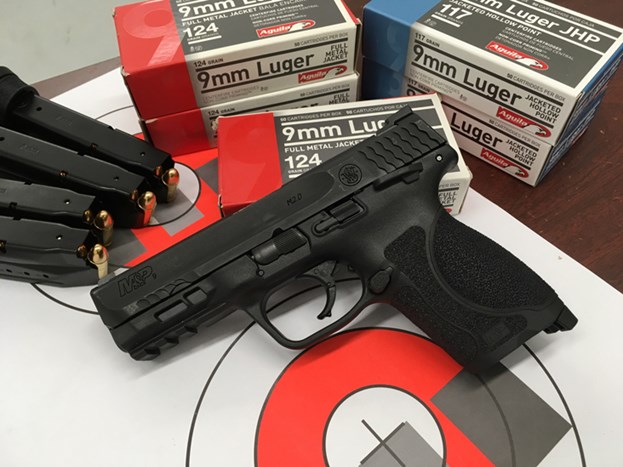 The final range session before wrapping up this first report was mostly conducted on camera as I filmed a range review for the Lock, Stock & Barrel video series, also known as NRA's Gun Gear of the Week. This wasn't exactly a quality training opportunity, but it's worth noting the gun continued to run flawlessly, and my support-thumb slide release method seems to be working pretty well. I shot two boxes of the 115-gr. FMJ cartridges, freshened up my carry complement of 117s and also shot a couple magazines of NovX ammunition which features a 65-gr. poly/copper projectile propelled to around 1,700 f.p.s. No problem for the Compact.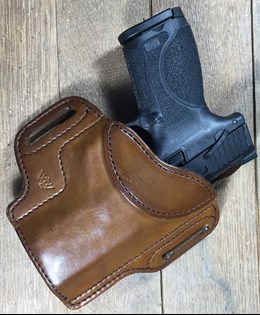 To date, I have no complaints about the new Smith & Wesson pistol. In fact, I'm pretty darn impressed. The trigger is averaging a pull weight of 5 lbs., 13 ozs., which is fine for a stock striker-fired pistol, and, honestly, its winning me over. After the initial take up, which I concede is a bit long for my taste, the pull is simply pressure, pressure, pressure, break, and the reset is relatively short and very clear. The sights, as I mentioned, are spot on, and the gun shoots to a center hold, but they'll need to be swapped out all the same. I just prefer night sights with a bold front and plain rear, and there are a lot of good aftermarket options available.

For carry, I'm mostly using a Predator holster from Wright Leather Works—it is jacket weather right now, and, for an OWB rig, the Predator really tucks the gun in very close to the body for good concealment. I've also been using the aforementioned Torsion IWB holster from Bravo Concealment, which is a favorite of mine because of its minimalist and contoured design.
For now, testing continues. Check back for future updates.

Additional Reading:  
Range Report: Smith & Wesson M&P9 M2.0 Compact Pistol, Part 2  
Range Report: Smith & Wesson M&P9 M2.0 Compact Pistol, Part 3  
NRA Gun Gear of the Week: M&P9 M2.0 Compact Range Review
Tested: Smith & Wesson M&P9 M2.0 Compact Pistol
First Look: Smith & Wesson M&P M2.0 Compact
Smith and Wesson Adds Compact Model to M&P M2.0 Series