by
posted on September 5, 2018
Support NRA American Rifleman
DONATE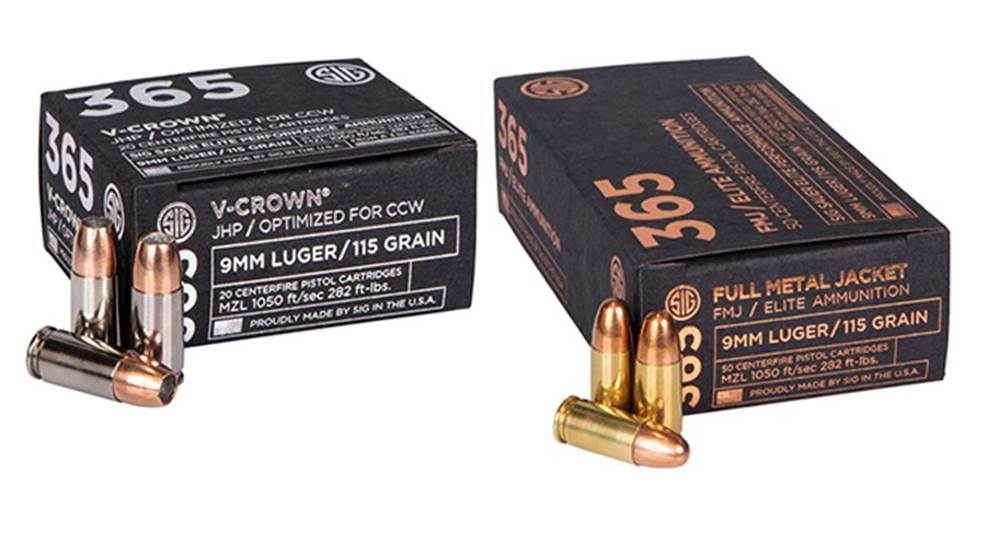 Each generation of concealed-carry practitioner has sought out those handguns that provided the best balance of concealability and performance available at the time. Early pocketable semi-automatics were chambered for small-caliber cartridges including .22 LR, .25 ACP and .32 ACP. In the late 2000s, the marketplace enjoyed a surge in single-stack pocket .380 ACP pistols with lightweight polymer and aluminum frames. Most recently, pistol makers have been striving to meet the latest standard for concealed-carry equilibrium by offering their own versions of the "micro 9"-pocket-sized pistols chambered for the more potent 9 mm Luger pistol cartridge.
As these pistols have been busily shrinking in size, the ammunition has been steadily improving. Due to its popularity for military, law enforcement and civilian applications, the 9 mm is among the most heavily researched and developed cartridges on the market. However, these refinements have, for the most part, been focused on improving the performance of duty-size pistols sporting barrels that are 4" or longer. Duty-tuned loads have some noteworthy drawbacks when loaded into micro 9 pistols.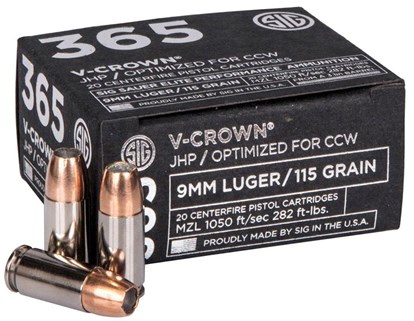 Micro 9s have less mass than their duty-size compatriots resulting in more felt recoil when loaded with the same cartridges. Increased recoil is not just a matter of personal comfort. It also leads to increased muzzle rise which, in turn, forces the pistol's operator to work harder to get back on target for crucial follow-up shots. It's common for powder loads blended for 4" or longer barrels to not burn completely when fired from shorter barrels. This can result in excessive muzzle flash and a reduction in performance. Unburned powder also acts as additional mass that must be pushed out of the barrel along with the bullet. It may not be a tremendous amount of mass, but it still takes a toll on bullet velocity.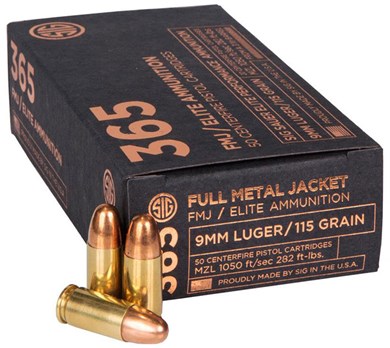 SIG Sauer's most recent entry into the micro 9 arms race is the slim P365 semi-automatic with a 3.1" barrel, 10-round magazine and an unloaded weight of 18.4 oz. To meet the performance requirements of this new pistol, the ammunition development team at the company's new state-of-the-art manufacturing facility in Jacksonville, Ark., was tasked with producing an appropriate round for this pistol. The result of their work is the 365 lineup of 9 mm ammunition including a 115-gr. V-Crown hollow point and a ballistically matched practice load.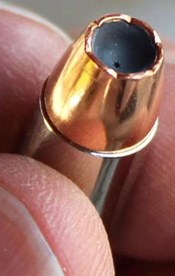 I met with Brad Criner, senior director of brand management and business development, to learn more about this ammunition. Although SIG Sauer's 365 ammunition was released in conjunction with the P365 pistol, Criner pointed out that this ammunition is intended for use in micro 9s with barrels shorter than 4", no matter the make or model.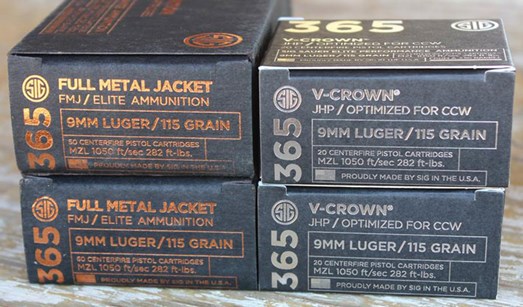 The V-Crown defensive hollow point is topped with the same jacketed, lead-core bullets that are used in SIG Sauer's Elite Performance ammunition. The listed muzzle velocity for this load is 1,050 f.p.s. for a muzzle energy of 282 ft.-lbs. The cartridge is filled with a proprietary powder charge that burns completely before the bullet leaves the barrel. As a result, the bullet reaches its ballistic potential with reduced felt recoil and less muzzle flash. The nickel-coated-brass cartridge cases have been produced in house with meticulous attention paid to the quality and purity of the metals used. The combination of SIG Sauer's V-Crown bullet design, working in conjunction with a high-quality cartridge case and modern manufacturing processes contribute to consistent shot placement round after round.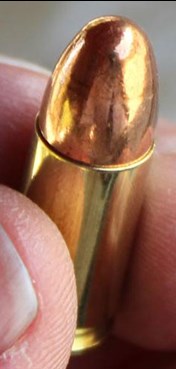 One of the most important principles of concealed carry is developing proper shooting techniques and muscle memory through regular, consistent practice sessions and training. All too often folks pack one type of ammunition in their carry guns while practicing with something else. Practice loads are less expensive, but they produce varying degrees of felt recoil with a different point of impact and group size than defensive loads.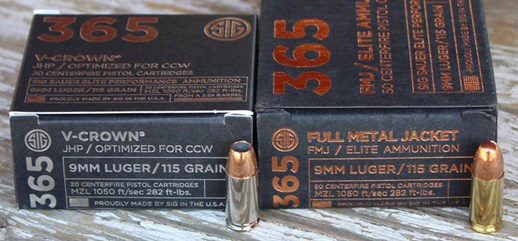 SIG Sauer's tag line for the 365 ammunition is "Train Like You Carry." The company meets this need with the 365 Elite Ammunition practice round. It is ballistically matched to the hollow-point load in order to produce the same reduced recoil feel and point of impact.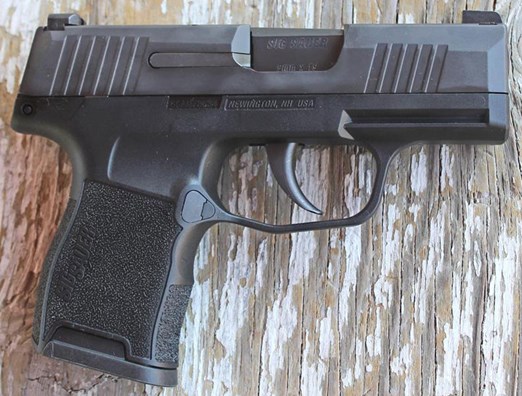 The company successfully reduces practice cost without reducing cartridge performance. The 365 Elite is also topped with a 115-gr. projectile traveling at 1,050 f.p.s. using the exact same powder charge as the V-Crown cartridge. However, the bullet is a less expensive full-metal-jacket (FMJ) version suitable for punching paper, the cartridge cases are plain brass and the ammunition ships in a matte-finish, pulp-fiber carton instead of the usual glossy box.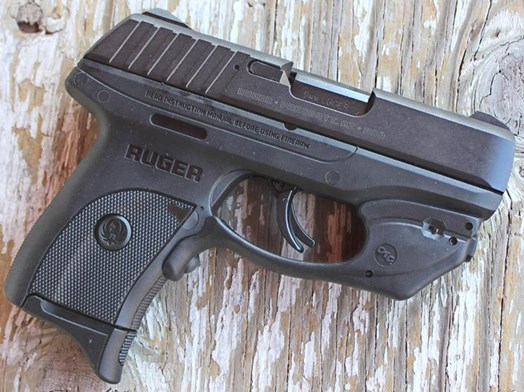 To put the new 365 ammunition through its paces, I took several boxes of the V-Crown and FMJ loads to the range with three test guns. It seemed logical that one of the test guns should be the SIG Sauer P365 with its 3.1" barrel, which is the same barrel length listed on the ammunition boxes. The second micro 9 was the budget-priced Ruger EC9s with fixed sights and a barrel length of 3.12". The third gun was the sub-compact Walther PPQ SC with a 3.5" barrel.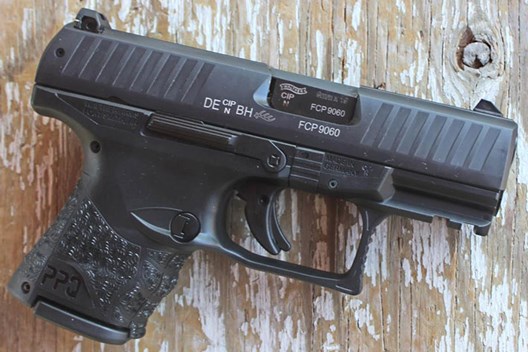 The 365 defense and the practice rounds both successfully loaded, fired and ejected without any malfunctions in all three of the test guns. They produced moderate levels of felt recoil and muzzle rise comparable to .380 ACP pistols of a similar size and weight. For comparison, I switched to a few magazines worth of a standard velocity 124-gr. 9 mm ammunition. The increase in recoil, muzzle flash and muzzle flip were immediately noticeable. Formal accuracy testing was conducted from a benchrest at 7 yards. As the results table show, 5-shot group sizes were consistent with the V-Crown and FMJ loads in each pistol.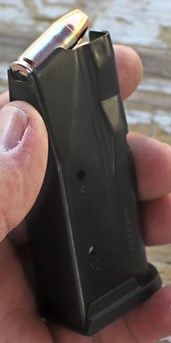 It is not uncommon to see muzzle velocities in the field that are slower than those listed on the box because lab-based testing is often conducted with longer test barrels. But that was not the case with either 365 load. The two 3.1" pistol barrels yielded muzzle velocities that were between 5 to 42 f.p.s. faster than the listed 1,050 f.p.s. velocity with the slightly longer 3.5" barrel gaining between 79 to 88 f.p.s. on average.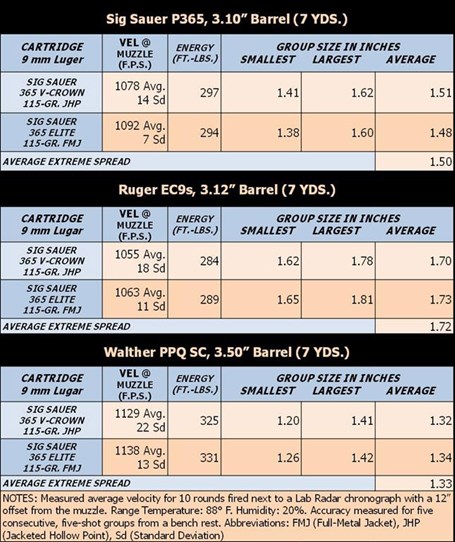 I've been shooting SIG Sauer's Elite Performance ammunition in various calibers for nearly three years now with positive results across the board. Time and again, this ammunition has run flawlessly while often producing the tightest groups during formal testing. I'm glad to report that the new soft-shooting 365 9 mm ammunition series for micro 9 pistols demonstrates the same levels of quality and reliability as SIG Sauer's other ammunition offerings. For more, visit sigsauer.com/ammunition.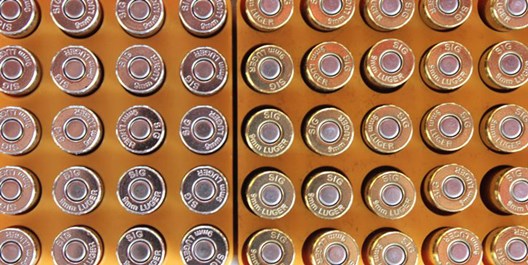 Additional Reading:
Tested: SIG Sauer P365 Pistol  
NRA Gun of the Week: SIG Sauer P365 Pistol