Support NRA American Rifleman
DONATE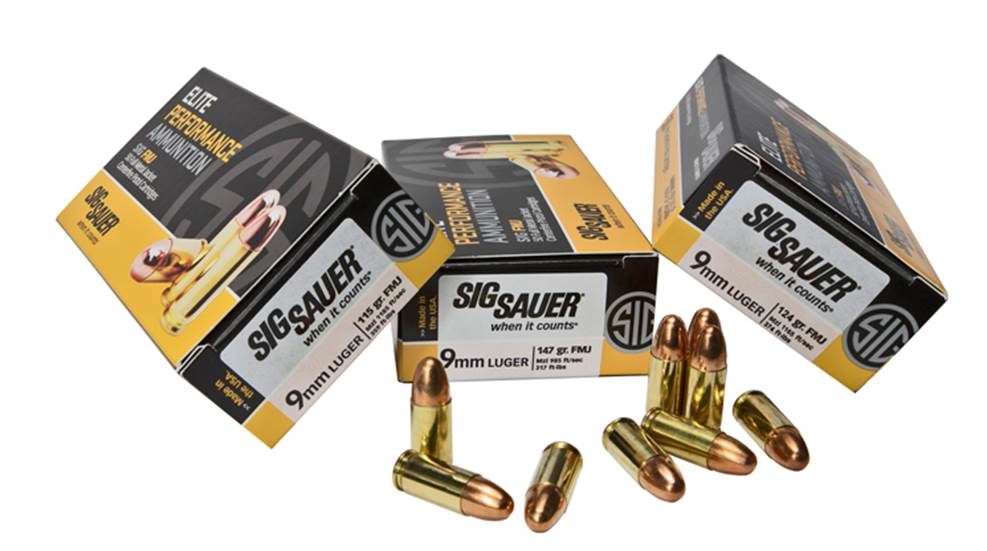 SIG Sauer is expanding its line of 9 mm full metal jacket (FMJ) Elite Performance Ammunition to include 124-gr. and 147-gr. bullet weights. The addition of these rounds means that both the V-Crown jacketed hollow point (JHP) personal -defense ammunition and the SIG FMJ target loads are offered in all three weights.
The affordable SIG FMJ ball ammunition is designed to approximate the performance of the corresponding JHP loads, making a seamless transition from target ammo to carry ammo. The copper-coated lead bullets in the SIG FMJ ammunition were engineered for precision, uniformity and consistent accuracy.
"SIG FMJ ammunition is designed specifically for practice and competition shooting, and given the sheer popularity of the 9 mm caliber, expanding the FMJ line to mirror the V-Crown offerings was an important next step," said Dan Powers, president of the SIG Sauer Ammunition Division.  "These premium target rounds feed as smoothly as our V-Crown JHP rounds and perform and feel almost identical to the V-Crown loads when shooting, making them ideal practice rounds."
Manufactured to meet or exceed SAAMI specifications, the SIG FMJ center-fire pistol cartridges feature solid brass cases and durable copper jacketed bullets that stay with the lead at impact. Dependable primers and clean-burning powders are used for reduced barrel fouling and more reliable functioning. 
All SIG Sauer Elite Performance Ammunition is manufactured by SIG Sauer at its new ammunition manufacturing facility in Jacksonville, Ark., to the same exacting standards as the company's premium pistols and rifles. For more information, visit sigsauer.com/ammunition.