Support NRA American Rifleman
DONATE
SIG Sauer, Inc. has introduced new, high-performance SIG 365 Elite Performance Ammunition in 115-gr. 9 mm SIG V-Crown and SIG FMJ loads. Designed for optimal performance in short-barrel, concealed-carry pistols, such as its namesake—the revolutionary P365 high-capacity, micro compact—SIG 365 ammunition uses low-flash, clean burning powders for maximum performance and shootablity, while still making recoil very comfortable and manageable.  
Training the way you carry is paramount, and SIG's full metal jacket (FMJ) ammunition is engineered to shoot like SIG V-Crown jacketed hollow-point (JHP) personal-defense loads—same recoil, velocity and importantly, same point of impact—to ensure a seamless transition from training ammunition to carry ammunition. Corresponding SIG V-Crown and FMJ rounds are loaded on the same machines, use the same brass and are loaded to the same pressures. 
The proprietary V-Crown bullet delivers exceptional on-target energy with maximum weight retention and expansion for ultimate stopping power, and the V-Crown's coated, nickel-plated cases provide enhanced lubricity, superior corrosion resistance, and reliable feeding and extraction. SIG FMJ training ammunition features durable, copper-jacketed bullets that stay with the lead on impact and offers the perfect combination of affordability and performance.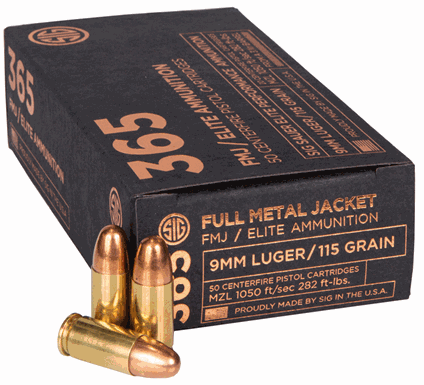 "SIG 365 Elite Performance Ammunition is designed for exceptional performance in the new SIG P365 and other short-barrel pistols," said Bud Fini, executive vice president of the SIG Sauer Ammunition Division and Special Projects. "We use clean burning powders that are consumed before the projectile leaves the barrel, resulting in optimal muzzle velocity and muzzle energy. SIG 365 FMJ ammunition is an affordable, high-performance training load, while the award-winning SIG V-Crown stacked hollow-point ammunition is exceptionally effective for personal defense, delivering outstanding accuracy, reliable uniform expansion and maximum terminal performance."
Muzzle velocity for both 9 mm SIG 365 115-gr. V-Crown and FMJ loads is 1,050 f.p.s. from the P365 3.1" barrel with muzzle energy of 282 ft.-lbs.
SIG Sauer V-Crown ammunition meets the FBI protocol test requirements and all Elite Performance Ammunition is manufactured to SAAMI specifications by SIG Sauer at the company's new, state-of-the-art manufacturing facility in Jacksonville, Ark.

For more information, visit sigsauer.com/ammunition.