posted on October 5, 2018
Support NRA American Rifleman
DONATE
Sierra Bullets has paired the accuracy of its MatchKing bullets with the traits of a big-game bullet to create a hunting bullet the company believes will become a game-changer in the hunting fields. Hence the name GameChanger for Sierra's new line of bullets.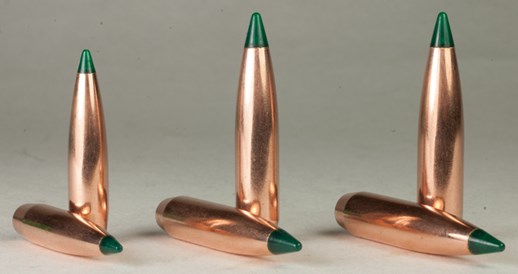 Three of the five new GameChanger bullets. From the right they are .243-cal. 90-gr.; 6.5-cal. 130-gr.; and .27-cal. 140-gr.

In general, Sierra engineers took the MatchKing bullet and made it with a thicker jacket, a harder 3 percent antimony lead core and put a plastic tip on it, according to Jeff Marshall, Sierra's engineering manage. "The result is a super-accurate and tough game bullet," he said.
The GameChanger's jacket is made of gilding metal, comprised of 95 percent copper and 5 percent zinc. Jackets are 0.001" thicker on each side than jackets on MatchKing bullets. Lead cores are not bonded to jackets. On contact with game, the polymer tip smashes back into an open pocket to instantly expand the lead core and peel back the jacket. Of course, GameChangers wear a boat tail. Sierra popularized the boat tail bullet decades ago with its reduced base drag that increases ballistic coefficient and lowers sensitivity to crosswinds, retaining more velocity for a flatter trajectory. "Boat tail bullets are highly accurate and the way we go at Sierra," Marshall said.  


Today rifle shooting is "long-range this" and "long-range that." Bullets lacking a ballistic coefficient similar to a javelin are looked down upon with a collective sneer. The GameChangers have relatively high BCs compared to other bullets of the same weight and caliber. Even though long for their diameter, GameChanger bullets will stabilize in standard twist barrels for each caliber. Initial GameChanger bullets include:



Sierra bullets are famous for their accuracy. If bullets from a green box don't shoot well, it's the rifle's fault. I recently shot handloaded GameChanger bullets from a Cooper Firearms Model 22 chambered in .243 Win., Ruger American Predator 6.5 Creedmoor and a Remington Model 700 Mountain Rifle .270 Win.  
Sierra says the same load data listed for other Sierra bullets can be used to load GameChanger bullets of equal weight. Of course, every rifle shoots most accurately with certain bullet and powder combinations. 

The Cooper .243 rifle has a worn throat from firing too many bullets at ground squirrels and marmots over the summers. Still, the rifle shot two, 3-shot groups at 100 yards with 90-gr. GameChangers that averaged .66" paired with Hunter propellant and .55" fired with Reloder 26. One stray bullet opened the average for groups shot with H4831. 
The Ruger American Predator rifle was close behind in accuracy. The 130-gr. GameChangers averaged under an inch at 100 yards fired by Hybrid 100 V and Reloder 17. (I beg your pardon for not using H4350, the purported most magnificent propellant ever intended for the 6.5 Creedmoor.)
The Remington Mountain Rifle wears a pencil-thin barrel. The barrel heats up enough to start a grass fire after firing three .270 cartridges in a row. As the barrel heats up, bullets begin to stray across targets. Keeping the barrel fairly cool helped it shoot 140-gr. GameChangers that averaged slightly over 1"to 1.5".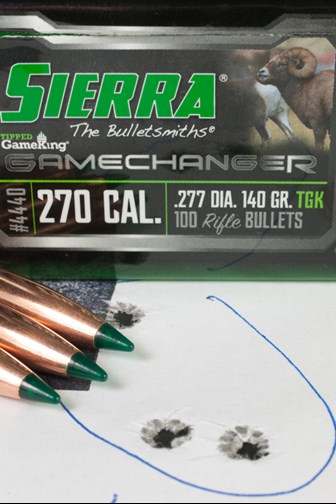 GameChanger .27-cal. 140-gr. bullets shot this group at 100 yards.

I shot the three different calibers of GameChanger bullets into bundles of paperback books to check their expansion. The .243 bullets hit the bundles at a velocity of approximately 2,800 f.p.s; 6.5 bullets at 2,500 f.p.s.; and the .270 bullets at 2,600 f.p.s.  Those are about the speeds the bullets would retain at 100 yards. Sierra says GameChangers expand down to a velocity of 1,800 f.p.s. 
In a nutshell, recovered bullets of each caliber had expanded about halfway down their length and shed their core. No doubt the dry paper provided much tougher resistance than the ribs and vital organs of a game animal. Marshall said the books must have been much harder than ballistic gelatin, the material Sierra mostly used to test expansion of GameChangers. While testing GameChangers, Sierra engineers rarely recovered a bullet that had lost its core.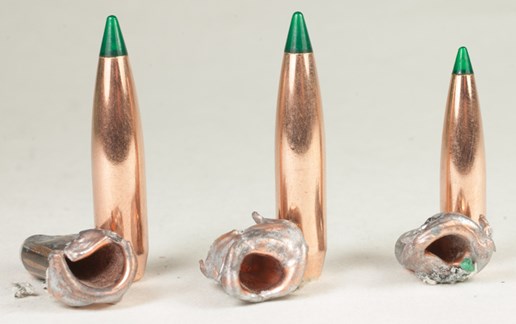 The .24, 26 and .27-cal. GameChanger bullets lost their cores when fired into bundles of dry paper.

The internal taper of a jacket with boat tail have less of a hold on its lead core than bullets with a flat base. The result is that cores seem to more easily squirt out of boat tail jackets during penetration. I've been shooting Sierra bullets at game from antelope to elk for going on 50 years. Those bullets have hit black bears through both shoulders and elk through the ribs behind the shoulder.  Some of the recovered Sierra boat tail bullets looked picture-perfect, expanded half way down their length with their lead core intact. Others had lost their cores somewhere along their deadly path. The key here is the bullets were retrieved from dead animals.  
Sierra is betting its GameChanger bullets improve on that deadly performance at a variety of ranges.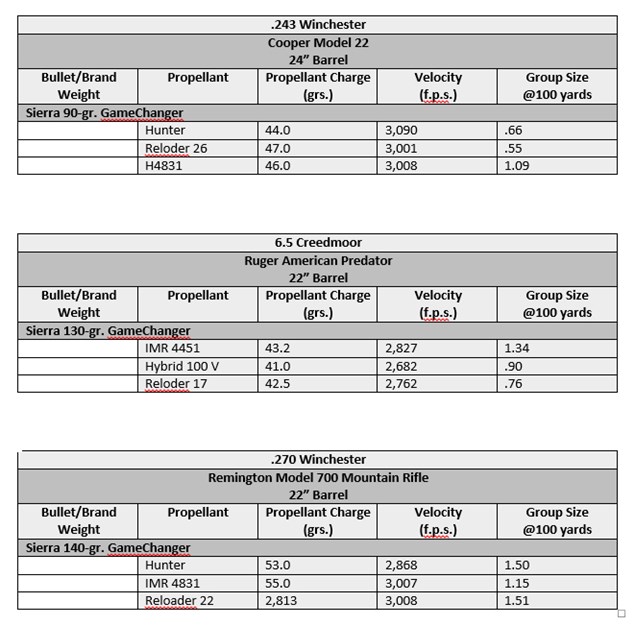 Notes: Velocities were recorded with a Shooting Chrony Beta Master chronograph 10 feet in front of the rifles' barrels. Accuracy is the average of 2, 3-shot groups. The .243 was loaded with Winchester cases for a cartridge length of 2.71"; the 6.5 Creedmoor with Hornady cases for a cartridge length of 2.80"; and .270 with Federal cases for a cartridge length of 3.30".  Remington 9½ primers were used with all three cartridges. Temperatures varied from 50 to 55 degrees.