by
posted on January 13, 2022
Support NRA American Rifleman
DONATE
A number of firearm designs have succeeded in withstanding the tests of time and technological advancement. Among them is the Savage Model 110 bolt-action rifle. In continuous production for more than six decades, it's among the oldest and most readily recognized rifles favored by American big-game hunters.
Savage has a well-established reputation for manufacturing reliable rifles at affordable prices, and the 110 Ultralite reviewed here is no exception. Competing models in this rifle's class, outfitted with reduced-weight receivers and carbon-fiber-wrapped barrels, can cost $3,000 or more, yet Savage's Ultralite provides a comparable set of features at an MSRP of only $1,595. Currently available in eight chamberings, this evaluation takes a closer look at the 6.5 mm Creedmoor version.
The Savage 110 Ultralite is the lightest version of the Model 110 yet produced, with a listed weight of only 5 lbs., 13 ozs. Some companies reduce their rifles' weight by building them around titanium receivers. However, titanium alloy usually costs twice as much as stainless steel, with machining processes that can be as much as five times more expensive than shaping steel. Savage opted to keep the price of this rifle more palatable by using a stainless-steel receiver with weight-reducing cutouts.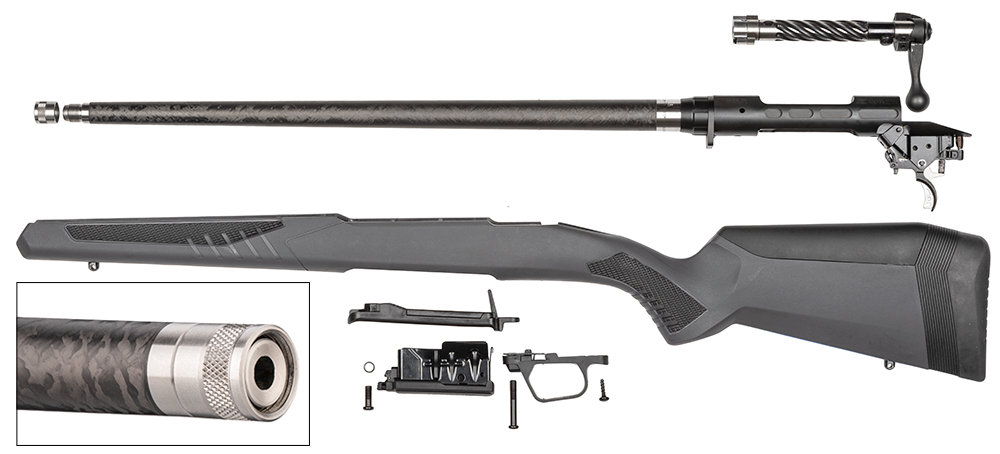 The receiver is blueprinted, which means all of the key aligning surfaces have been machined to be square with the action's center line. It is then treated with a matte-black Melonite finish for added durability and corrosion resistance. The top of the receiver is drilled and tapped to accept Savage-compatible round-back (RB), short-action one-piece and two-piece scope mounts. A barrel nut is used to secure the barrel to the receiver and to ensure proper headspacing.
Like previous Model 110s, the two-lug, push-feed bolt assembly employs a floating bolt head to ensure the lugs make even contact with their recesses. The stainless-steel bolt's spiraling flutes are blackened to provide a two-tone finish. The round, right-hand bolt knob is checkered along the top for improved purchase and given a matte-black finish to match the receiver. At the rear of the assembly is a firing-pin indicator just above the tang-mounted safety. A polymer button located in front of the trigger guard can be pressed to remove the bolt assembly from the receiver.
Carbon-fiber-wrapped barrels, like the PROOF Research unit employed on this rifle, have become a popular option for hunters in recent years due to a well-deserved reputation for top-tier accuracy with minimal weight. The 22"-long stainless-steel barrel is wrapped with high-strength, aerospace-grade carbon fiber that has been impregnated with a proprietary matrix resin. The result is a stiff and accurate composite barrel capable of cooling quickly and maintaining accuracy during extended shooting sessions—while being up to 64 percent lighter than an all-steel barrel of similar contour. The bore's four-groove rifling is cut at a 1:8" twist rate for use with the 6.5 mm Creedmoor's heavier bullets. The muzzle is threaded 5/8x24 TPI to accommodate various muzzle devices, and a knurled thread protector is provided.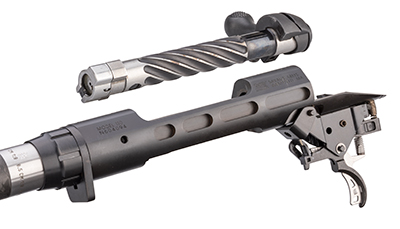 The barreled action is set into a durable, lightweight, gray-polymer stock that features Savage's AccuFit system. This system allows for easy adjustments to comb height and length of pull using a set of modular polymer inserts and screws that ship with the rifle. A total of five comb inserts are provided with heights that increase by 0.20" increments. The four polymer recoil pad inserts measure 1.00", 0.75", 0.50" and 0.25" thick, and each comes with its own set of screws.
The stock has a sleek, traditional sporting-rifle profile with front and rear sling-swivel studs. Textured soft-touch polymer overlays are located on both sides of the grooved fore-end and pistol grip for improved purchase and easier handling with wet or gloved hands. The one-piece "bottom metal" trigger guard and magazine well plate is made of a lightweight black polymer. It's secured to the action via a pair of screws.
Savage's user-adjustable AccuTrigger, introduced in 2002, is a key component of this rifle. Featuring an integral blade safety, the single-stage AccuTrigger can be adjusted to break at between 1 lb., 8 ozs., to 4 lbs. of pressure. Our test gun's trigger was set at 2 lbs., 2 ozs., from the factory and exhibited a smooth, clean feel with a crisp break and no overtravel. The rifle proved to be utterly reliable with all of the ammunition tested, and there were no mechanical issues with the gun itself. The controls and action cycled smoothly and cleanly throughout the testing process.
One might expect a lightweight rifle such as this one to generate excessive levels of felt recoil, but the textured grip surfaces, thick rubber recoil pad and the sedate nature of the 6.5 mm Creedmoor made our 110 Ultralite as comfortable to shoot as it was to carry. Some lightweight barrels are heat-sensitive, and the groups they produce tend to open up considerably after only a few rounds. The PROOF Research barrel consistently punched out 0.75" to 1" bench-rested five-shot groups at 100 yards with a steady rate of fire. The barrel also remained cool enough to safely handle after several consecutive reloads.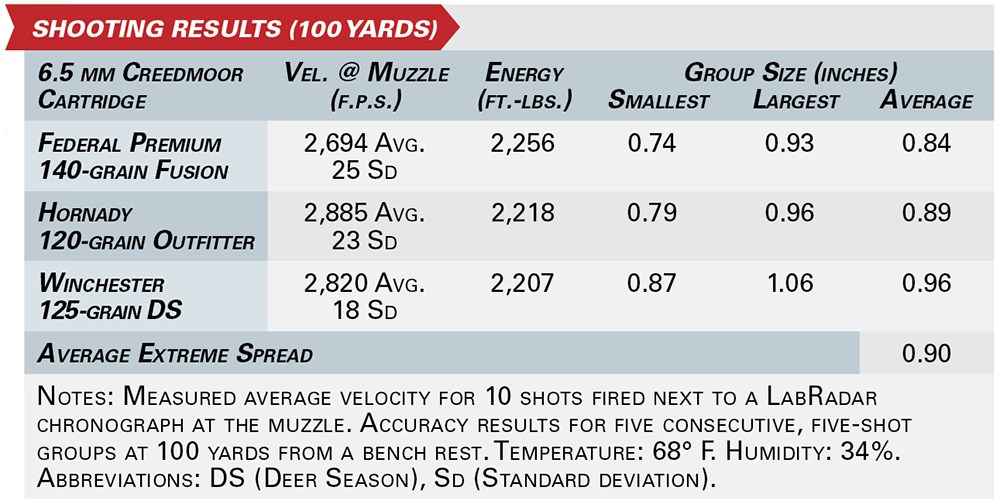 The Savage 110 Ultralite strikes an attractive balance of offering reduced weight at a fair price. The goal here was not to make the most affordable rifle possible, but a very reasonably priced firearm in the lightweight class—and this model achieves that goal without sacrificing features or repeatable accuracy. It's a solid choice for any hunter who prefers to traverse the wilderness with a lighter rifle.