by
posted on May 17, 2022
Support NRA American Rifleman
DONATE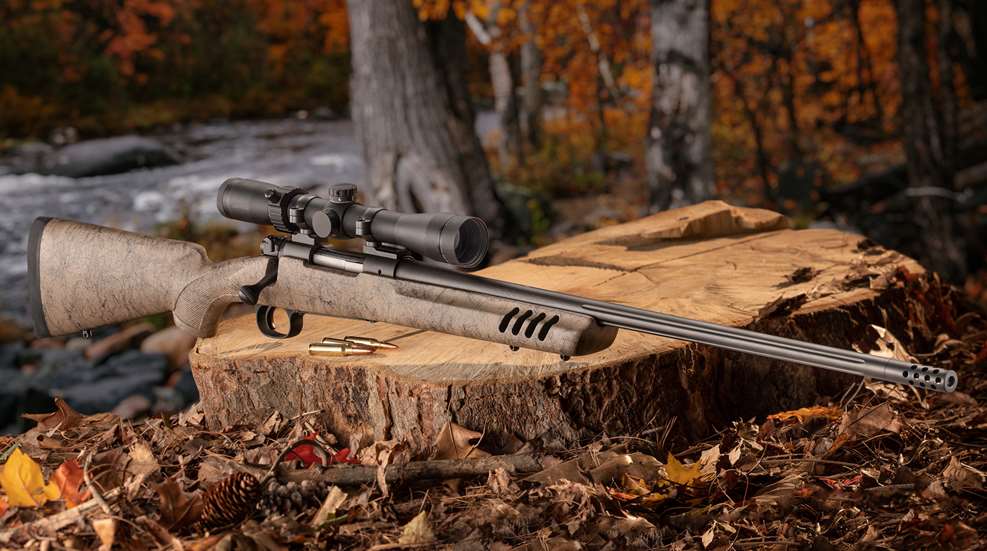 It is not uncommon for useful technical improvements in one arena to be adopted by and integrated into another. Materials and manufacturing processes originally devised for the aerospace industry are now commonly used to manufacture firearms. Pistol optics and triggers that began as competition upgrades have become standard options for many defensive handguns. Features developed for precision, benchrest-style rifles are being incorporated into bolt-actions suitable for harvesting big game.
In 2021, Winchester Repeating Arms introduced the Long Range MB version of the Model 70 as a contribution to the growing extended-range hunting rifle market. The features are configured to balance top-end accuracy and recoil management without the rifle being too heavy to be carried comfortably in the field. This Model 70 is available in eight short-action chamberings ranging from .22-250 Rem. to .300 WSM. The rifle tested for this review was chambered for the popular, flat-shooting 6.5 mm Creedmoor, which tends to generate only moderate levels of felt recoil.
The right-hand Model 70 Long Range MB sports the popular Pre-'64-type claw extractor with controlled-round feeding. One benefit of the design is that it locks onto the cartridge rim in order to properly align the cartridge with the chamber, thereby reducing the chances of bullet tip damage. The extractor also makes withdrawing the cartridge from the chamber more positive.
The bolt body is treated to a handsome jeweled finish, and the bolt knob features a knurled band to improve control. Of course, the assembly is fitted with Winchester's classic three-position safety. In addition to the typical Fire and Safe modes, the lever has a central position that locks the firing pin while allowing the bolt to be cycled—a feature intended to provide added safety when checking the state of the chamber or when unloading the rifle.
The carbon steel of the Model 70 receiver and barrel are treated with a non-reflective, matte-blue finish. The top of the receiver is drilled and tapped to accept optic mounts. The 24"-long, free-floated barrel has a fluted light varmint contour, and a recessed target crown works to protect the rifling from being damaged at the muzzle.

The MB in this rifle's name stands for muzzle brake; the end of the barrel is threaded 5/8x24 TPI to accept a variety of popular accessories, including sound suppressors, compensators and muzzle brakes. The rifle is fitted at the factory with a 2.5"-long removable muzzle brake contoured and finished to match the barrel. A knurled thread protector is also provided for those who wish to shoot without a muzzle device installed.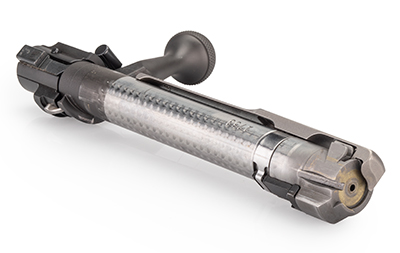 This rifle has Winchester's MOA trigger group, which is marketed as having "triple zero advantages," including zero take-up, trigger creep or overtravel. The trigger tested lived up to these claims; a smooth-faced, curved steel trigger exhibited an exceptionally clean trigger pull of 3 lbs., 15 ozs., with a short arc of travel and a crisp break with no overtravel. For those who prefer a single-stage trigger, this one deserves consideration. It is protected by a rounded aluminum trigger guard. A hinged steel floorplate supports an internal four-round magazine that is loaded through the ejection port.
Once again, Winchester has teamed up with Bell and Carlson to outfit this rifle with a well-made, weather-resistant composite stock. Using a proprietary molding system and a blend of fibers, resins and polyurethane reinforcement, the Extreme Weather stock maintains its shape in cold and hot environments. At the heart of the stock is an aluminum bedding block extending from the grip to the front sling-swivel stud for a firm, stable lock-up between the rifle's action and stock.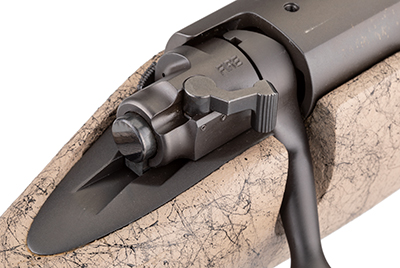 The Model 70 Long Range MB's composite stock is tan with a drizzled black "spider web" paint job to break up its outline. A set of flow-through cooling vents are cut into the fore-end that has a wide, comfortable gripping surface with a flat bottom for improved stability when shooting off sandbags. The grip has molded-in checkering to give the shooting hand added purchase. The shoulder stock is capped with a soft, textured rubber Pachmayr Decelerator recoil pad with a length of pull measuring 13.5". 
Our sample proved to be utterly reliable on the range, operating smoothly without any mechanical or ammunition-related issues. The fit and finish were top-notch throughout, with the bolt assembly and controls cycling smoothly. The composite stock provides reliable gripping surfaces with a more solid feel than an injection-molded polymer stock. The rifle balanced nicely with an easy heft that simplified standing shots.
The rifle was test-fired with the factory muzzle brake installed. As expected, the brake noticeably increases the volume of the rifle's report, but, in conjunction with the recoil pad and the 6.5 mm Creedmoor cartridge, it made for moderate levels of felt recoil comfortable to work with in and out of a benchrest. Formal benchrested accuracy testing was conducted using factory match-grade loads fired at 100 yards. Groups were shot with a Leupold Mark 3HD 3-9X 40 mm optic secured by a Leupold scope mount ring set.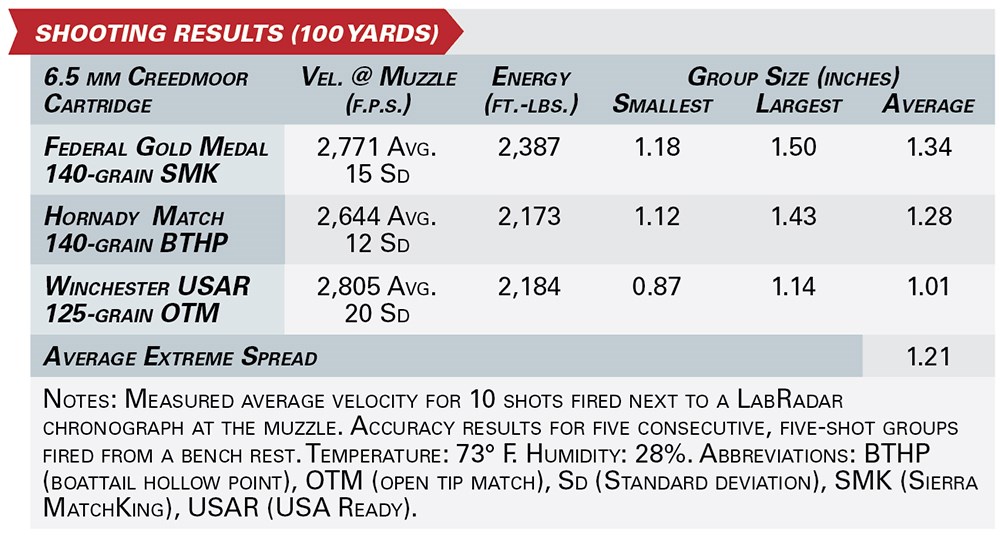 Winchester lists this rifle as being capable of one-m.o.a. accuracy, or approximately 1" at 100 yards. This rifle did print a smallest single group of 0.87", with a five-group average of 1.01", using Winchester's USA Ready load topped with a 125-grain OTM bullet. The average extreme spread across all three loads fired was 1.21".
When attempting to blend two different types of platforms, finding a recipe that works can be tricky. In the case of Winchester's Model 70 Long Range MB, however, the preferred elements of a hunting rifle mix with features that allow it to comfortably ride the bench for extended-range shooting sessions. This is a well-thought-out rifle with a variety of upgrades that make it stand out from the bolt-action rifle crowd—but it's the MOA trigger system that unifies this rifle's features and makes it an excellent option for those in the market for a firearm that fills a variety of shooting roles.