Support NRA American Rifleman
DONATE
How much ammunition a modern defensive handgun can (or should) hold is one of those topics that just keeps circling back around for more discussion. Double-action revolvers are often dismissed by semi-automatic fans since they tend to offer five- or six-round capacities instead of the more typical 10 to 18 rounds found in today's pistols. But there have been times when revolver makers have worked to boost interest in their products by drilling more holes in the cylinder.
The first time I recall seeing a new production seven-shot center-fire revolver was sometime during the 1990s. In 1996, I found myself holding a brand new short barrel Smith & Wesson 686P .357 Mag. with the same external dimensions as the classic six-shot despite the extra chamber. The marketing commentary in support of this revolver went something along the lines of why settle for 10 rounds of pip-squeak 9 mm when you can pack seven rounds of .357-Mag.?
During the next decade, the enthusiasm for semi-automatic pistols flourished, resulting in the mid-size duty and defensive revolvers, including the 6+ models, taking a back seat.
A few years ago, Ruger got serious about changing up the cylinder capacities of the company's single-action and double-action revolvers. A few factors seemed to be at work, both political and commercial. At the end of 2012, semi-automatic magazine limits and bans were back in play on state and federal levels. While federal bans have flopped so far, some states did enact new regulations. The New York SAFE Act (2013) limits the number of cartridges in a magazine to seven rounds, even if it can hold 10. These number games led to a nationwide revolver revival for the same reason as the AWB from 20 years earlier, including medium- and even large-frame defensive revolvers.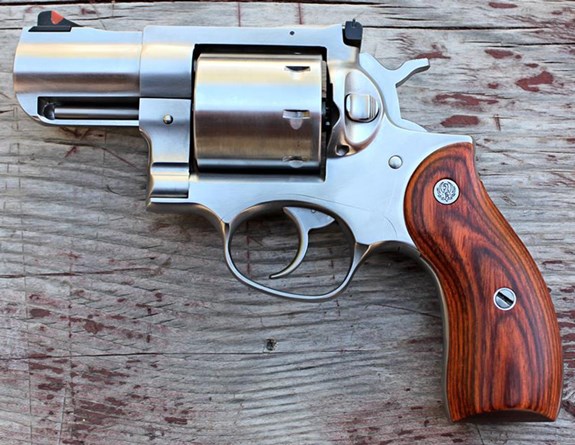 On the commercial side of things, changing calibers and capacities is a reliable way to drum up renewed interest in long-established platforms. We've seen the 64-year-old Single Six evolve into the Single Seven and Single 10. The 32-year-old GP-100 was briefly manufactured as a seven-shot .327 Fed. Mag. and is currently available in 10-shot .22 LR. and a 5-shot .44 Spl. configuration.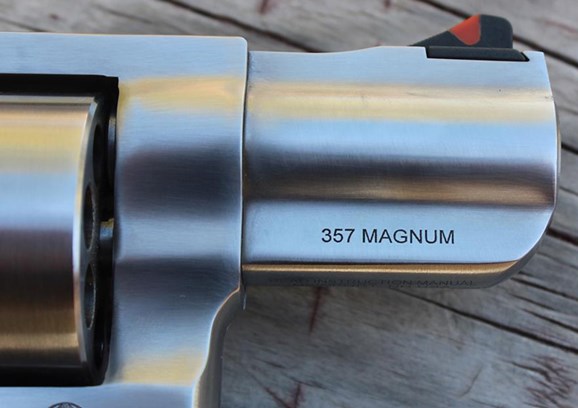 The most recent addition to Ruger's 6+ Wheelgun Club is a trimmed down eight-shot .357 Mag. version of the Redhawk revolver. In production since 1979, the Redhawk has been available in several different calibers and configurations but has remained a six shooter until this year. This new eight-shot is an exceptionally well-balanced option that may have flown in under some readers' radar.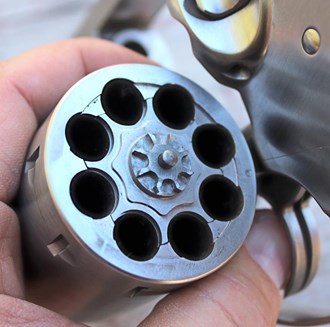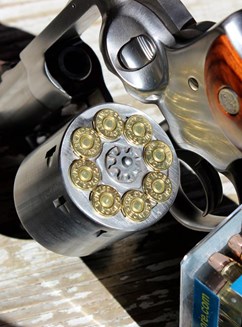 The all-stainless steel Redhawk double-action revolver ushered in several features that would carry over into the GP100 and SP101 revolver lines including a single spring to cycle both the hammer and the trigger, a strong monolithic frame, off-set cylinder notches, a triple-locking cylinder and adjustable target sights. A transfer-bar safety prevents the revolver from firing if dropped.
But unlike the later models, which have rubber wrapped posts forming the grip, the Redhawk has a more traditional grip frame fitted with two-piece grip panels. Other standard features include smooth hardwood grips, an adjustable rear sight and replaceable front sight. The company has politely moved the "Read the Manual" statement to the barrel's under lug instead of cluttering up the side of it.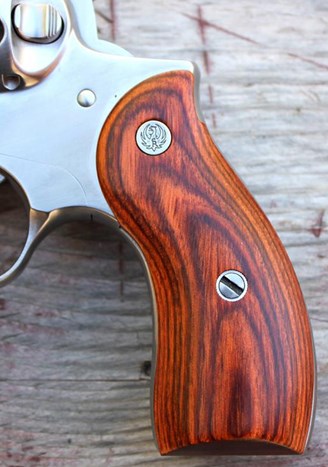 In 2014, Ruger offered a compact six-shot .44 Mag. version of the Redhawk as a Talo distributor exclusive with a roundbutt grip frame and a 2.75" barrel. I remember thinking at the time that it offered the utility of the Ruger Alaskan (which is based on the Super Redhawk) in a more elegant package. The Talo .44 was soon followed by a Davidson's exclusive with the same features but chambered in the .41 Rem. Mag cartridge. This year's eight-shot .357 Mag. compact's most notable cosmetic difference is an unfluted cylinder.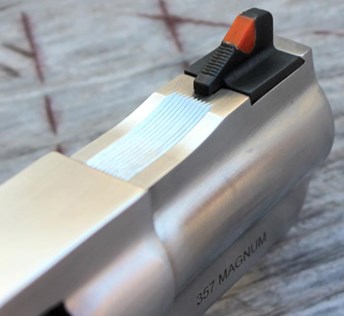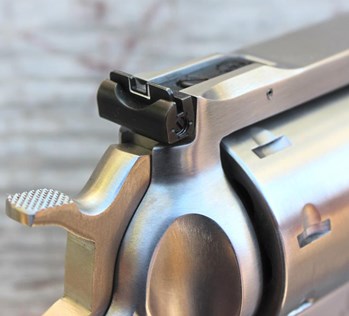 I requested this version of the Redhawk for review because it looked to be both reliable and enjoyable to shoot. I was proved right on both counts. The controls all functioned properly and smoothly. Ruger's double-action revolvers have a history of good triggers but lately they have been getting even better. The double-action trigger on this particular gun was 11 lbs. 8 oz. with the single-action trigger breaking cleanly with 8 lbs. 8 oz. of pressure.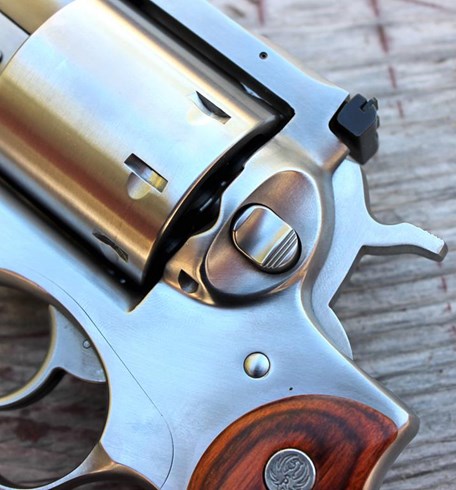 The push-button cylinder release is one of my favorites because it's much more intuitive than the push-forward or pull-back releases used by other companies. Swinging the cylinder open reveals a cut out that allows for the use of full moon clips, three of which are shipped with the gun. Moon clips provide a quick and easy way to reload all eight chambers, much like a speed loader but less expensive.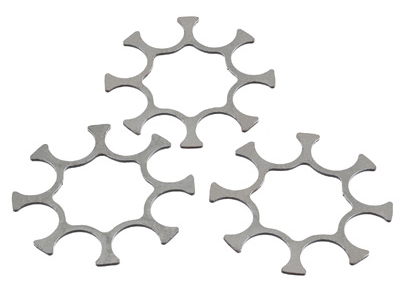 What I like so much about this particular version of the Redhawk is how well-balanced it is in several respects. The beefy .44 Mag. frame soaks up recoil and will comfortably endure a full-time diet of .357 Mag. loads. It's exceptionally tame with .38 Spl. rounds. The shorter barrel eliminates the muzzle heft of a longer gun and allows the gun to swing nicely. The compact smooth wood grip panels allow for a high and comfortable grip that will fit a variety of hand sizes.

Formal accuracy testing with .357 Mag. ammunition was conducted from a benchrest by firing five, five-shot groups with targets set at 25 yards. The hard-hitting Buffalo Bore Heavy Magnum 125-gr. jacketed hollow points produced a best single group of 3.13" with a five-group average of 3.34". Inceptor Ammunition's softer shooting 86-gr. poly-copper ARX yielded a best group of 3.27" with an average of 3.46". Winchester's defense-grade PDX1 Defender 125-gr. bonded jacketed hollow points printed the tightest groups with a best group of 2.98" and an average of 3.25".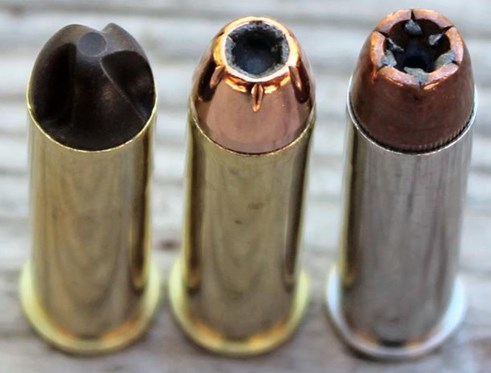 Some readers may see the 2.75" barrel, eight-shot Ruger Redhawk .357 Mag. as something of an odd duck. It's too large for practical daily concealed carry (Ruger' SP101 and LCRs being much better suited for that task), the barrel is on the short side for some types of handgun hunting and the .357 Mag. doesn't offer as much performance as a .44 Mag. That being said, this revolver fills other niches quite effectively.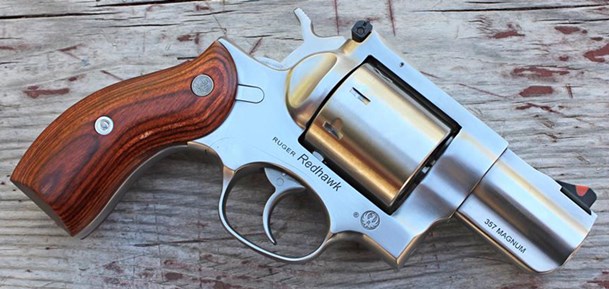 It offers the reduced cost and flexibility of being able to fire ammunition ranging from powder puff .38 Spl. target loads all the way up to full power Magnum rounds. This is an ideal trunk, cabin or trail gun for protection against dangerous game. While the .357 Mag. is on the lighter end of the cartridge spectrum, rounds topped with heavy penetrator bullets will get the job done. It's built like a tank and an ideal trail gun for protection against dangerous game. The caliber and eight-round capacity are suitable for home defense. And, to top it off, it's a comfortable, enjoyable revolver to shoot.
If you are looking for manageable recoil in a larger caliber, take a look at the Ruger Redhawk .45 ACP/.45 Colt.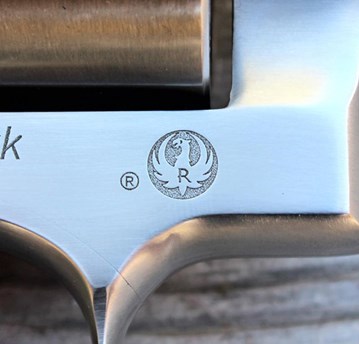 Specifications:
Manufacturer: Sturm, Ruger & Co.
Model: Redhawk (#5033)
Action: Double-Action Revolver
Caliber: .357 Mag./.38 Spl.
Finish: Satin Stainless Steel
Grips: Laminated Hardwood
Front Sight: Interchangeable Black Blade with Orange Insert
Rear Sight: Fully Adjustable White Outline Blade, Square Notch
Barrel Length: 2.75"
Overall Length: 8.25"
Height: 6.00"
Cylinder Width: 1.78"
Weight: 44 oz.
Capacity: 8 Rounds
Twist: 1:18.75" RH
Rifle Grooves: 6
Accessories: 2 Full-Moon Clips, Hard Case, Lock, Owner's Manual
MSRP: $1,079 
8-round Moon Clips 3-Packs (90634): $14.95 at shopruger.com